Lineups for AL Wild Card Game
Gomez in Astros' lineup; Ellsbury not in Yanks'
NEW YORK -- The lineups for Tuesday's game between the Astros and Yankees contain a couple of surprises.
Here's what you need to know about the respective starting players for the American League Wild Card Game presented by Budweiser, airing tonight at 8 p.m. ET on ESPN.
Gomez to start in center
Carlos Gomez, who has been dealing with a mild left oblique strain, is starting in center field, batting sixth.
Gomez is hitting .242/.288/.383 with four homers in 41 games for the Astros since being acquired from the Brewers at the July 31 non-waiver Trade Deadline.
"He's bouncing around the clubhouse ready to play," said manager A.J. Hinch. "Obviously I have concerns just because he's not 100 percent. But in this moment, with this type of player, the importance of this game, this is the time to do it. But there's no doubt he can be an electrifying force in our lineup and on the field. And in this city and this ballpark, he'll have a ton of energy."
The top three spots in the lineup were no surprise: Jose Altuve (second base), George Springer (right field) and Carlos Correa (shortstop). With Gomez in center and facing a right-hander, Colby Rasmus got the start in left field, hitting fourth.
Designated hitter Evan Gattis bats fifth, followed by Gomez. Hinch opted for the left-handed bat of Luis Valbuena at third base over Jed Lowrie, who hasn't hit right-handers well. Chris Carter (first base) bats eighth and Jason Castro (catcher) is ninth.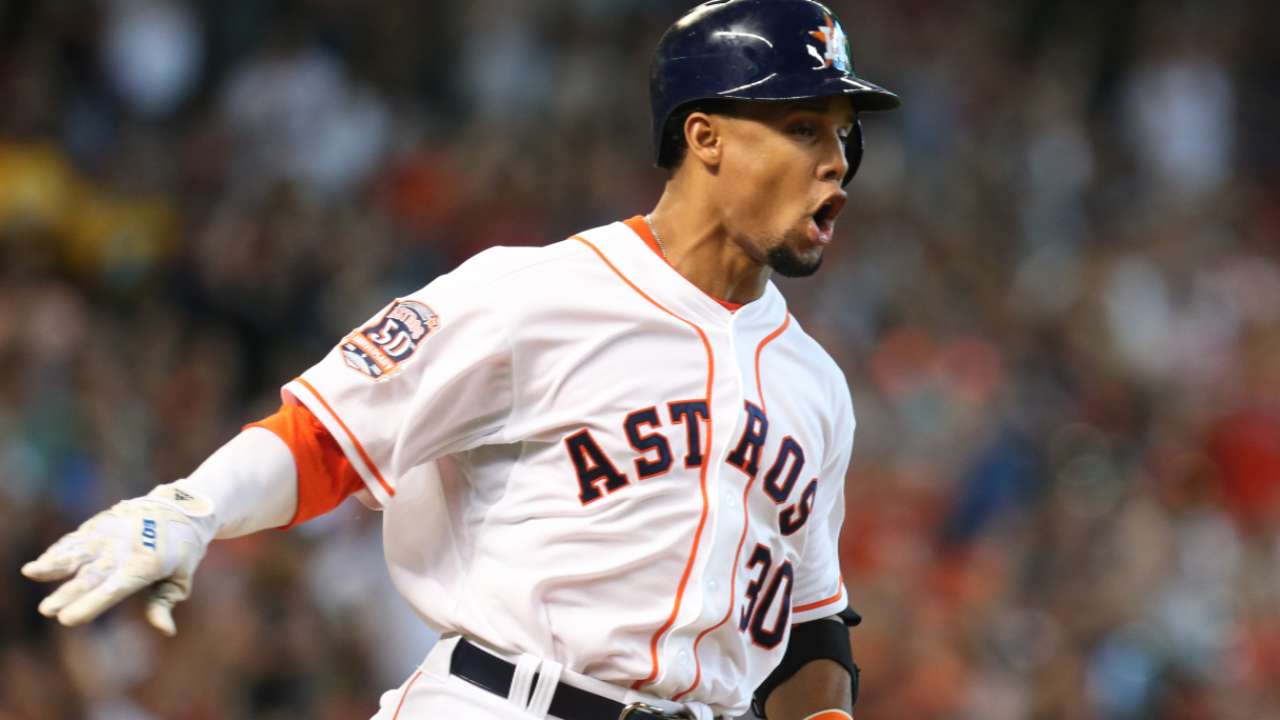 Ellsbury not in lineup; Young in left
Based on his historical success against left-handed pitching and Dallas Keuchel in particular, outfielder Chris Young has been selected to bat second and play left field for the Yankees.
Jacoby Ellsbury will begin the game on the bench as the Yankees try to crack through against Keuchel. Yanks manager Joe Girardi said that one deciding factor was comparing Ellsbury's numbers against left-handed pitching this year (.253/.327/.325) to Brett Gardner's (.276/.361/.400).
"He let me know earlier today," Ellsbury said. "I obviously told him I want to be out there. I'm willing to do whatever is best for the team, like I've always told him."
"He took it upon himself to have the right attitude," Girardi said. "I can understand if he's frustrated and upset, but he'll be ready to go."
Gardner will lead off and play center field, followed by the left fielder Young, who is 6-for-20 against Keuchel and hit .327/.397/.595 against lefties this season. Young owns two of the nine hits the Yankees managed against the Astros left-hander this season.
Right fielder Carlos Beltran, designated hitter Alex Rodriguez and catcher Brian McCann comprise the heart of the batting order. McCann finished the season 1-for-22 and Girardi has rested McCann often against lefties in favor of John Ryan Murphy, but he said he had no temptation to do so on Tuesday.
"When you start talking about damage, this ballpark is suited for Mac," Girardi said. "We usually win games by hitting home runs."
Third baseman Chase Headley, first baseman Greg Bird, second baseman Rob Refsnyder and shortstop Didi Gregorius round out the batting order behind right-hander Masahiro Tanaka.
Of Refsnyder, Girardi said, "He's done a real good job seizing his opportunity, and he's been patient at the plate. He has never seemed overwhelmed, whether it's been defensively, offensively. He's done a really good job, and that's why he's playing."
ASTROS
Jose Altuve, 2B
George Springer, RF
Carlos Correa, SS
Colby Rasmus, LF
Evan Gattis, DH
Carlos Gomez, CF
Luis Valbuena, 3B
Chris Carter, 1B
Jason Castro, C
Dallas Keuchel, P
YANKEES
Brett Gardner, CF
Chris Young, LF
Carlos Beltran, RF
Alex Rodriguez, DH
Brian McCann, C
Chase Headley, 3B
Greg Bird, 1B
Rob Refsnyder, 2B
Didi Gregorius, SS
Masahiro Tanaka, P
Brian McTaggart is a reporter for MLB.com and writes an MLBlog, Tag's Lines. Follow @brianmctaggart on Twitter and listen to his podcast. Bryan Hoch is a reporter for MLB.com. Follow him on Twitter @bryanhoch, on Facebook and read his MLBlog, Bombers Beat. This story was not subject to the approval of Major League Baseball or its clubs.