MLB.com Columnist
Bill Ladson
Plenty of changes coming for Nationals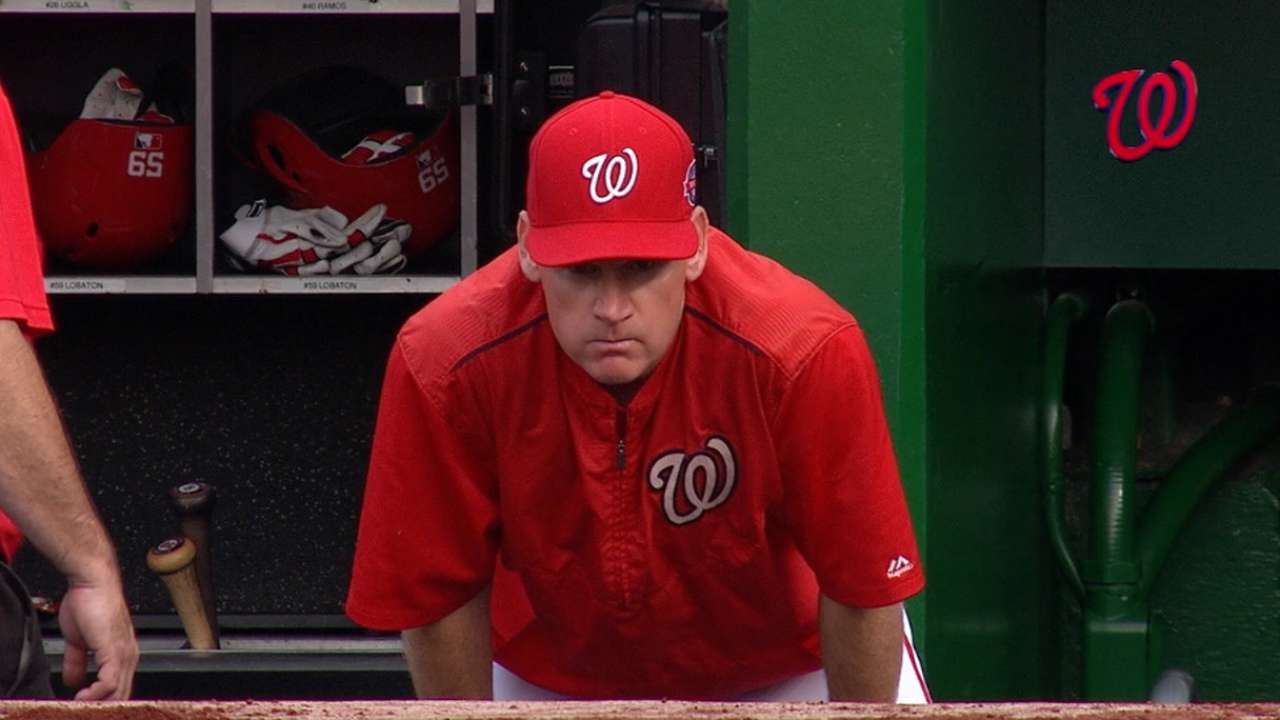 WASHINGTON -- After being unable to reach the postseason this past season, the Nationals dismissed manager Matt Williams and informed their entire coaching staff that their contracts would not be renewed.
Washington hired Dusty Baker on Tuesday to become the franchise's sixth full-time manager. Now that a skipper is in place, the Nationals will put together their coaching staff. However, changing the coaching staff can only do so much. The Nationals need to improve their roster -- especially the bullpen, which faltered when it faced teams like the Mets in July and September.
The Nationals had a tough time staying healthy in 2015. Four of their nine starters -- Jayson Werth, Denard Span, Anthony Rendon and Ryan Zimmerman -- spent significant time on the disabled list.
The Nationals have to revamp their starting rotation as Jordan Zimmermann and Doug Fister are not expected to return next year.
"We are going to investigate all those things after the season when we do our postseason analytics on what went wrong," Nationals general manager Mike Rizzo said. "Suffice to say, no one is more disappointed than I am about the way the season transpired."
Stay tuned, it could be an interesting winter.
Arbitration-eligible: RHP David Carpenter, RHP Craig Stammen, RHP Drew Storen, RHP Stephen Strasburg, C Jose Lobaton, C Wilson Ramos, INF Danny Espinosa, 1B Tyler Moore, INF Rendon
Free agents: RHP Fister, RHP Casey Janssen, RHP Zimmermann, LHP Matt Thornton, SS Ian Desmond, 2B Dan Uggla, Of Reed Johnson, OF Nate McLouth, OF Span
Rotation: With Zimmermann and Fister expected to leave, look for Joe Ross and Tanner Roark to fight for rotation spots. Lucas Giolito, the Nationals' No. 1 prospect, is expected to be in big league camp for the first time next year. He could get a chance to be in the rotation. Could the Nationals sign another free agent like they did when they signed Max Scherzer in January? It's possible. Keep in mind that Zack Greinke is expected to opt out of his contract with the Dodgers after the World Series. The Nationals had a chance to acquire Greinke after the 2010 season, but he accepted a trade to the Brewers instead.
Bullpen: It was the weakest link this past season and it will be overhauled. Expect Storen to be traded; the team has told him three times during his career it doesn't trust him as a closer. Jonathan Papelbon could be gone, too, because of his dugout altercation with Bryce Harper. So look for the Nationals to acquire a closer. If the Nats want a player like Craig Kimbrel or Aroldis Chapman, they likely will have to give up a lot. They do have some jewels in the bullpen. Felipe Rivero and Blake Treinen were used in important situations. Treinen must learn to get left-handed hitters out. Stammen, who missed most of the season because of a forearm injury, is expected to be healthy next season. The Nationals missed him as a long and setup man. Carpenter could be a valuable setup man if his shoulder holds up.
Catcher: Ramos has caught three no-hitters during his career, but privately, the team was not happy with his overall performance this year. He had his poorest season as a hitter and he had problems catching throws from the outfield. Some have even questioned his game-calling. Could the Nationals try to acquire another starting catcher? It's possible. Matt Wieters is a free agent and his agent, Scott Boras, has a great relationship with the Nationals' front office. Lobaton is a solid backup and Gio Gonzalez's personal catcher. Lobaton's pitch-framing skills are elite.
First base: Zimmerman will be the starter with Clint Robinson as the backup. The question is, can Zimmerman stay healthy? He hasn't played 100 games in a season since 2013. He plans to change his workout routine -- not lift as many weights as he did in the past. If he can't stay healthy, Robinson can fill in and provide some power.
Second base: When he was healthy, Rendon saw a lot of time at second, but the Nationals feel his future is at third base. That would mean the Nationals would have to do something about Yunel Escobar, who was a solid hitter, but a below-average defender at the position. Who will play second is anyone's guess at this point. Espinosa showed he was no longer an easy out and could reclaim the position next year. He's also still one of the best defensive second basemen in the game. That alone would help him reclaim his starting spot at second base
Shortstop: Desmond is not expected to be back in 2016, so the job belongs to Trea Turner, who is the Nationals' No. 2 prospect. In his short time with the club, he showed he could play the position and is a career .322 hitter in the Minors.
Third base: After Harper, Escobar was Washington's best hitter, and he ended up having the best season of his career. His defense was another story. He doesn't have the range that Zimmerman or Rendon had at the position. Hit a slow roller to Escobar, it's almost a given the runner will beat it out. It would not come as a surprise if Escobar is used as trade bait in order to get another pitcher. If that happens, Rendon would be back at third base.
Outfield: With Span expected to be gone, the Nationals need a leadoff hitter. If they can't find one, look for Werth to be first in the order. He hit .318 with a .388 on-base percentage while hitting in the leadoff spot this past season. Going into the winter, the outfield will be Harper in right field, Michael Taylor in center and Werth in left. However, Werth had his poorest season as a member of the Nationals. It didn't help that he had to deal with shoulder and wrist injuries. Taylor is an excellent defender, but needs to improve his batting average. For now, Taylor seems best to hit near the bottom of the order.
Bill Ladson is a reporter for MLB.com and writes an MLBlog, All Nats All theTime. He also can be found on Twitter @WashingNats This story was not subject to the approval of Major League Baseball or its clubs.