Important offseason on horizon for Orioles
With several big players headed for free agency, O's need to make moves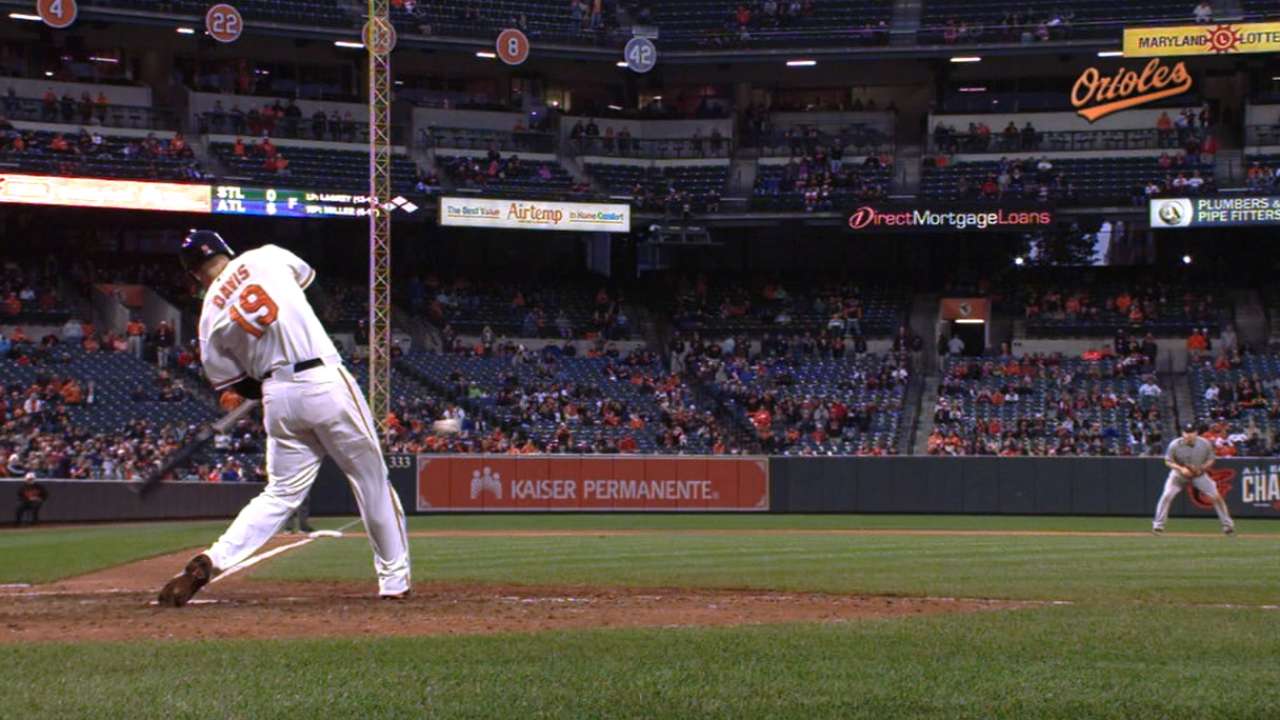 BALTIMORE -- To say it's a big winter for the Orioles would be a massive understatement.
Baltimore, which followed up an American League East title and a trip to the ALCS last year by missing the postseason in 2015, finds itself at a serious crossroads this winter. First, there is the free-agent situation with a slew of players -- including Chris Davis, Matt Wieters, Darren O'Day and Wei-Yin Chen -- who could sign elsewhere. Coming off an offseason in which the team did not retain Andrew Miller, Nelson Cruz or Nick Markakis, there's pressure on executive vice president of baseball operations Dan Duquette and his staff to make some moves and bring the O's back to contention.
Asked what he would like to see addressed, manager Buck Showalter pointed to the starting pitching.
• Power, strong 'pen can't push O's into postseason
"It's a challenge, it's something we're going to have to attack in the offseason," said Showalter, who hopes to be seven or eight deep in the rotation heading into next spring. "I'm sure Dan is on top off that. It's pretty obvious, a lot of the what-ifs. Some of them might be here. We've got to wait and see when the chairs stop moving, who's there. Every club's facing that this time of year, not just us.
"Obviously, we've got a lot of guys that, if they're not here, will really affect what we have to do in the offseason. First place you always look is from within. We're going to need to try to get a little deeper there."
Still, the O's have traditionally not been a big spending team in the winter, and it will be fascinating to see how the front office and ownership respond with some of their bigger name players facing free agency. Particularly, given that Baltimore's farm system isn't teeming with Major League-ready talent, what the Orioles do -- or don't do -- over the next few months will be widely anticipated and scrutinized.
There's been minor news since the season ended, as the Orioles were able to send Dylan Bundy -- the club's No. 2 prospect, according to MLB.com -- to the Arizona Fall League. They also extended contracts to bring back their entire coaching staff. The O's claimed pitcher Vance Worley off waivers from the Pirates and had reliever Jorge Rondon claimed by Pittsburgh.
Arbitration-eligible: 3B Manny Machado, SP Chris Tillman, CL Zach Britton, RP Brad Brach, SP Miguel Gonzalez, RP Brian Matusz, INF/OF Ryan Flaherty, OF Nolan Reimold, INF Paul Janish, OF David Lough
Free agents: INF/OF Davis, C Wieters, SP Chen, RP O'Day, OF Gerardo Parra, INF/OF Steve Pearce
Rotation: The O's will lose Chen, who was their best starter, and their rotation was already a sore spot. They'll return with Opening Day starter Tillman and have to hope Kevin Gausman takes a step forward. Gonzalez is an interesting case in arbitration; he's coming off a down year and was injured. In a perfect world, Baltimore should add a top-of-the-rotation starter along with another Major League-ready arm -- a solid middle-rotation guy -- this winter. But based on its offseason history, that may be a stretch.
Bullpen: Britton is still there for the ninth, but if the O's lose O'Day there could be issues getting to the final three outs with a lead. Rookie Mychal Givens may take a more heightened role, and the Orioles also really like Brach. Duquette and Showalter have a knack for solid 'pens, so this is less of a concern.
Catcher: Caleb Joseph has proven he's a capable Major League backstop, which should make it easier if Wieters does sign elsewhere. Steve Clevenger also gave the O's a solid offensive lift as a backup.
First base: If the O's don't re-sign Davis, it will leave a huge hole in the lineup. With 40-homer seasons in two of his last three years, first base will be challenging without him. Pearce could return and the Orioles could look internally, but no one -- even those on the free-agent market -- has the power upside of Davis.
Second base: Jonathan Schoop had a stellar season despite missing time with a knee injury. Assuming he's healthy, he should add stability to this spot next year.
Shortstop: J.J. Hardy returns to anchor the infield, and Baltimore can only hope his offense bounces back. Hardy dealt with various injuries in '15, so there's a chance his power comes back.
Third base: Machado is coming off a career year and is considered one of the game's best third basemen. If Hardy can stay healthy, the O's trio of Schoop, Hardy and Machado could be a real strength.
Outfield: The O's have Adam Jones to anchor things in center field, but their corner outfield spots are up for grabs. A sore spot in '15, the Orioles will have to get some production out of left and right field next season. The outfield is one of their top priorities.
Brittany Ghiroli is a reporter for MLB.com. Read her blog, Britt's Bird Watch, follow her on Facebook and Twitter @britt_ghiroli This story was not subject to the approval of Major League Baseball or its clubs.