Harvey apologizes for missing workout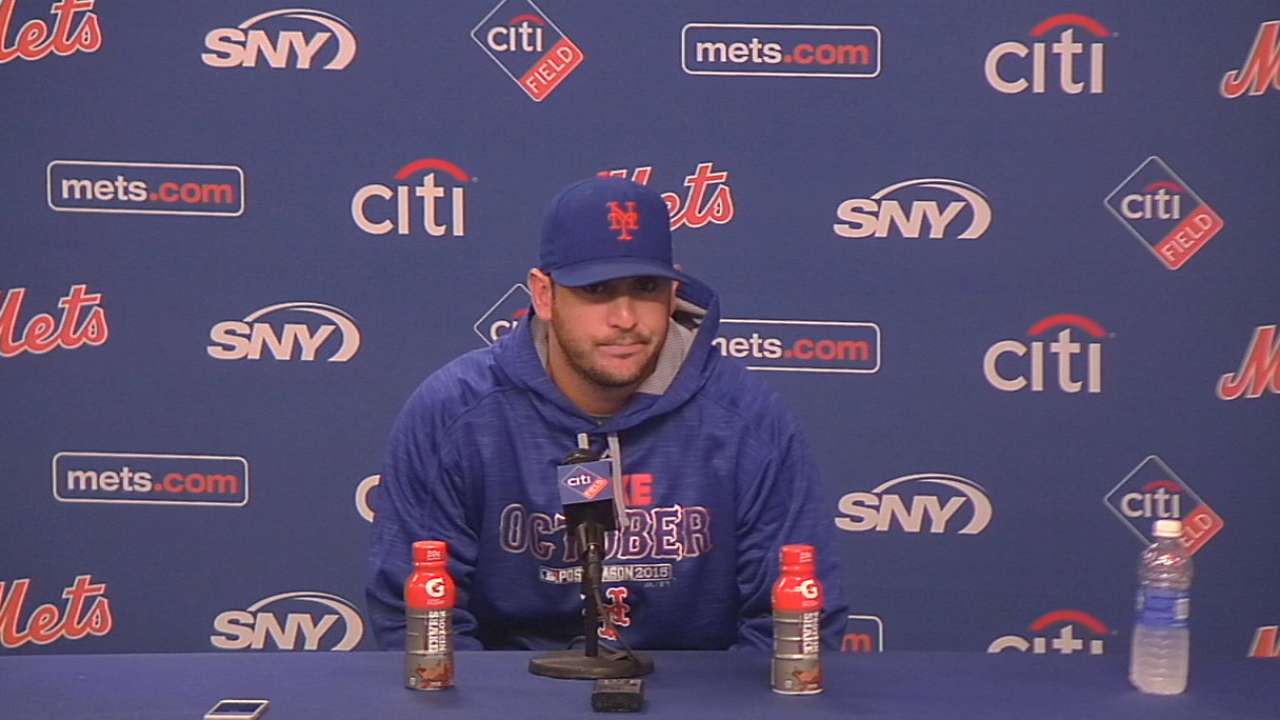 NEW YORK -- Matt Harvey apologized Tuesday after missing the first of two mandatory Mets playoff workouts at Citi Field. He arrived at the ballpark late Tuesday afternoon, spoke briefly to manager Terry Collins and general manager Sandy Alderson, then relayed a statement.
"Obviously today was not the greatest," Harvey said. "I know we had a mandatory workout and the last thing I want to do is not be here with my team. Basically, there's no excuse. I screwed up. I wasn't here. I showed up a little late. I've talked to Sandy and talked to Terry and my teammates, and apologized to them, and apologized to everybody. They understand I'm here to get my workout in and be with the team."
The pitcher did not take questions. Collins said the team plans to fine Harvey for his absence.
Tuesday's workout was the first of two at Citi Field, before the team flies to Los Angeles for a final tune-up at Dodger Stadium. Every other player was present, including several pitchers who are unlikely to make the playoff roster. The entire pitching staff took part in fielding practice around noon, before making their way to the outfield to shag fly balls. Harvey never emerged on to the field during this time.
Shortly before the workout ended, Alderson said he was aware of Harvey's absence, but not of the reason. Collins later clarified that Harvey called him while in traffic, telling the manager he was going to be late. Though Collins told Harvey not to bother continuing on to the stadium, Harvey arrived at Citi Field around 2 p.m., speaking to his teammates in addition to his bosses.
Asked later about the incident, captain David Wright gave a clipped response.
"I'm concerned about the guys that are here," Wright said. "The guys that are here, we had a great workout."
Harvey's public disagreements with the Mets date back almost two years, when he and the team sparred over -- and eventually compromised on -- the location of his rehab from Tommy John surgery. He recently revisited the spotlight when his agent, Scott Boras, said last month that he considered 180 innings a hard cap for Harvey in his first year back from that operation. Harvey has since blown past that total and is expected to be at full strength for Game 3 of the National League Division Series, Monday against the Dodgers at Citi Field (TBS).
"There's not really anything else to say," Harvey said. "They know what happened. I told everybody and apologized to everybody and told them it's not going to happen again. It's never happened before. Unfortunately it happened kind of at a bad time, a mandatory time. Truly, I just screwed up."
Anthony DiComo is a reporter for MLB.com. Follow him on Twitter @AnthonyDiComo and Facebook, and listen to his podcast. This story was not subject to the approval of Major League Baseball or its clubs.