Marlins look to move forward, with Jennings as GM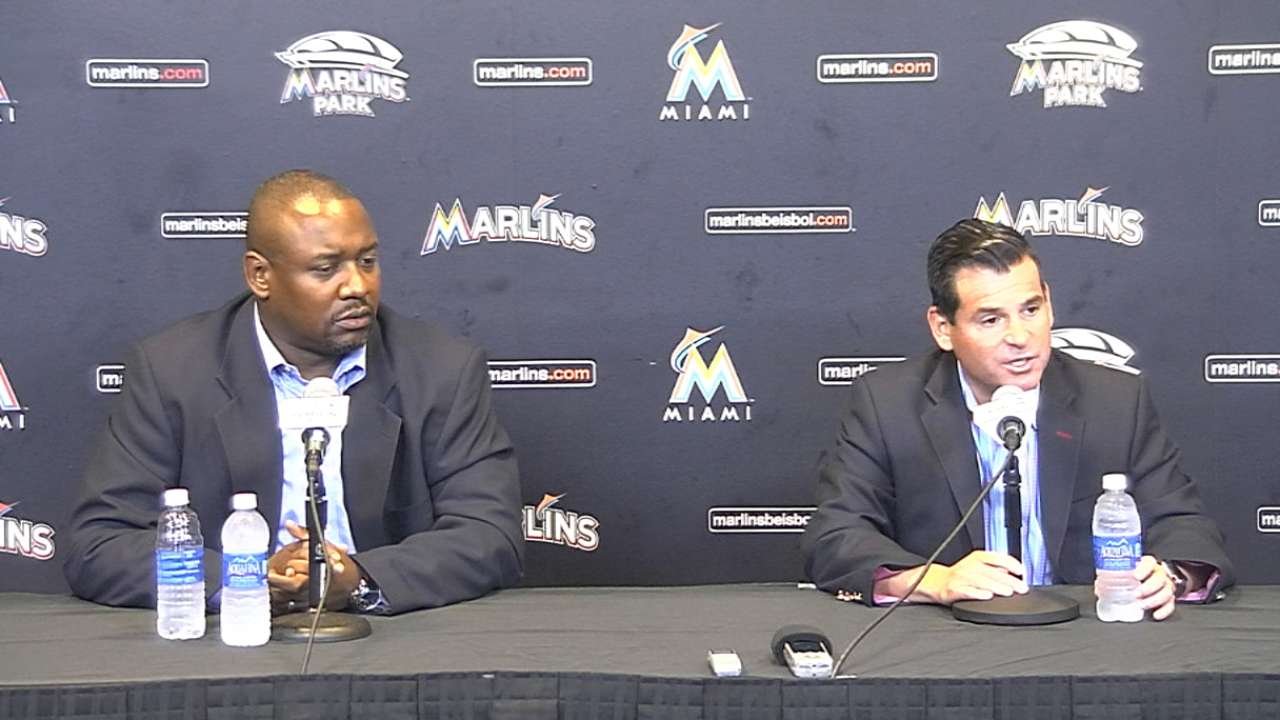 MIAMI -- As an organization, the Marlins on Tuesday reunited their front office. At an afternoon news conference, the team announced Dan Jennings has been asked to resume his duties as full-time general manager after also serving as manager since mid-May.
A full-scale search for a new manager is underway, and the team has informed all the coaches on the 2015 staff they can explore their options, including perhaps returning.
"Dan was always under contract as the general manager, even when he was the manager," team president David Samson said. "This was a difficult season, for all of us. We had different expectations. It got away from us. We asked Dan to step in as manager, while always continuing as general manager. He was always general manager the entire year. That hadn't changed."
Jennings is signed through 2018, and Samson said there is no internal tension surrounding the team's chain of command.
After starting off 16-22, Jennings replaced Mike Redmond on May 18. The team went 55-69 the rest of the way and finished 71-91.
Jennings, who didn't attend the news conference at Marlins Park, is taking a few days to "decompress."
Samson added Jennings was put in a challenging position, especially since he had no previous coaching or managing experience at the big league level.
"I think he did the best he could, given the fact he was put in a less-than-ideal situation," Samson said. "He did not have the full ability, in my opinion, to succeed. That made it very tough for him.
"Do we regret doing what we did? It's hard to say that I don't. It didn't have the desired result on the field. It did not accomplish what we expected it to accomplish. So, do I regret coming to that conclusion, yes, I do. I regret everything that doesn't work."
In their search, the Marlins have already interviewed three possible replacements -- Larry Bowa, Manny Acta and Bo Porter. All three have previous experience as a Major League manager.
The Marlins are leaning toward candidates who have managed at the big league level, but they aren't ruling out any possibilities.
"I think we just want the right person," president of baseball operations Michael Hill said. "I'm not going to say whomever is our next manager is going to fit any type of one mold. We just want the right man for the job, the leader who is going to take this talented young core to the next level."
The club also announced three promotions: Jeff McAvoy from director of pro scouting to vice president of player personnel, Brian Chattin from director of player development to assistant GM, and David Keller from assistant director of pro scouting to director of pro scouting.
Another offseason priority is building a department devoted to metrics.
"It's an area we are looking to improve and grow," Hill said. "An analytical department, behind the manager, is probably the second most important thing we want to take care of. It's just another aspect of the game we want to take advantage of."
Another change for 2016 will be the dimensions of Marlins Park. Samson said architects are already reviewing ways to bring in and lower the fences.
"We believe we have a better chance to win more home games with some adjustments we're going to make on wall size, and potentially on wall distances," he said.
Joe Frisaro is a reporter for MLB.com. He writes a blog, called The Fish Pond. Follow him on Twitter @JoeFrisaro and listen to his podcast. This story was not subject to the approval of Major League Baseball or its clubs.