Hometown righty Gallardo tabbed for Game 1
Rangers will call on Hamels for second contest of AL Division Series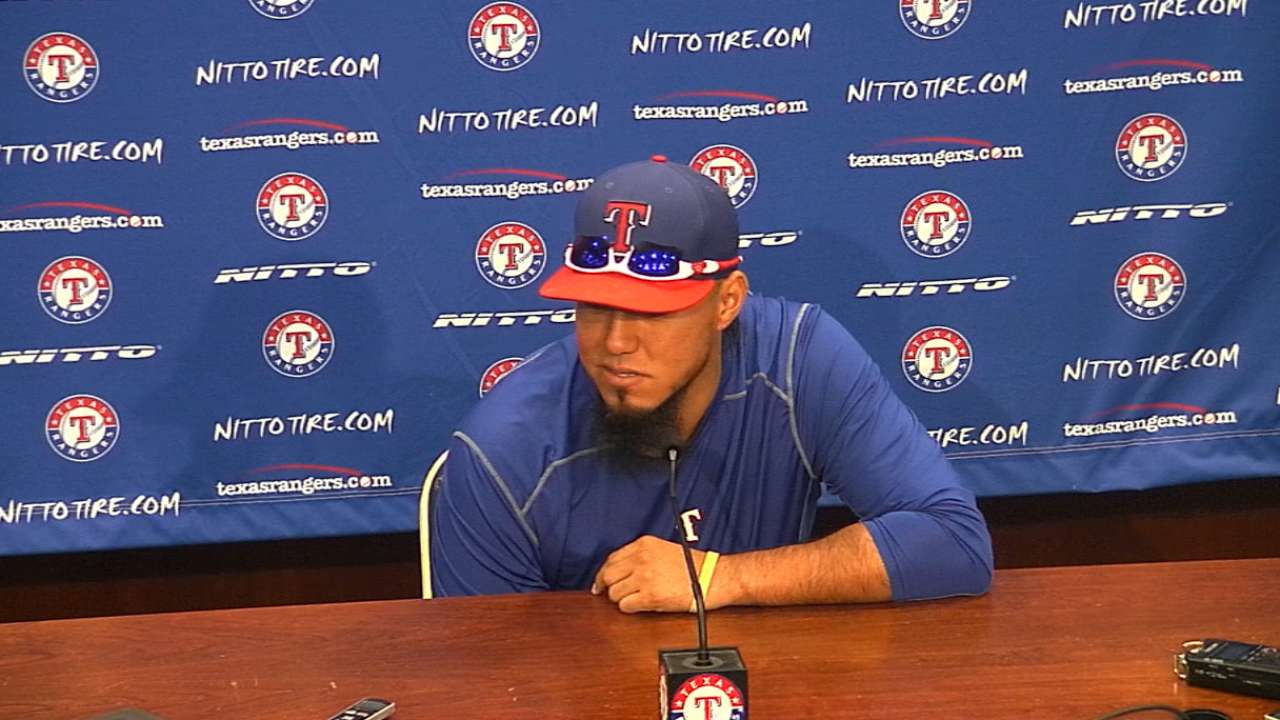 ARLINGTON -- Rangers pitcher Yovani Gallardo was born in Mexico, but he grew up on the north side of Fort Worth, Texas. He learned to play baseball in the Sabine Jarvis Little League or at Rockwood Park along the Trinity River.
He was a Rangers fan growing up. Now, as manager Jeff Banister announced on Tuesday, Gallardo will be starting for them today in Game 1 of the American League Division Series against the Blue Jays.
• Shop for Rangers postseason gear
"When I was young, every time we would come out to the ballpark and watch baseball, even with my cousins, we always talked about putting on the Rangers' uniform," Gallardo said. "We talked about pitching in big games, and the one goal was to win the World Series. This is the first step."
Gallardo was 13-11 with a 3.42 ERA in 33 starts for the Rangers this season, but he also won both his starts against the Blue Jays without allowing a run in 13 2/3 innings. He is facing a lineup dominated by right-handed power hitters, and Banister said Gallardo's "body of work," including his starts against the Blue Jays, was the reason he is going in Game 1.
Gallardo will be center stage on Thursday afternoon in Toronto, with Cole Hamels starting Game 2 on Friday for Texas. Hamels has posted a 3.09 ERA in the postseason, but he is 0-2 with a career 6.97 ERA against the Blue Jays over four starts.
Gallardo's mother, Eulalia, passed away three years ago, but her dream was to see her son pitch in a Rangers uniform. Now he will do it in the postseason.
"It means a lot," Gallardo said. "This is the team I grew up with. To have this opportunity to start in Game 1, it's a big accomplishment. I'm excited to get the opportunity and take advantage of it."
This is not Gallardo's first postseason game. He made three starts and one relief appearance for the Brewers in 2008 and '11. His first postseason start was against the Phillies and Hamels in Game 1 of the NLDS, when he gave up three unearned runs over four innings in a 3-1 loss.
But if you want to talk about big games, how about going 11 innings and striking out 25 batters for Trimble Tech High in a 2-1 victory over arch-rival North Side. The opposing pitcher was his best friend.
That can be as intimidating as facing a lineup that includes Troy Tulowitzki, Edwin Encarnacion, Jose Bautista and Josh Donaldson.
"I just go up there and pitch my game," Gallardo said. "They know the way I pitch. It seems like I have faced those guys throughout my career. It's not easy. But the guys behind the plate have done a great job for me. They have a lot to do with it. We just go with the game plan and execute pitches."
Experience in big games comes in all forms.
"He is a guy who goes out and competes," catcher Robinson Chirinos said. "He prepares himself just to give the team a chance to win. When he is on the mound, he handles himself well. No matter what the situation, he is a competitor."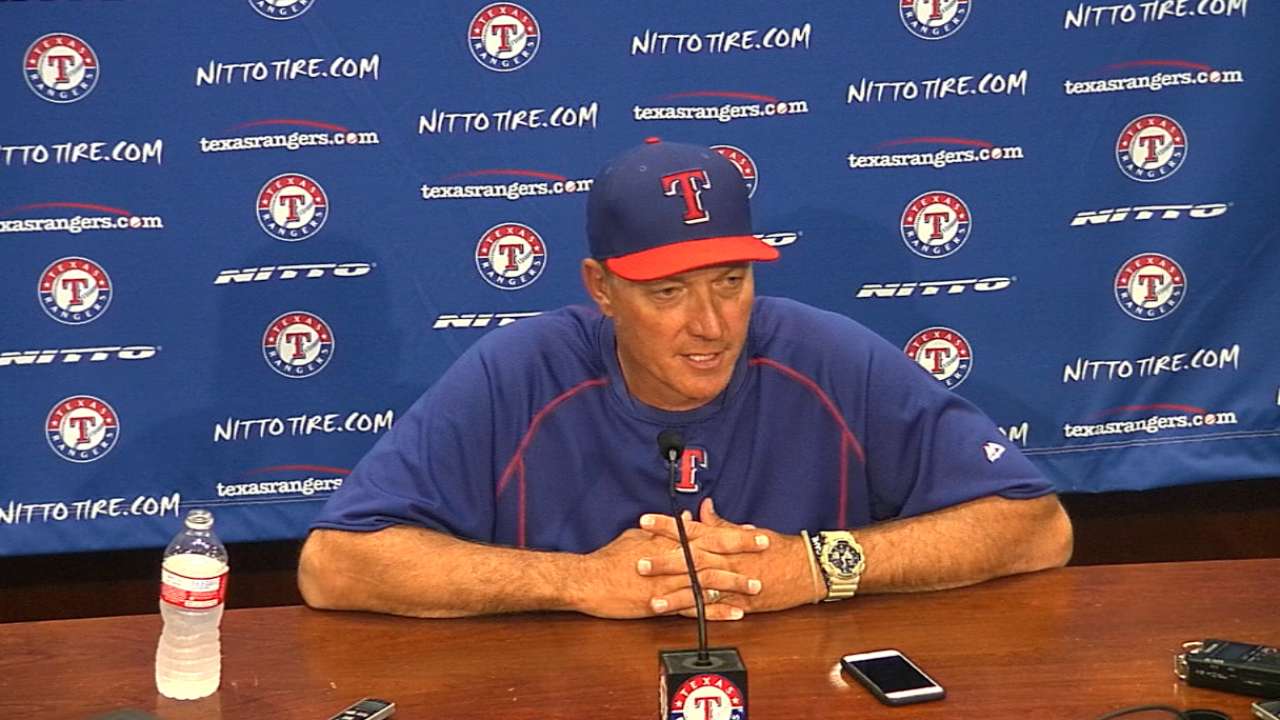 The Rangers were 19-14 with Gallardo on the mound, including their only two wins against the Blue Jays. He pitched 8 1/3 scoreless innings in a 4-0 victory over the Jays on June 27 in Toronto and 5 1/3 scoreless innings in a 4-1 win on Aug. 27. He allowed a combined six hits and five walks, and struck out six.
"He competes and has proven over the year that he is a horse," third baseman Adrian Beltre said. "He does everything in his power to keep the team in the game. He has shown it this year. We trust the guy."
The Rangers acquired Gallardo this winter in a trade with the Brewers. During the first week of the season, the North Side community had a special night honoring Gallardo and celebrating the hometown kid finally joining the Rangers. The celebration could be even bigger in October.
T.R. Sullivan is a reporter for MLB.com. Read his blog, Postcards from Elysian Fields, follow him on Twitter @Sullivan_Ranger and listen to his podcast. This story was not subject to the approval of Major League Baseball or its clubs.