Angels overcome obstacles in 'inspiring' year
Club hangs on until final game of season, impresses longtime manager Scioscia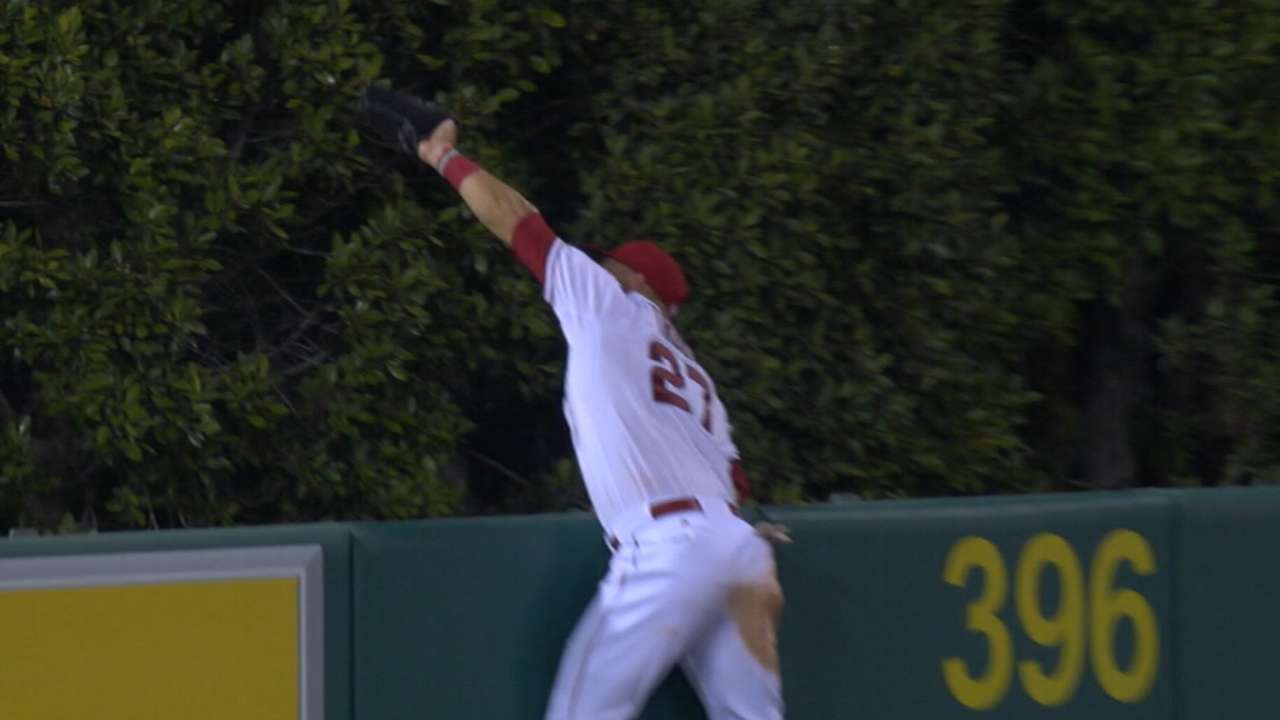 ANAHEIM -- The Angels' 2015 season began with a three-month lull, an uninspiring, monotonous stretch that produced a .500 record 18 times. Then suddenly the Angels exploded, winning 17 of 20 games to vault into first place right around the All-Star break. Then, just as dramatically, they struggled, losing 19 times throughout a crippling month of August to fall out of contention.
And then, at the very end, they overcame, playing through injuries, squeaking out numerous close victories and responding basically every time they were counted out.
• Angels aim to 'supplement core group' in '16
The Angels' postseason hopes didn't end until the final day, and that was enough to impress their longtime manager.
"They played hard, they played long, and for us to even be talking about a playoff opportunity the last week of the season is everything they did in that room," Mike Scioscia said of his 16th Angels team. "They were incredible. They left their hearts on the field, and it was an inspiring group. I was inspired by these guys."
Record: 85-77, third place, American League West
Defining moment: As badly as August went, the Angels regained their footing at the start of September. They won seven of their first 10 games, including the first two of a three-game weekend series against the then-first-place Astros. On Sept. 13, they held a 3-0 lead in the top of the ninth, a strike away from sweeping Houston and moving only 2 1/2 games out of first place -- and then came their most crushing defeat of the season.
Preston Tucker homered. George Springer hit a triple on a line drive that landed about an inch away from the outstretched glove of Angels right fielder Kole Calhoun. Jose Altuve singled. Carlos Correa reached on a 111-mph one-hopper that lodged itself into the webbing of second baseman Taylor Featherston's glove after a diving catch. And pinch-hitter Jed Lowrie lofted a fly ball that landed just inside the right-field foul pole and barely out of Calhoun's reach.
Huston Street blew the save, and the Angels lost that game, 5-3.
They finished the season only one game behind the Astros.
What went right: Scioscia didn't single out any particularly frustrating losses at the end of the season because, as he said, "You're going to have 10 of those gut-wrenching losses and 10 exhilarating wins."
The Angels experienced their fair share of exhilarating wins. They had 11 walk-offs, won seven one-run games over the last 13 days and crafted the most captivating comeback of the year with five ninth-inning runs on Saturday.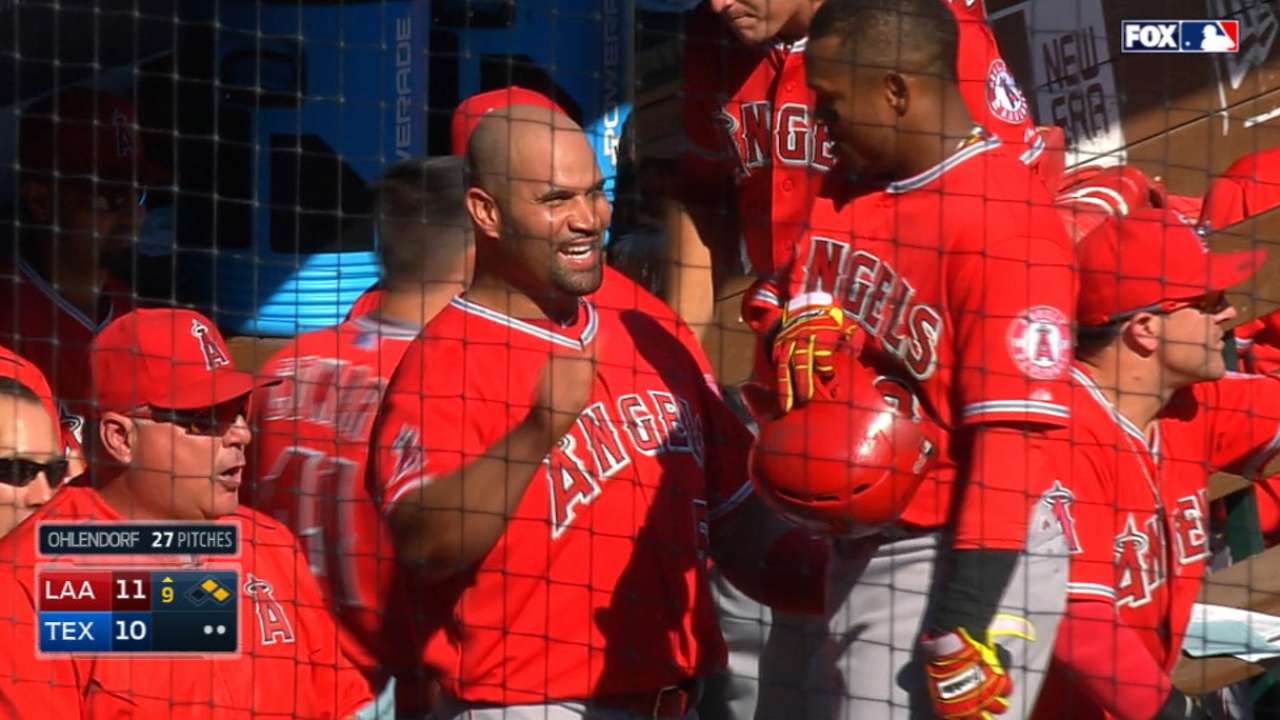 Along the way, they benefited from some impressive individual seasons.
Mike Trout notched yet another MVP-worthy campaign, leading the AL with a .590 slugging percentage, belting a career-high 41 home runs and adding a .402 on-base percentage.
Albert Pujols managed to hit 40 home runs, his highest total in five years, and made it back to the All-Star Game on the strength of a monster June.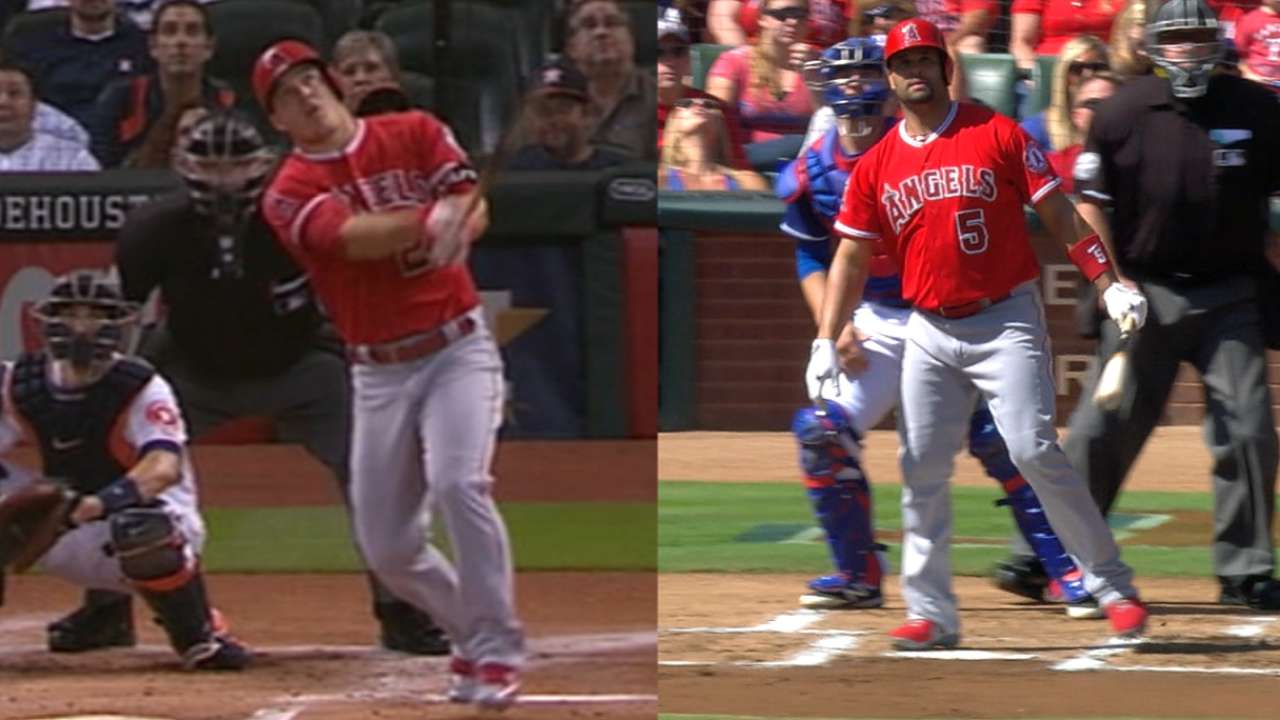 Calhoun posted career highs in homers (26) and RBIs (83) while playing Gold Glove-caliber defense.
C.J. Cron recovered from an early season slump -- and two midseason demotions -- to finish the season on a high note, batting .285 with 15 homers and 45 RBIs over his last 78 games.
Rookie Carlos Perez developed into a fine defensive catcher and his bat came on late, allowing him to reach base at a .398 clip after the start of September.
Garrett Richards didn't match the eye-popping numbers from 2014, but he was a solid 15-12 with a 3.65 ERA, his recovery from a ruptured left patella tendon an overall success.
Hector Santiago made the All-Star team for the first time, thanks to a first-half ERA of 2.33.
And Trevor Gott, a 23-year-old rookie with a 98-mph fastball, grabbed hold of the seventh-inning role down the stretch.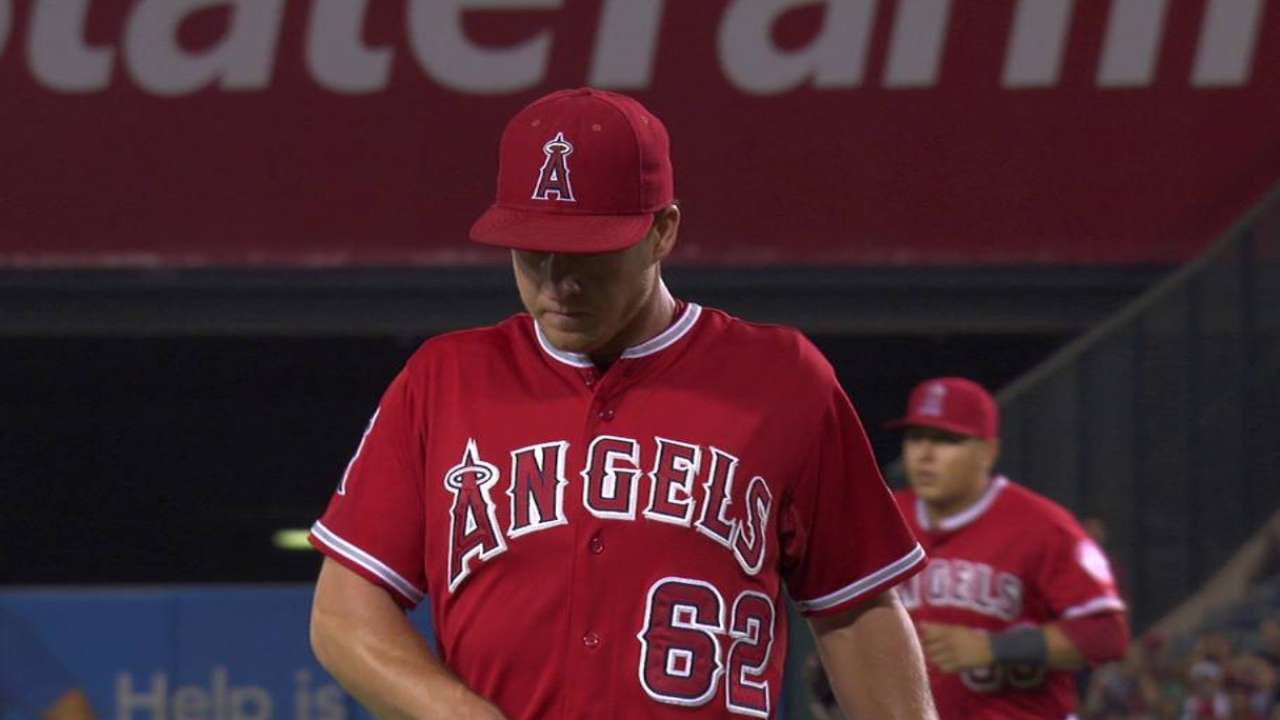 What went wrong: The Angels' offense went from the team's greatest strength in 2014 to its biggest weakness in 2015.
Left fielder Matt Joyce (.564 OPS) and catcher Chris Iannetta (.628 OPS) had the worst seasons of their careers, right before free agency. Pujols, hindered late by severe pain in his right foot, finished with career lows in batting average (.244) and on-base percentage (.307). And Featherston, a Rule 5 pick who hadn't played above Double-A before this season, was overmatched against big league pitching, posting a .459 OPS while spending the entire season as the team's utility infielder.
Jered Weaver had the worst season of his career, going 7-12 with a 4.64 ERA and a fastball down to an average of 85 mph. Matt Shoemaker was inconsistent, finishing 7-10 with a 4.46 ERA a year after placing second in the AL Rookie of the Year Award voting. And Santiago's unusually high strand rate caught up to him in the second half while he posted a 5.47 ERA in 15 starts.
There were injuries, like the elbow surgery that knocked starting pitcher C.J. Wilson out in late July, and the fractured right index finger that prompted David Freese to miss all of August, and the fourth-nerve palsy that kept second baseman Johnny Giavotella out for more than a month, and the left groin strain that ended Street's season on Sept. 26.
And there was drama.
From the start of Spring Training until late April, Angels players dealt with the awkward, contentious Josh Hamilton drug relapse and fallout in the background. And at the start of July, the general manager, Jerry Dipoto, abruptly resigned shortly after a contentious meeting with Scioscia and his coaching staff.
The front-office group Dipoto left behind, led by 71-year-old interim GM Bill Stoneman, opted to add only accent pieces before the non-waiver Trade Deadline, acquiring three platoon outfielders in David Murphy, Shane Victorino and David DeJesus. It led right into an August in which the offense finished last in virtually every category.
Biggest surprise: The Angels acquired Giavotella for a man named Brian Broderick, a journeyman pitcher the team had just signed out of the Mexican League. Giavotella wound up winning the second base job in Spring Training and turned in a rather improbable season. His defense was at times a liability, but Giavotella provided a lot of big hits, finishing with a .365/.400/.419 slash line in late-and-close situations.
Hitter of the Year: Trout hit for more power than ever in his age-23 season and is expected to finish at least within the top two in AL MVP voting for the fourth consecutive year. The only AL position player to do that was the late, great Yogi Berra. Trout had a brutal August, but he helped carry the Angels in September and will now go toe-to-toe with Blue Jays third baseman Josh Donaldson for his league's highest honor.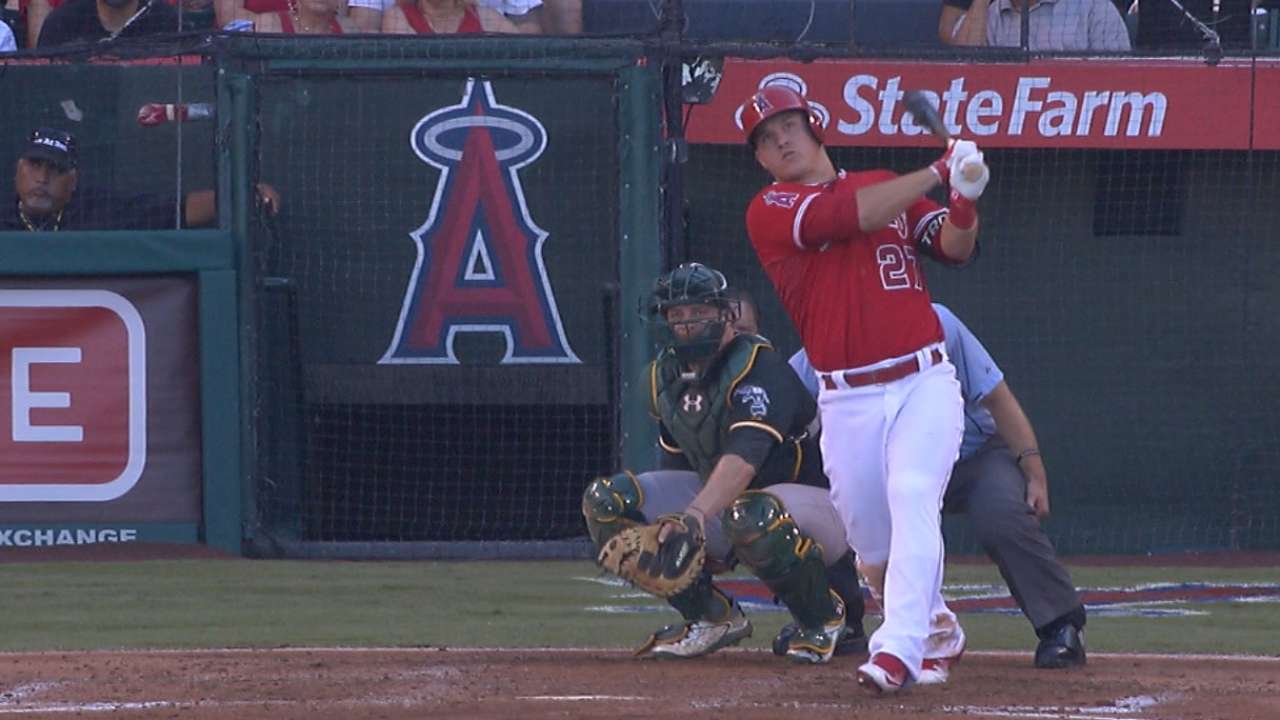 Pitcher of the Year: When it came time to accept the Nick Adenhart Award, presented annually to the Angels' best pitcher, Street hobbled onto the field on crutches. The 32-year-old right-hander was two days removed from the groin injury that ended his season. But before going down, Street saved 40 games, second most in the AL, and posted a 3.18 ERA.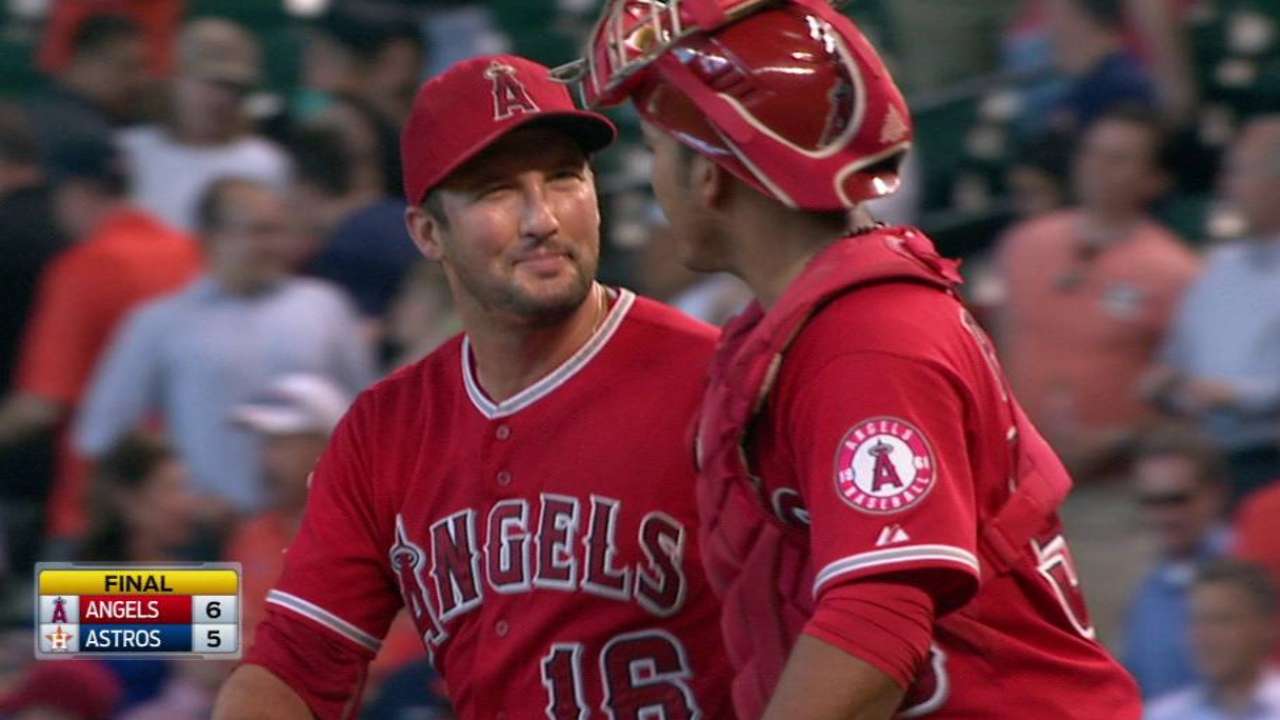 Rookie of the Year: Andrew Heaney came to the Angels under heavy scrutiny, largely because the Angels gave up homegrown second baseman Howie Kendrick to get him. The 24-year-old left-hander struggled while fighting for a rotation spot in Spring Training, but he worked out some mechanical issues and shined upon being called up on June 24, finishing his rookie season with a 3.49 ERA in 18 starts.
Alden Gonzalez is a reporter for MLB.com. Follow him on Twitter @Alden_Gonzalez and listen to his podcast. This story was not subject to the approval of Major League Baseball or its clubs.