Astros announce roster for Wild Card Game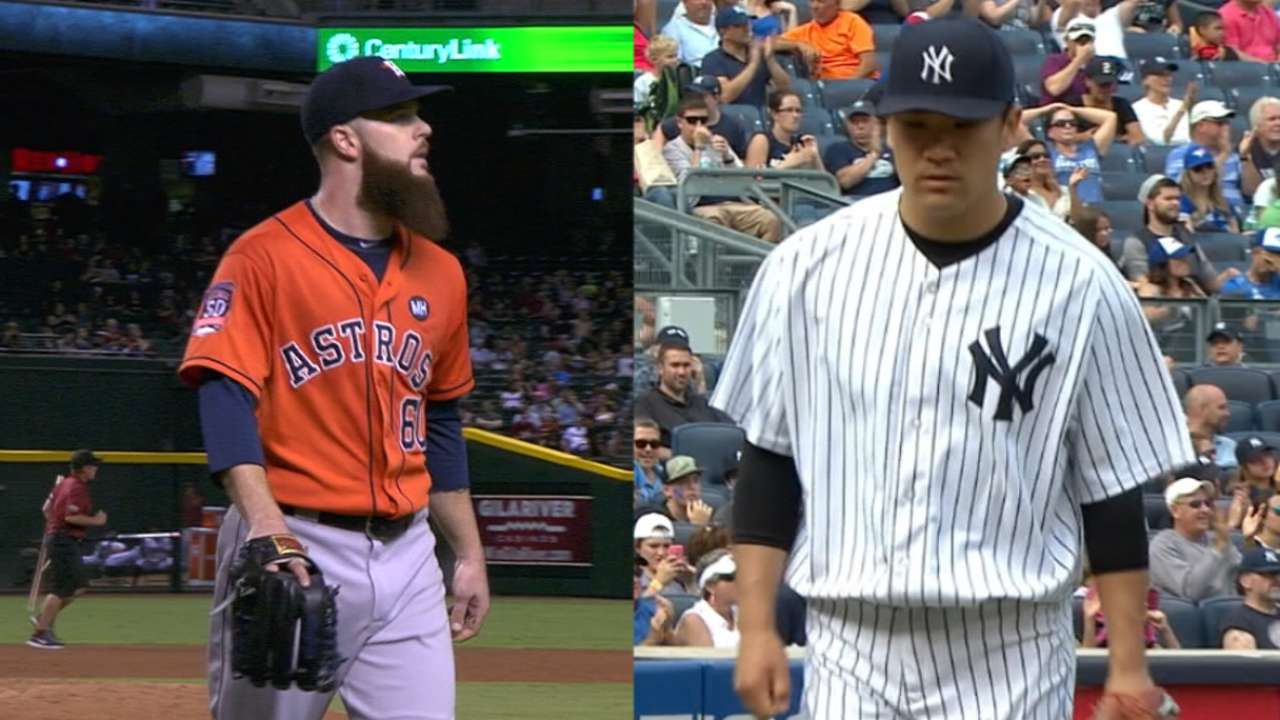 The Astros have set their 25-man roster for Tuesday night's game against the Yankees, and it features nine pitchers, two catchers, eight infielders and six outfielders.
Left-hander Dallas Keuchel will start for the Astros in the American League Wild Card Game presented by Budweiser at Yankee Stadium (8 p.m. ET, ESPN). Manager A.J. Hinch is carrying eight other pitchers: Josh Fields, Mike Fiers, Luke Gregerson, Will Harris, Pat Neshek, Oliver Perez, Chad Qualls and Tony Sipp.
Perez and Sipp join Keuchel as the only left-handers available for Houston.
The eight infielders are Jose Altuve, Chris Carter, Carlos Correa, Matt Duffy, Marwin Gonzalez, Jed Lowrie, Luis Valbuena and Jonathan Villar. The six outfielders are Evan Gattis, Carlos Gomez, Jake Marisnick, Colby Rasmus, George Springer and Preston Tucker.
• Shop for Astros postseason gear
Gomez, the Astros' big-ticket acquisition at the Trade Deadline, has been dealing with a mild left intercostal strain since Sept. 13, and he aggravated the injury Wednesday in Seattle when he made a strong throw to first base for a game-ending double play. Manager A.J. Hinch was non-committal during Monday's workout day when asked whether Gomez would be in the starting lineup against New York.
Jason Castro and Hank Conger are the two catchers.
The winner of Tuesday's game will face the AL Central-champion Royals on Thursday in Kansas City.
PITCHERS (9)
Josh Fields
Mike Fiers
Luke Gregerson
Will Harris
Dallas Keuchel
Pat Neshek
Oliver Perez
Chad Qualls
Tony Sipp
CATCHERS (2)
Jason Castro
Hank Conger
INFIELDERS (8)
Jose Altuve
Chris Carter
Carlos Correa
Matt Duffy
Marwin Gonzalez
Jed Lowrie
Luis Valbuena
Jonathan Villar
OUTFIELDERS (6)
Evan Gattis
Carlos Gomez
Jake Marisnick
Colby Rasmus
George Springer
Preston Tucker
Joey Nowak is a reporter for MLB.com. Follow him on Twitter at @joeynowak. This story was not subject to the approval of Major League Baseball or its clubs.