Statcast of characters in AL Wild Card Game
Altuve's speed drives Astros; A-Rod's power fuels Yankees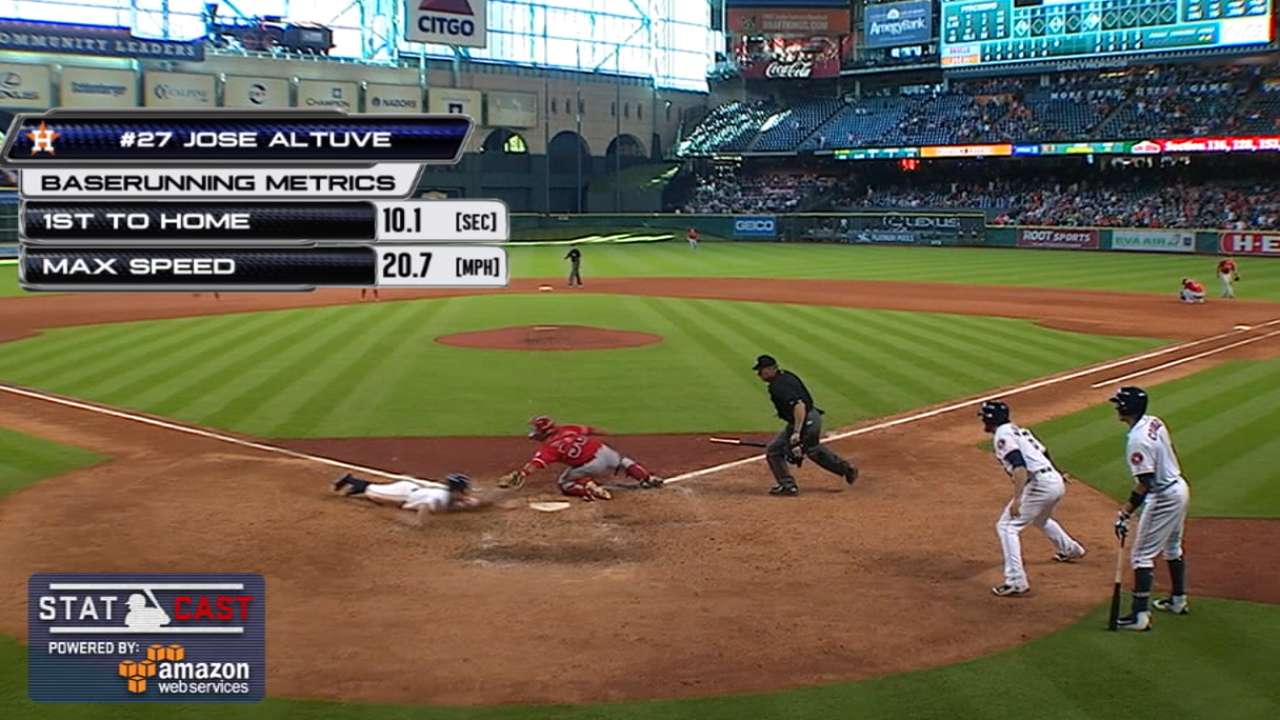 Though it may not be difficult to pinpoint the strengths and weaknesses of each of this year's postseason clubs, Statcast™ provides the ability to do so unlike ever before.
While both the Astros and Yankees leaned heavily on the home run ball, their matchup on Tuesday in the American League Wild Card Game presented by Budweiser (8 p.m. ET, ESPN) likely won't be a simple slugfest. Houston's offense also mixed in a steady dose of speed this season, while the Yanks will look to their seven-time All-Star catcher to attempt to slow down those Astros baserunners.
Speaking of slowing down baserunners, the Astros may be getting a lift from the expected return to the lineup of possibly their best defensive arm. The Yankees' biggest strength, meanwhile, may rest on the arms at the back of their bullpen, assuming they can carry a lead into the later innings.
From some of the longest home runs hit by these teams to the fastest times around the basepaths to what makes the Yanks' relievers so hard to hit, here's an in-depth look at three key metrics, courtesy of Statcast™, to keep an eye on for each team in the AL Wild Card Game.
ASTROS
Jose Altuve: Speed
Altuve led the AL in both hits and stolen bases for the second straight year, thanks in part to his blistering speed on the basepaths. Consider the fact that Altuve reached a max speed of at least 21 mph on 13 occasions when stealing second base. Only Reds speedster Billy Hamilton (16) exceeded 21 mph on more steals of second. Altuve also hit that 21-mph mark 21 times between home and first base while successfully legging out a single. The only player to eclipse 21 mph between home and first on more base hits was Miami's Dee Gordon, who did so 35 times.
It wasn't just infield hits and stolen bases, though. Altuve's speed also produced plenty of runs for the Astros, something that was perhaps never more evident than Sept. 23 against the Angels. Standing on first base, Altuve reached a max speed of 20.7 mph as he dashed all the way from first base to home plate in just 10.1 seconds. He ultimately dived in just ahead of the tag, all while producing the second-fastest first-to-home time clocked in the Majors this season.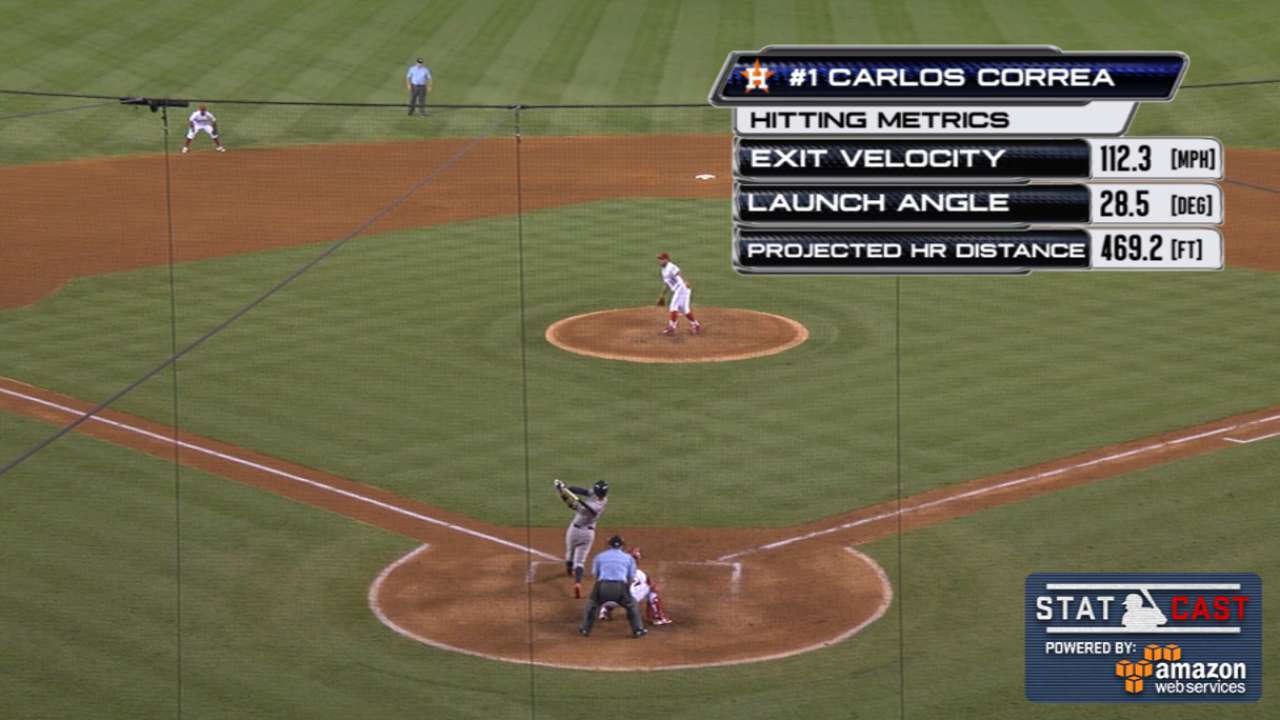 Carlos Correa: Power
One day before Altuve's mad dash around the bases, Correa had hit what proved to be the biggest blast of his record-setting rookie campaign. Though the Astros phenom and AL Rookie of the Year Award candidate set the franchise record for most home runs by a rookie, none was more impressive than the towering shot he hit off of Angels left-hander Hector Santiago on Sept. 12. Correa jumped all over the pitch, sending the ball off the bat at a scorching 112.3 mph and a projected distance of 469 feet. It was not only the longest home run hit by a Houston player this season, but also the 26th-longest homer hit by any player across the Majors.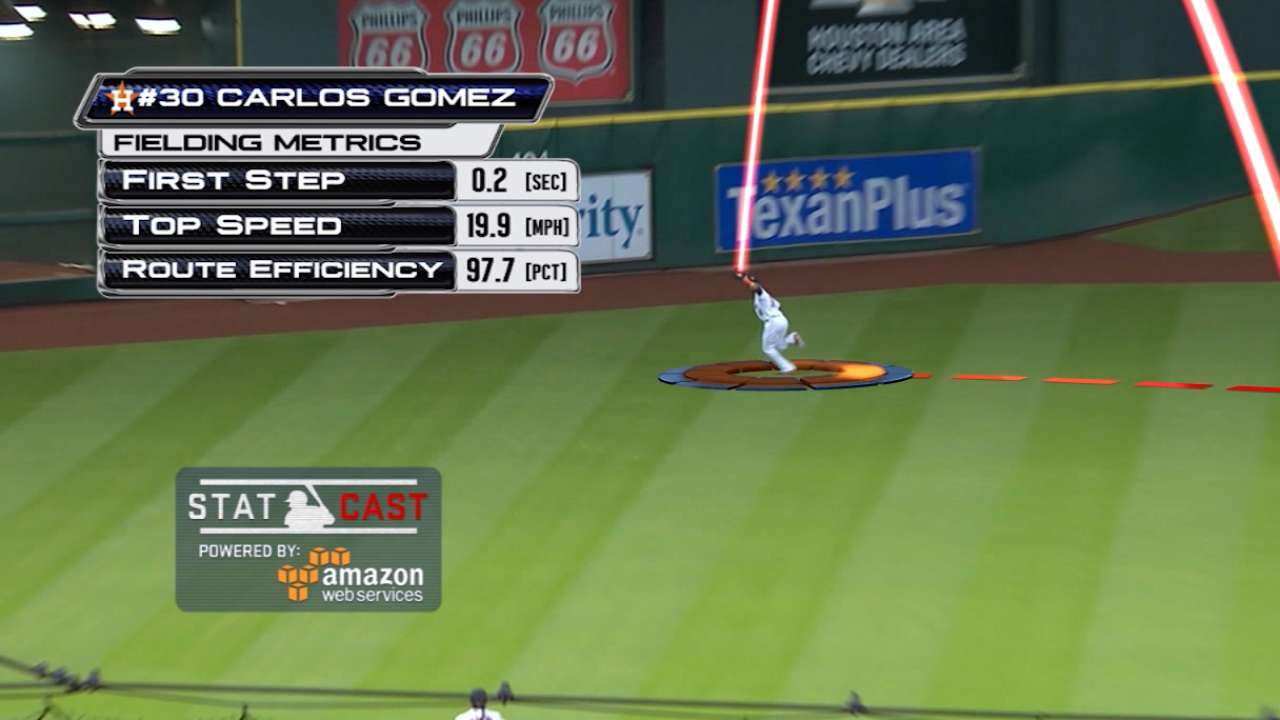 Carlos Gomez: Outfield range and arm strength
Despite missing much of the final three weeks because of a mild left intercostal strain, Gomez is hoping to start the AL Wild Card Game -- and the Astros will certainly welcome the opportunity to have his range and arm in the outfield. No one questions his speed, and even with the missed time, Gomez had 22 throws that Statcast™ tracked at faster than 90 mph this season. That's the fourth-highest total among center fielders, with Tampa Bay's Kevin Kiermaier leading the way with 34 such throws. One of Gomez's most impressive throws all season came on Aug. 17 at Yankee Stadium, the site of Tuesday's winner-take-all showdown. With runners on the corners and one out in the seventh inning of a scoreless tie, Gomez caught a fly ball then rifled a 100.2-mph throw -- his fourth-hardest throw of the season -- to the plate to nail Brian McCann and keep the Yankees off the board.
• Postseason shop: Astros | Yankees
YANKEES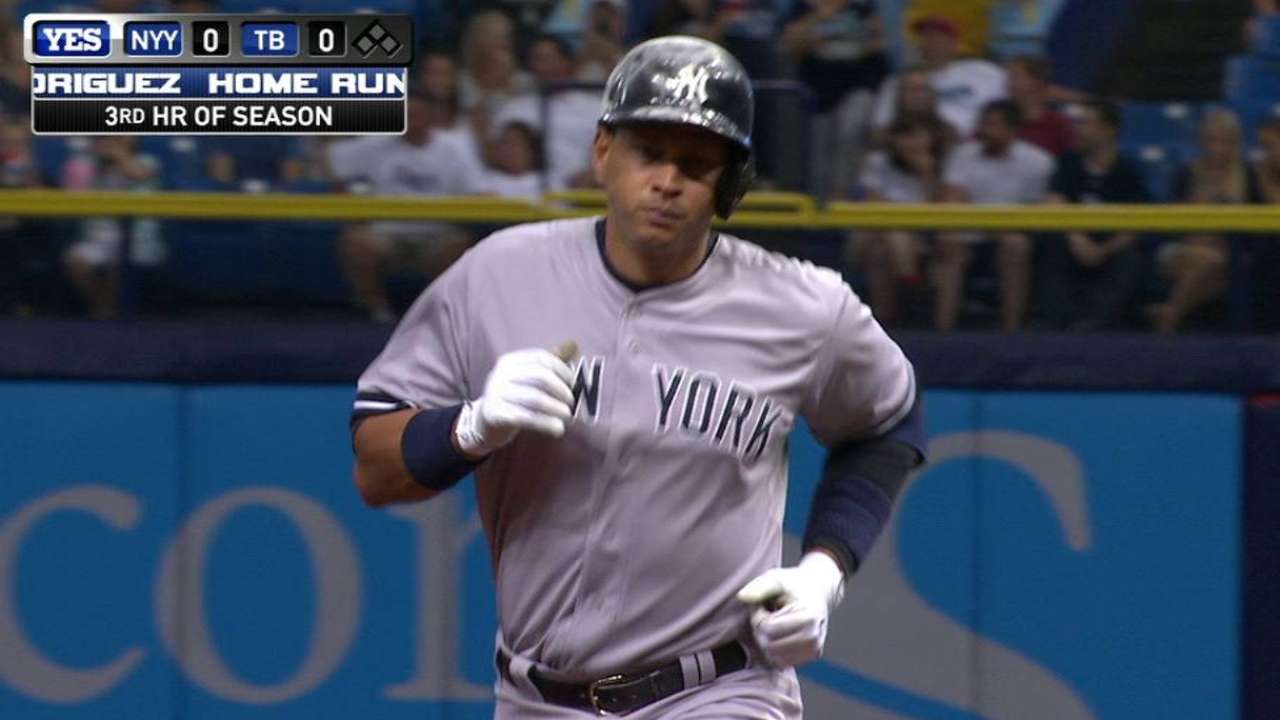 Alex Rodriguez: Power
No Yankees player hit more home runs this year than Rodriguez, nor did any Yanks player hit one farther than A-Rod. Rodriguez teed off for New York's longest home run of the season all the way back on April 17 against the Rays. The slugger turned around a Nathan Karns pitch at 107.3 mph, sending it a projected 471 feet, which held up as the 23rd-longest homer hit in the Majors this season. Rodriguez actually finished with each of the Yankees' three longest recorded home runs this season, as well as three of the top 50 across the Majors.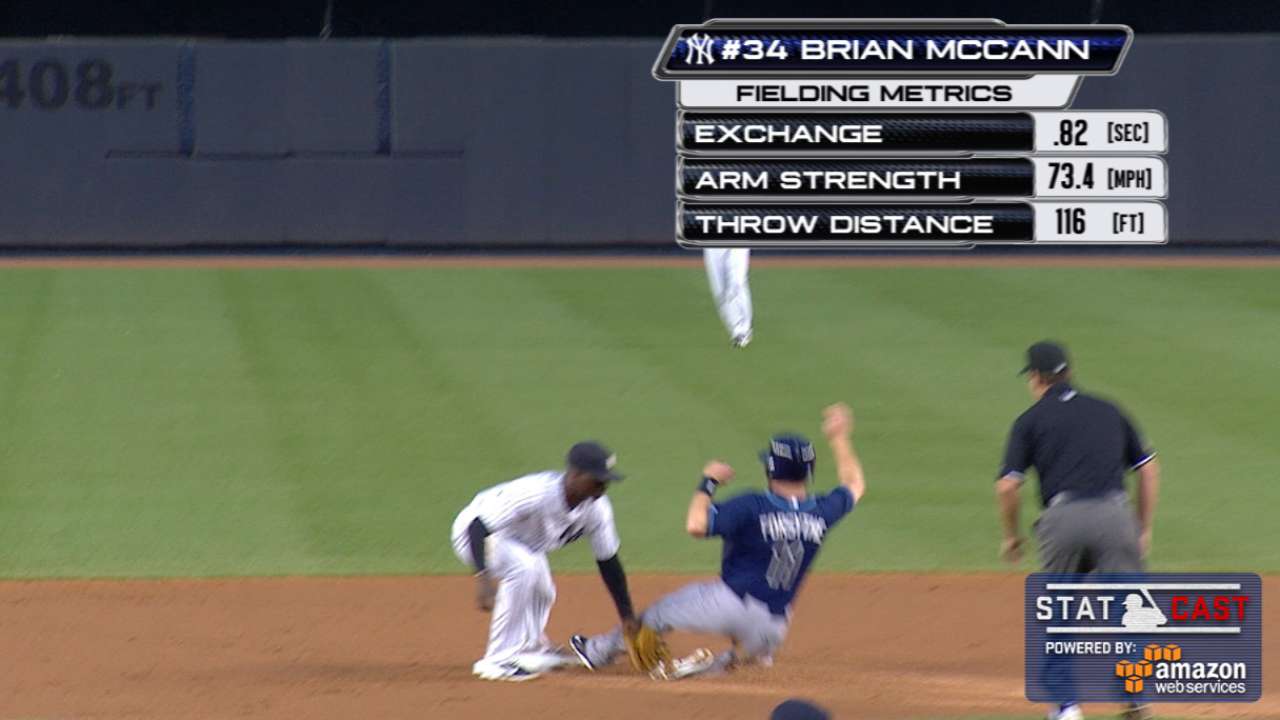 Brian McCann: Arm strength
Though it won't be an easy task slowing down Altuve and the Astros, McCann has proven he's up for a challenge when it comes to cutting down potential basestealers. Though Houston swiped more bases than any team in the AL this season, New York allowed the sixth-fewest steals, thanks largely to McCann's combination of exchange time and arm strength behind the dish. He put those skills on display against the Rays on Sept. 4, when he logged an exchange time of just 0.82 seconds then fired a 73.4-mph throw down to second base to nab potential basestealer Logan Forsythe.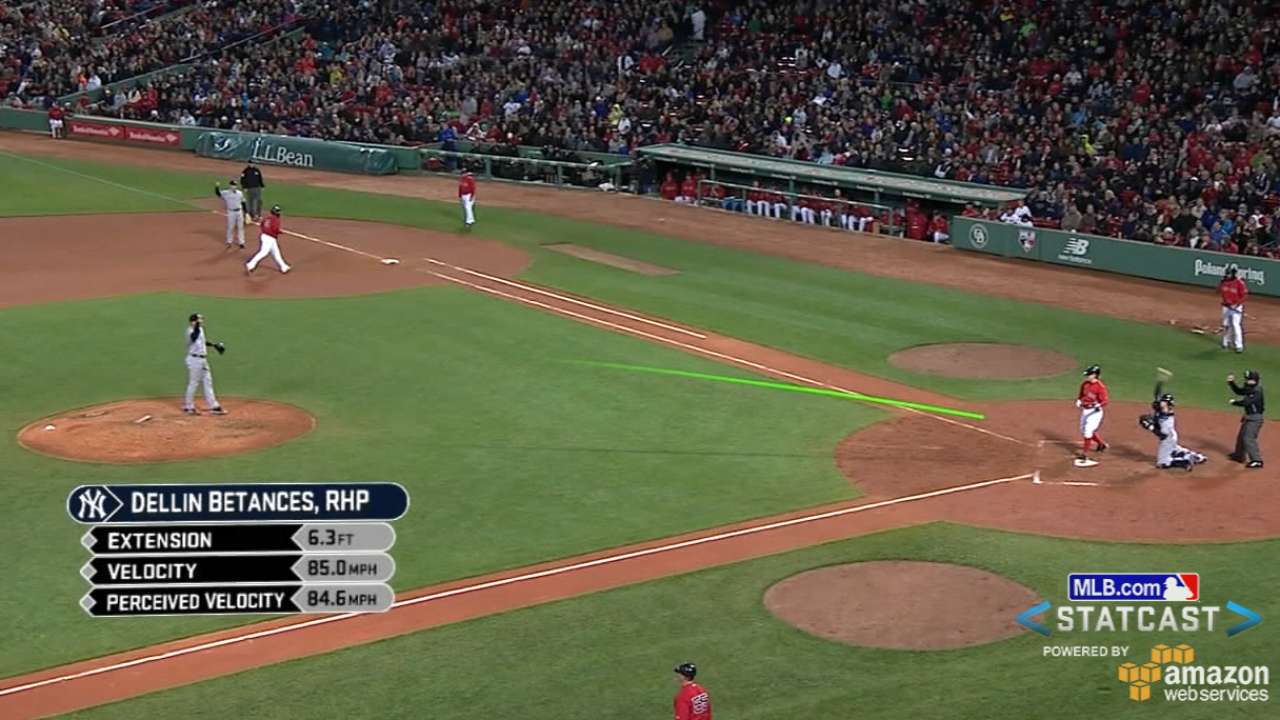 Dellin Betances /Andrew Miller: Pitch speed and spin rate
Betances and Miller overpowered their fair share of hitters while anchoring the back end of the Yanks' bullpen in 2015. For Betances, he averaged 97.5 mph on his four-seam fastball, good for the fourth-highest average among pitchers who threw at least 500 fastballs. Miller, meanwhile, devastated a number of hitters with a slider that produced an average spin rate of 2,122.4 revolutions per minute. That's the fourth-highest spin rate among pitchers that threw at least 400 sliders.
Paul Casella is a reporter for MLB.com. This story was not subject to the approval of Major League Baseball or its clubs.