Goins, Pillar surprise young fan with ALDS tickets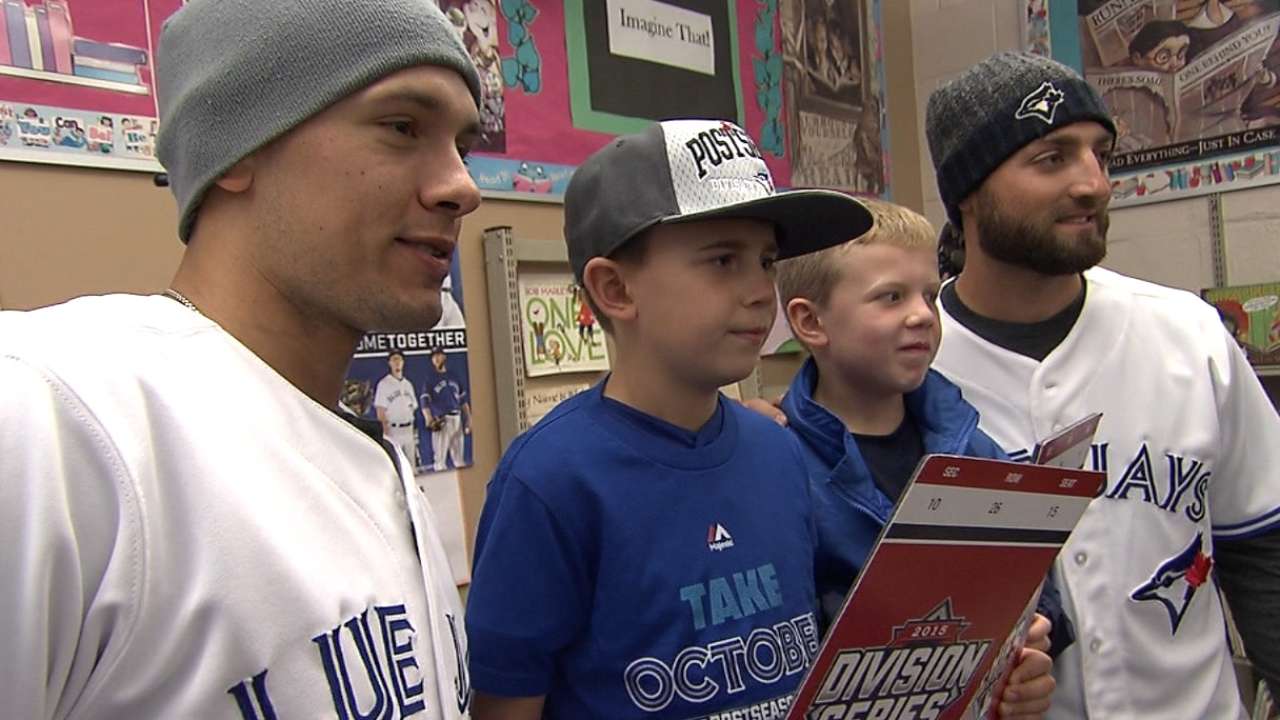 TORONTO -- Jack Blunt was speechless when he walked into the library at Warren Park Junior Public School on Monday afternoon. The 9-year-old had just completed a track and field meet, and couldn't understand why his mom was adamant to get him back to school with so little class time left in the day.
As he was ushered into the room around 2 p.m., the Grade 4 student was met with a barrage of cameras and about a dozen people he'd never seen before. But there were two faces he recognized.
"Kevin Pillar? Ryan Goins?" Jack said as he approached two men in Blue Jays uniforms.
The two Toronto baseball players, along with Tom Brasuell, VP of Community Affairs for Major League Baseball, were there to pay Jack visit as a part of a surprise ticket giveaway to the Blue Jays' ALDS opener on Thursday afternoon (3:30 p.m. ET on FS1, Sportsnet) against the Rangers at Rogers Centre.
"Thank you," was all a bewildered Jack could get out as he was handed four tickets to the first Blue Jays' first playoff game in 22 years.
It'll be only his second Blue Jays game, but Jack's mother Jenn said her son has been a big fan as long as he's known about baseball. She was on hand with Jack's brother, Wyeth, 7, along with the school's principal, Mary Gyemi-Schulze, as the young superfan got to chat it up with two of his baseball heroes.
Jack's story caught the attention of the Blue Jays community team as they explored initiatives to pursue this season. He lost his father to cancer while in kindergarten and last year was diagnosed with Type 1 diabetes. Being a die-hard Blue Jays fan, he seemed like an ideal recipient.
Gyemi-Schulze, who has known Jack since kindergarten, said he's deserving of the extraordinary gift.
"He's a great kid, he's gone through a lot in his life," she said. "We've all been here together for a long time. We're part of the family that is this community.
"Everyone watches out for everyone, like a small village, and when his family was going through the loss of his father and his recent health concerns, everybody was watching carefully and making sure he's okay and everything is taken care of for them." Pillar and Goins both did their best to lighten the mood for the young fan, whose state of shock they could said they could relate to.
"I would be too if it were me at that age," Pillar said. With three of the four tickets spoken for -- his mom and brother will be attending Thursday's game with him -- Jack was asked who he'd like to give the fourth ticket to. He had a little trouble narrowing it down.
"Everyone I know," he said.
Jamie Ross is an associate reporter for MLB.com. This story was not subject to the approval of Major League Baseball or its clubs.