Q&A: Cashman expected postseason return
GM hopes club performs like first 4 1/2 months of season
Yankees general manager Brian Cashman met with MLB.com in advance of the 2015 postseason, which begins tonight at 8 ET (on ESPN) when New York plays host to the Houston Astros in the American League Wild Card Game presented by Budweiser.
Many people did not seem to know what to make of this team, and it wasn't uncommon to read predictions that they would miss the postseason for a third straight season. For you personally, does 87 wins and a Wild Card meet or even exceed expectations?
I would say no, I'll stand by my comments from the winter. If this team was healthy, I think it had a chance to compete. Whether it was retaining Chase Headley, whether it was trading for Didi Gregorius -- actually, I thought the [David] Carpenter [trade] would play a big piece in replacing what we had in Shawn Kelley, that did not happen. [Brian] McCann, we signed a player from Atlanta that we didn't necessarily see last year but we're seeing this year. We felt that if Didi lived up to our scouting reports, then he would be a viable guy at short. He was still a developing player. We thought that Headley would be a good retention. Bottom line, when the dust settles, we felt [Nathan] Eovaldi and a number of these guys were going to be a benefit to us. Collectively, if they stayed healthy, which was a big if, then we had a chance to be in the postseason.
When you think about the big money investments you made -- re-signing Headley, signing Andrew Miller, getting Alex Rodriguez back -- which player's performance surprised you the most?
I would have to say A-Rod. A-Rod exceeded all expectations. Miller we thought could close and he proved he could. I guess Didi's development from June on, maybe he was bumping up against his potential sooner than we hoped. We hoped he could be a viable everyday guy, but since June or July he's been one of the better shortstops in the American League. That's been really fortunate for us. Eovaldi, his development of that split finger which he had messed around with toward the end of last year, but it's hard for me to say anybody exceeded my expectations in terms of the acquisitions. They just honored the purpose of why we acquired them and showed it in the first year.
Having held a seven-game lead in late July and then settling for the Wild Card, how do you feel this Yankees team sets up for a deep postseason run?
If we kind of press the restart button and get back into the arena we were, a viable offense and good defense and solid pitching, I think we've got as good a chance as anybody. For the first 4 1/2 months, if anybody had picked us to run the distance, it'd be an honest pick. We just haven't played that way for the last 50 days, it seems like. Bottom line is, if we play to our potential, then we can surprise some people and not just be a Wild Card participant. We can be an actual threat. But we've got to come back to playing good baseball. It hasn't happened for a while, so hopefully we're saving all of our good baseball for when it counts.
Can you put your finger on any reason why it has been a different team for the last 50 or so games?
Injuries, certain guys are slumping, certain guys are gassed. It's just a number of different things.
You largely stood pat at the Trade Deadline while the Blue Jays loaded up. Any regrets there, or does the performance you've seen from Greg Bird and Luis Severino tell you that it was the right course to take?
Even if they didn't, it was the right move. Those guys have a lot more value over the next coming years than a three-month rental. If you look at most of the players traded during the Deadline, if you look at [Yoenis] Cespedes, [David] Price and [Ben] Zobrist, it's kind of been a potpourri of performance off the top of my head from anybody else. The production we've got from Severino and Bird -- if you put them in the mix of players acquired after the Deadline and measured their performance, I'm not sure that any of the guys are above what Bird has done for us or what Severino has done for us, if you match them up with anyone else's acquisitions. I would say that they would match up or exceed most. It's been a real benefit, and one of the reasons why despite losing [Mark] Teixeira for instance, and having a number of other things take place, why we are where we are and going to the postseason.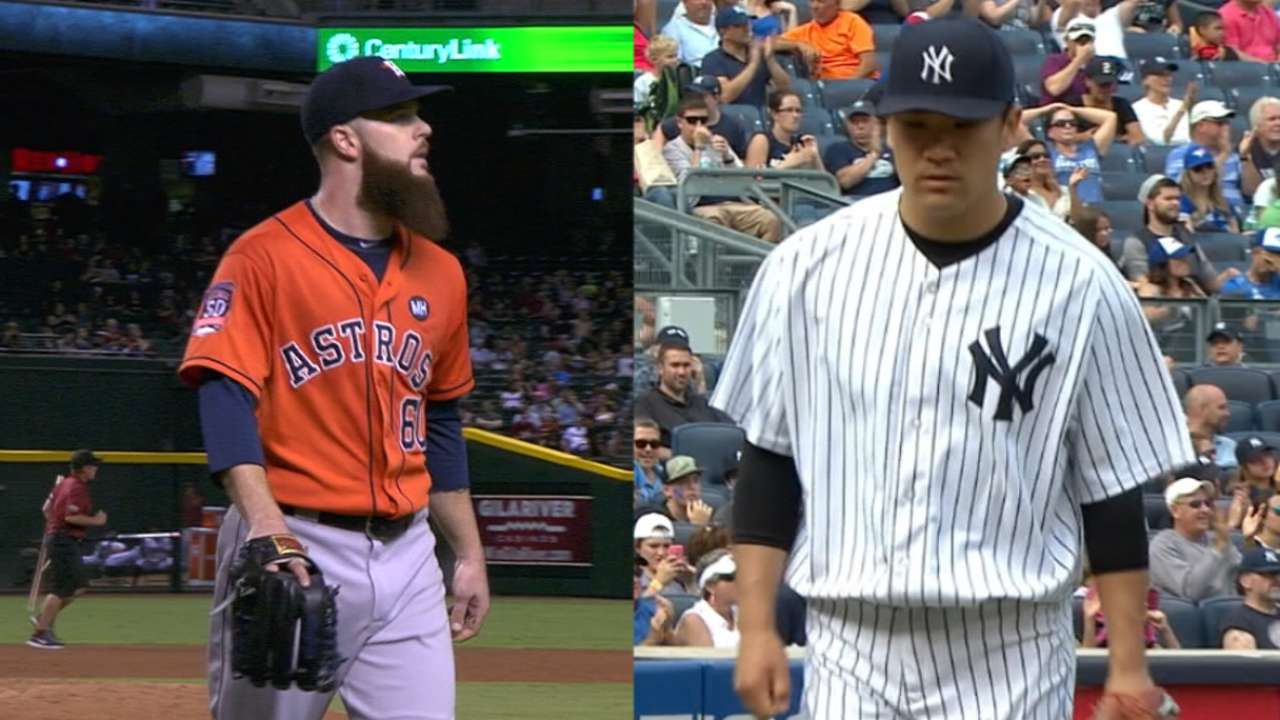 You have Masahiro Tanaka lined up for the Wild Card Game tonight. What about him tells you that he's ready for that challenge?
I just think that's part of his makeup. I do believe he'll rise to the occasion. I do believe he's going to give us a chance to win because of the makeup and because of his capabilities. For the most part, most of his Major League professional starts, he's been really good.
• Dress like the Yankees this postseason
It looks like Stephen Drew's season is over. What is your level of confidence in second base now, with Dustin Ackley, Rob Refsnyder and maybe Brendan Ryan?
I would say it would be really between Ackley and Refsnyder, to be honest. Those guys have been one of the reasons why we were able to hold on and make sure we were secure in a Wild Card berth after Toronto passed us in the division and took control of that. Ackley, and now to some degree Refsnyder, they've been one of those nice sparks of offense that we've had in the lack of offense.
How do you evaluate the job manager Joe Girardi did this season?
Especially in the second half, he's had to mix and match and try to find some things that would work. We've provided a lot of different players, we've been leaning on [Triple-A] Scranton a lot. When push comes to shove, between all the names, the personalities, the good performances and the bad, he's managed with his coaches and the players to put us in a position to be back in the postseason where we feel we belong. I think I'm proud of everybody, but we've got more work to do.
What else needs to happen for this team to be the last one standing?
Kind of what I said before: play solid defense, pitch to their capabilities and play the defense that they're capable of playing, and get timely hitting. It's as simple as that. I hate to say it, but it's just a simple recipe. Out of respect for the competition at this level, although it's simple, it's not necessarily something you can do on a daily basis.
For you personally, do you have a good feeling heading in?
Based on my experience, it doesn't matter how I feel. We could have a 100-win team surging and playing the best of their abilities, I've been there and had that team knocked out and upset. I've had a team enter the playoffs that wasn't playing well and 'backed in' the playoffs, then we snapped back into reality and found our mojo again. It really doesn't matter how I feel. It matters how they play every single day that they have the opportunity in October. That's my experience. It's the players' game and a lot can change really quickly. As bad as we've looked lately, it doesn't mean that's the way we're going to play in the next round.
Bryan Hoch is a reporter for MLB.com. This story was not subject to the approval of Major League Baseball or its clubs.