MLB reporters predict AL Wild Card Game winner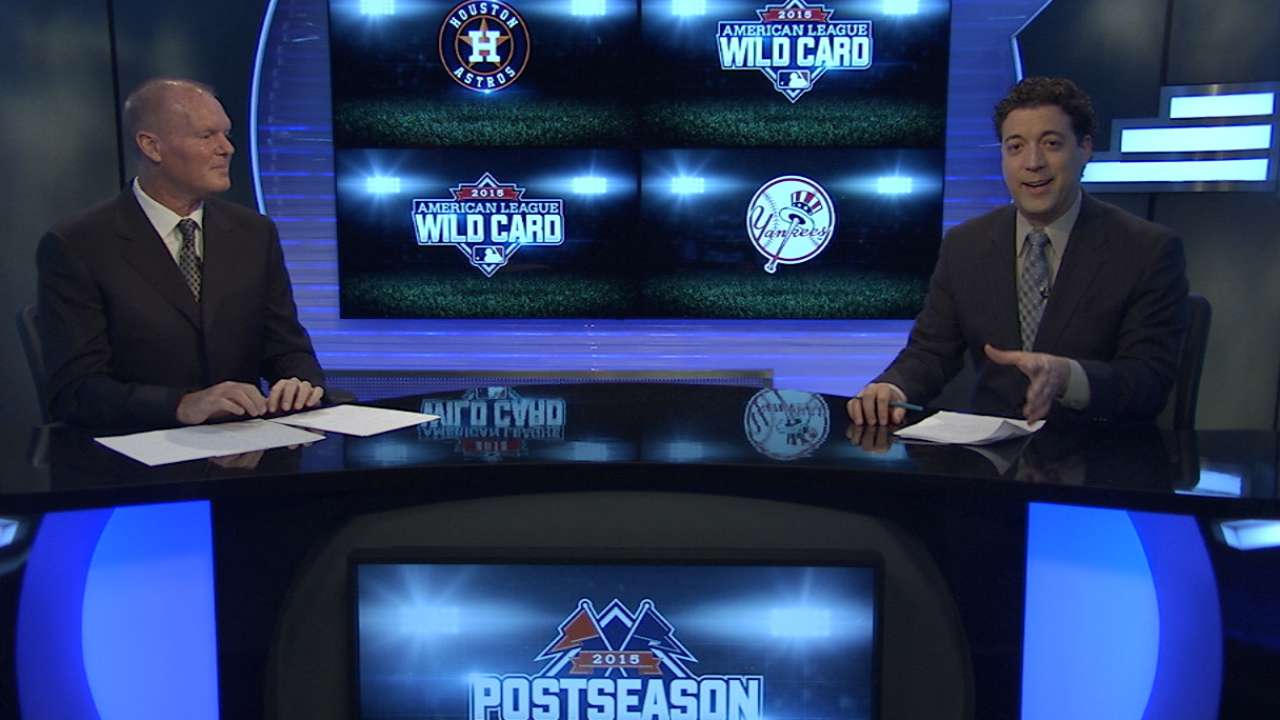 As 10 teams prepare to embark on the road to the 111th World Series, a collection of MLB.com analysts, columnists and reporters shared their thoughts on who will come out on top.
First up: Predictions for tonight's 8 p.m. ET American League Wild Card Game presented by Budweiser, pitting the Astros against the Yankees in New York and airing on ESPN.
Mike Bauman: Astros
Houston will get a big game from Dallas Keuchel, even on short rest, against a Yankees team that has lost six of its last seven.
Shop for Astros Postseason gear
Hal Bodley: Astros
The Astros will win because their ace, Keuchel, has been awesome and the Yankees, even though they're home, are scuffling. They're 15-19 at Yankee Stadium since August. Keuchel has pitched 16 scoreless innings against them this season, winning twice.
Anthony Castrovince: Astros
Yes, it runs counter to the "Astros can't win on the road" narrative. Pitching on short rest, Keuchel will keep the ball on the ground against a Yankees offense coming off its lowest well-hit percentage of any month this season.
Alyson Footer: Astros
While no one can know how Keuchel will respond to pitching on short rest, he's on his way to a potential AL Cy Young Award partly because he's fearless. As for the Astros, they never seem to get nervous under pressure. Their greatest asset may be they're too young and inexperienced to know how stressful October can be. That may be enough to win a pressure-packed one-game playoff.
Paul Hagen: Astros
Houston got it together in the last weekend of the regular season while the Yankees limped to the finish line. And while the Astros struggled on the road this season, they played well in the Bronx.
Richard Justice: Astros
Keuchel will control the game, even on short rest. Momentum matters in a Wild Card Game, and the Astros have it. The Yankees have had a remarkable season, but the Houston kids have one more step in them.
Shop for Yankees Postseason gear
Terence Moore: Yankees
The Astros have more momentum going into this game than the Yankees, but the pinstriped folks have Alex Rodriguez. Just a gut feeling: A-Rod does something huge to push the Yankees into the AL Division Series.
Jeff Nelson: Yankees
Masahiro Tanaka will give the Yankees exactly what they need, a solid seven innings that give way to the game's best eighth- and ninth-inning guys in Dellin Betances and Andrew Miller. The Yankees offense will do just enough to win.
Marty Noble: Astros
Too many things have gone wrong for the Yankees down the stretch.
Tracy Ringolsby: Yankees
The Yankees are experienced in the urgency of the postseason. The Astros acquired Scott Kazmir thinking he would provide an experience factor, but his late-season struggles led them to turn to Keuchel on short rest.
Phil Rogers: Yankees
There's a school of thought that a sinkerballer like Keuchel will be OK on short rest in a postseason game. Maybe so, but since the start of the Wild Card era, teams using starters on short rest against rested starters have gone 18-37, last winning an elimination game in 2003, when the Giants' Russ Ortiz beat the Cubs to stay alive in the NLDS.
Lyle Spencer: Yankees
The Yankees' experience should be the difference, along with the comforts of home. The Astros certainly have a lively shot with their superb young athletes, but I have to go with New York.