Holliday, Ventura connection goes way back
Growing up, Cardinals slugger occasionally had White Sox manager as babysitter
ST. LOUIS -- Before Robin Ventura became a two-time All-Star, six-time Gold Glove Award winner and manager of the White Sox, he was an occasional babysitter for Cardinals slugger Matt Holliday.
Ventura, who acknowledged that he'll have a rooting interest as Holliday's Cardinals open the postseason with a National League Division Series matchup against the Pirates or Cubs on Friday at 5:30 p.m. CT (TBS), grew close to the Holliday family during his time playing under head coach Tom Holliday, Matt's father, at Oklahoma State University from 1985-88.
Matt, born to Tom and Kathy Holliday in January 1980, and older brother Josh were regulars around the OSU baseball field, trailing their father around and soaking up a sport that both instantly came to love.
"If we were out of school or not playing, we were at the field," Holliday said. "That's basically where we grew up."
Ventura came to Stillwater via California and immediately crushed his collegiate competition. He hit .469 with 21 homers and 96 RBIs as a freshman and would later hit in a record 58 straight games. Matt and Josh were around to watch much of it.
"Tom had them around all the time, so they were pretty much baseball rats, being around the clubhouse," Ventura recalled. "Matt was the quieter one for sure, but always respectful kids. They were raised right."
Ventura, as Jeromy Burnitz would later do as well, occasionally joined the Hollidays for one of the boys' Little League games. He'd babysit, too, oftentimes when the Holliday parents wanted to escape for a night at the movie theater.
"They weren't that crazy. They were good kids," Ventura said. "Back then video games weren't really big things, so it was playing Wiffle ball or whatever in the backyard just to keep them occupied."
Holliday grew attached to Ventura and has since noted that Ventura became one of his favorite Major League players to watch in the game. Burnitz, oddly enough, would go on to become Holliday's teammate for the 2004 season in Colorado. In that same year, Ventura and Holliday appeared against each other in a Major League game.
Holliday went on to finish fifth for the NL Rookie of the Year Award that year, while the season represented the last of Ventura's 16 in the Majors. They have shared the same field three times since, with the Cardinals playing an Interleague series against the White Sox in Ventura's first managerial season (2012) and then twice more this season. In Chicago this summer, Holliday helped the Cardinals to a two-game sweep with his sixth career grand slam.
"That part I didn't like," Ventura said, laughing. "I told him he might get the next one in the neck. Yeah, we could have done without that. But again, I have nothing but good things to say about those two. I'm proud of what they have both done and who they have become … and always root for them."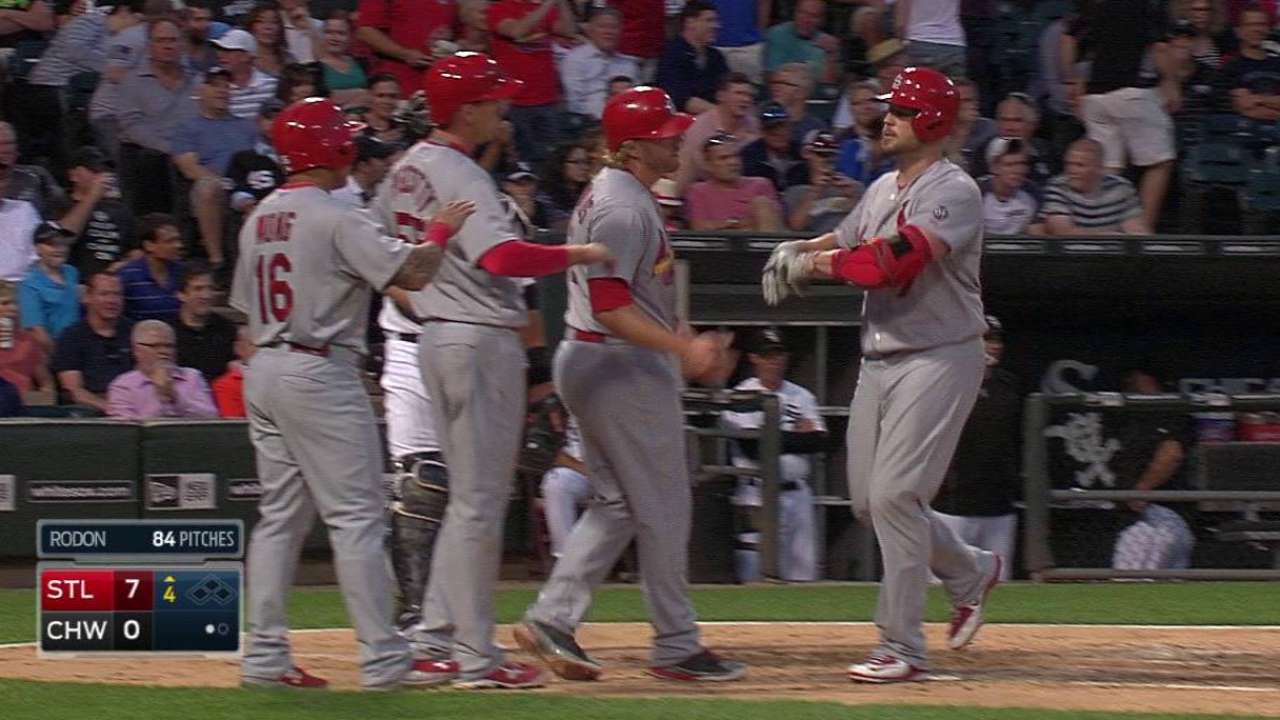 Jenifer Langosch is a reporter for MLB.com. Read her blog, By Gosh, It's Langosch, follow her on Twitter @LangoschMLB, like her Facebook page Jenifer Langosch for Cardinals.com and listen to her podcast. This story was not subject to the approval of Major League Baseball or its clubs.