Ace U: College ball prepped Cole for WC start
Stomping Grounds: RHP was groomed for the spotlight at UCLA
PITTSBURGH -- Sometime Saturday afternoon, manager Clint Hurdle called Gerrit Cole into his office at PNC Park and made the obvious official: Cole was starting against the Cubs.
The news was expected, as Cole had been lined up for some time to start the Pirates' first postseason game. The 25-year-old right-hander was honored, but unemotional, to hear he'd start tonight's 8 ET/7 CT National League Wild Card Game presented by Budweiser, airing on TBS.
"I'm just going to treat it like any other game," Cole said an hour later. "Obviously there's big ramifications, but that's the nature of the business. Just deal with it."
It might not be the "nature of the business" for most players, but it is for Cole, dubbed by Hurdle as Pittsburgh's "must-win pitcher." Earlier this decade, the Bucs' young ace was indirectly being groomed for his future as the Friday night starter for the UCLA Bruins.
Friday is the most important night in college baseball. Teams start their top pitcher to begin a three-game series, so every Friday night essentially features a No. 1-on-No. 1 matchup, a smaller version of the Cole-vs.-Jake Arrieta duel that will unfold at PNC Park.
• Cole driving Pirates' playoff train
Most pitchers ascend to the title of Friday night starter, but Cole was UCLA's ace from the get-go, spending all three years there as the Bruins' Friday night starter.
"It's uncommon," UCLA baseball coach John Savage said in a phone interview. "But the timing was right, and the talent was right."
• Which team should you root for this postseason?
Cole led a rotation that also included Indians right-hander Trevor Bauer, who won the Golden Spikes Award as the nation's top amateur player. Yet Cole was the pitcher Savage wanted on the mound in the most competitive game of every series.
"Pitching on Friday's a little different than pitching on Saturday. I think all those tight games helped his maturity as well," Savage said of Cole. "You could see that competitiveness when he first came out of high school, but he didn't really know how to handle it. The emotions of the game, what came at him during the game -- he couldn't corral it the way he clearly can now. It was a process."
It was also a process many expected Cole to bypass. Drafted by the Yankees in the first round out of high school, Cole instead chose to honor his commitment to UCLA. That only intensified the pressure on him, according to Savage.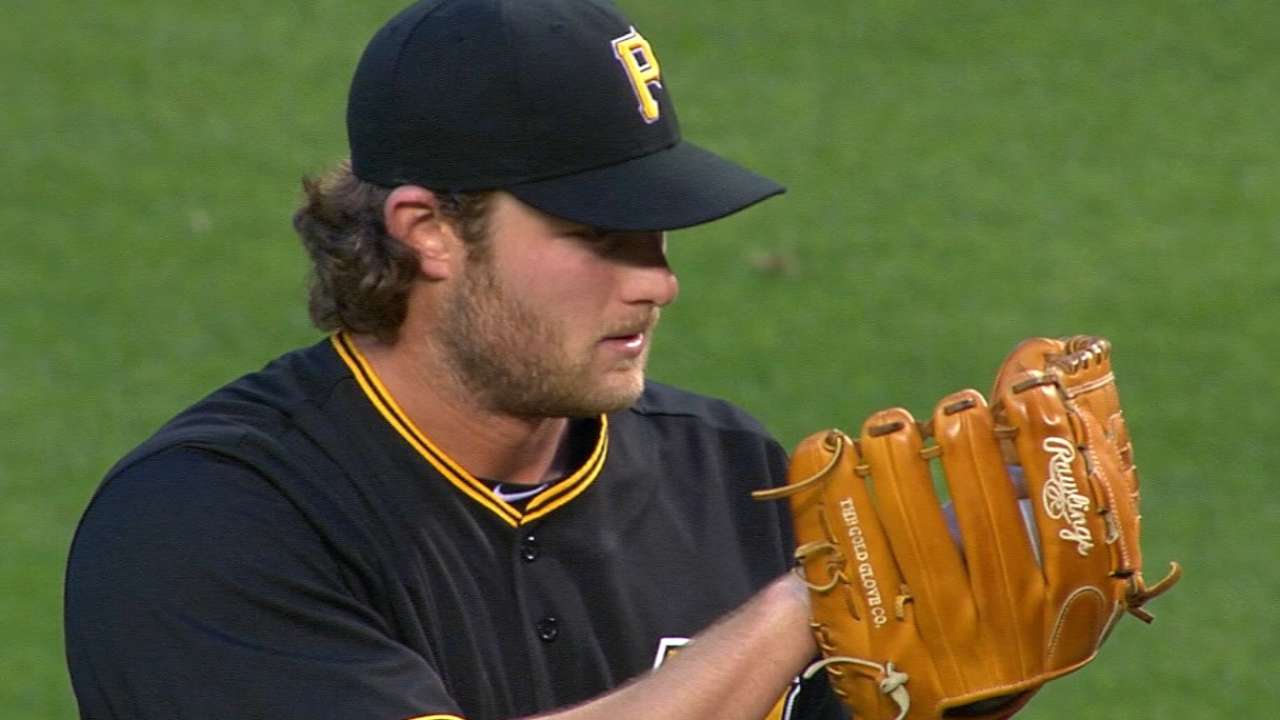 "As you can imagine, a first-round pick out of high school doesn't go to college very often. Now, you've got the 'X' on your back," Savage said. "I just think that he was so used to the spotlight and so used to being that guy that he's embraced it."
• Gear up for the Pirates postseason run
Cole pitched under that spotlight for three years, going 21-20 with a 3.38 ERA in 50 collegiate games. Following his junior season, the Pirates selected Cole with the first overall pick in the 2011 Draft.
"They knew the talent was there," Savage said. "It was just more about maturity and handling the game and the emotions, then repeating -- all those things that make a big league pitcher and a No. 1.
"He's grown into that."
First as a Friday night starter, and now as the Pirates' "must-win pitcher."
Adam Berry is a reporter for MLB.com. Follow him on Twitter at @adamdberry. This story was not subject to the approval of Major League Baseball or its clubs.