Twins surpass expectations in 2015, look ahead
Club proved resilient throughout season, has promising future with young talent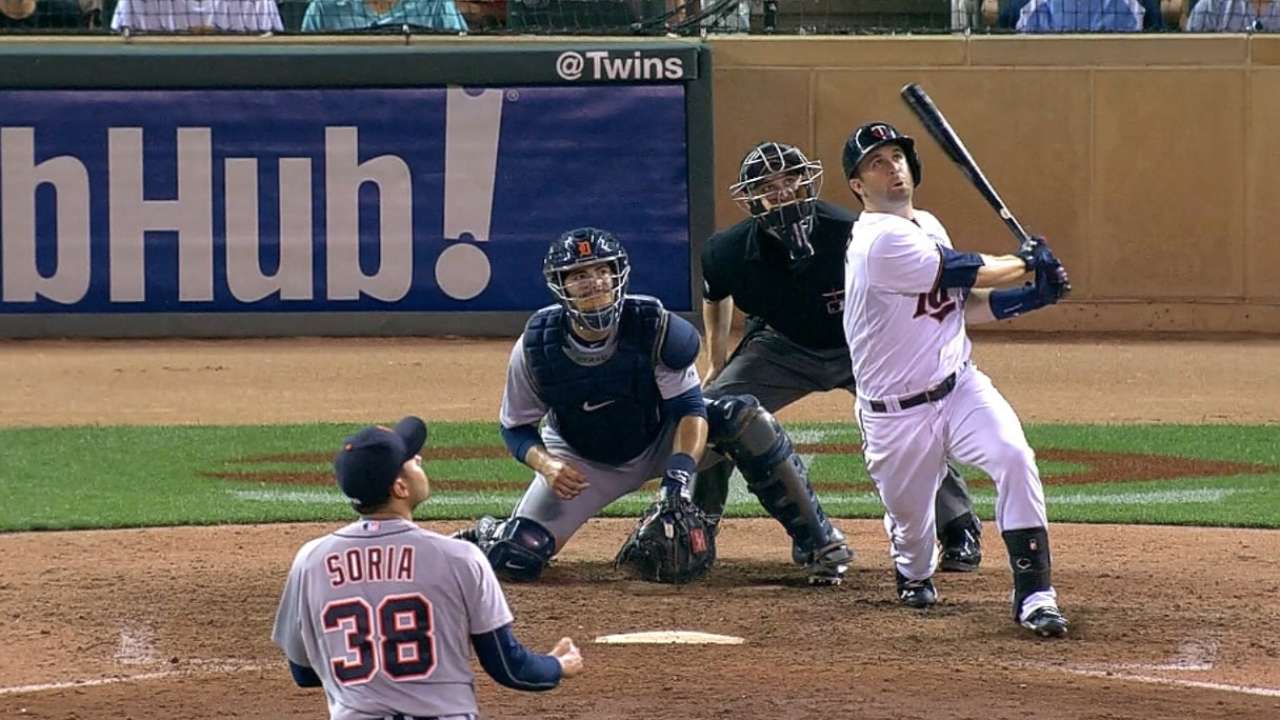 MINNEAPOLIS -- When Paul Molitor met with the media at his introductory press conference on Nov. 3, he said he believed the Twins were ready to win and move on from their four straight seasons with at least 92 losses.
Not many believed him, as the Twins were still pegged to finish last in the division, but Molitor turned out to be right, as the Twins posted their first winning record since 2010 and weren't eliminated from the postseason until the second-to-last day of the season while finishing second in the American League Central.
• Foundation set for Twins to compete in 2016
Molitor, in his first season at the helm, oversaw a team that surpassed outside expectations with many players playing meaningful baseball late in the season for the first time in their careers.
"I think we learned a lot," Molitor said. "There was a lot of growth. We saw the development of a lot of people in terms of character and performance. The curtain came down so to speak, but it was a pretty good show. Some of the acts were a bit sketchy and we tried to move onto the next scene, but the body of work was good."
As Molitor noted, resiliency was the club's most impressive trait, as it bounced back from a 1-6 start and also weathered tough stretches such as a sweep in New York against the Yankees in mid-August and a five-game losing streak at home in mid-September. The Twins ultimately fell short of their goal of making the postseason, but they have a young core of players such as Miguel Sano, Eddie Rosario, Byron Buxton, Aaron Hicks, Trevor May and Tyler Duffey that should help them stay competitive going forward.
"I felt like we grew as a team and saw some young guys mixed in with some older guys," All-Star second baseman Brian Dozier said. "I feel like we made a bunch of strides to better ourselves not just this year, but for the years to come. It's always a good sign when you look at the big picture. But at the same time, we came up short."
Record: 83-79, second place, AL Central
Defining moment: The Twins showed plenty of resolve throughout the season, and no game displayed that more than their epic come-from-behind victory against the Tigers on July 10. The Twins were down, 6-0 in the eighth and 6-1 in the ninth, but rallied back, keyed by a walk-off three-run homer from Dozier. The Twins went 6-1 heading into the All-Star break, signifying they were a legit postseason contender, while it was the beginning of Detroit's downfall after they won the division in each of the last four years.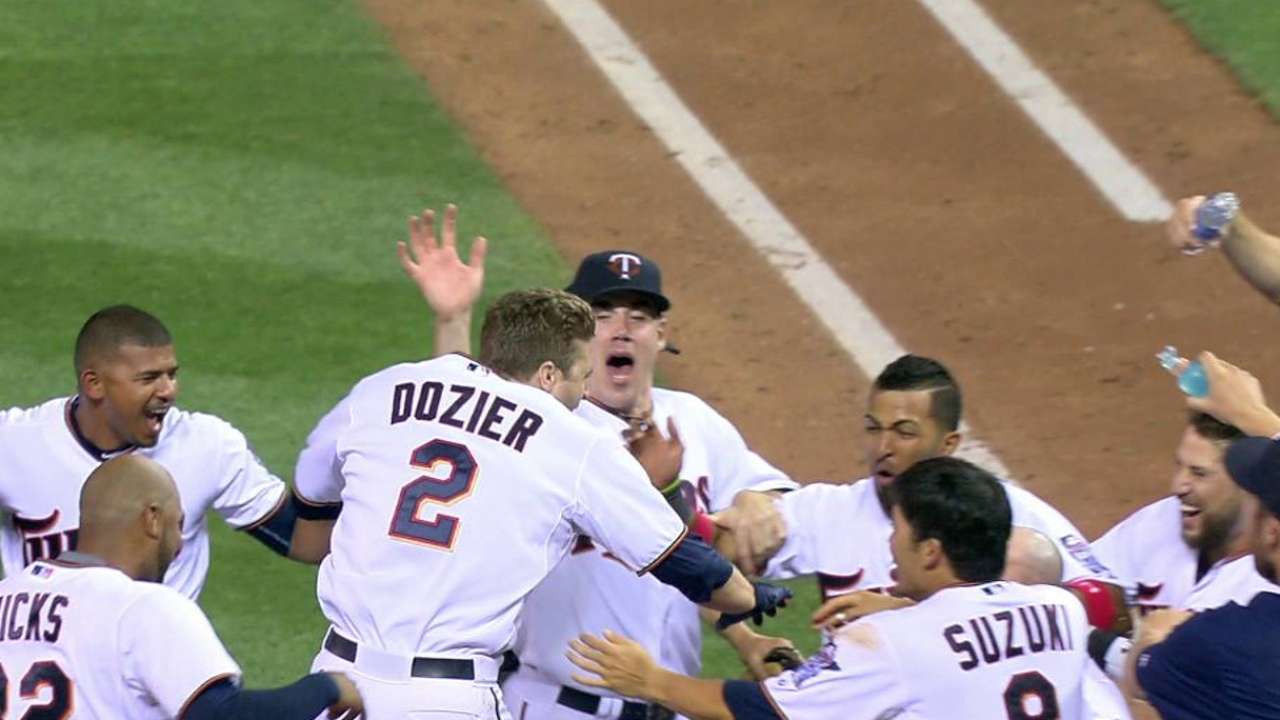 What went right: After their starting pitchers finished with the worst ERA in the Majors in each of the last two years, Twins starters finished a more respectable 16th in ERA. Kyle Gibson took a step forward, while Ervin Santana provided a big boost after serving his 80-game suspension for the use of a performance-enhancing drug. Rookie Tyler Duffey was a big surprise with a strong finish to the year.
Sano emerged as an AL Rookie of the Year contender, smacking 18 homers and 17 doubles in 80 games and providing a major spark to the offense.
Fellow rookie Rosario had an impressive year, reaching double digits in homers, doubles, triples, stolen bases and outfield assists.
Hicks started the year at Triple-A Rochester but finally started to figure it out offensively in the Majors and figures to be an everyday outfielder in 2016.
Glen Perkins was perfect in save situations in the first half and while he struggled with injuries and consistency in the second half, Kevin Jepsen filled in capably after being acquired from the Rays via trade.
Torii Hunter was the clubhouse leader and helped create the dance parties that the Twins celebrated after every home win. His 22 homers were also his most since 2011, and he had 81 RBIs.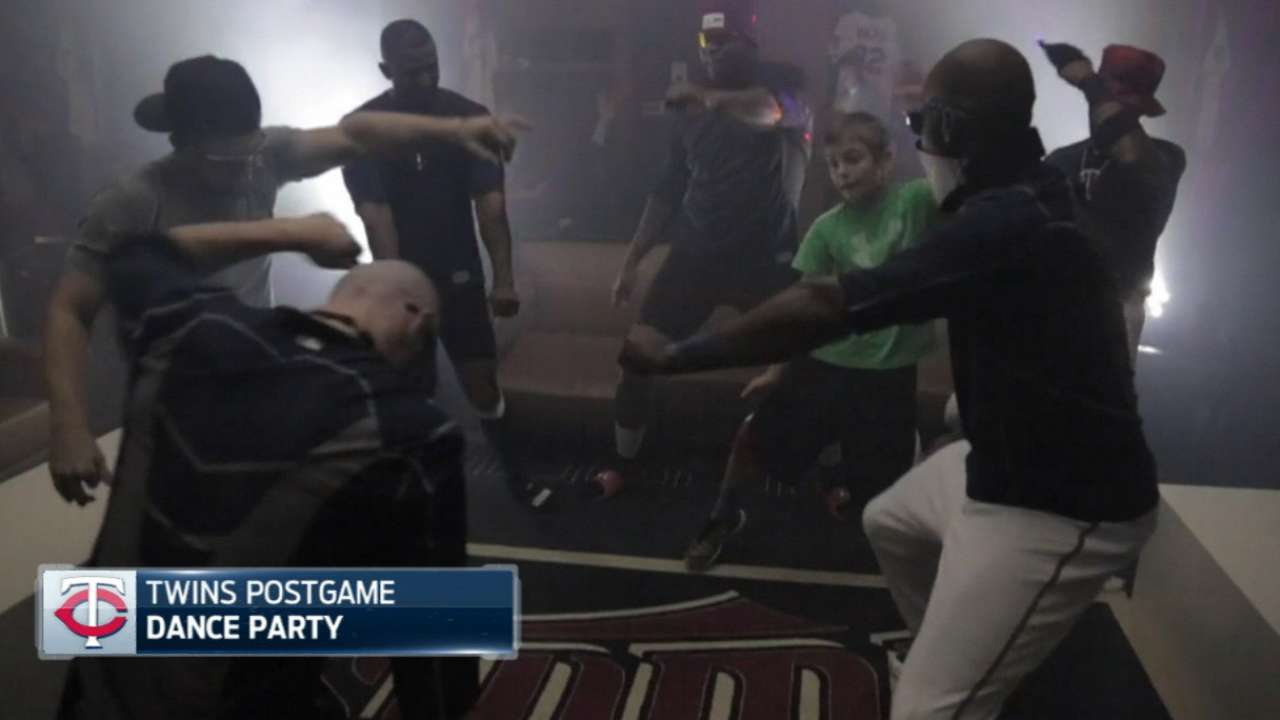 Dozier hit a career-high 28 homers and was named an All-Star for the first time. He also homered in the All-Star Game.
The Twins hit .279 with runners in scoring position, ranking tied for third in the Majors.
What went wrong: Right-hander Phil Hughes couldn't find his 2014 form, as he saw his ERA jump from 3.52 to 4.40. He also missed time with a back injury and finished the season with a bout with pneumonia.
Fellow right-hander Ricky Nolasco missed four months with an ankle injury that caused him to undergo surgery. He ended up returning for a relief appearance and a start late in the season, but he finished with a 6.75 ERA in 37 1/3 innings.
First baseman Joe Mauer stayed healthy, playing in a career-high 158 games, but he hit .265/.338/.380 and hasn't had a big offensive year since suffering a concussion late in the 2013 season.
Danny Santana and Kennys Vargas had breakout rookie seasons in 2014, but they were unable to build on them in '15 and now face uncertain futures.
Outfielder Oswaldo Arcia hit 20 homers in in 103 games as a 23-year-old in 2014, but he played in just 19 games with the Twins in '15, as he struggled offensively both in the Majors and at Triple-A.
Catcher Kurt Suzuki couldn't replicate his 2014 season that saw him get named an All-Star for the first time in his career. But he was durable, starting 123 games behind the plate.
Santana had a strong second half, but it came after his 80-game suspension. A full season from Santana could've been enough to lift the Twins to the postseason.
Perkins struggled in the second half, missing time with a back injury and posting a 7.32 ERA after the All-Star break.
Hitter of the Year: The best overall hitter on the Twins was Sano, and it came in just 80 games after he was called up on July 2. But it's hard to ignore the numbers he put up, as he hit .269/.385/.530 with 18 homers, 17 doubles and 52 RBIs. Dozier has a strong case and played in 157 games, but he had an .841 OPS in the first half and a .639 OPS in the second half.
Pitcher of the Year: Gibson was the club's most consistent starter over the course of the entire season, posting a 3.84 ERA in 32 starts and 194 2/3 innings. Santana and Duffey were both impressive down the stretch, but Gibson led the Twins in starts and innings pitched, while taking another step forward in his development.
Rookie of the Year: Sano narrowly edges out Rosario, as Sano was the much better hitter but mostly served as the club's DH and dealt with a hamstring issue that limited his effectiveness on the base paths. Rosario was a great defender in the outfield and an even better baserunner but was hurt by the fact he had just a .289 on-base percentage that was nearly 100 points lower than Sano's.
Rhett Bollinger is a reporter for MLB.com. Read his blog, Bollinger Beat, follow him on Twitter @RhettBollinger and listen to his podcast. This story was not subject to the approval of Major League Baseball or its clubs.