Marlins ready to build on successful September
Club hopes strong finish leads to stronger 2016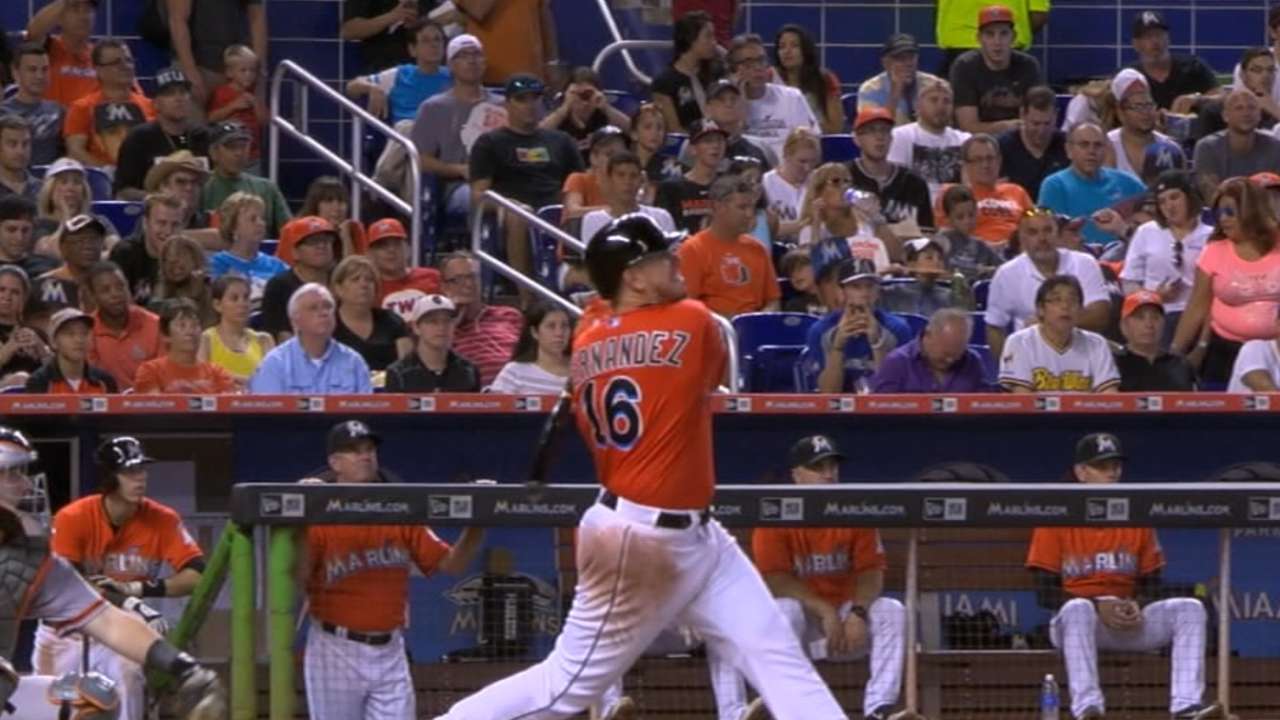 MIAMI -- Hiring Don Mattingly as manager on Monday marked a new beginning for the Marlins, who are eager to turn the page after enduring their sixth straight losing season.
Record aside, not all was lost in 2015. In September, the club showed signs of life. The players bonded together down the stretch, which reinforced to upper management that the nucleus of a talented club is in place. Saving their most successful month for last now has the Marlins prepared to add pieces for 2016 rather than look to break things up.
"As much as we want to win as many games as we can as a front office, I think it means more to a young roster and young players, because it's part of their growth," president of baseball operations Michael Hill said. "It showed they're capable of achieving at the highest level."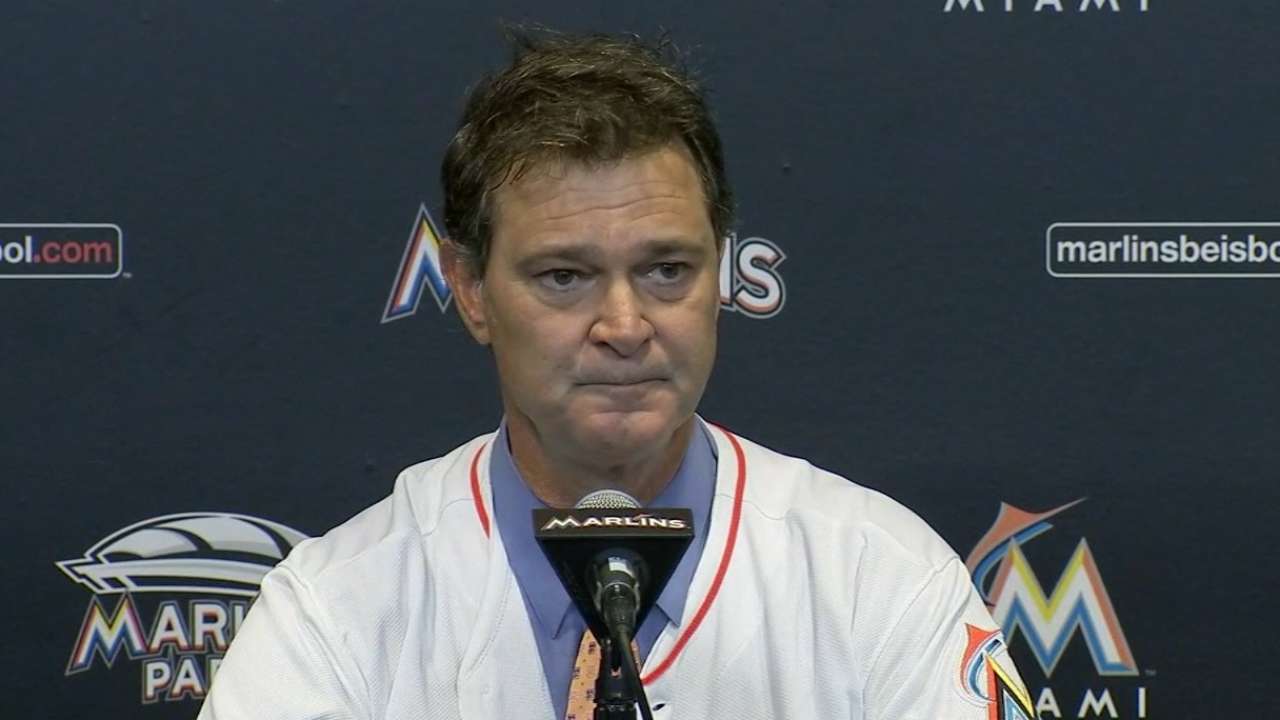 In a chaotic 2015, the Marlins endured a managerial change and numerous injuries to top players.
Through the adversity, the Marlins stuck together until the end. There were times the club looked like it would finish with the worst record in baseball. But Miami rebounded and finished third in the National League East.
Still, to get into contention, plenty of work needs to be done. At least now, heading into the offseason, the organization has a clearer idea of what areas must be addressed.
"We've always believed in them," Hill said. "When you're a young player, you're still trying to find your way. I think they're starting to believe they can play with anybody in this league."
Arbitration eligible: RHP Jose Fernandez, 2B Dee Gordon, SS Adeiny Hechavarria, RHP Tom Koehler, RHP Henderson Alvarez, RHP Carter Capps, RHP A.J. Ramos, RHP Bryan Morris, RHP David Phelps, RHP Aaron Crow, INF Donovan Solano; LHP Chris Narveson
Free agents: INF Casey McGehee, C Jeff Mathis, INF Don Kelly.
Rotation: Adding a top-of-the-rotation starter is the highest priority, after Miami matched a franchise record by using 13 different starters in 2015. Look for the Marlins to pursue at least two candidates from the outside -- either through free agency or trades. There are some bright spots, starting with Fernandez, the ace who will be nearly two years removed from his Tommy John surgery on Opening Day. When healthy, Fernandez is among the best in the league. Koehler has been the team's most durable starter the past two seasons. Alvarez, recovering from shoulder surgery, may be ready for the start of Spring Training. Jarred Cosart will be key, but he also had health issues. Rookies Justin Nicolino and Adam Conley gained valuable experience and should fit into the mix.
Bullpen: Like the rotation, there are many questions, starting with the closer. Ramos did a nice job after taking over for Steve Cishek, but the team must ask if he is a true closer or best suited to set up. Capps, the hardest thrower in the 'pen, has closer stuff, but has dealt with arm issues the past two seasons. Lefty Mike Dunn is signed through 2016, and he's been a staple in the 'pen since '11. Morris may be back or may be used as a trade piece. Rookies Kyle Barraclough and Brian Ellington are hard throwers who got a taste of the big leagues. Are they ready to stay or do they need more Minor League seasoning? Rookie lefty Raudel Lazo showed promise as a September callup, but he also may not be fully ready for the big leagues at this point.
Catcher: Jarrod Saltalamacchia's struggles in April led to the front office making its first major in-season move. J.T. Realmuto was promoted from Triple-A New Orleans to play regularly and Saltalamacchia was designated for assignment in late April. Ready or not, Realmuto quickly showed he belonged. The 24-year-old projects to be a better-than-average everyday player, and his leadership skills should start to surface even more in 2016. Who will be the backup remains to be seen. Mathis is popular in the clubhouse, but the team may look in another direction. Tomas Telis, acquired from the Rangers, is in the mix, but a more established veteran may be the priority.
First base: There was a change in plans with Miami's first baseman of the future. When Michael Morse signed a two-year deal in December, the job was his. But he never got going, was injured and Justin Bour seized the opportunity. After opening the season at New Orleans, Bour became the regular at first. He provides left-handed power, but he still must show he can hit left-handed pitching. His defense also needs work. And the team would like him in better shape next year. Miami likely will search for a right-handed-hitting first-base option. McGehee handled that role, but he's a free agent who may not be back.
Second base: In terms of trade pieces, the Marlins parted with a lot to land Gordon. The 27-year-old proved worth it. Voted by the fans to be an All-Star starter, Gordon enjoyed his finest season, leading the National League in hits, batting average and stolen bases. He played Gold Glove-caliber defense and brought game-changing speed to the leadoff spot. The Marlins are expected to make a pitch to sign Gordon long term.
Shortstop: Not only did Hechavarria play at a Gold Glove level, an argument can also be made he was the best defensive player overall in the NL; at the very least, he ranks first in several analytical categories. Hechavarria teamed with Gordon to form one of the best double-play combinations in the NL. At the plate, Hechavarria also made great strides. He was slowed down in September by a left hamstring injury, which gave backup Miguel Rojas an opportunity to show he is a solid utility backup.
Third base: Martin Prado overcame a right shoulder injury and emerged as a valued leader, especially in the final two months. Signed through 2016, Prado may be the subject of trade talks in the offseason. However, it appears Prado will return. He finished up strong, delivering a number of timely hits in the final two months while playing solid defense all season.
Outfield: Expected to be the strength of the roster, the outfield remained mostly unsettled because of Giancarlo Stanton's broken left hamate bone. Christian Yelich also had two stints on the disabled list and Marcell Ozuna had a rough first half and was optioned to New Orleans. Stanton should be ready for Spring Training and Yelich enjoyed a strong second half. Ozuna has been the subject of trade rumors, and he may wind up being moved. Ichiro Suzuki, who is chasing 3,000 hits, will return as a fourth outfielder. Cole Gillespie did a nice job as a right-handed-hitting backup. He's also in line to come back.
Joe Frisaro is a reporter for MLB.com. He writes a blog, called The Fish Pond. Follow him on Twitter @JoeFrisaro and listen to his podcast. This story was not subject to the approval of Major League Baseball or its clubs.