Astros' run game will be key against Tanaka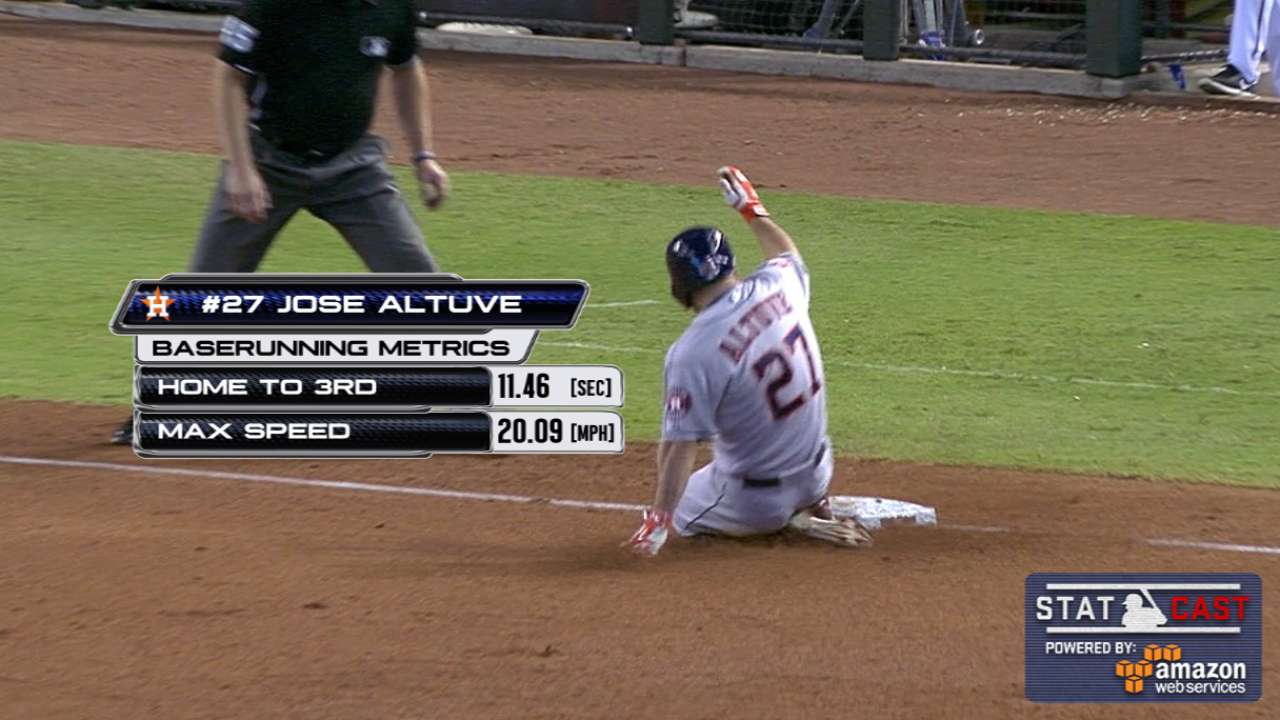 NEW YORK -- Here's the set-up: It's the later innings and it's a taut, low-scoring contest. Masahiro Tanaka is still on the mound for the Yankees, but gives up a one-out single to Astros second baseman Jose Altuve.
This would be a situation in which Altuve could be expected to think about stealing to get himself into scoring position in tonight's American League Wild Card Game presented by Budweiser (7 p.m. CT on ESPN).
After all, Altuve has led the league in that category the past two seasons. And the Astros topped the AL with 121 bags this year. Altuve had 38, but Houston had four other players -- Jake Marisnick, George Springer, Carlos Correa, Carlos Gomez -- reach double figures and a total of 13 players with at least one.
The Astros like to be aggressive on the bases and, clearly, stealing bases plays a big part in that.
But wait. As Altuve edges off first, there's one critical fact manager A.J. Hinch must consider: Tanaka gave up just one stolen base all season. No right-hander with more than 150 innings this season allowed fewer.
The chess match of a baseball game is comprised of many such hidden matchups. Increasingly, managers calculate the odds and make decisions accordingly. At the same time, teams can't simply concede an aspect of the game that has been a key to their success, either. Or can they?
"I can't tell you that before the game," Astros third-base coach Gary Pettis said with a laugh. "But there are other ways of advancing 90 feet other than the stolen base. If that presents itself, we're going to try to use that to our advantage."
Some pitchers pay little attention to the runners, preferring to focus on the hitter. If they get him out, they reason, it doesn't matter that much where the runner is. Hall of Famer Greg Maddux was a noted disciple of that theory.
Tanaka, on the other hand, takes pride in trying to shut down the opposing team's running game. Although he insisted he doesn't go to unusual lengths to do it.
"For me, it's not doing anything special," Tanaka said through translator Shingo Horie after Monday's workout at Yankee Stadium. "I played that way since I was a little kid back in Japan, so it's kind of normal to me."
Tanaka added, however, that he believes keeping runners in check is part of his job description.
"You never want to give easy bases to the opponent, so that's important," he said.
Tanaka has faced Houston just once in his career. That came on June 27 at Minute Maid Park. The Astros didn't attempt any stolen bases in that game, but there were some circumstances that could have contributed to that fact. One was that they were already down, 6-0, before coming to bat in the bottom of the second. The other is that they rallied and knocked Tanaka out of the game after five with the help of three home runs.
There are several ways pitchers try to control runners. One is by being quick to the plate. One is by having a good pick-off move. One is by holding the ball while in the stretch and varying his rhythm to the plate. One is by using a slide-step delivery.
"I think it goes on on an individual basis. I always thought that if the pitcher was quicker, then I had to be quicker," said Pettis, who stole 354 bases in his 11-year Major League career. "That's the way we approach it. If you show us that you're quicker, then we have to be quicker. And if we can't, then maybe it's not a good time to steal a base. But it doesn't mean we won't try."
Altuve shrugged when asked if Tanaka's success at keeping runners from stealing would force him to alter his approach. The only time the two faced each other, he struck out, grounded out and homered.
"I've never been on base with him pitching," Altuve pointed out. "But I don't think it changes anything. We have coaches here and they'll tell me what they want to do on base. And I'll do whatever they want me to do."
So if the Astros have what appears to be an obvious steal situation tonight while Tanaka is in the game, pay close attention. What happens will be a game-within-the-game that could help decide which team goes on to play the Royals in the AL Division Series and which stays home.
Paul Hagen is a reporter for MLB.com. This story was not subject to the approval of Major League Baseball or its clubs.