Yankees counting on Tanaka to set tone
Girardi no stranger to piecing pitching together; Warren will be waiting in the wings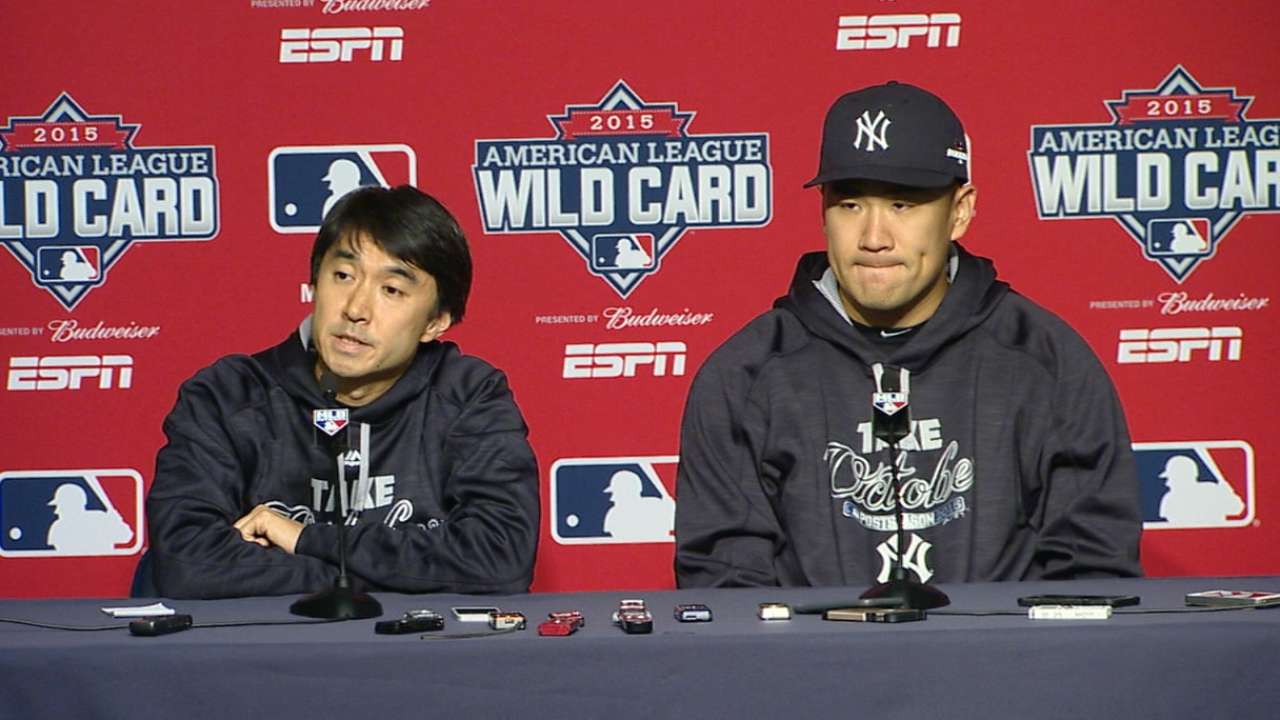 NEW YORK -- Masahiro Tanaka's inaugural start in the Major League Baseball postseason tonight already had taken on mammoth proportions.
First of all, the winner of the single-elimination American League Wild Card Game presented by Budweiser (8 p.m. ET, ESPN) moves on to the best-of-five AL Division Series against the defending AL champion Royals in Kansas City, beginning on Thursday night.
But secondly, Tanaka must pitch well and deep into the game to set up a second-round rotation that will be devoid of any left-hander.
"I mean, you have to be a little bit, probably more creative, but it's something I've gotten a lot of practice with over the last few years," Yankees manager Joe Girardi said on Monday.
"And we've had to do it during the course of this season with the rotation of the relievers, the shuttle between [Triple-A] Scranton, the starters that we've had to replace at different times, starters going down and someone stepping in. So we have to be creative a little bit, but we'll do that."
Girardi is indeed correct. The Yankees' starting rotation has been a patchwork quilt for at least the past two seasons. Last year, 80 percent of the perspective rotation was injured for much of the year, including Tanaka and CC Sabathia, who missed every game after May 10 because of a right knee problem and ultimately had surgery.
Tanaka missed three months nursing a partial tear of a ligament in his right elbow.
It's not as if any of this was fixed this season. The same guys who were hurt last year -- Tanaka, Sabathia, Ivan Nova and Michael Pineda -- also missed sizable portions of the season this time around.
• Dress like the Yankees this postseason
Despite pitching with a right knee brace for the last month, Sabathia had been one of New York's few reliable starters. The Yanks finished the season losing six of the last seven and only Sabathia gave them a serviceable outing, holding the Red Sox to just one run on six hits in five innings on Thursday night, when the Yanks secured a Wild Card berth and won the 10,000th game in franchise history.
Nova and Pineda each lost twice. Tanaka, returning from a Grade 1 right hamstring strain suffered while breaking out of the box bunting in a loss to the Mets on Sept. 18, was clobbered in a 9-5 loss to Boston this past Wednesday night.
Tanaka also missed the month of May because of a flexor tendon issue in his right forearm. If he breaks down tonight, the first line of defense will be right-hander Adam Warren, who threw three innings of scoreless ball behind Sabathia on Thursday night and hasn't pitched since.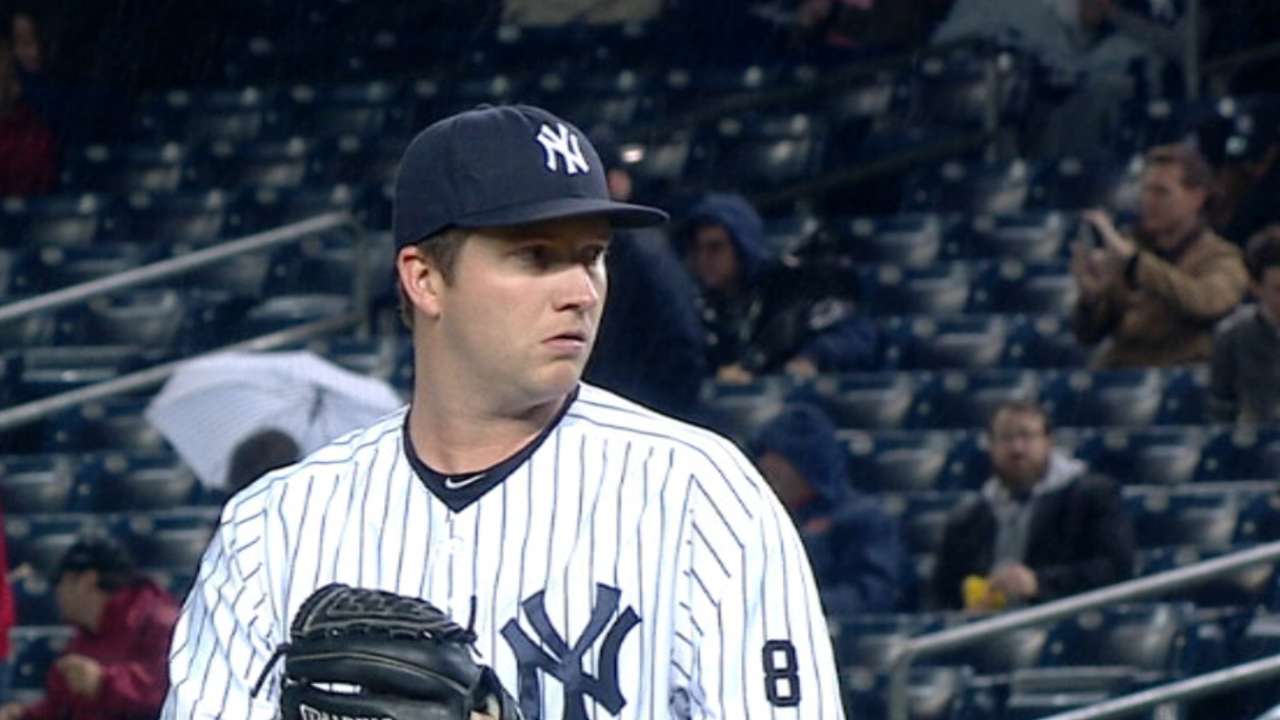 Then it's bullpen by committee.
Yanks general manager Brian Cashman said Tanaka should feel no additional pressure because Sabathia, who left the team for the rest of the year to enter an alcohol rehabilitation center, would have been utilized in a limited fashion.
"Only in a left on left. Only to get a left-hander out as situational lefty, that would have been his only role tomorrow," Cashman said Monday.
Girardi had to use up the rest of his starters on Saturday and Sunday in Baltimore trying to secure home-field advantage for tonight's game. To their good fortune, the Astros lost to the D-backs on Sunday, and that's the reason the game is being played at Yankee Stadium.
Nova, who returned on June 24 after missing more than a year because of Tommy John surgery, was not effective in Saturday's first game of a doubleheader. Pineda didn't make it through the fourth inning on Sunday and won't be available tonight.
Even rookie Luis Severino threw 91 pitches, giving up three runs on five hits in seven innings, but he allowed a Nolan Reimold homer on his second pitch of Saturday's nightcap to set the tone of the 4-3 loss.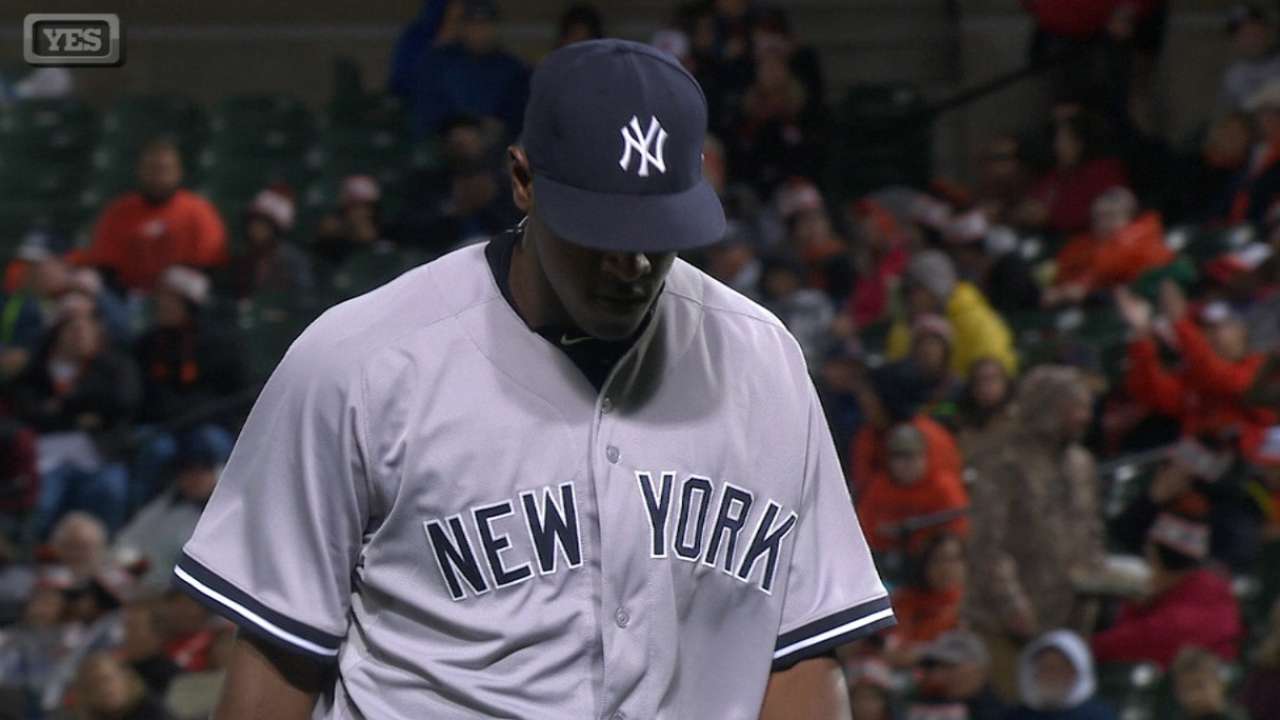 Cashman said Warren, Severino and Nova could all be available behind Tanaka, although neither he nor Girardi were willing to divulge the 25-man roster for the Wild Card Game until today. It should be noted that the winning team gets a chance to reset all that prior to the start of the ALDS.
If the Yankees survive the Astros and 20-game winner Dallas Keuchel, there's no telling who will start against the Royals on Thursday night, although Nova and Severino would have the appropriate amount of rest.
It's unlikely Girardi would start Pineda on a three-day cycle after he missed this past August with a right forearm injury and was yanked on Sunday after 83 pitches in only 3 2/3 innings. Pineda would be the likely candidate for Game 2 on Friday.
It's no wonder all eyes in the Yankees' organization are now on Tanaka, who didn't inspire any confidence when he faced the Astros this season on June 27 at Houston and was bounced around for six runs on seven hits in five innings in a 9-6 Yankees win.
"Obviously I remember it not being a good one, a good outing, but I do remember that I wasn't at my best during that particular time," Tanaka said. "So this time around it's going to be a different Masahiro from the last time out."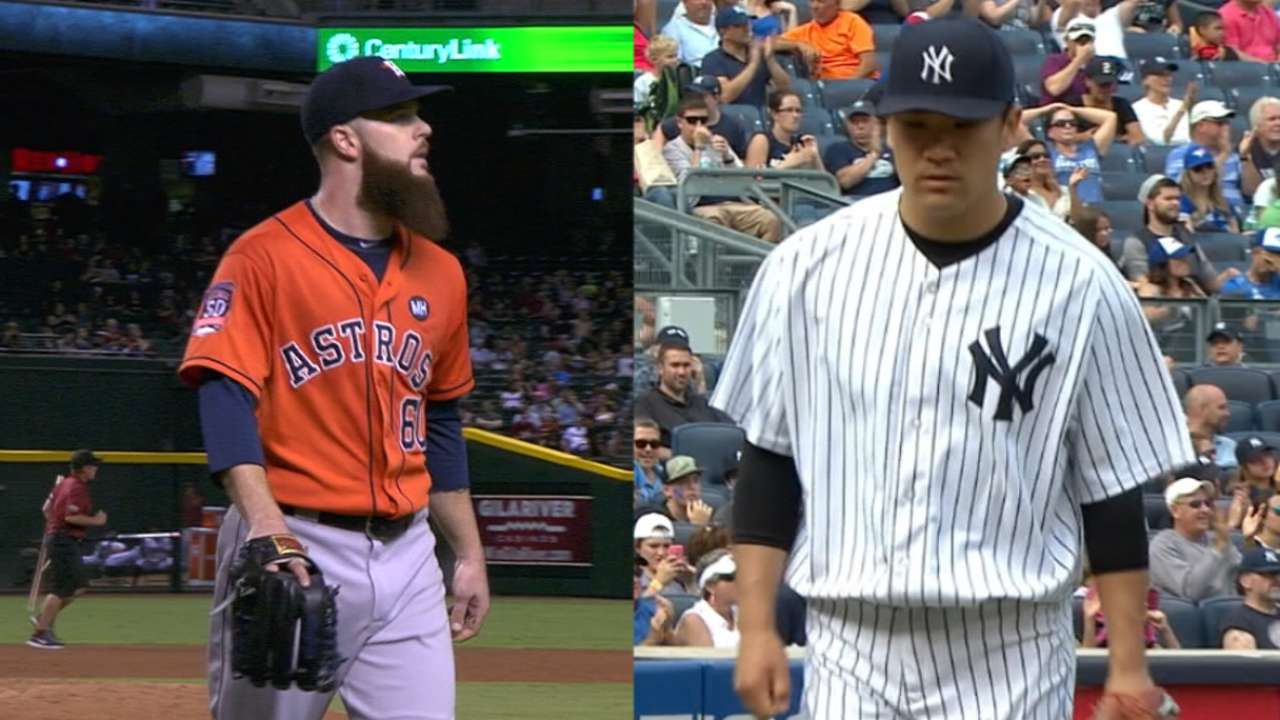 How and why is up to question, and Tanaka declined to talk about his game plan, saying only that the Astros have a lot of young and exciting players who put good swings on the ball.
"So I have to be cautious," he said.
He also has to stay healthy, and Cashman said he's pretty confident of that.
"I don't think there's any issue going on with his hamstring and his elbow has been fine all year," he said. "As far as we're concerned, he's completely healthy -- and it's good that we got him that outing before this playoff game, because if we didn't, I don't know what we'd be getting."
And that is, in fact, the most truthful assessment of the entire Yankees season.
Barry M. Bloom is a national reporter for MLB.com and writes an MLBlog, Boomskie on Baseball. Follow @boomskie on Twitter. This story was not subject to the approval of Major League Baseball or its clubs.