Scioscia to return, thinks he'll mesh with Eppler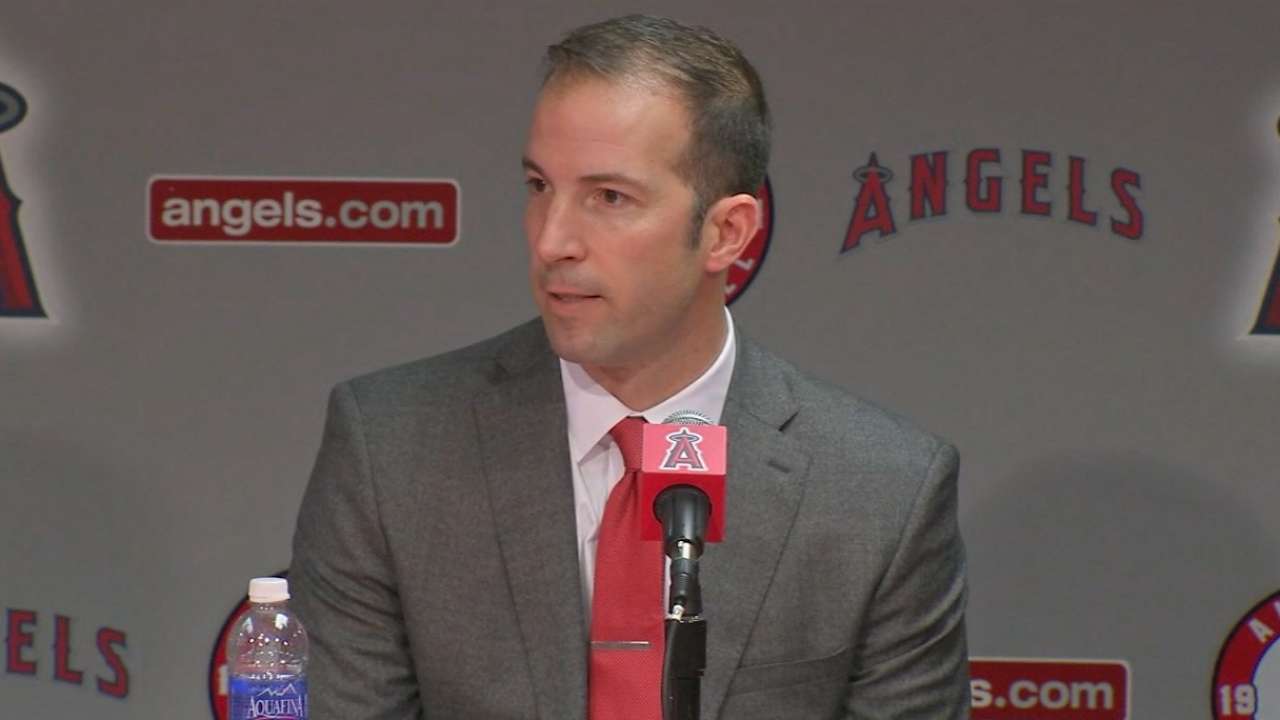 ANAHEIM -- Mike Scioscia, the longest-tenured manager in the Major Leagues, will return to the Angels next season.
"I'm coming back," Scioscia said on Monday, after a news conference introducing newly-hired Angels general manager Billy Eppler.
Scioscia has three years and $18 million left on his contract, which runs through 2018. A clause gave him the right to opt out following the 2015 season, but Scioscia will not exercise it.
He said he thinks he and Eppler, who previously served as the Yankees' assistant GM, will be on the same page philosophically.
"I think we're going to mesh very well," Scioscia said. "If we adjust, or maybe he adjusts to some of the things, there's going to be collaboration that's going to make us better."
Scioscia didn't speak to Eppler during the interview process preceding the hiring, but the two have had a few conversations since, including on Monday morning.
"Just talked on some philosophical things that are really exciting," Scioscia said. "I think that Billy has a deep understanding of the game."
The relationship between Scioscia, who has managed the Angels since 2000, and the team's general manager is key. Tension between Scioscia and previous Angels GM Jerry Dipoto reportedly contributed to Dipoto's resignation in July.
In 2012, Scioscia and Dipoto had disagreements over Dipoto's dismissing of hitting coach Mickey Hatcher. As the new GM, Eppler might want to make changes to the Angels' coaching staff.
"That's conversations we have to have. There's going to be a lot of discussions," Scioscia said. "I think our Major League staff is incredible, but there's always going to be adjustments that are made when a new general manager comes in."
Eppler said during his news conference that the influence Scioscia and owner Arte Moreno have on the Angels organization was a "nonissue" for him when he took the job.
"Maybe that's because of where I professionally grew up in New York," Eppler said. "I understand the role of a general manager."
He also said he believes in working with the personnel the Angels already have, from the baseball operations and scouting departments to the front office and manager.
"I appreciate the impact a manager and a coaching staff can have on leading a team to where we strive to be," Eppler said in a statement at the beginning of Monday's news conference. "And because of my relationships with coaching personnel, I understand how difficult that job can be. It's not easy to manage a clubhouse, and it's not easy to guide 25 men through this grueling season."
He was looking directly at Scioscia.
David Adler is an associate reporter for MLB.com. Follow him on Twitter @_dadler. This story was not subject to the approval of Major League Baseball or its clubs.