How should the Yankees handle Keuchel?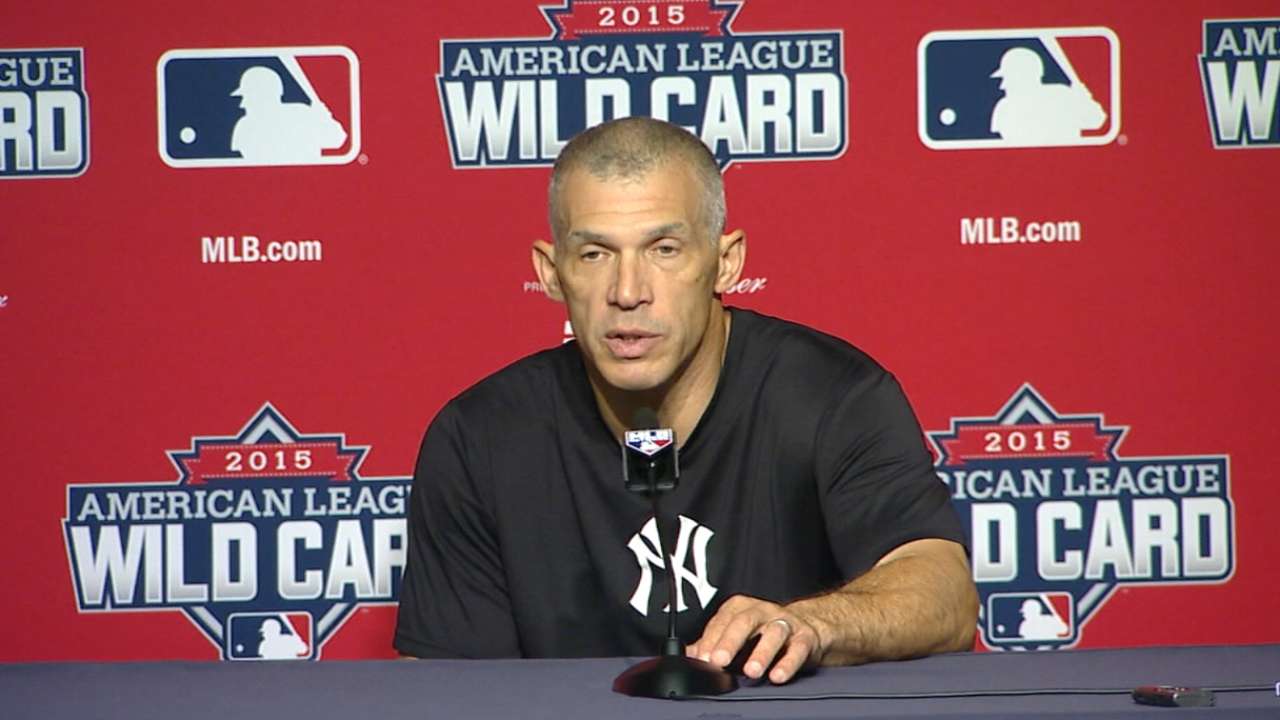 NEW YORK -- It required more than a few strokes of good fortune for the Yankees to arrive here, setting up their home diamond for a do-or-die game. They owe the D-backs a generous gift for having the game played within the New York city limits, but first they'll wait to see if they can capitalize on a chance to topple dominant Astros hurler Dallas Keuchel.
As the Yankees have learned firsthand over the course of 16 commanding scoreless innings this season, facing Keuchel is no picnic in any area code, but he has been more hittable on the road than at Houston's Minute Maid Park. They hope that fact, as well as taking the mound on three days' rest, will prompt Keuchel to finally appear human in their eyes this evening in the American League Wild Card Game presented by Budweiser.
"I don't think it's just been against us," Yanks catcher Brian McCann said. "I think it's been against the whole league. He's a good pitcher, works the ball in and out and gets good depth on his sinker and pounds the bottom of the zone."
You can make a strong case for Keuchel as the AL's top pitcher, having won 20 games with a 2.48 ERA in 232 innings. Keuchel struck out 216 while carrying the league's second-best ground-ball rate among qualified pitchers; Yankee Stadium may be a homer paradise for lefties, but Keuchel knows how to keep the ball down.
• Watch the AL Wild Card Game presented by Budweiser tonight at 8 ET on ESPN
"He's really good, bottom line," manager Joe Girardi said. "Either he or David Price are going to be Cy Young. That's how good he is. So he presents a challenge for us."
As such, Girardi will strongly entertain the idea of playing lefty-mashing Chris Young tonight, which could put Brett Gardner on the bench. Young is one of the few Yankees to have enjoyed success vs. Keuchel, owning a 6-for-20 lifetime mark -- and two of New York's nine hits off the bearded wonder this season.
Carlos Beltran, who has been one of the Yanks' most productive hitters down the stretch, could be primed for a big night. Beltran is 4-for-9 with a walk, double and homer vs. Keuchel. Girardi will likely look to stack his lineup with as many right-handed bats as possible.
"He's pitched well against us in a couple games, but you take that with a grain of salt," Young said. "I don't know how much any of that matters at this point. Even if we had put up 10 runs a game when we faced him, I still would be saying the same thing. It matters none right now. The only thing we have to focus on is tomorrow's game."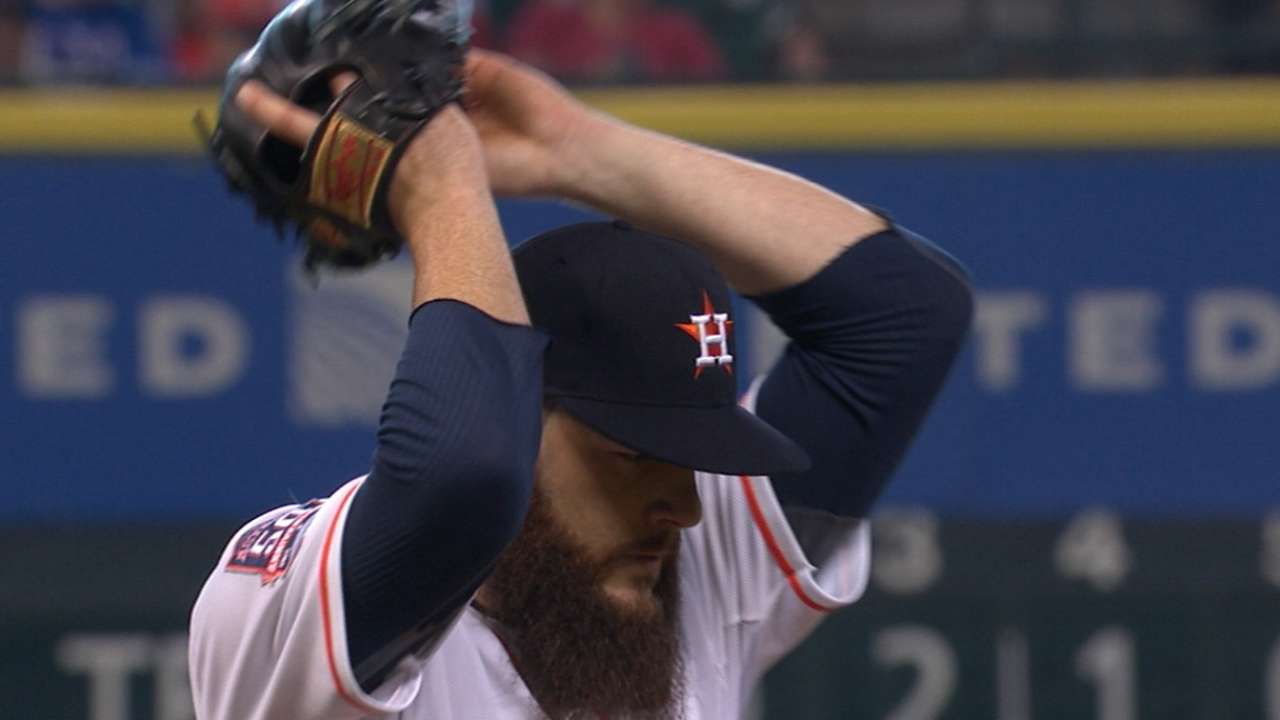 If they were hoping for bulletin-board material to inspire the offense, Keuchel didn't provide any on Monday.
"I'm saying my prayers," Keuchel said. "They're one of the best one-through-nine lineups in baseball."
Of the 16 teams Keuchel faced in 2015, only the Yankees were unable to push a run across, and it wasn't particularly close. Keuchel threw a complete-game shutout over the Yanks on June 25 in Houston, then dealt seven scoreless frames at Yankee Stadium in a blowout win on Aug. 25.
The final tallies for Keuchel against the Yankees this season: 16 innings, nine hits, one walk and 21 strikeouts. Vulnerable to lefties ever since Mark Teixeira's season-ending injury, the Yanks struggled to push across runs in the past week to the likes of Eduardo Rodriguez, Rich Hill and Wei-Yin Chen. No offense to them, but Keuchel is on another level.
"He's dominated us," Alex Rodriguez said. "You just have to go out there and have some fun. We're underdogs coming into this game, so the key is not trying to do too much, just try to change the momentum a little bit."
Underdogs at home? While they didn't experience it firsthand, the Yankees can find hope in the fact that Keuchel was 5-8 with a 3.77 ERA on the road this year, permitting a .253 average and 13 homers. They like those numbers better than if this workout were in Houston, where Keuchel was 15-0 with 1.46 ERA, a .186 average against and just four homers allowed.
"[We need to] not necessarily try to look for the long ball," Rodriguez said. "Take a walk, take good swings, swing at strikes. [Joe] Torre always used to talk about, 'Think small and big things will happen.' I think that's the mindset tomorrow."
They also hope that the short rest could impact Keuchel, but that seems unlikely. Keuchel threw just 99 pitches last Friday, and most came on cruise control because the Astros gave him a commanding lead in a 21-5 victory over the D-backs.
"I have a lot of belief that Dallas will be physically and mentally perfect for this challenge," Astros manager A.J. Hinch said.
Besides, Keuchel doesn't rely heavily on velocity, mixing his slider, fastball and changeup with success. One other factor the Yankees may need to overcome: Tonight's home-plate umpire is Eric Cooper, who was behind the plate and heard jeers from the Yanks' bench during Keuchel's nine-strikeout performance on Aug. 25.
"He's had a great year and he's pitched well against us a couple times. It's that time of year," Gardner said. "You face tough pitchers in April, May and June, but in October, they're all really good. It's up to us to play better than them."
Bryan Hoch is a reporter for MLB.com. Follow him on Twitter @bryanhoch, on Facebook and read his MLBlog, Bombers Beat. This story was not subject to the approval of Major League Baseball or its clubs.