Bridich reflects on first season as Rockies' GM
General manager says team had 'some high highs and some low lows'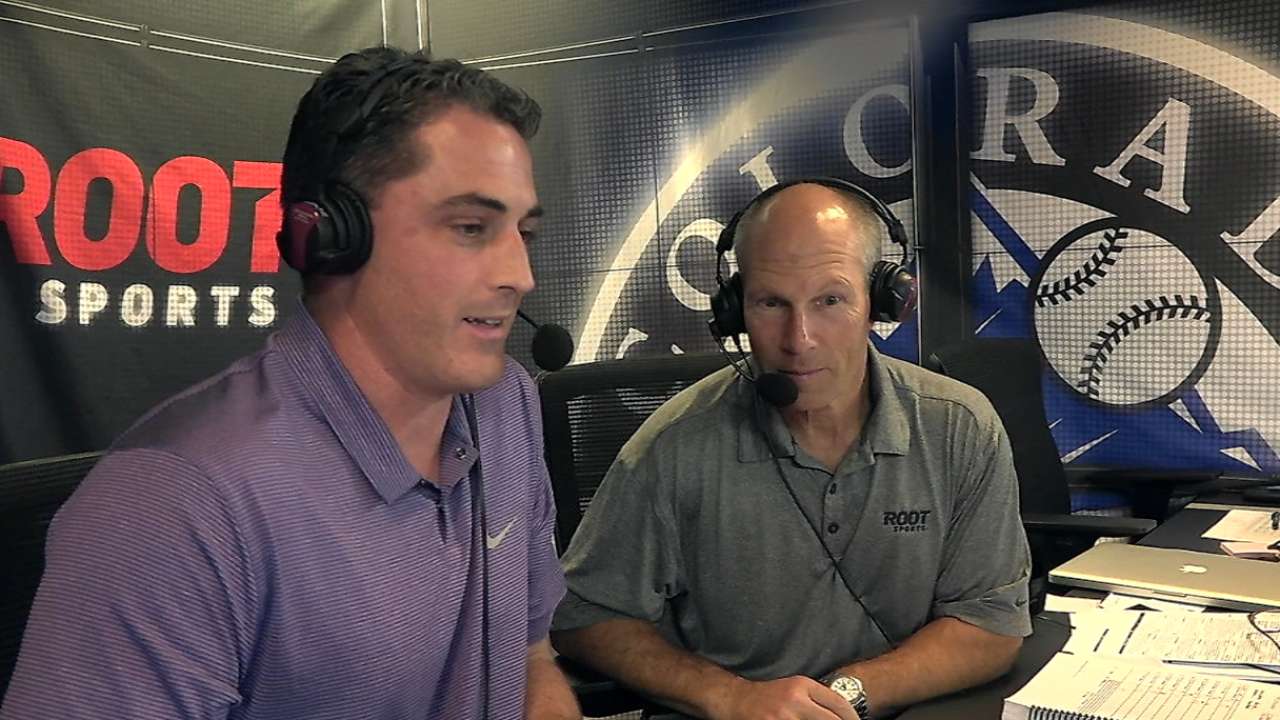 DENVER -- Jeff Bridich completed his first season as the Rockies' general manager with many of the same challenges that faced him the day he was installed. This year's 68-94 record was two games better than last year's, and once again last in the National League West.
There were bright spots.
Nolan Arenado achieved star status, Carlos Gonzalez regained his, and Charlie Blackmon, DJ LeMahieu and Corey Dickerson (despite lengthy injury time missed) looked well on their way, As for Bridich, his July trade of star shortstop Troy Tulowitzki to the Blue Jays netted three well-regarded young pitching prospects, signing Nick Hundley helped the catching go from a weakness to an area of depth and strength, and he scored with bullpen acquisitions of John Axford, Justin Miller and Jairo Diaz.
However, when assessing shortcomings, Bridich repeated some of the same issues of past years.
"Overall, the consistency of our pitching and the consistency of our offense -- we have had some high highs and some low lows, just like in years past, right?" Bridich said in a wide-ranging discussion during the season-ending road trip.
A prevailing feeling, even in the clubhouse, is that the team is screaming for an accomplished veteran starter, but Bridich didn't join that chorus.
"Honestly, that is probably an oversimplification, saying that 'All we need is … '" Bridich said. "The more top-level talent you add, it makes the whole team better. I don't think it's going to fall on getting any one guy."
Bridich expects righty Chad Bettis to build on his dramatic leap of 2014, righties Tyler Chatwood and Jordan Lyles to return from injury and lefty veteran Jorge De La Rosa to continue his quality. They want improvement from prospects led by righty Jon Gray. But what about spending on free agents?
"We haven't seen any of the market play out yet, or even begin to, so it's a tough question to answer," he said.
Bridich called improvement through trades "a realistic option."
If he didn't state exactly where he stands, it was by design. The surprise Tulowitzki deal shows that he keeps quiet about his intentions.
Moving shortstop Jose Reyes -- who came in the Tulowitzki deal and is guaranteed $48 million through 2017 -- appears to be a logical priority. But not so much with Gonzalez, pitching needs notwithstanding. Bridich was delighted by Gonzalez's 40-home run campaign, which impressed him more because he was unproductive for two months as he completed his recovery from 2014 left knee surgery.
"I never doubted, especially based on everything we were getting and seeing in his rehab," Bridich said. "This was a guy who was angry that he was injured and wanting to get back to the way he was. That was easy, to believe in CarGo."
But Bridich's mantra of keeping "eyes and ears open" means to stay tuned.
Bridich is tentatively scheduled Tuesday to meet with manager Walt Weiss (208-278 in three seasons), who has a year left on his contract, and Bridich has not indicated he wants a change.
The Rockies were seen as dysfunctional when Dan O'Dowd and Bill Geivett ran the front office in an unusual structure before last season. Bridich's operation is more conventional, and it must bear the strain of another year of struggle.
"Forever and always, and in a day, we are going to be a work in progress," he said. "Have things been simplified? Yes, I would say they have been, and a little more streamlined. But we are always going to have work to do on ourselves, myself included."
Thomas Harding is a reporter for MLB.com. Follow him on Twitter @harding_at_mlb, and like his Facebook page. This story was not subject to the approval of Major League Baseball or its clubs.