Girardi mulling options for Wild Card roster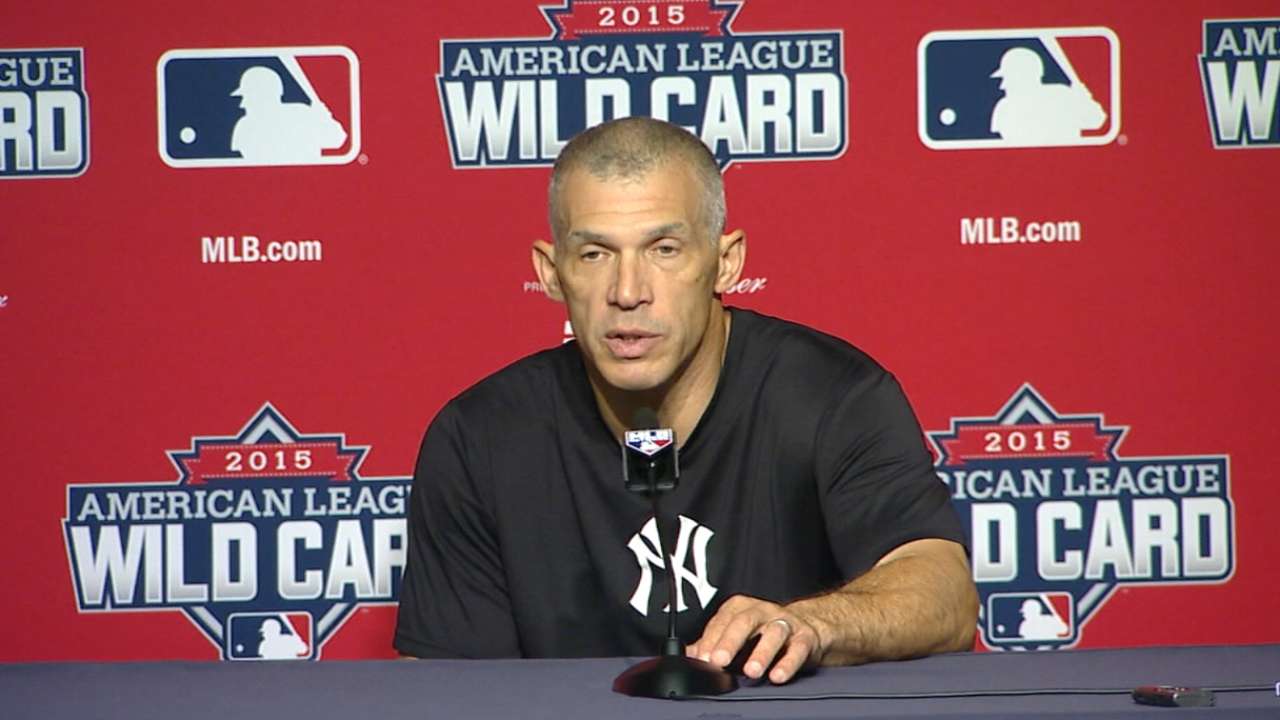 NEW YORK -- Yankees manager Joe Girardi said that he is not prepared to release his roster for tonight's postseason opener against the Astros, preferring to keep his choices close to the vest until they must be submitted to Major League Baseball.
"I'll give you a roster tomorrow; you'll see," Girardi said.
But as the Yankees filed off the field following Monday's workout at Yankee Stadium, several players already had learned their immediate assignments for tonight's 8 p.m. ET American League Wild Card Game presented by Budweiser, which will air on ESPN. While the Yankees appear to be considering carrying both Slade Heathcott and Rico Noel as extra outfielders, infielder Stephen Drew (concussion) said that he does not expect to play again this season.
Shop for Yankees Postseason gear
Right-handers Caleb Cotham, Nick Rumbelow and Branden Pinder, plus infielder Jose Pirela, told the Westchester Journal-News (N.Y.) that they are reporting to the Yankees' complex in Tampa, Fla., in case they're needed in a future series. Left-hander Chris Capuano was also told that he would not be on the Wild Card roster.
Right-handers Nick Goody and Chris Martin had cleared out their lockers and will not be on the roster. In addition, left-hander Chasen Shreve told ESPN Deportes that he is not on the Wild Card roster. The roster can and will be altered should the Yankees advance to face the Royals in the AL Division Series, which will begin on Thursday.
Bryan Hoch is a reporter for MLB.com. This story was not subject to the approval of Major League Baseball or its clubs.