Hart satisfied that club stuck with rebuild
In trading top players, Braves got top prospects, international signing money, Draft picks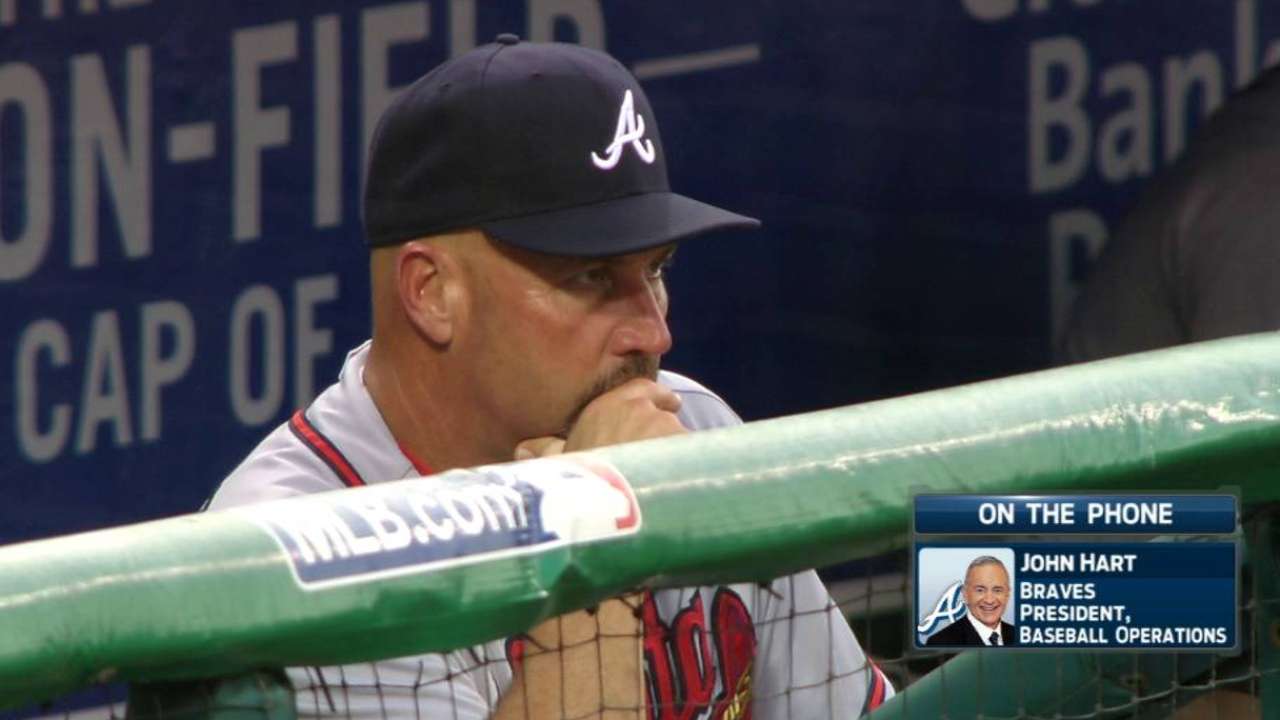 ATLANTA -- Over the course of the past year, Braves president of baseball operations John Hart gave his approval to send Jason Heyward, Justin Upton, Evan Gattis, Craig Kimbrel, Jose Peraza and Alex Wood elsewhere.
But now that the often painful 2015 rebuilding season is complete, Hart admits that one of the most painful approvals he provided was the July 24 trade that sent Kelly Johnson and Juan Uribe to the Mets in exchange for two Minor League pitchers -- John Gant and Robert Whalen.
"I think it's a trade you feel better about on Oct. 5 than you do on Aug. 5," said Braves general manager John Coppolella, who constructed most of the team's trades before submitting them to Hart for approval.
Despite the fact that nearly a month had passed since Freddie Freeman suffered the right wrist injury that hampered him throughout the summer, the Braves entered July 8 with a 42-42 record. Their unexpected success led them to contemplate decelerating the reconstruction process they had planned to continue at least through the July 31 non-waiver Trade Deadline.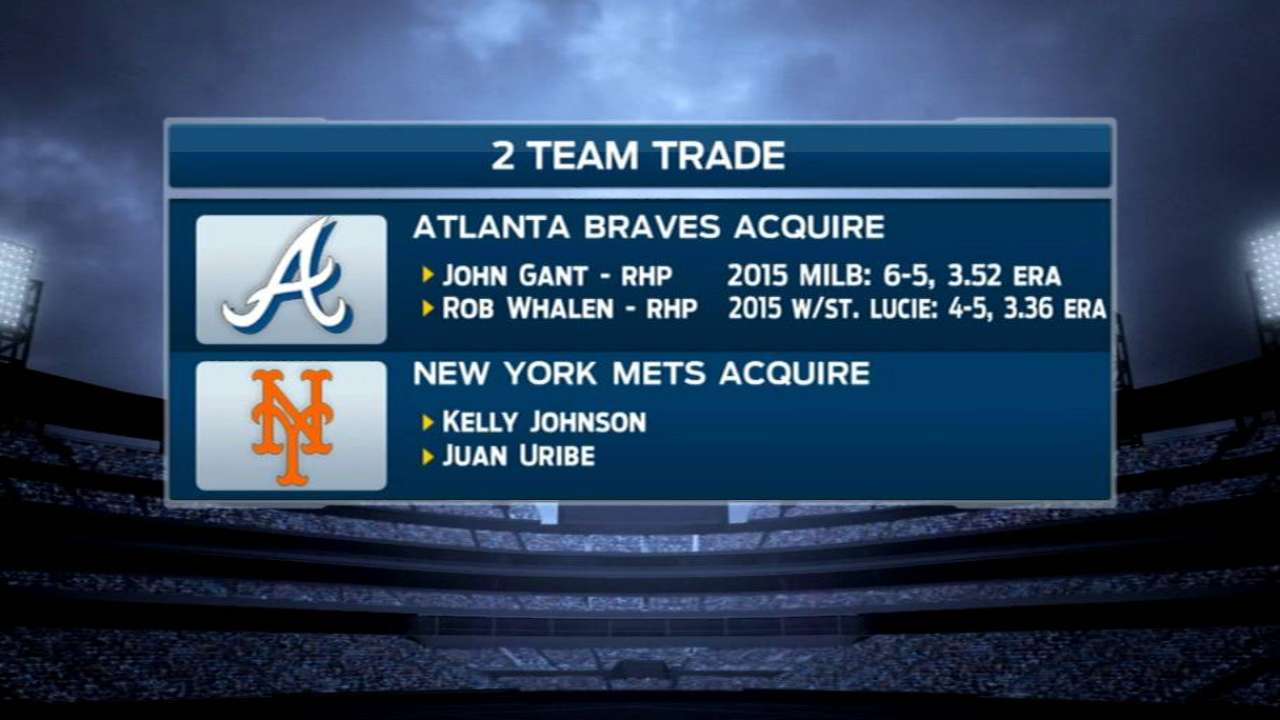 But the seven-game losing streak that followed, combined with the season-ending Achilles injury closer Jason Grilli suffered on July 11, pushed the Braves back into the aggressive seller's mode that led them to essentially wave the white flag by trading Johnson and Uribe.
Six days after completing the deal with the Mets, the Braves were further scrutinized when they sent top prospect Jose Peraza, Wood, Jim Johnson and Luis Avilan to the Dodgers in exchange for the highly-touted Hector Olivera, a 30-year-old Cuban player who didn't make his Major League debut until Sept. 1, and left-handed reliever Paco Rodriguez, who underwent Tommy John surgery last week and won't be available until the 2017 season.
"Did it help us when we lost six or seven in a row?" Hart said in reference to the late July trades. "No, it didn't help us a bit. You're sick to death, but you know what you're doing. That was the hard product of the way we needed to walk this year."
The Braves entered this year on a mission to upgrade their previously weak farm system via the acquisition of prospects, Draft picks and international money. At the same time, they successfully completed their initiative to create financial flexibility by offloading the contracts of Melvin Upton Jr. and Chris Johnson.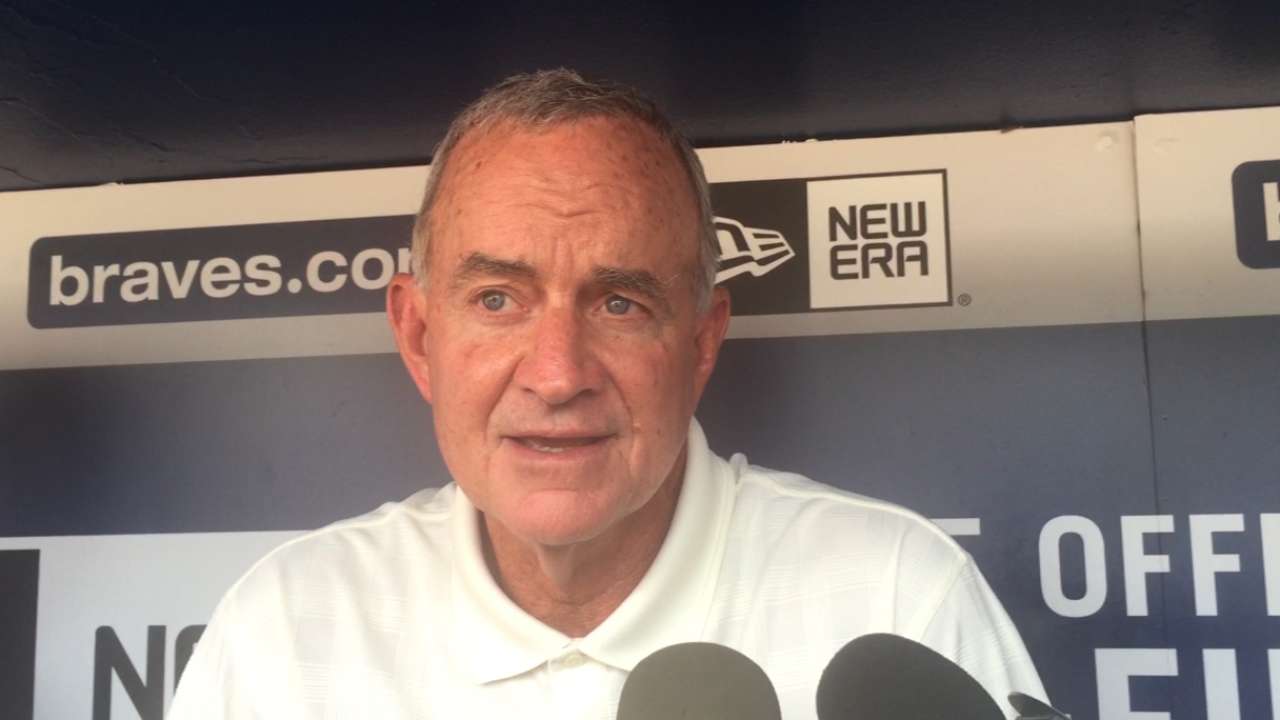 Though it was painful to endure a 12-40 stretch near the end of the 65-97 campaign that concluded on Sunday, the Braves now feel good about the fact that they went through that final week of July committed to their reconstruction project. A beneficial byproduct of their late-season miseries will come during next summer's First-Year Player Draft, when they will have the third overall selection.
Fourteen of the first 18 players listed on MLBPipeline.com's Top 30 Braves Prospects list were acquired via trades or last summer's Draft. This does not include Arodys Vizcaino, Matt Wisler and Mike Foltynewicz, who each fit into this category before their prospect eligibility expired.
The Braves acquired Vizcaino and international bonus money from the Cubs in exchange for Tommy La Stella. When they traded Kimbrel and Upton Jr. to the Padres in April, they got Wisler and the 41st Draft pick, which provided them Austin Riley, who may soon become their top prospect. Foltynewicz was the centerpiece of the package from the Astros in exchange for Gattis.
"Would we [trade] Tommy La Stella for Arodys Vizcaino plus a million dollars in international money again? Yeah we would. Would we move the players that we did going forward? Absolutely. We never blinked on that front."
Mark Bowman is a reporter for MLB.com This story was not subject to the approval of Major League Baseball or its clubs.