Lindor, Anderson honored with monthly awards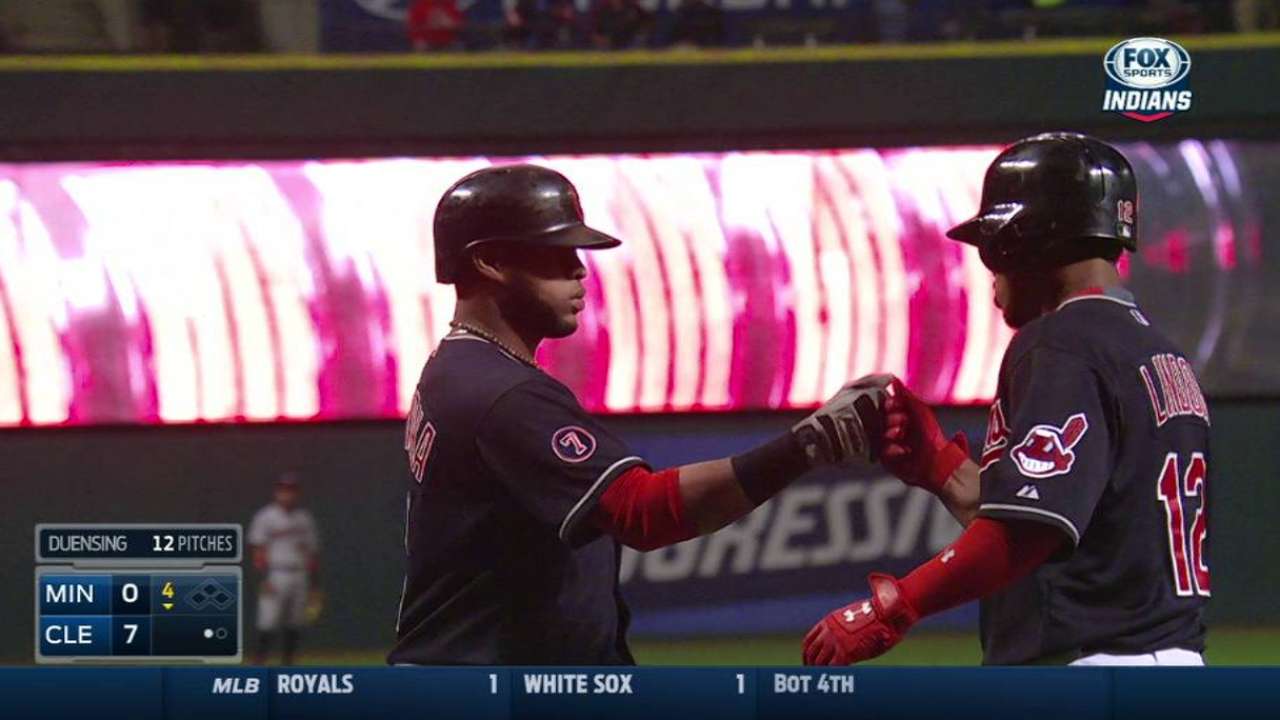 The final month of the season was award-worthy for a pair of Indians. Cleveland's youth movement was rewarded Monday when shortstop Francisco Lindor was named the American League's Rookie of the Month, and fellow first-year player Cody Anderson was named the AL's Pitcher of the Month.
Lindor, the eighth overall pick in the 2011 Draft, thrived after making his Major League debut on June 14 this season. Lindor hit .313 overall, and he batted .325 with a .366 on-base percentage and a .592 slugging percentage in his final 31 games in September and October.
• Is Lindor #AwardWorthy? Vote now for Best Rookie
Lindor hit five home runs with 20 RBIs over that stretch, also adding nine doubles and four triples. The 21-year-old switch-hitter had 39 hits over his final 31 games, including 12 multihit games and five games in which he scored at least two runs.
The fleet-footed shortstop had two doubles on Sept. 1, and he fell a double shy of the cycle in a 6-4 win over the White Sox on Sept. 9. Lindor tied a career high with four RBIs in a 5-1 victory over Kansas City on Sept. 16 and stole six bases over the course of his final 31 games.
Anderson, who had made just nine big league starts prior to September, held opposing hitters to a .212 batting average and a .279 on-base percentage over his last six outings. The 25-year-old posted a 5-0 record with a 1.38 ERA in September.
Anderson went seven scoreless innings and held the Tigers to two hits on Sept. 6, and then he came back and held Detroit to two runs in a 7-2 victory on Sept. 13. The right-hander allowed one run to the White Sox and Twins in his next two outings (Sept. 18 and 24).
The former 14th-round draftee ended his season by facing the Twins again, and he held them to two hits over seven scoreless frames. The Indians went 10-5 in Anderson's 15 starts this season, and he posted an overall record of 7-3 with a 3.05 ERA in his rookie campaign.
Anderson gave up seven home runs in his first nine outings, but he held opponents to two home runs and a .307 slugging percentage over his final six starts. Anderson posted a 3-2 record and a 1.73 ERA for Double-A Akron and a 1-1 record with a 2.33 mark for Triple-A Columbus prior to his promotion.
Spencer Fordin is a reporter for MLB.com. This story was not subject to the approval of Major League Baseball or its clubs.