Teixeira continues support of Harlem RBI program
First baseman devoting DL recovery time to charity -- and to rooting on Yanks in Wild Card Game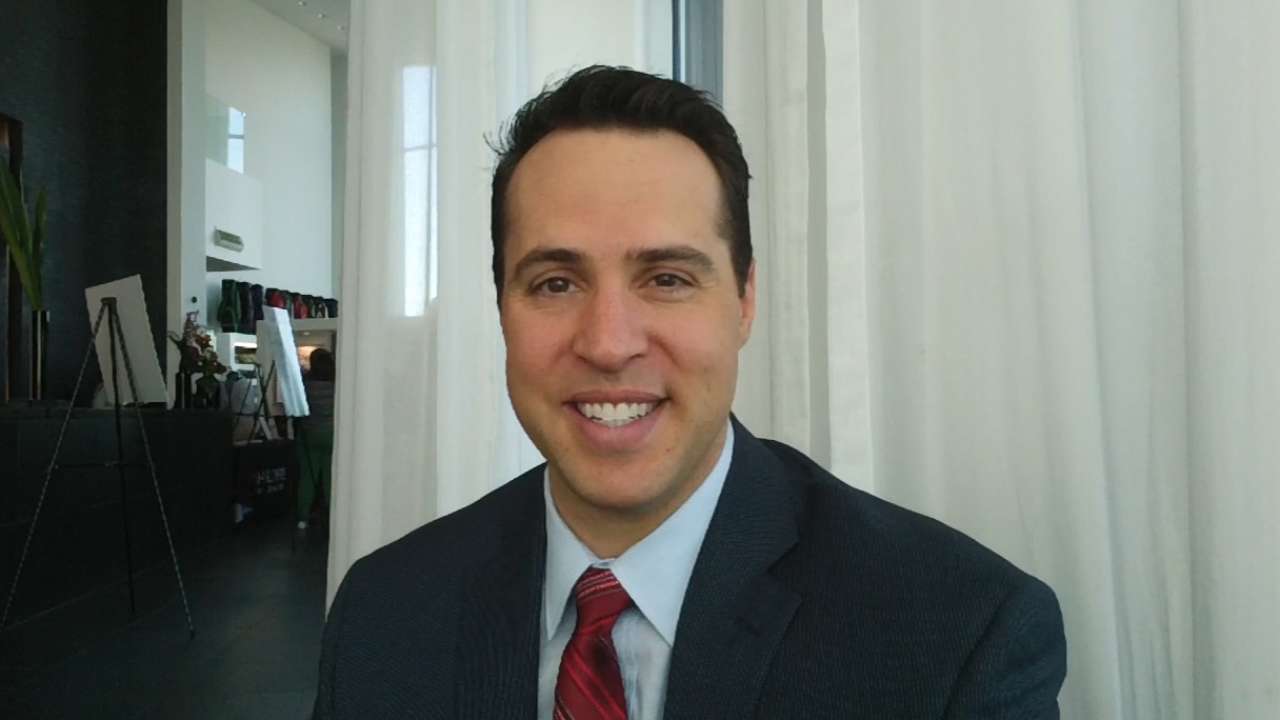 JERSEY CITY, N.J. -- Mark Teixeira would like nothing more than to step into the right-handed side of the batter's box on Tuesday night and try to "square up" left-hander Dallas Keuchel, the Astros' 20-game winner who will start on short rest against the Yankees in the win-or-go-home American League Wild Card Game presented by Budweiser.
Much to his chagrin, Teixeira instead will be clinging to his crutches for one or two more days, continuing a recovery process from a season-ending leg fracture suffered when he fouled a pitch off his right shin on Aug. 17. Wearing a suit and tie at his second annual Harlem RBI Celebrity Golf Outing on Monday at Liberty National Golf Club, the Yankees' first baseman said his teammates have to be opportunistic with Keuchel on the mound.
• Shop Yankees postseason gear
"He's a great pitcher. He's probably going to win the Cy Young this year in the American League," Teixeira said. "One of those guys that hits the corners, got a few different pitches, they're all plus-pitches. He's really tough to square up. Everything kind of looks the same, and then it's either on the corner or down and away. It's just tough to square him up.
"We'll have to get the ball up against him, hopefully he'll make a few mistakes and we'll punish him. You have to hit his mistakes. He's not going to give you a lot. He's such a great pitcher, hopefully if he makes one or two mistakes, we'll make him pay for it."
• Watch the AL Wild Card game on Tuesday at 8 p.m. ET on ESPN
Keuchel threw a six-hit shutout against the Yankees on June 25 in Houston, and in that game Teixeira struck out swinging, grounded out to third twice and walked. Keuchel beat the Yankees in a 15-1 laugher on Aug. 25 at Yankee Stadium, and Teixeira, still feeling the pain then, was 0-for-2, replaced by rookie Greg Bird in the seventh inning with the score 15-0. In both games, Keuchel struck out Teixeira swinging with a man on to end the first inning.
In a perfect world, Teixeira would have greeted those who turned out for his golf outing on Monday, and then rushed up the New Jersey Turnpike toward the Bronx, joining his teammates for workout day as the Major League Baseball postseason begins. In a perfect world, Teixeira would have been able to finish a season that was headed straight for AL MVP consideration.
This was not perfect, but it was a better kind of disappointment than he had expressed in an interview with MLB.com one year earlier at this same Harlem RBI fundraiser event, when he talked about the Yankees not making the playoffs and his own injury-marred season. In 2015, Teixeira had his best OPS+ (146) since 2008, returned to the All-Star Game, smashed 31 homers (increasing his career total to 394) and drove in 79 over 111 games.
"This was a great season for me, up until the foul ball off my leg -- one of those freak things," Teixeira said. "I felt strong all year, I was healthy all season. I put in a lot of work in the offseason, had a full offseason of training to really get stronger, and I did that. I changed up my diet, and that really has helped the way that my body feels.
"I feel like I turned back the clock a few years, I feel a lot younger than I did the year before. Whenever you're injured, you need to get back to where you were, and I feel like I'm back."
Teixeira is now in full cheerleader mode, whatever it takes. If the Yankees win, they move on to the AL Division Series, starting with Game 1 on Thursday at Kansas City. If they lose, it's all about next spring, and he expects to be 100 percent long before then.
"The team has had a great year, and hopefully we'll continue that tomorrow night," Teixeira said. "I know that my contributions have helped get us where we are today, and even though I won't be able to play tomorrow night and throughout the playoffs, I'll still be there cheering on my team and wishing the guys the best."
Bird had to fill a big void at first base as a rookie, and he produced 11 homers and 31 RBIs in 46 games after making his big league debut on Aug. 13.
"Birdy's been great for us," Teixeira said. "You can't say enough about what he's done for this team since I went down. I know he's going to be a star in this league, and it's just great to see him contribute at an early age."
As to what wisdom he has imparted to Bird, Teixeira said, "We just talk. He knows what he's doing up at the plate. We talk about different pitchers, we talk about some situations in the game, but he's got a great idea up there."
Teixeira's commitment to Harlem RBI started in 2010 with a $1 million donation, and this is his fifth anniversary of backing the organization. The annual golf outing is a big factor in their year-round funding.
"It's a special organization. Harlem RBI serves over 1,500 kids in East Harlem and South Bronx, kids that wouldn't otherwise get the advantage of playing, learning and growing as kids. It's very important that part of this organization helps out so many people," Teixeira said. "We're really changing kids' lives."
Still, it was hard not to think about Tuesday night.
"I wish I was playing golf today, but I wish even more that I was playing baseball," he said. "The team's playing tomorrow night, and I'm just really looking forward to watching the playoffs with the Yankees."
Mark Newman is enterprise editor of MLB.com. Read and join other baseball fans on his MLB.com community blog. This story was not subject to the approval of Major League Baseball or its clubs.