With 1 shot to advance, Bucs prep for Arrieta
Cubs ace a formidable opponent, but Pittsburgh confident in chances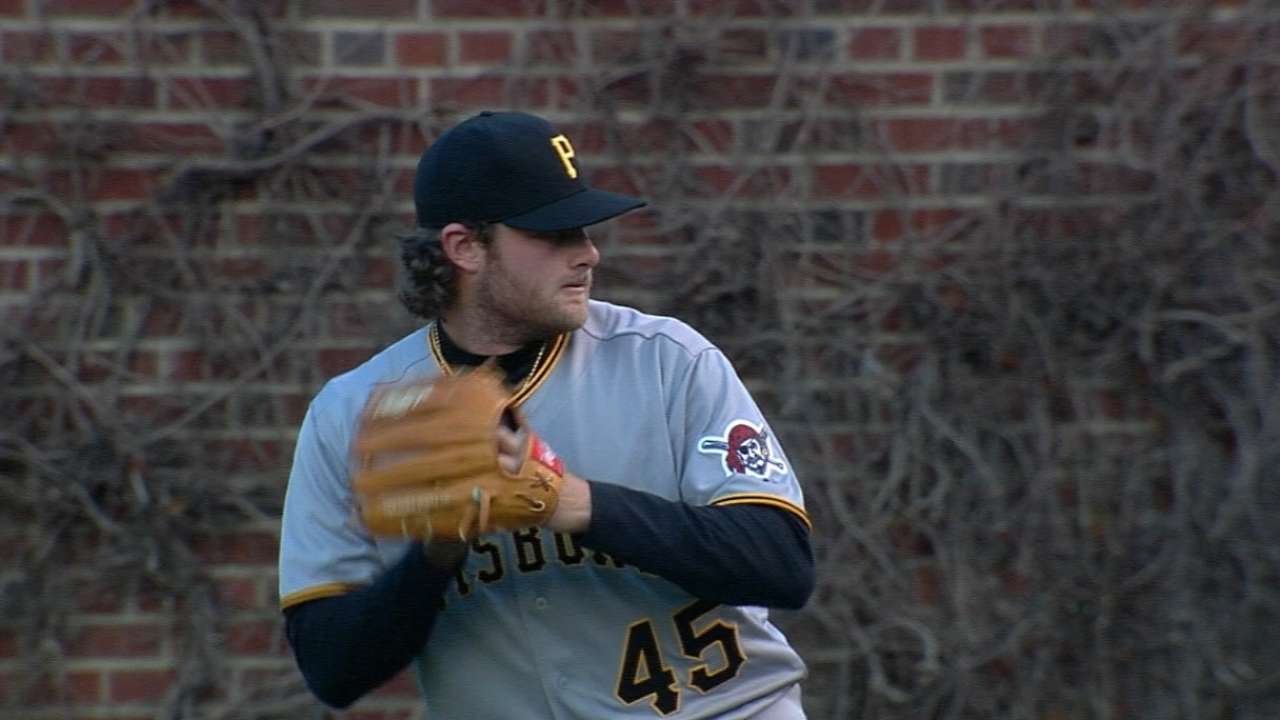 PITTSBURGH -- For all the Pirates accomplished this year, all the questions they emphatically and successfully answered along the way, their entire season will boil down to one more: Can they beat Jake Arrieta?
Arrieta finished the regular season with a 22-6 record, a 1.77 ERA and an aura of dominance. Now, the sure-fire National League Cy Young Award candidate with the cross-fire delivery will start for the Cubs opposite Bucs ace Gerrit Cole at PNC Park in the NL Wild Card Game presented by Budweiser tonight at 8 p.m. ET on TBS.
The Pirates faced Arrieta five times this season and won only one of those games. They struck out more often than they got on base against him.
"We know what to expect," Andrew McCutchen said. "There's no surprises. We know what we're going to get. We've just got to go out there and get the job done."
That's much easier said than done. Arrieta has allowed two home runs in his last 20 starts. In the second half, he has hit for a higher OPS (.556) than he has allowed (.409). He's thrown four complete games, three shutouts and a no-hitter.
All of Arrieta's video-game numbers match what the Pirates have seen from him on the mound. The last time they met, Arrieta carried a perfect game through six innings and needed only 84 pitches to get through seven scoreless.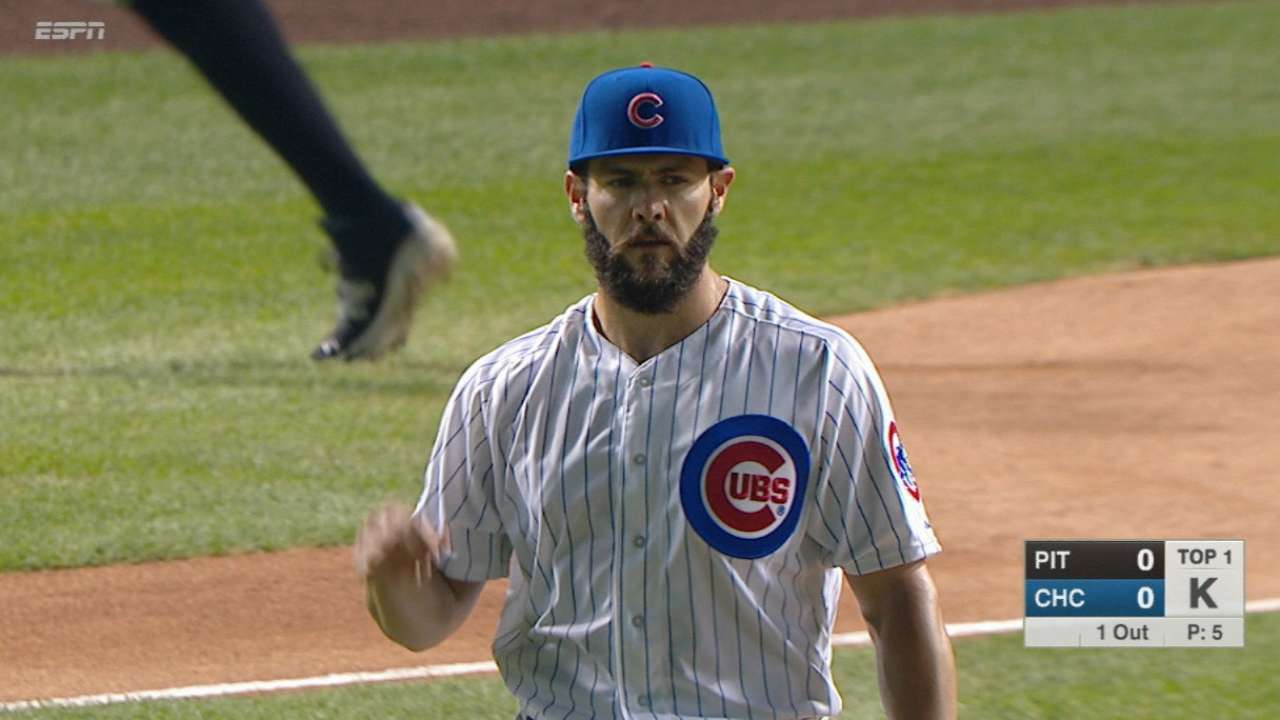 To stand a chance tonight, the Pirates know they will have to grind out at-bats against Arrieta, chipping away and driving up his pitch count. If he makes a mistake, they can't miss it.
"We've got to have battle ABs against him. We can't look to do damage against him. We've got to have quality at-bats, short and direct swings," Pirates hitting coach Jeff Branson said. "He's been tough on us."
Why has he been so tough? Start with his four "plus" pitches and the way he pounds the strike zone. That's not what makes him nearly unhittable, though.
"No, what makes him so tough is he throws the ball from the shortstop," Pirates catcher Francisco Cervelli said, smiling. "He's supposed to throw straight. It should be illegal."
Cervelli was referring to Arrieta's cross-fire delivery. Whereas most pitchers stride toward the mound, Arrieta's left leg reaches toward the right-handed batter's box while his right arm stretches far out to his right side then whips back across his body.
In Arrieta's last three starts against the Pirates, his pitch usage has been fairly consistent: a little more than 50 percent fastballs, around 30 percent slider-cutters, roughly 10 percent curveballs and the rest changeups.
But knowing what's coming is one thing. Hitting it is another matter entirely.
"There's just a lot for the hitter to handle," Brewers manager Craig Counsell said recently. "It's too much almost for the hitter to handle right now when he executes."
But the Pirates believe Arrieta can be beaten, even if the Cubs haven't lost one of his starts since July 25.
"We beat him one time in Chicago. I think we can do it again," Cervelli said. "Nobody says this game is easy. But we are humans. Anything can happen here."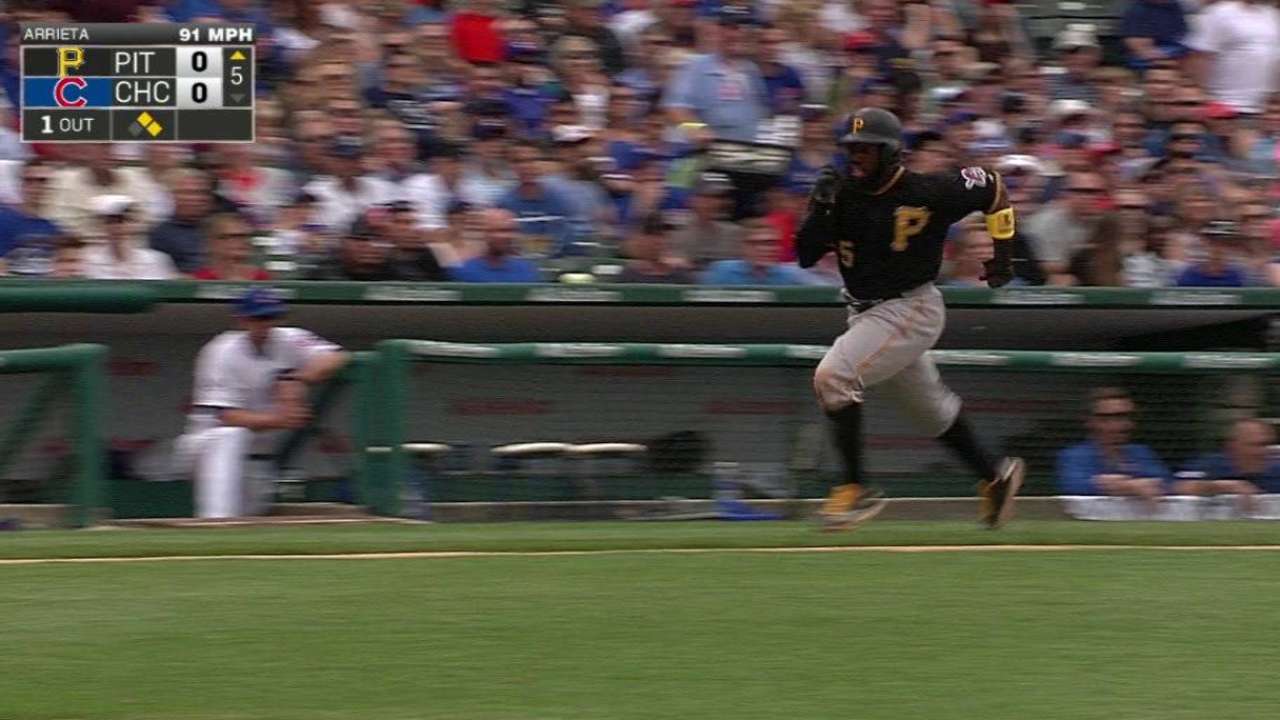 "Arrieta's a good pitcher, but like every good pitcher, he can be beat," Pirates general manager Neal Huntington said. "We like our guy. We consider [Cole] one of those pitchers that you line up and you feel you've got a 60 percent chance to win the game. So now you start to factor in the other variables, game plan and approach and execution, and we like our chances."
Before tonight's game, the Pirates will watch video of the few mistakes Arrieta has made this year. They will look back on the success they've had against him in the past.
It's a part of their typical pregame routine, but the positive reinforcement could be particularly important as they try to answer the one question standing between them and an NL Division Series appearance.
"The mentality facing an ace is nothing but opportunity," Pirates manager Clint Hurdle said. "We get to do this."
Adam Berry is a reporter for MLB.com. Follow him on Twitter at @adamdberry. This story was not subject to the approval of Major League Baseball or its clubs.