Constructing a winner: Blue Jays
How Toronto used the Draft, trades, free agency and international signings to build its playoff team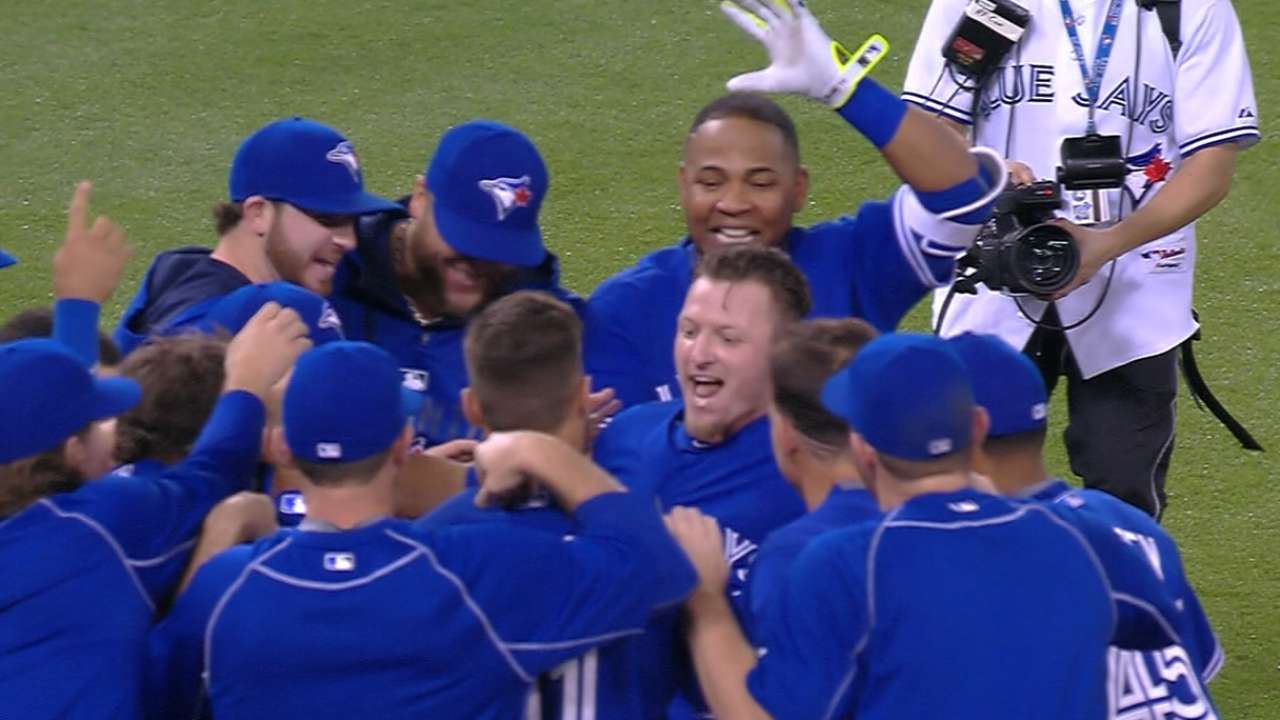 MLBPipeline.com is breaking down how each of the postseason teams was built, looking at the composition of projected Division Series rosters.
The Toronto Blue Jays' offense kept them in the playoff race for most of the season, but it was the acquisitions made by general manager Alex Anthopoulos at the non-waiver Trade Deadline which ultimately enabled the club to win an American League East title, snapping a 22-year postseason drought.
On July 28, the Blue Jays were 50-51 and trailed the Yankees by eight games in the AL East. Over the next several days, Anthopoulos went all-in to bolster his roster, trading for All-Stars Troy Tulowitzki and David Price in a pair of blockbuster deals while also adding key players such as Ben Revere, LaTroy Hawkins and Mark Lowe. The moves launched a momentous turnaround for the Blue Jays, as they went on to win 43 of their final 61 regular-season games en route to securing a division title.
"Ultimately, we felt that no matter how good you feel about your team, come July, players get hurt, players aren't performing, you're going to have need," Anthopoulos told MLB.com. "So we wanted to give ourselves as much flexibility as we could, and I think so far it worked out."
Toronto's offense was the best in baseball during the regular season, pacing the Major Leagues in home runs (232), runs scored (891), doubles (308), on-base percentage (.340), slugging (.457) and OPS (.797).
Josh Donaldson, the organization's prized offseason acquisition, led the team with a career-high 41 home runs, while sluggers Jose Bautista and Edwin Encarnacion once again put up staggering numbers, tallying 40 and 39 home runs, respectively. Catcher Russell Martin, the Blue Jays' major free-agent signing from the offseason, connected on a career-best 23 homers, and the team also had Justin Smoak, Chris Colabello and Kevin Pillar reach double digits.
HOMEGROWN
Player, how acquired, year
Brett Cecil, Draft, 2007 (1st)
Ryan Goins, Draft, 2009 (4th)
Aaron Loup, Draft, 2009 (9th)
Roberto Osuna, Int'l sign, 2011
Kevin Pillar, Draft, 2011 (32nd)
Dalton Pompey, Draft, 2010 (16th)
Aaron Sanchez, Draft, 2010 (1st)
Marcus Stroman, Draft, 2012 (1st)
That the Blue Jays chose not to sign (or trade for) a big-name reliever before the season was a vote of confidence in the organization's homegrown arms. Cecil and Sanchez had inauspicious starts to their seasons -- Sanchez struggled in the starting rotation and Cecil relinquished his tentative role as closer -- but both thrived during the second half, registering ERAs of 0.00 and 2.39, respectively, while making 30 appearances.
Osuna, despite having never pitched above the Class A Advanced level headed into the season, won a spot in Toronto's Opening Day bullpen and ultimately took over as the team's closer in late June, replacing Cecil. The 20-year-old right-hander thrived in the role, saving 20 games in 23 chances while posting a 2.58 ERA and 75 strikeouts in 69 2/3 innings.
However, no homegrown player contributed more this season than Pillar. In his first season as an everyday player, the 26-year-old batted .278/.314/.399 with 76 runs scored, 45 extra-base hits and 25 stolen bases while playing in a team-high 159 games. Pillar also played sensational defense in center field, finishing second among AL outfielders with 22 Defensive Runs Saved, according to FanGraphs.com.
TRADES
Player, year, acquired from
Jose Bautista, 2008, Pirates
Chris Colabello, 2014, Twins*
R.A. Dickey, 2012, Mets
Josh Donaldson, 2014, Athletics
Marco Estrada, 2014, Brewers
LaTroy Hawkins, 2015, Rockies
Liam Hendriks, 2014, Royals
Mark Lowe, 2015, Mariners
Cliff Pennington, 2015, Diamondbacks
David Price, 2015, Tigers
Ben Revere, 2015, Phillies
Justin Smoak, 2014, Mariners*
Troy Tulowitzki, 2015, Rockies
*Acquired via Waivers
It wasn't long after the 2014 season ended that the Blue Jays began constructing their roster for following year. The process began with the acquisition of Donaldson from the A's in late November, which gave Toronto another middle-of-the-lineup force to go along with Bautista and Encarnacion. The 29-year-old third baseman emerged as an MVP candidate in his first year with the organization, batting .297 with a .939 OPS, 41 home runs, 41 doubles, 123 RBIs and 122 runs scored in 158 games.
"We didn't expect him to be available," Anthopoulos said about Donaldson. "You don't really target guys with two years of service and four years of control. You just know the likelihood of getting those guys is so rare."
The Trade Deadline saw Anthopoulos add two more elite players in Tulowitzki and Price -- the latter giving the Blue Jays the No. 1 starter they desperately needed. In 11 starts following the trade, Price was 9-1 with a 2.30 ERA and 87 strikeouts in 74 1/3 innings.
Complete breakdown of how this year's 10 @MLB #postseason teams built their rosters: http://t.co/6739SMacE6 pic.twitter.com/MRTg8nAnrw

— MLB Pipeline (@MLBPipeline) October 5, 2015
"These types of players, the great superstar players, rarely become available," Anthopoulos told MLB.com after trading for Price. "We had an opportunity to do it, it's more of a reflection on the belief of the guys that we have right now on the roster. We think we're a good team and adding a guy like Price, we think makes us that much stronger and give us a chance to win."
Anthopoulos upgraded the bullpen with trades for veteran right-handers Hawkins and Lowe, who took some of the pressure off of rookies Sanchez and Osuna by combining for 41 appearances down the stretch. Meanwhile, the acquisition of Revere shortly before the Deadline addressed the club's lack of a legitimate leadoff hitter -- one capable of getting on base ahead of the aforementioned sluggers -- and improved its defense and baserunning, which were already strong.
"A guy like Ben Revere, when [Michael] Saunders went down, he brings an element to our lineup that we don't have," Anthopoulos said. "Contact bat, with speed, that's normally the best combination, unless you can get contact with power, which is almost impossible to find. But contact with speed is huge, left-handed and range."
FREE AGENTS
Player, year
Ezequiel Carrera, 2014
Edwin Encarnacion, 2010
Russell Martin, 2014
Dioneer Navarro, 2013
The Blue Jays made waves with the signing of Martin last November, as his five-year, $82 million deal represented the largest contract during Anthopoulos' tenure with the organization.
"As much money as we've spent and the commitment that we've made, you can't feel better where we're putting our dollars and who we're giving it to," Anthopoulos said about Martin. "The total package, as far as I'm concerned. There are no holes in his game, and it's rare that you have that. It's rare that opportunity presents itself, and that's why we were very aggressive in going after him."
The 32-year-old's first year in Toronto saw him connect on 23 home runs, surpassing his previous career-high of 21, while his 77 RBIs, 76 runs scored and 202 total bases each ranked among the best single-season totals during his 10-year career. Martin also provided tremendous value through his work behind the plate, as his 44.4 percent (32 of 72) caught-stealing rate ranked first among Major League catchers with at least 100 games played at the position.
Mike Rosenbaum is a reporter for MLB.com. This story was not subject to the approval of Major League Baseball or its clubs.