Moore builds Royals for another October run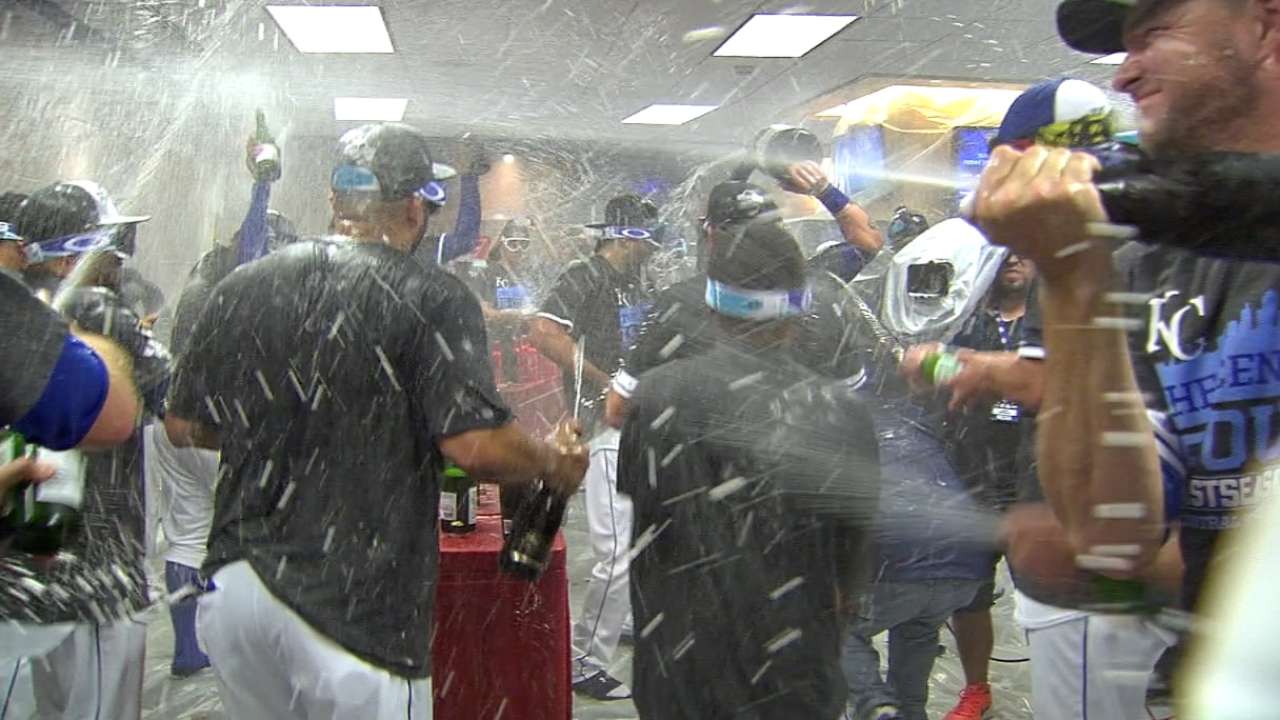 MLB.com sits down for a question-and-answer session with Royals general manager Dayton Moore before the club opens Game 1 of the American League Division Series against the winner of Tuesday's AL Wild Card Game presented by Budweiser between the Yankees and Astros. The Royals' game on Thursday will be broadcast on FOX or FS1 or MLBN.
MLB.com: Your very first trade was for speedster Joey Gathright: That was a clear signal that you thought the team wasn't athletic enough, right?
Moore: We had a high priority on speed and defense from Day 1. That's why we drafted the guys we did. Mike Moustakas, our first pick in 2007, was drafted as a shortstop. He was drafted for his bat, but we knew he was a plus defender, too. He also threw 97 [mph] off the mound. Eric Hosmer [2008] was a great bat, but a plus defender. We drafted and we signed players based on their all-around athleticism. The other reason to take athletic guys and good defenders is it buys you time. The psychology is that you're going to struggle when you get to the big leagues, and you're going to have 0-for-4's. But with speed and defense, you can still contribute to the ballclub when you're struggling offensively.
MLB.com: There is a certain skillset you look for when building a roster and a team for this ballpark ...
Moore: Speed and defense. It's hard to win in this ballpark without defense and usable speed. What is usable speed? A lot of guys can really run, but their speed isn't usable. They're fast but their routes are bad in the outfield or they can't steal bases.
MLB.com: A lot of emphasis has been made on the James Shields trade as the one that turned the franchise, but the one that really turned things around was the Zack Greinke trade in 2010 when you got Alcides Escobar and Lorenzo Cain, right?
Moore: The Zack Greinke deal was the pathway to future deals. With Escobar and Cain, we felt they could play defense and had usable speed. Offensively, they were developing players, but there was potential there. It's hard to predict, but our scouts felt Lorenzo was capable of being this good offensively. But regardless, we knew they would both defend and had usable speed.
• Shop for Royals postseason gear
MLB.com: At the time of the Shields trade, few people even noticed that Wade Davis was a part of it. But now he has turned out to be just as important if not more than James, as he has turned into one of the game's elite relievers, and you have club control with him for two more years.
Moore: Wade was actually a crucial part of that trade to us. We wanted to try him out as a starter because he had multiple pitches in his arsenal. All of our scouts thought he could be dominant as a reliever if and when we put him back in that role. He's been a huge part of our success. He's a huge part of the psychology of our success, to have a dominant bullpen.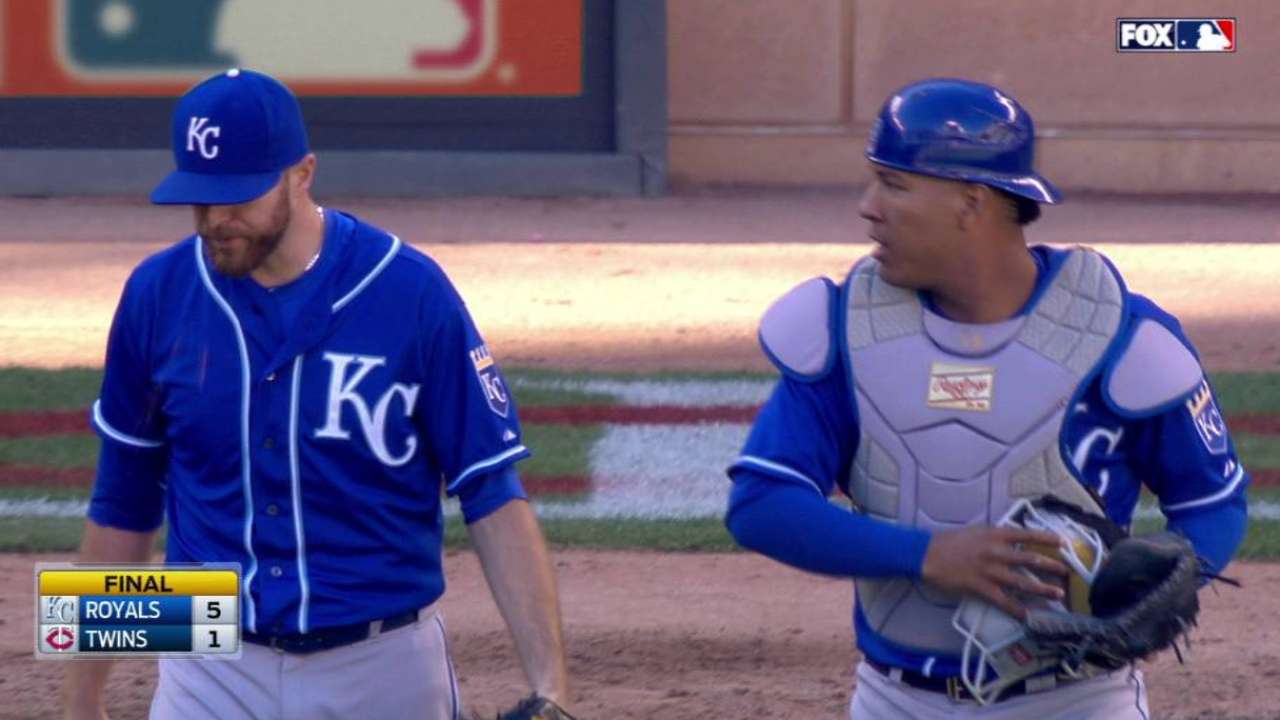 MLB.com: One of the first things you built here was a solid bullpen, going back to the days of Joakim Soria.
Moore: We always wanted to match up the last third of the game. There is nothing more discouraging than having a lead late and losing. It hurts you psychologically. And winning late can really build momentum. But you have to have a solid bullpen for that to happen. We recognized that, especially for a team that is building and is young. When you do get a lead, it's imperative that you are able to hold it for the sake of confidence. That's why we started with defense and a solid bullpen, so you can protect a lead if you get it.
MLB.com: This offseason, it would have been phenomenal to hit on maybe 80 percent of your acquisitions. But you and your staff hit on basically every one that mattered: Kendrys Morales and Ryan Madson are Comeback Player of the Year candidates, you got Alex Rios, and Edinson Volquez and Kris Medlen and Franklin Morales and Chris Young, and the list goes one. They've all contributed.
Moore: I think it goes back to the type of the culture our coaches and our players are able to present to make it possible to be successful. It's Ned [Yost] and his staff and the other players have created a culture in the clubhouse that makes it comfortable for new players to come in and play well and do well in. That allows them to do what they can do. Those players all have had success in the past, but will blossom, so to speak, in the right environment.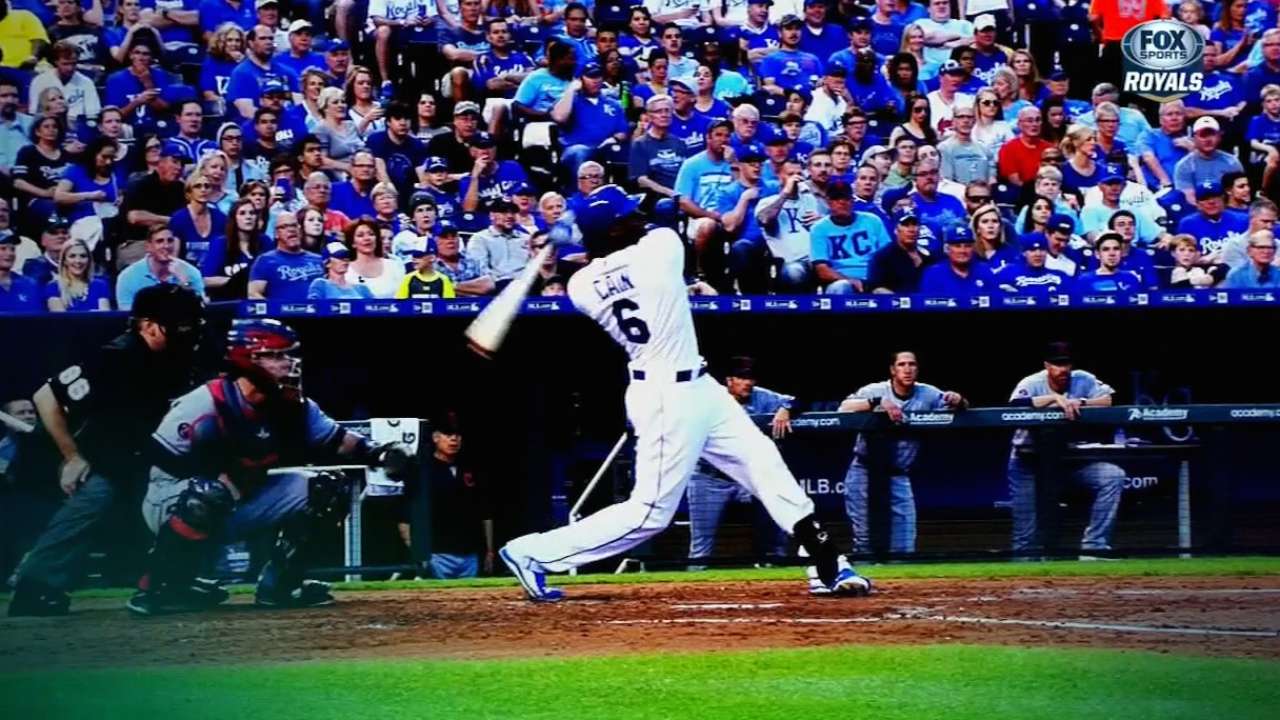 MLB.com: At the Trade Deadline, you went out and got Johnny Cueto and Ben Zobrist. You already were in first place at the time, best record in the league. Why the need to add anyone?
Moore: When we left Spring Training, we felt we were going to need to make a Deadline deal if we were fortunate enough to be in the race, targeting a top-of-the-line starter such as Johnny so we could match up with another team's top starter in the playoffs. And, of course, Ben Zobrist, we were very fortunate that he was available. With Ben's versatility to play multiple positions, we needed that. And we thought we needed another professional hitter in the lineup and try to lengthen out the lineup. Ben was also valuable in left field as Alex [Gordon] recovered from his groin injury -- that's the type of versatility he brings.
MLB.com: When you traded for Shields, the fan base was up in arms that you gave up prospect Wil Myers. But now fans have started to learn that to get something, you have to give up something. And you gave up numerous prospects to get Cueto and Zobrist.
Moore: The reason a farm system exists is to ultimately make your big league club better, either by developing players to start for your big league team or so you can acquire other players to make your 25-man roster better. It's that simple. That is what championship teams do. The goal is to continue to draft and develop and stockpile talent in your Minor League system to be able to do that. Each year there is a Draft and you do that. But the goal isn't to admire your top prospects -- it's to get better at the big league level.
Jeffrey Flanagan is a reporter for MLB.com. Follow him on Twitter at @FlannyMLB. This story was not subject to the approval of Major League Baseball or its clubs.