Network's Ripken, Smoltz break down postseason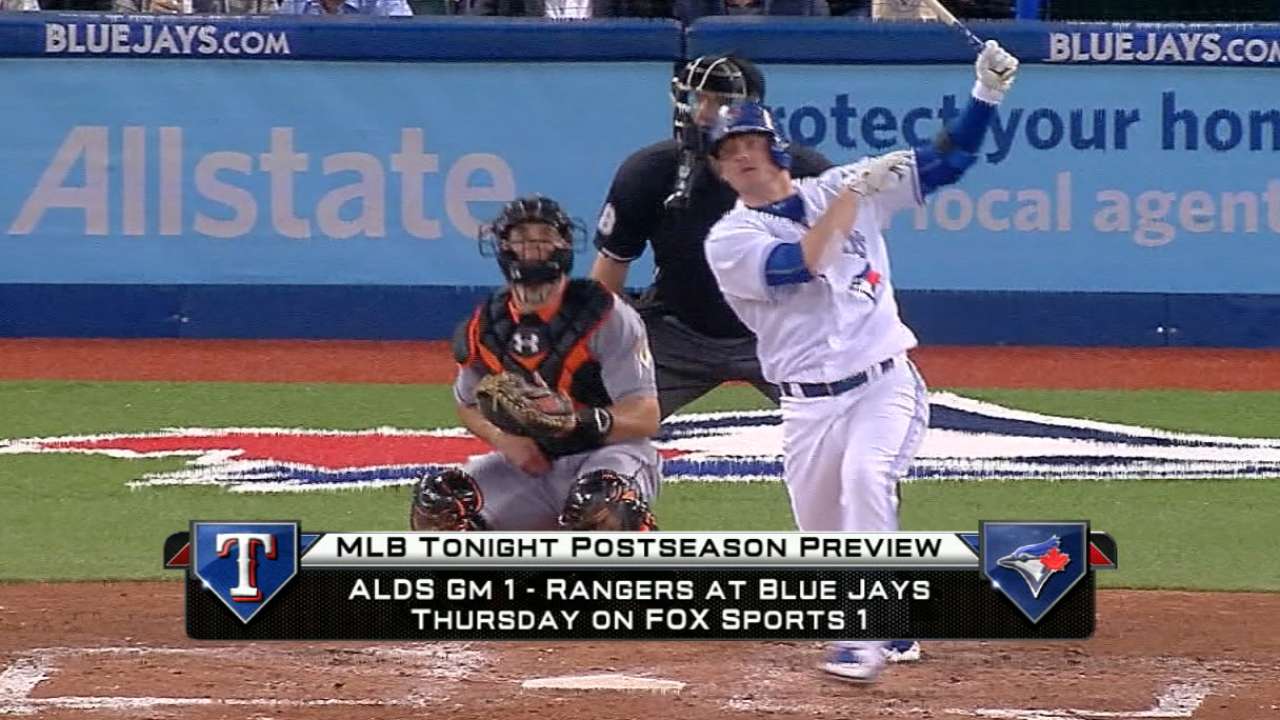 Postseason baseball is here, and for now, four matchups are set.
MLB Network's Billy Ripken and John Smoltz -- a guy who knows a thing or two about playing in October -- recently joined Paul Severino to break down each one. Here is a look at the biggest storylines and X-factors from their points of view.
American League Wild Card Game: Astros at Yankees
Tuesday's game at Yankee Stadium (8 p.m. ET, ESPN) will pit Houston's Dallas Keuchel against New York's Masahiro Tanaka. Keuchel is a strong contender for the AL Cy Young Award, but he also will be pitching on three days' rest, while his road ERA (3.77) is more than two runs higher than his mark at home.
"It's whether or not Keuchel's sinker is effective and the pressure doesn't allow it to flatten at all," Smoltz said. "If he's on, it's going to be a battle."
According to Ripken, Tanaka (13-7, 3.51 ERA) has not been the same caliber pitcher he was as a rookie last year, when he posted a 2.77 ERA.
"But, if he's on, I still think he can do damage against the Astros," Ripken said.
The key will be for Tanaka to get a lead to the Yankees' bullpen. If he does, Smoltz said he'd be "shocked" if the dynamic duo of right-hander Dellin Betances and lefty Andrew Miller doesn't combine to pitch at least three innings.
National League Wild Card Game: Cubs at Pirates
This battle between two NL Central foes (8 p.m. Wednesday, TBS) features a premium pitching matchup between the Cubs' Jake Arrieta and the Pirates' Gerrit Cole.
"This is like a heavyweight fight, I think, right here," Ripken said. "Jake Arrieta's been almost unhittable, especially since the All-Star break. I think we lose sight of the fact that Gerrit Cole is pretty good, as well."
Under those circumstances, Ripken expects to see a tight, low-scoring game, with both starters putting up zeros until at least the middle innings.
"The most patient team, I think, will win this game," Smoltz said. "And that's easier said than done."
While Arrieta posted an 0.86 ERA over his final 20 starts, Smoltz believes the Cubs' bullpen could be an Achilles heel if the Pirates can get to it. Pittsburgh, on the other hand, has MLB saves leader Mark Melancon.
And then, of course, there is the home-field advantage of PNC Park.
"That is going to be one crazy place to start that game," Ripken said.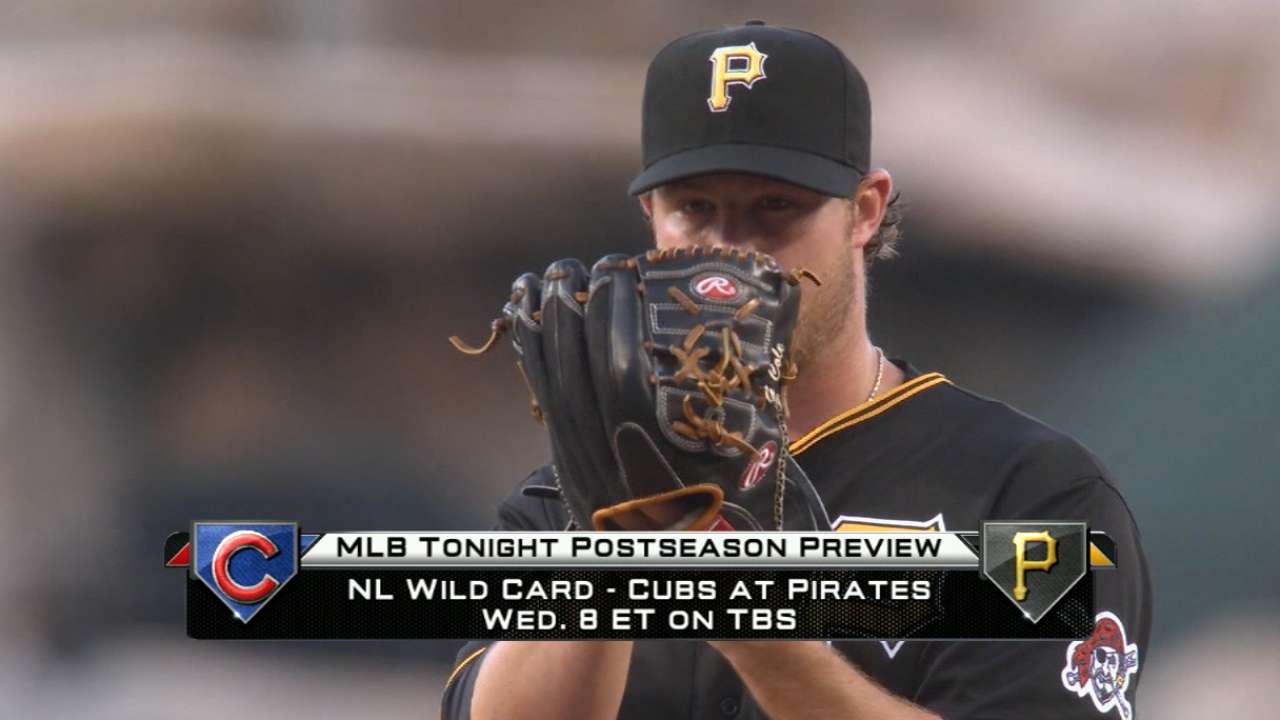 AL Division Series: Blue Jays vs. Rangers
After clinching the AL West title on the final day of the regular season, the Rangers now face the difficult task of slowing down the Major Leagues' most prolific offense.
"They just blew the field away at scoring runs," Ripken said of the Blue Jays, who will host Games 1 and 2 beginning on Thursday.
As Smoltz pointed out, Toronto can wait for the long ball. The club finished first with 232 homers this season, while Josh Donaldson, Jose Bautista and Edwin Encarnacion all hit at least 39. At the same time, only six teams struck out fewer times than the Jays.
"Definitely don't watch [batting practice]," Smoltz said, by way of advice for the Rangers' pitchers. "Because that's not fun."
Of course, the Rangers were no slouches offensively, either, finishing third in the Majors in runs. So how can they keep up with Toronto?
"They've got to make havoc on the bases," Smoltz said of Texas, which finished sixth in MLB in steals. "They've got to play reckless. They've got to run. They've got to create."
NL Division Series: Mets vs. Dodgers
The Mets had a chance to claim home-field advantage in this series, but instead, it will begin in Los Angeles on Friday. Is that a big deal for a team that went 41-40 away from Citi Field this season?
"I, on the outside, would think it would be very big to have home field with young pitchers," Smoltz said, referring to New York's Jacob deGrom, Noah Syndergaard and Matt Harvey. "They haven't been through a lot of this."
Those pitchers, lined up for the first three games of the series, all will be making their postseason debuts for a club that is tasting the playoffs for the first time since 2006.
Starting on the road also means the Mets will find themselves in a 2-0 hole if they can't overcome NL Cy Young candidates Clayton Kershaw and Zack Greinke at Dodger Stadium in Games 1 and 2. Those same two pitchers also could return in Games 4 and 5.
"You've got to find a way to beat Kershaw or Greinke," Smoltz said. "You have to, and then you have a chance. The problem is, you may have to do that twice."
Andrew Simon is a reporter for MLB.com. Follow him on Twitter @AndrewSimonMLB. This story was not subject to the approval of Major League Baseball or its clubs.