Everything you need to know about the NLDS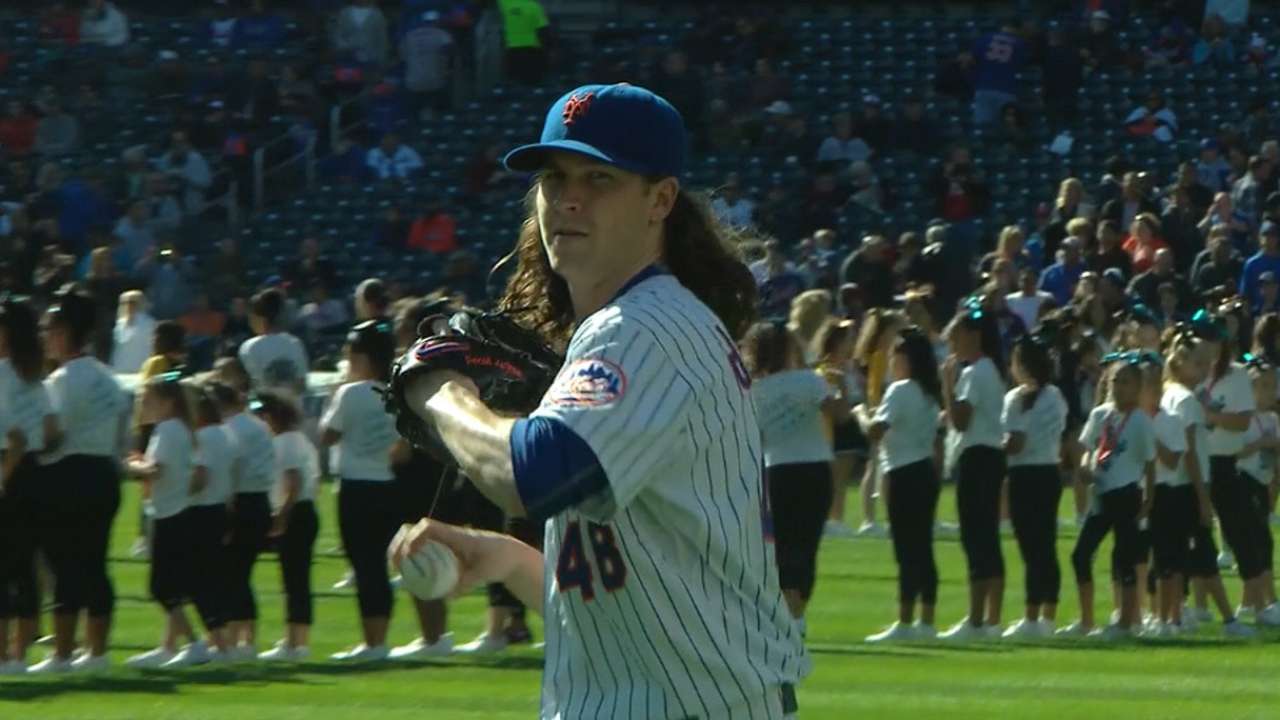 NEW YORK -- The Mets understand their challenge at hand. One hundred and sixty-two games have led to this: a National League Division Series matchup against the Dodgers, which starts Friday at 9:30 p.m. ET (TBS).
Plenty of details remain for the Mets to sort out between now and Friday, but much of their plan is already in place. Below is everything you need to know about the best-of-five NLDS:
Who: The Mets and Dodgers, of course. New York qualified by winning the NL East for the first time since 2006, while the Dodgers took the NL West for the third straight season.
These teams are both built around the same thing: elite starting pitching. The Mets have already announced most of their starting rotation, with Jacob deGrom pitching Game 1, Noah Syndergaard set for Game 2 and Matt Harvey aligned for Game 3. The Mets hope to use Steven Matz in Game 4, if necessary, but won't be sure about the state of his sore back until Friday morning. If Matz cannot go, the Mets will either turn to Bartolo Colon or back to deGrom on short rest.
The Dodgers have not yet announced their rotation, though reigning NL MVP and Cy Young Award winner Clayton Kershaw is a strong bet to start Game 1, with Zack Greinke set for Game 2. The Dodgers figure to round out their rotation with a pair of left-handers: Brett Anderson and Alex Wood.
"As deep as we are with our pitching, I don't think anybody in baseball really has a Kershaw or Greinke," Mets third baseman David Wright said. "We're going to go out there and throw some good arms against them, but the pedigree, the accomplishments -- you look at the back of the baseball card of those two guys, that's about as good as it gets. We know that offensively, runs are probably going to be at a premium. So we have to do a nice job of not giving them extra outs."
Get ready for the playoffs with Mets postseason gear
The Mets' offensive roster features a mix of youth and veterans. Their bench is all but set, pending a medical report on infielder Juan Uribe. If Uribe is not healthy enough to make the roster, the Mets will carry a bench of Kevin Plawecki, Kelly Johnson, Michael Cuddyer, Wilmer Flores, Juan Lagares and Kirk Nieuwenhuis. If Uribe does make an unlikely recovery from a nagging chest injury, it will probably cost Nieuwenhuis his roster spot. Cuddyer may wind up seeing more playing time than rookie Michael Conforto, given the three left-handers in Los Angeles' rotation.
The Mets' bullpen will include back-end weapons Jeurys Familia, Tyler Clippard and Addison Reed, as well as Erik Goeddel, Hansel Robles and Colon. That leaves one available spot for Jon Niese (the favorite), Sean Gilmartin or Carlos Torres.
What/Where/When: The NLDS is a best-of-five affair. By virtue of their superior overall record, the Dodgers will host Games 1 and 2 at Dodger Stadium on Friday and Saturday (9 p.m., TBS). The series will move to Citi Field for Games 3 and 4 (if necessary) on Oct. 12 and 13, then back to Dodger Stadium for a potential Game 5 on Oct. 15.
Matchups to watch: Kershaw struck out 301 batters in the regular season and, by most accounts, is the best pitcher on the planet -- despite the fact that he may finish third in Cy Young Award voting. But aside from Cuddyer, who is 4-for-16 lifetime off Kershaw, don't expect the Mets to stack their Game 1 lineup with right-handed batters. Manager Terry Collins has already intimated that lefty regulars Daniel Murphy, Lucas Duda and Curtis Granderson will all start Game 1.
Against Greinke, Conforto will start over Cuddyer, and Collins could look to mix in Flores over Ruben Tejada at shortstop. Otherwise, the Mets will go with the players who carried them here: Yoenis Cespedes, Wright et al.
The Mets beat the Dodgers four times in seven games earlier this season, all of the games taking place before Cespedes and Clippard showed up via trades.
Postseason history: Though the Mets played the Dodgers the last time they qualified for the postseason, sweeping them in three games way back in 2006, only Wright remains from that team. On the Los Angeles side, Andre Ethier is the only current Dodger who appeared in that series.
The Mets have won two World Series (1969 and 1986) and four pennants ('69, '73, '86 and 2000) in their history. The Dodgers own six World Series titles, the last of them coming in 1988 after they upset a heavily favored Mets team in the NL Championship Series. The Mets and Dodgers have met in October only twice, in '88 and '06.
Anthony DiComo is a reporter for MLB.com. Follow him on Twitter @AnthonyDiComo and Facebook, and listen to his podcast. This story was not subject to the approval of Major League Baseball or its clubs.