3 moments that will matter vs. Mets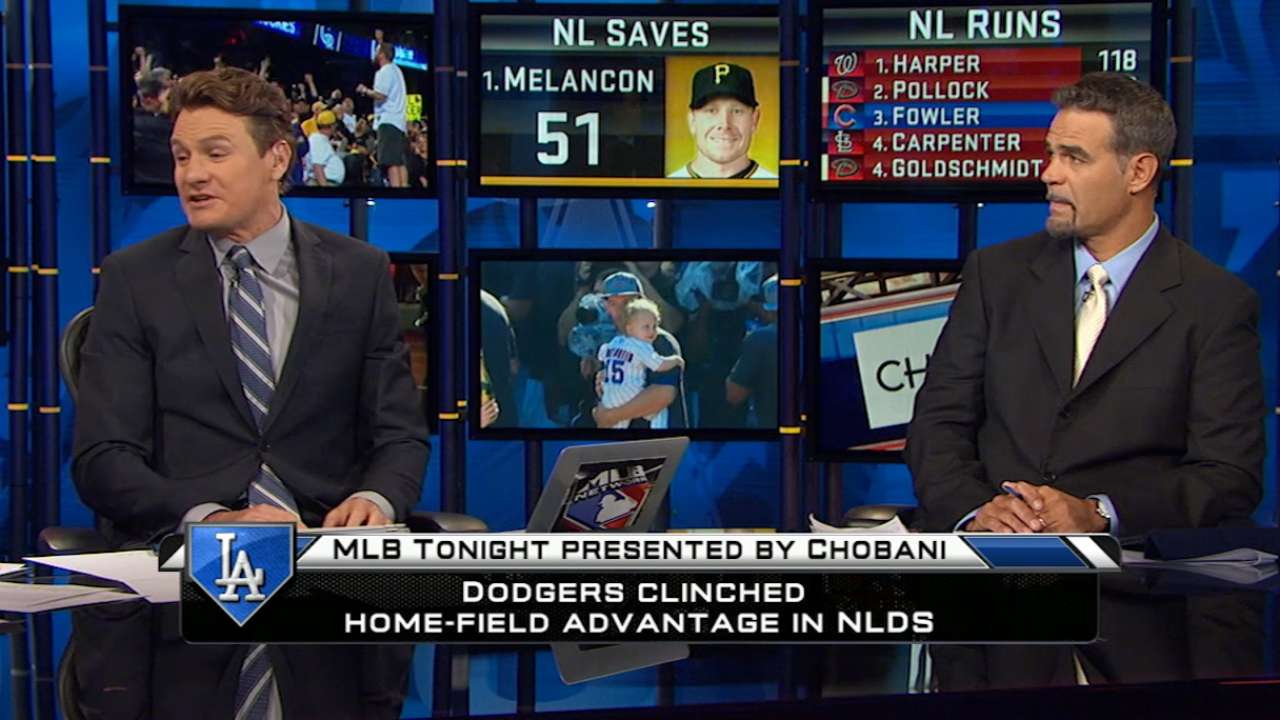 LOS ANGELES -- Here are three hypothetical scenarios that could matter when the Dodgers meet the Mets in the upcoming best-of-five National League Division Series, which starts Friday night at Dodger Stadium (TBS).
1. The Dodgers are facing elimination, but starter Clayton Kershaw is cruising through six innings with a one-hitter and a 2-0 lead when he allows back-to-back, no-out singles with left-handed power-hitting first baseman Lucas Duda coming up.
When an almost identical scenario unfolded last October, manager Don Mattingly had Kershaw pitch to Matt Adams, who launched a game-winning three-run homer.
Second-guessers blamed an erratic bullpen in which Mattingly had no confidence. But Mattingly wasn't about to yank an eventual MVP pitcher with a lead a year ago and he probably won't this October either, even if he has more confidence in his bullpen now than he did then.
2. In Game 1 of last year's NLCS, Yasiel Puig was 2-for-4 with three runs scored. By Game 4, after striking out in seven of his next eight at-bats, he was benched.
So, should 21-year-old Corey Seager get the start at shortstop when the series begins, only to show the fatigue in the longest season of his life? Expect Mattingly to be willing to turn quickly to veteran Jimmy Rollins, who has a World Series ring and 46 postseason games on his resume.
Mattingly already is committed to one rookie at another critical defensive position, center field, where Enrique Hernandez and Joc Pederson vie for playing time.
Get ready for the playoffs with Dodgers postseason gear
3. Speaking of Puig, the lightning rod for controversy didn't even figure to be on the roster a week ago. But being the focal point that he is, and with Mattingly so fond of picking matchups, it wouldn't be a stretch to see Puig start against Matt Harvey.
Puig is 3-for-5 with a double, walk and strikeout against Harvey. By contrast, Justin Ruggiano is 1-for-3 with two strikeouts, Andre Ethier is 2-for-8 with a walk and a strikeout and Carl Crawford is 1-for-5 with a walk and a strikeout.
Ken Gurnick is the Los Angeles Dodgers beat reporter for MLB.com. He has covered the Dodgers for 25 seasons.
This story was not subject to the approval of Major League Baseball or its clubs.