Mozeliak confident in Cards' depth, fortitude
In advance of the Cardinals' fifth postseason trip in as many years, general manager John Mozeliak sat down with MLB.com for a wide-ranging question-and-answer session. Here are some of his thoughts on how the season, notable individual performers and what's ahead as the organization seeks its 12th World Series championship:
MLB.com: If you had known before the season started that you would lose your ace, three-hole hitter, cleanup hitter, setup man and several other contributors, what would your expectations have been?
Mozeliak: First off, I would have been sad. But I do think one of the things that we do try to do from an organizational standpoint is create that depth so that if we do have problems or situations, we can internally deal with them. Obviously, you can't always do that, but ideally you do have that depth at Double-A and Triple-A to give you that protection.
Now clearly, when you lose somebody like an Adam Wainwright, it's really hard to say it's just for the next man up. But I think the interesting thing was when you look back on it, it was Jaime [Garcia] and what he was able to do. In essence, everybody was pitching well, and then for him to be able to backfill meant we didn't have to hit the panic button. That was really important to the success of this club.
MLB.com: Coming into the season, did you think you had as much Minor League depth as you had in recent years?
• Shop for Cardinals postseason gear
Mozeliak: It's different because I do think from the position player side, you did see a lot of that standout talent. And then I think most of us thought Marco [Gonzales] was going to be that starting pitcher if we needed someone and then it ended up being [Tim] Cooney. I think every year there are positive surprises, and that's what came.
MLB.com: What sort of contributions did you realistically expect out of Garcia coming into the season?
Mozeliak: Candidly, I just didn't know. I think a lot gets made about Jaime and how he's had to deal with injuries and how it has affected him. But I think most everybody would agree that when he's healthy and feeling good, he can be an amazing talent. That's what we ended up seeing.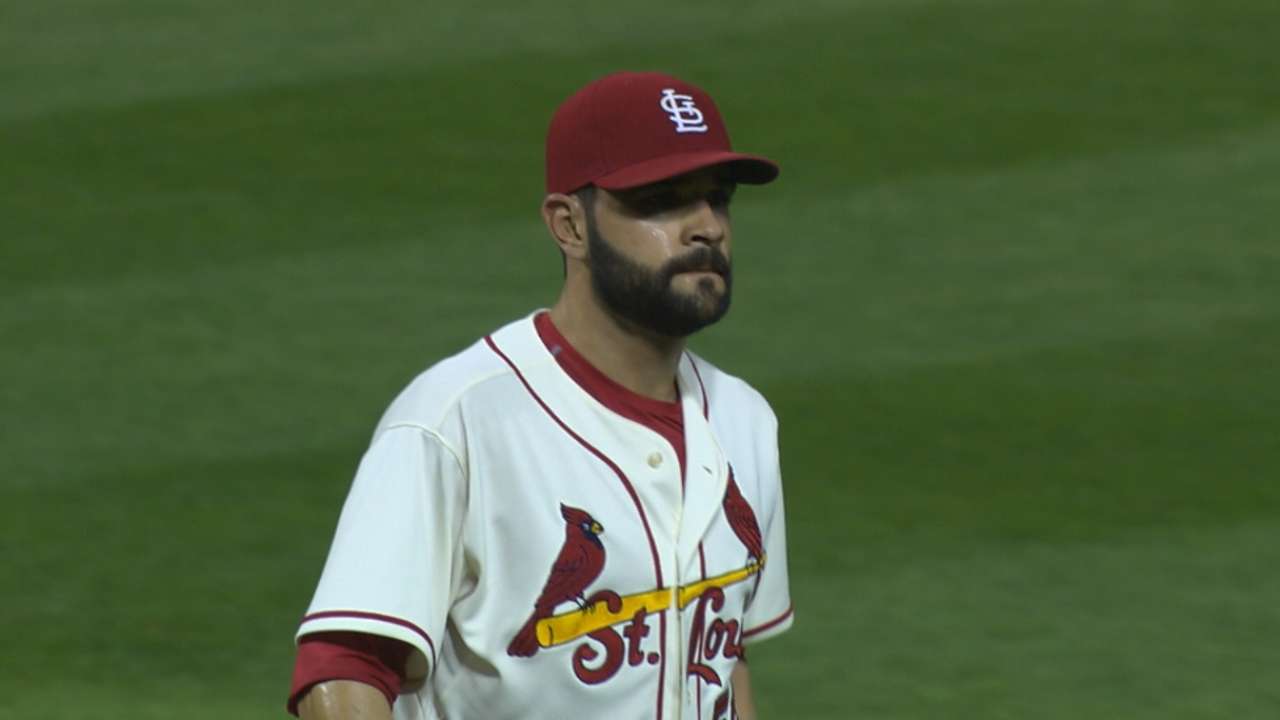 MLB.com: How has Garcia's resurgence this year changed how you view the two option years (2016 and 2017) on his contract?
Mozeliak: It has a lot. You go from someone who is spending a lot of time on the DL to someone who is pitching at a very high level. That's exciting.
• Is Garcia #AwardWorthy? Vote now for Best Bounceback Player
MLB.com: How would you assess the impact of the moves you made last season on this year's team?
Mozeliak: We had to adjust our strategy significantly after Oscar [Taveras'] passing. We identified Jason Heyward as someone who could come in and be a solution for us. As we sit here in the beginning of October, he's done exactly what we need him to do. [Matt] Belisle, unfortunately, got injured, and so did [Jordan] Walden, and I think both guys we had high expectations for. [Carlos] Villanueva has done exactly what we hoped he would do.
MLB.com: After being told that Wainwright wouldn't return this season, what did you think would come of your rotation?
Mozeliak: I think what makes it so impressive is that when Adam went down, there was immediate pressure on everybody else that was starting on that given day. And it did not have a negative effect on any of them. As a matter of fact, you could argue that they picked their game up. In a way, it was very much individualized, but in an aggregate sense, everybody got there.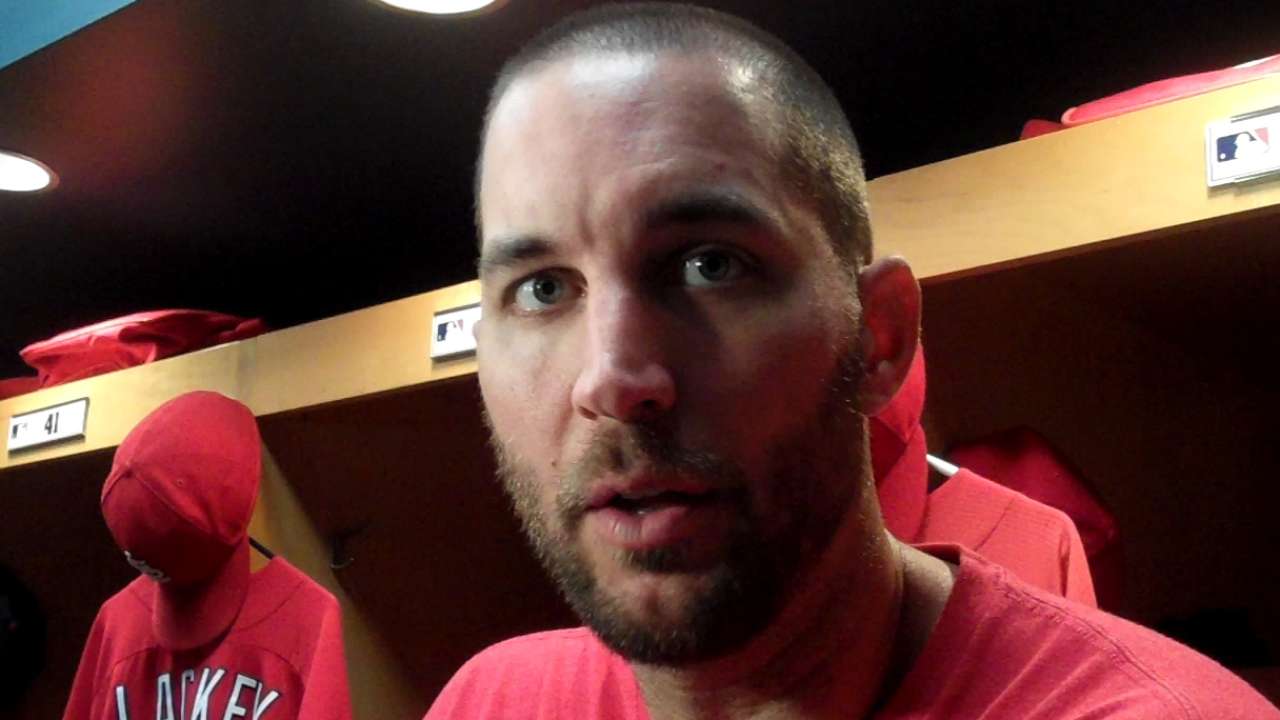 MLB.com: Is there a significance to reaching the 100-win total for the first time in 10 years?
Mozeliak: I think the significance of 100 means very little, other than in a year where you're going to have the second- and third-place teams [in the division] be in the 90s. That just shows you how competitive our division was.
MLB.com: Did you expect the National League Central to be as tough up top as it turned out to be?
Mozeliak: Yeah, I did. I certainly thought it was capable of being like that.
MLB.com: What do you believe will define this team when it's remembered years from now?
Mozeliak: That it's a team. On any given night, it could be someone different. You look back at the successes we've had and it came from so many different places.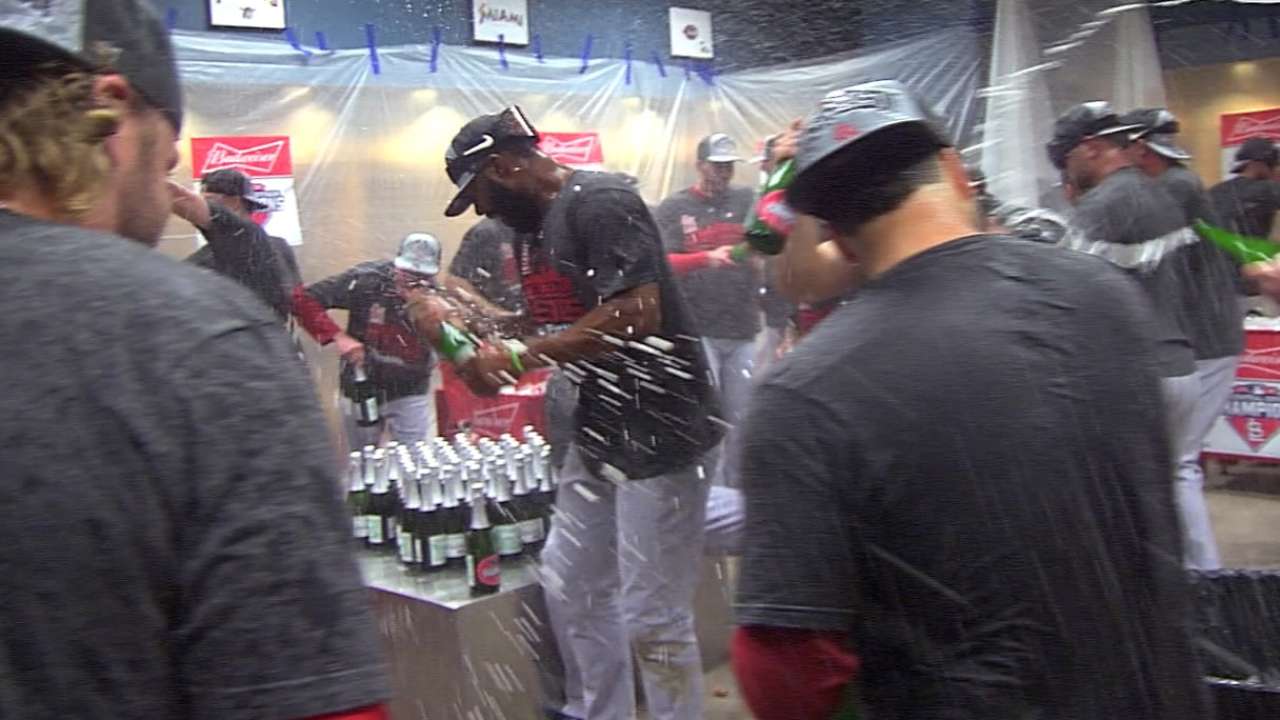 MLB.com: Who would you say has been your most surprising impact player?
Mozeliak: I think you'd have to go with [Stephen] Piscotty and [Tommy] Pham because of what they came up and did. Of course, that opportunity was created by injuries.
MLB.com: What impressed you most about the growth you saw out of Carlos Martinez?
Mozeliak: He had to mature at this level and had to understand the nuances of the work that has to be done between starts. I think everybody would agree that when it was his day to start, you knew you were going to have a talented young man taking the mound. But in this business, it's more than just that day. I think those were some of the things he had to learn and experience.
• Is Martinez #AwardWorthy? Vote now for Best Breakout Player
MLB.com: What do you think of Matt Carpenter's transformation into a power-hitting leadoff hitter?
Mozeliak: I like this Matt. What he's still able to do is get on base, and he's also approaching a 30-home run season, which I think is fantastic. It was surprising to see that home run total because historically he's never shown that level of power. I know we saw glimpses of it in the [2014] postseason, but I think Matt has just become the type of player who is going to be in future MVP discussions. He's a tremendous talent, and he's finding ways to grow in the game. That's remarkable.
MLB.com: Do you see building a postseason roster this year as more challenging a proposition than it has in recent years?
Mozeliak: Yes, because you have more players to choose from. And then you have to decide the balance of pitchers vs. position players and then decide how you want that bench to look like. There are going to be really good arguments for a lot of people.
MLB.com: What about this team gives you confidence that it can make a deep run into October?
Mozeliak: I just think that this unit finds ways to win, and the month of October is usually defined by teams that get hot and teams that believe in themselves. I definitely think we're getting healthy at the right time, too, and that should benefit us in many ways.
MLB.com: How would you assess the job manager Mike Matheny did in his fourth season?
Mozeliak: I think he's a tremendous manager. I think he should be Manager of the Year. I'm disappointed that he doesn't get more serious consideration. Everybody is getting credit for so many things, but not many teams lost their ace, their three-hole hitter and had the amount of injuries that we had overall. I think he does a great job. He has these guys prepared day in and day out. That's a sign of a winning manager.
Jenifer Langosch is a reporter for MLB.com. Read her blog, By Gosh, It's Langosch, follow her on Twitter @LangoschMLB, like her Facebook page Jenifer Langosch for Cardinals.com and listen to her podcast. This story was not subject to the approval of Major League Baseball or its clubs.