AL Wild Card position-by-position: Astros-Yanks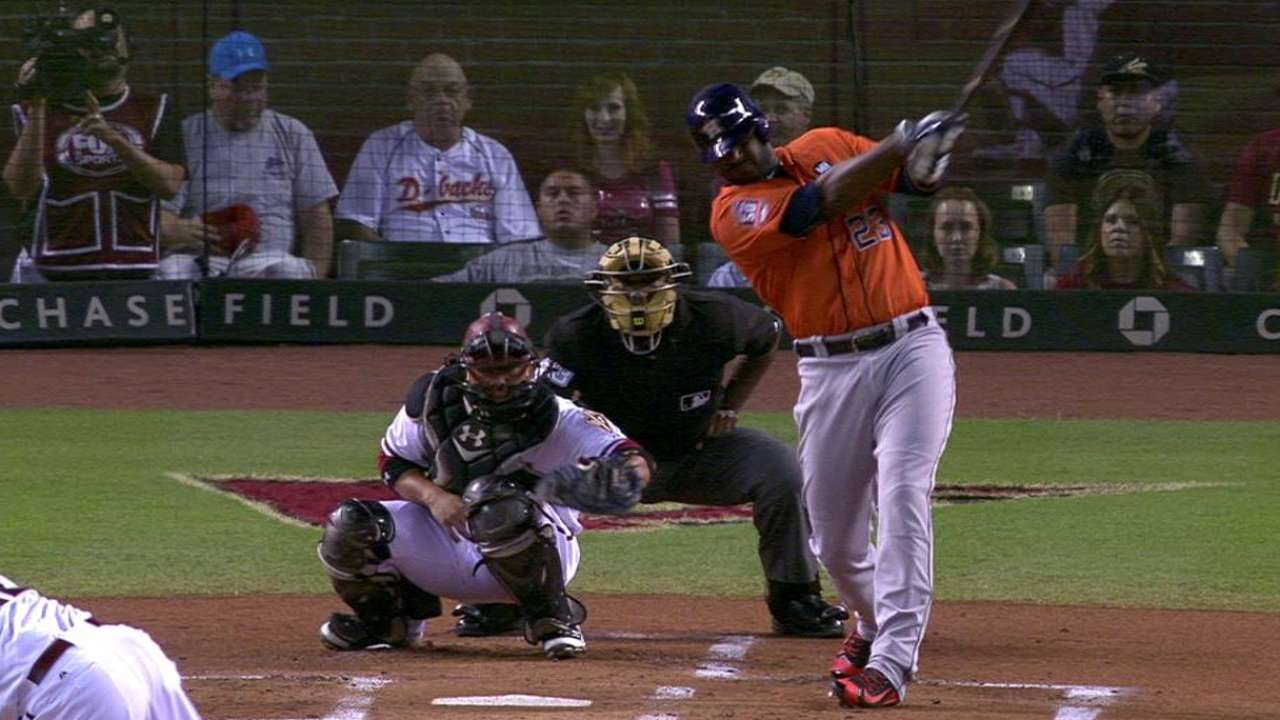 It took until the final day of the regular season, but we finally have a matchup and a venue for the American League Wild Card Game presented by Budweiser. The Yankees host the Astros this evening at 8 ET on ESPN with both clubs appearing in a Wild Card Game for the first time.
Houston beat New York four out of seven times during the regular season, including two of three at Yankee Stadium from Aug. 24-26.
Here's a position-by-position breakdown of the two clubs:
Catcher: Brian McCann's most recent postseason appearance came in 2013, and it was by no means pretty. He went 0-for-13 with six strikeouts in what turned out to be his final series with Atlanta. Still, McCann proved himself more than capable of handling the October pressure, hitting .429 with a 1.152 OPS in the 2010 playoffs. Jason Castro, on the other hand, has never been to a postseason, and sports an OPS 108 points lower than McCann's .756 mark this season. Castro has been serviceable for the Astros and probably gets the defensive edge over McCann. But McCann led the Yankees with 94 RBIs this season, and although his numbers have dipped in the past month, his experience puts him ahead. Advantage: Yankees
First base: There's probably no positional debate closer than this one. In the wake of Mark Teixeira's injury, Greg Bird has filled in more than adequately for New York, posting an .871 OPS and demonstrating an uncanny understanding of the strike zone -- especially for a rookie. For the Astros, it'll be Chris Carter manning the first-base bag, following a roller-coaster season in which he launched 24 dingers and slugged .427 but finished with a batting average below the Mendoza Line. Fortunately for the Astros, Carter appears to be at a peak on that roller coaster right now. Over the past two weeks, he is slugging 1.077 with five homers. Carter's red-hot bat, coupled with Bird's struggles against lefties (and New York will see one in starter Dallas Keuchel) gives the slight edge to Carter. Advantage: Astros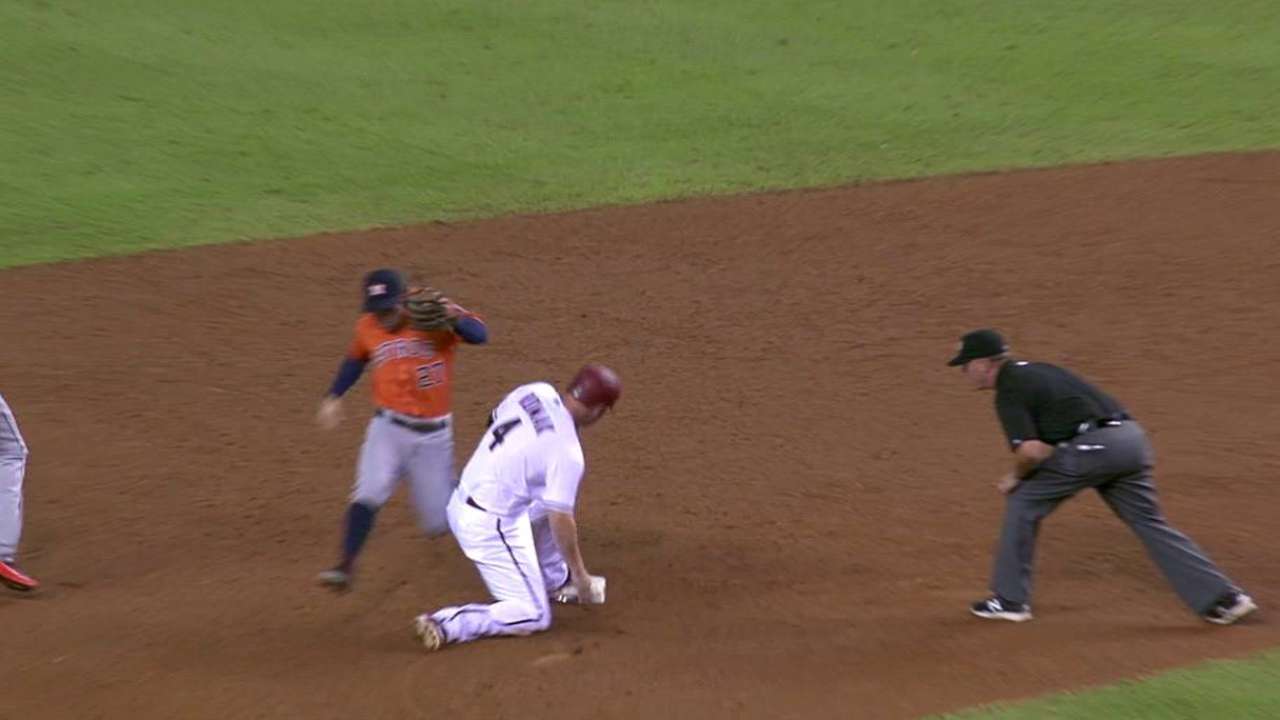 Second base: In his final at-bat of the season, Jose Altuve recorded his 200th hit, making him the first player in Astros history to record multiple 200-hit seasons. In Altuve, the Astros have a superstar second baseman who they can rely on for the foreseeable future. That kind of reliability at second is exactly what the Yankees are still searching for. In 2015, six different Yankee second basemen combined to bat just .223. With a left-hander on the mound, Rob Refsnyder, who has hit safely in his last eight starts, could be the frontrunner to get the nod in the Wild Card Game. Dustin Ackley has been a nice addition, too. But Altuve is the class of the American League at second. Advantage: Astros
Shortstop: Following a rough start to the season, Didi Gregorius has proven himself to be a very nice pickup for the Yankees at shortstop. It certainly can't be easy replacing a legend like Derek Jeter, but -- after some early jitters -- Gregorius posted a very solid .289/.339/.402 slash line after the All-Star break. And that's not to mention his glove, which produced a 7.8 ultimate zone rating on the season, the best in the AL. But in the other dugout, the Astros boast one of the game's most exciting young talents in Carlos Correa. The 21-year-old set an Astros rookie record with 22 home runs, and although he has come back down to earth after a torrid start, Correa still finished tops among all shortstops with at least 300 plate appearances with an .857 OPS. Advantage: Astros
Third base: The Astros had a bit of a decision to make here, between Luis Valbuena and Jed Lowrie, but with a right-handed pitcher on the mound for the Yankees, Houston went with the left-handed-hitting Valbuena. Not only did Valbuena post an .805 OPS with 20 of his 25 homers against righties, but he is 3-for-9 with a pair of doubles against Yankees starter Masahiro Tanaka. New York, on the other hand, is locked into Chase Headley as its starting third baseman. Unfortunately, for the Yankees, Headley's bat is ice-cold entering the playoffs. He has just three hits -- all singles -- in his last 21 at-bats and has batted just .179 with three extra-base hits since the start of September. Advantage: Astros
Left field: The Yankees had a pair of intriguing options in left field for tonight's game, but with Brett Gardner, who has played 118 games in left field this season and started 139 overall, getting the start in center, the Yanks went with Chris Young, who has a knack for torching left-handed pitching. (Young is hitting .327/.397/.575 against lefties this year, and is a .300 career hitter against Keuchel.) Young has ample postseason experience with some success sprinkled in. The Astros also had no shortage of options, and went with Colby Rasmus-- who hit 18 of his 25 homers this year off righties -- in left field. Advantage: Astros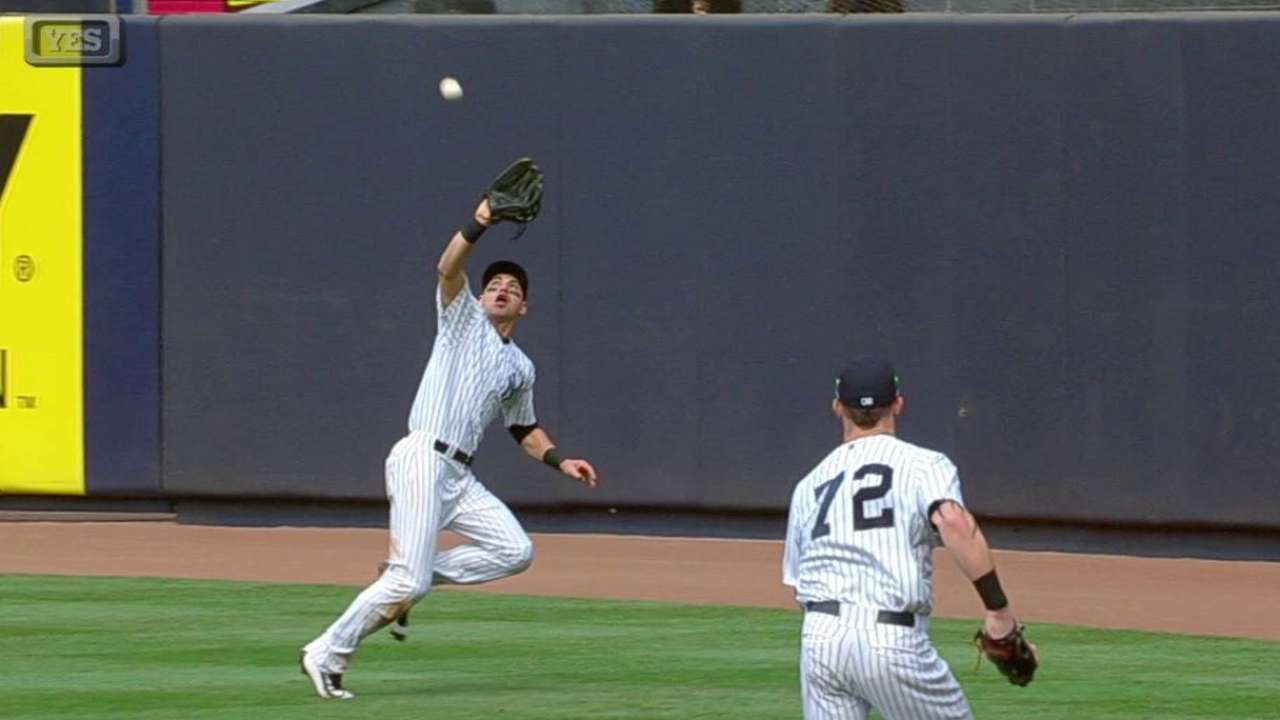 Center field: The Yankees have one of the sport's most grizzled postseason vets available to man center field in Jacoby Ellsbury, but went with Gardner in the starting lineup. Ellsbury hit just .220 during the second half, but is a career .301 hitter in 38 playoff games and could easily have been named MVP of the 2007 World Series for Boston. Carlos Gomez has been dealing with a strained left intercostal, and a healthy Gardner gets the nod over a hampered Gomez. Advantage: Yankees
Right field: Carlos Beltran will be making the fifth postseason appearance of his career tonight, and he'll do so as one of the Yankees' most effective hitters. He batted .292 in the second half and brings a wealth of playoff experience to the table -- his 1.128 postseason OPS is the best since Lou Gehrig. But George Springer enters the postseason riding high with 13 hits in his last 27 at-bats -- five for extra bases. There's not a whole lot separating the two, but we'll go with the hot hand of one of the game's emerging stars. Advantage: Astros
Designated hitter: Alex Rodriguez had a flat-out remarkable 2015, given his age and the fact that he had hardly played in the two prior seasons. There's not a Yankees fan on the planet that wouldn't have taken 33 homers and an .842 OPS from Rodriguez before the season started. That said, he's been in a funk since the start of August. A-Rod is hitting just .191 in that time with nine homers (compared to his nine home runs in July alone). Evan Gattis' season, on the other hand, has been quite the opposite. He owns an .823 OPS since the start of September with 10 extra-base hits. Advantage: Astros
Starting pitcher: Things didn't turn out exactly the way Keuchel and the Astros planned. They'll have to play the Wild Card Game away from Minute Maid Park. (Keuchel is 15-0 with a 1.46 ERA at home this season, but 5-8 with a 3.77 ERA on the road.) And Keuchel will be pitching on three days' rest (which he has never done). That said, he's still Dallas Keuchel, one of the top-five pitchers in baseball. In his last three starts -- his three biggest of the season -- Keuchel went 3-0 with a 1.74 ERA. Make no mistake, Tanaka is a bona fide ace (who posted a 0.89 WHIP in September, by the way). But Keuchel stacks up with just about anyone in baseball and could easily be on his way to winning the AL Cy Young Award. Advantage: Astros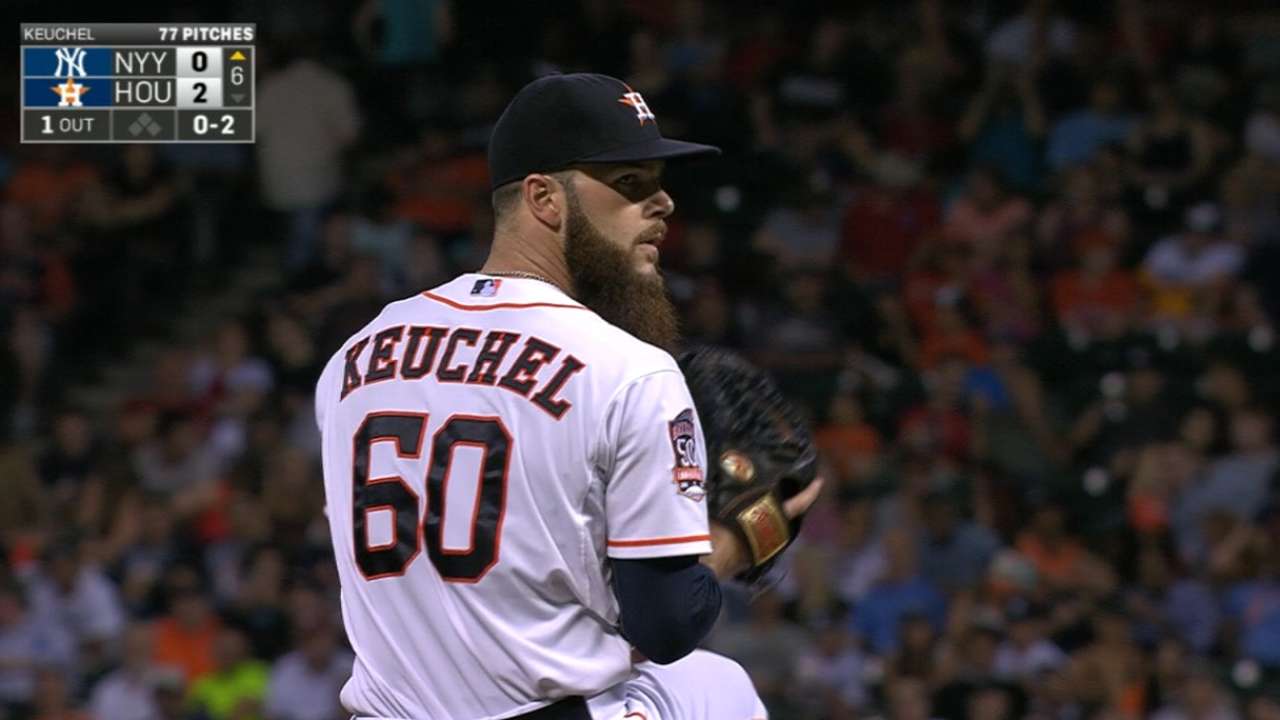 Bullpen: In terms of ERA, WHIP and batting average against, the Astros' bullpen actually ranked ahead of the Yankees' bullpen during the regular season. And the Houston relief corps is a formidable one. Will Harris (1.90 ERA) and Tony Sipp (1.99 ERA) have been a revelation, and Luke Gregerson has 31 saves with a WHIP of just 0.95. Plus, the Astros could certainly end up benefitting from the experience of Chad Qualls and Pat Neshek. But while the Yankees bullpen may not be as deep, it boasts two of the best relief arms in the Majors in setup man Dellin Betances and closer Andrew Miller. The pair has combined to strike out 231 hitters in 144 2/3 innings with a 1.74 ERA. In a winner-take-all Wild Card Game with aces on the mound, the back-end of the bullpen may prove pivotal. Advantage: Yankees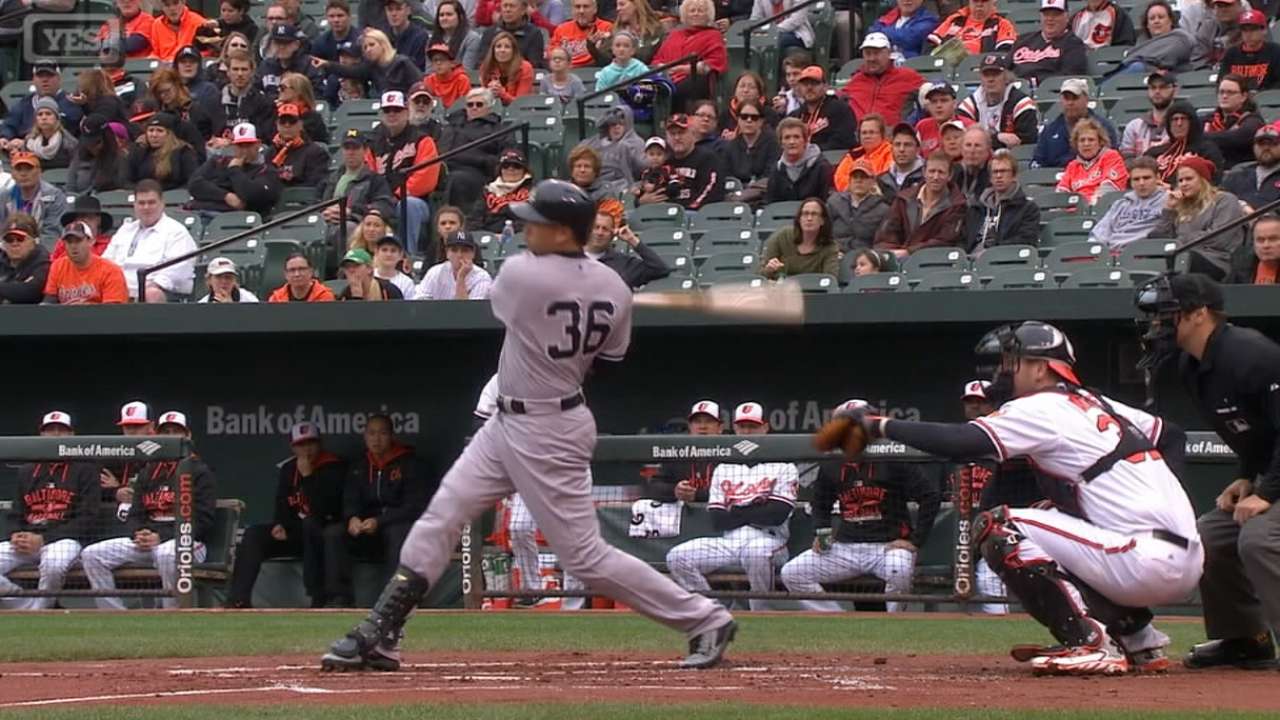 Bench: Depending on who the Yankees choose to start in left field, they're going to have a very reliable bat coming off their bench in either Young or Gardner. That's not to mention a solid backup catcher in John Ryan Murphy and several defensive options within the infield. But, simply put, the Astros are a bit deeper. If Houston takes a lead, Jake Marisnick will enter to patrol center field. Meanwhile, Marwin Gonzalez and Lowrie (assuming he doesn't start) give Houston plenty of options when it comes to tinkering with the infield -- which could come into play if this game goes to extras. Advantage: Houston
AJ Cassavell is a reporter for MLB.com. Follow him on Twitter @ajcassavell. This story was not subject to the approval of Major League Baseball or its clubs.