Statcast is there for Ichiro's pitching debut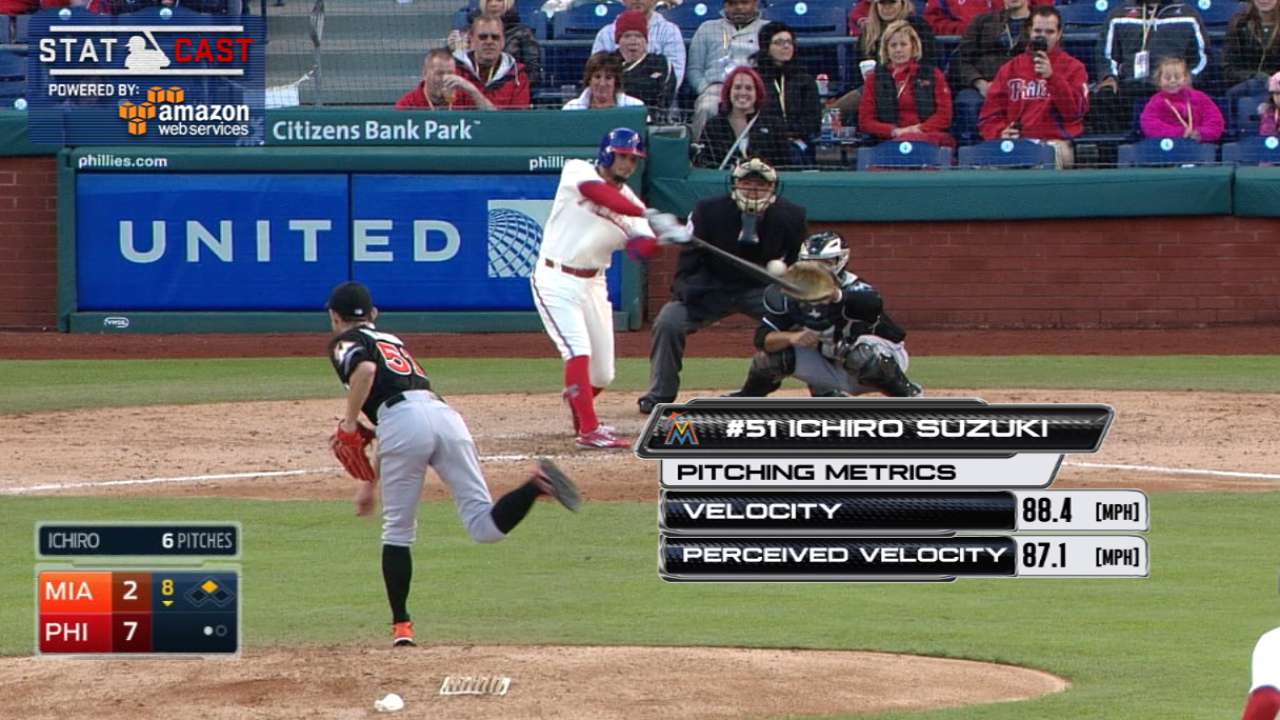 Unfortunately, for most of Ichiro Suzuki's 15-year Major League career, Statcast™ was not around to document the exit velocity of his line drives, his lightning-quick times running to first base or his rocket throws from right field.
But when he finally took a big league mound for the first time on Sunday, a few weeks shy of his 42nd birthday, the state-of-the-art tracking technology was there. Ichiro completed the bottom of the eighth inning of the Marlins' 7-2 loss to the Phillies, allowing one run on two hits and throwing 11 of his 18 pitches for strikes.
Using a smooth, natural-looking delivery, the right-handed thrower hit 88 mph during his outing. He also mixed in some breaking balls, including one at 78 mph that induced an extremely awkward whiff from Freddy Galvis.
Not bad for a guy with 2,935 Major League hits.
Here are some other plays that Statcast™ tracked on a jam-packed final day of the regular season.
Altuve flashes his speed
Although the Astros lost to the D-backs, they clinched a spot in the American League Wild Card Game presented by Budweiser. That wasn't the only consolation prize, as second baseman Jose Altuve went 3-for-5 to reach 200 hits for the second straight year. With Altuve on first after a single in the top of the third inning at Chase Field, George Springer smoked a line drive to the center-field wall, and Altuve flew around the bases to tie the score at 1. Statcast™ measured his maximum speed on the play at 20.1 mph, and tracked him from first to home in 11.3 seconds. Altuve set up the tying run again with one out in the fifth, tripling on a hard ground ball into the left-field corner. He once again touched 20.1 mph on his 11.5-second trip.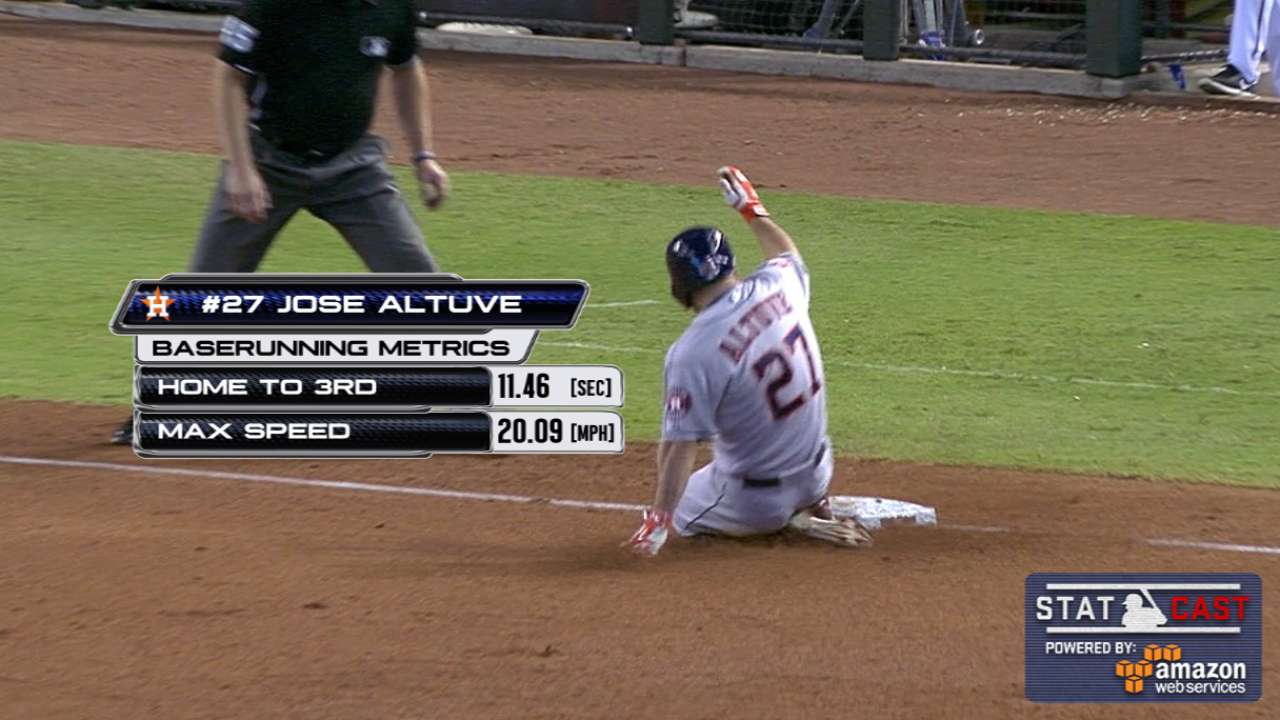 Goldy goes yard
Paul Goldschmidt capped another fine season by going 2-for-3 with a walk and a two-run homer in Arizona's 5-3 win over Houston. His 33rd big fly came in a 3-3 tie in the bottom of the seventh, when Astros reliever Chad Qualls fed him a hanging breaking ball. Goldschmidt's 37-degree launch angle was his steepest on a home run this season, resulting in a high-arcing drive with a 6.3-second projected hang time that eventually struck the back wall of the left-field bullpen.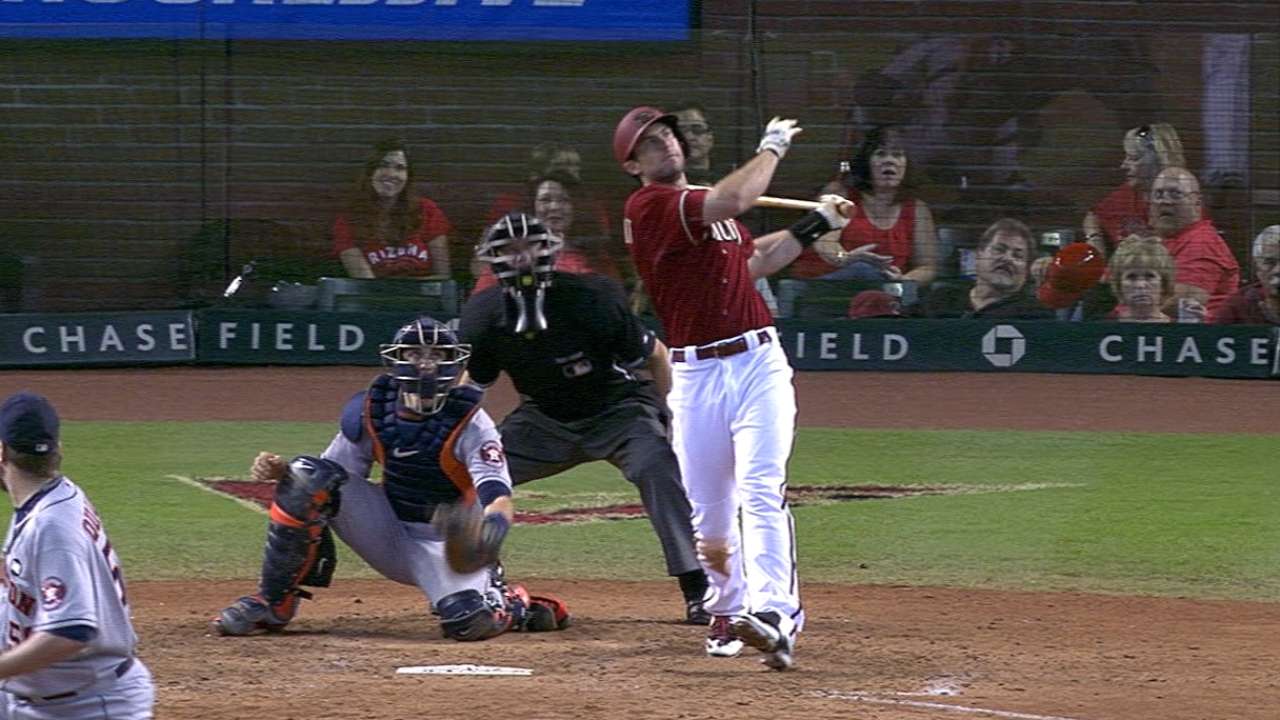 El Toro strikes
Pedro Alvarez helped the Pirates clinch home-field advantage in Wednesday's National League Wild Card Game by crushing one of the most impressive home runs of the season in a 4-0 victory over the Reds. With Pittsburgh up, 1-0, in the fourth, Alvarez unloaded on a pitch up in the zone from Josh Smith and sent it sailing over the bleachers in right-center and out of PNC Park. Alvarez's 115.4-mph exit velocity was a personal best, and the projected distance of 479 feet ranks seventh in the Majors for 2015.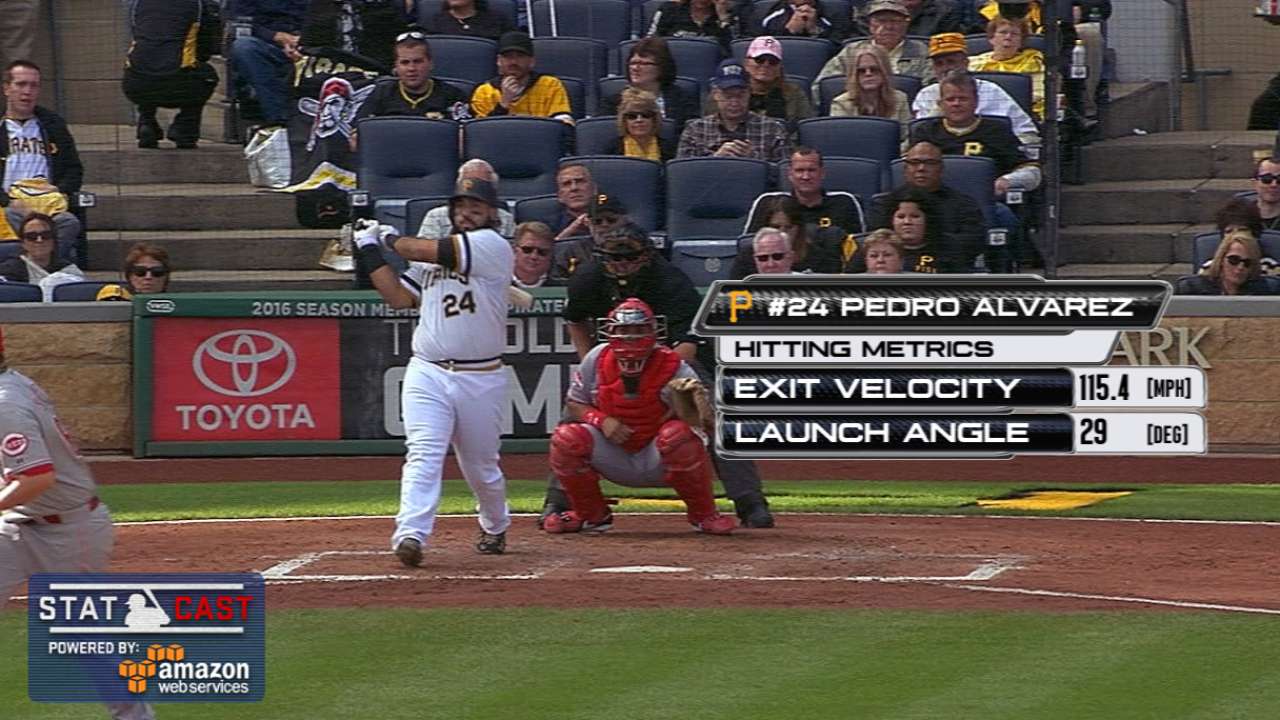 Reimold's robbery
Nolan Reimold made only his eighth career start in center field in the Orioles' 9-4 victory over the Yankees at Camden Yards, and he didn't have to wait long to be tested. Jacoby Ellsbury, the first batter of the game, looped a shallow fly ball to left-center. Reimold, showing his inexperience and perhaps battling the wind, took an uneven path to the ball, resulting in a route efficiency of 78.7 percent. He made up for it by reaching 19.6 mph, covering 81 feet just in time to leap forward for a full-extension diving grab.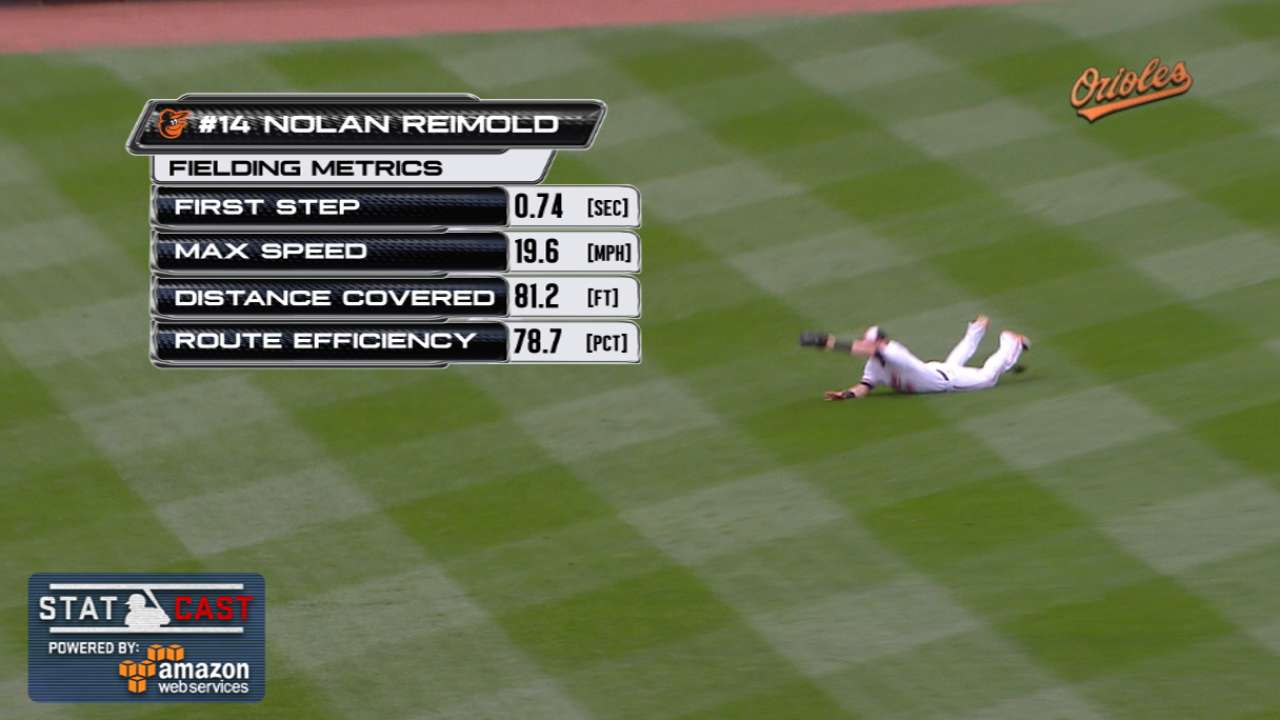 Pujols returns to 40
The Angels' afternoon ended in a 9-2 loss that eliminated them from the postseason, but it began in thrilling fashion. With two outs in the top of the first inning, Albert Pujols launched a home run off Rangers ace Cole Hamels to provide an early two-run lead and get him back to the 40 mark for the first time since 2010. For career homer No. 560, Pujols jumped on a Hamels fastball at 111.6 mph (his seventh-fastest exit velocity), pummeling it a projected 430 feet (his eighth-longest homer).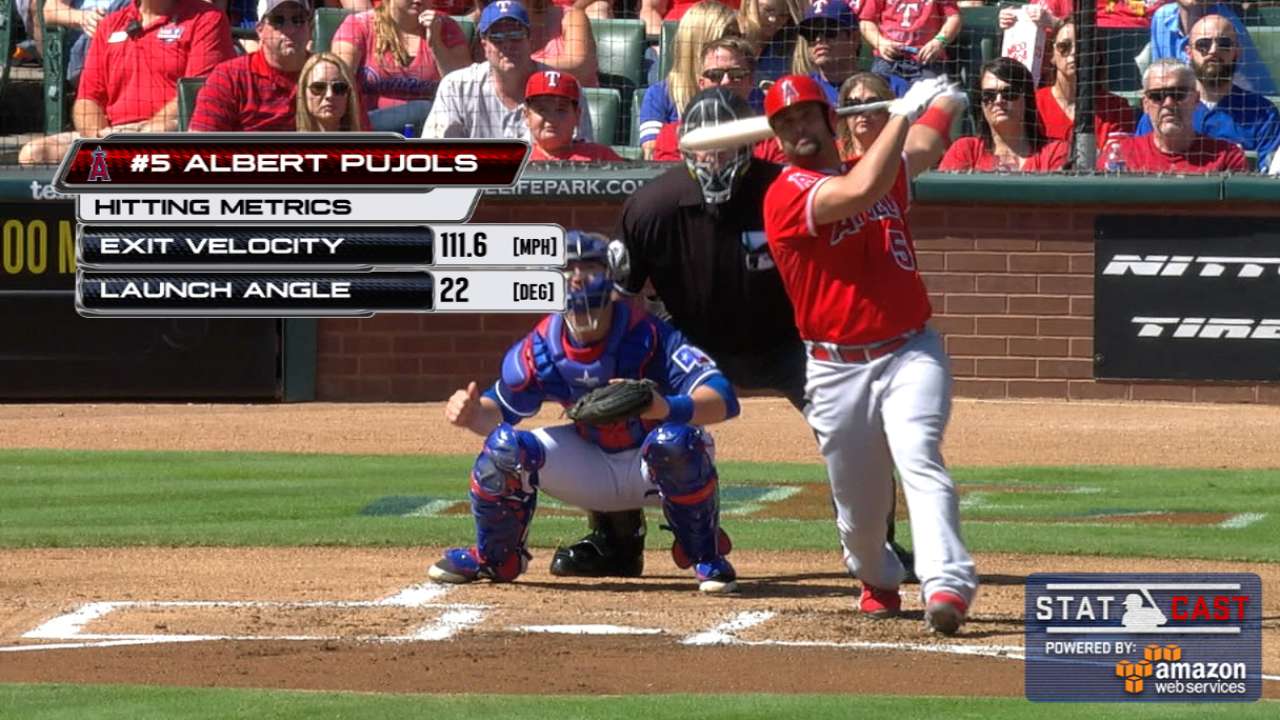 Andrew Simon is a reporter for MLB.com. Follow him on Twitter @AndrewSimonMLB. This story was not subject to the approval of Major League Baseball or its clubs.