Bryant an inspiration to former hometown coach
Lawrence coached both Cubs rookie and Nationals' Harper on Las Vegas travel team
CHICAGO -- When the doctor told Matt Lawrence he needed a cancerous kidney removed, and that he wanted to do the procedure in March, Lawrence said, 'No.' He'd already made plans to go to Spring Training to see one of his star pupils, Kris Bryant.
Lawrence had coached Bryant -- and also the Nationals' Bryce Harper -- on a Las Vegas travel team when the two were 13, 14 years old. The procedure was rescheduled for May 22, but again, Lawrence had a request. He had to be home by May 25 because the Cubs were playing the Nationals, and he wanted to watch his former players who would be meeting for the first time as Major Leaguers. Lawrence made it.
Bryant, one of the leading candidates for National League Rookie of the Year, and the Cubs are headed to the postseason, facing the Pirates in the Wild Card Game presented by Budweiser on Wednesday, live on TBS at 7 p.m. CT, and the third baseman's former coach will be rooting for him, remembering their games together in Las Vegas.
• Shop for Cubs postseason gear | Postseason schedule
"Kris was always a special player," Harper said. "Everybody saw that from the time he was 10 years old until now. Everybody saw what he could actually do. It's exciting for the Las Vegas area to have so many guys at the big league level. It's a very exciting time for everybody in that area. I look forward to seeing how his career develops.
"He is going to have an opportunity to get to the postseason. We'll see what he does in the playoffs this year. I look forward to see how he does. It's just exciting to see a guy from Vegas do what he is doing. He has been fun to watch."
The first time Lawrence saw Bryant was on a diamond in which the fences were at 300 feet, which is 100 feet deeper than a Little League field. Bryant was 10, so he should've been playing Little League, but instead, he was facing a 13-year-old pitcher on that day, and in his first at-bat, he hit a ball off the left-center-field fence.
"With Kris and Bryce, the way I would say it is, there were other kids who were very, very good baseball players, and you thought they might have a chance [to get to the big leagues]," Lawrence said. "And you looked at Kris and Bryce, and you knew."
When Bryant joined Lawrence's team 10 years ago, he was a "dominant" pitcher. Of course, Lawrence knew that Kris' father, Mike, who had learned about hitting from Hall of Famer Ted Williams, wasn't going to let his son's hitting talent be wasted. The young Bryant had the same demeanor then that he does now, Lawrence said.
"He's uber competitive -- the moment never overcame him," Lawrence said.
Once Bryant and Harper were on the travel team, the goal was to incorporate skills that were normally taught at the college and pro level. Lawrence said the kids responded well.
"If they're learning stuff they've never heard about and they go home and watch 'Baseball Tonight' and watch when they do clinics on baserunning and realize, 'That's what I'm being taught,' I think it enhances their desire to be part of the program," Lawrence said.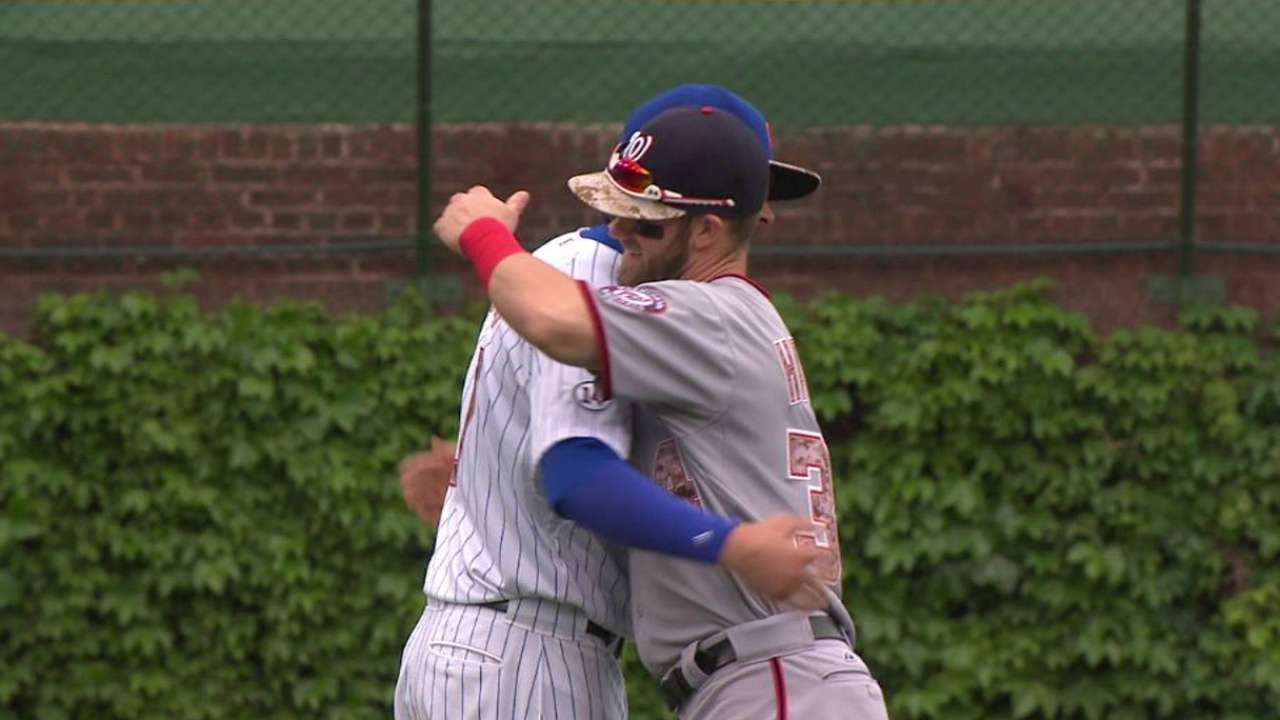 The team's approach was to play baseball as if it was playing a fastbreak offense and constantly put pressure on the defense. That could explain why Bryant is such a good baserunner -- he was taught those skills at a young age.
"Kris had an exceptionally high baseball I.Q. before I was involved with him," Lawrence said.
Lawrence was Bryant's first regular coach other than his father.
"He's a really good guy and someone who is just really genuine," Bryant said of Lawrence. "There's a lot of fake coaches out there and people who say they care about you, but they have other intentions. He's not one of them. He cares about each and every one of his players.
"One of the things I remember the most about [Lawrence] is how much belief he had in me as a player and everybody on our team," Bryant said. "He texts me after each and every good game and bad game. He watches every game. He's a huge Cubs fan."
Which brings us back to the surgery.
"I'm living out this dream where there's this kid who I got to be a part of his life, and now he's drafted by my life-long favorite team," Lawrence said of Bryant, who was the Cubs' first-round pick in 2013. "That was surreal enough. Then this hits me -- I've got cancer. It was out of the blue, I have to have a kidney removed.
"To see Kris play was so important to me that anything I needed to do in terms of my physical therapy or rehab or getting off pain medication quicker was geared around, 'I want to be able to watch the Cubs, and I want to be able to watch Kris, and I want to do that in a lucid state,'" Lawrence said. "It was very motivating to me."
Bryant, 23, and the Cubs' success this season turned out to be the best medicine. Lawrence, 47, was told it would be six to eight weeks before he was back at work, and he was back in four weeks. The surgery to remove the kidney was supposed to take four hours, but because of complications, it took seven.
Bryant didn't find out how much he had influenced his former coach's rehab until Lawrence came to one of the Cubs' games in Los Angeles in late August.
"He said a lot of what got him through it was watching the Cubs games on TV and watching me play and seeing me living out my dream," Bryant said. "I'm glad I could do that for him even though I had no clue I was helping him through that."
On May 25, Lawrence was watching the Cubs-Nationals game with his father. Bryant not only homered, but he beat out an infield hit, and television broadcaster Len Kasper mentioned that there was someone at home enjoying the game and the hustle, and mentioned Lawrence.
"I'm a lifelong Cubs fan, I'm with my dad, and all of a sudden I'm being talked about on TV," Lawrence said. "I never wanted credit. I believe those kids are so talented, how can you take credit for what they achieved?"
It's a moment Lawrence said he'll never forget.
"I felt that set the tone for my recovery," Lawrence said.
"Having him here is a blessing," Bryant said. "It reminds you that you can't take anything for granted."
Carrie Muskat is a reporter for MLB.com. She writes a blog, Muskat Ramblings. You can follow her on Twitter @CarrieMuskat and listen to her podcast. This story was not subject to the approval of Major League Baseball or its clubs.