Buehrle falls short of feat, postseason roster spot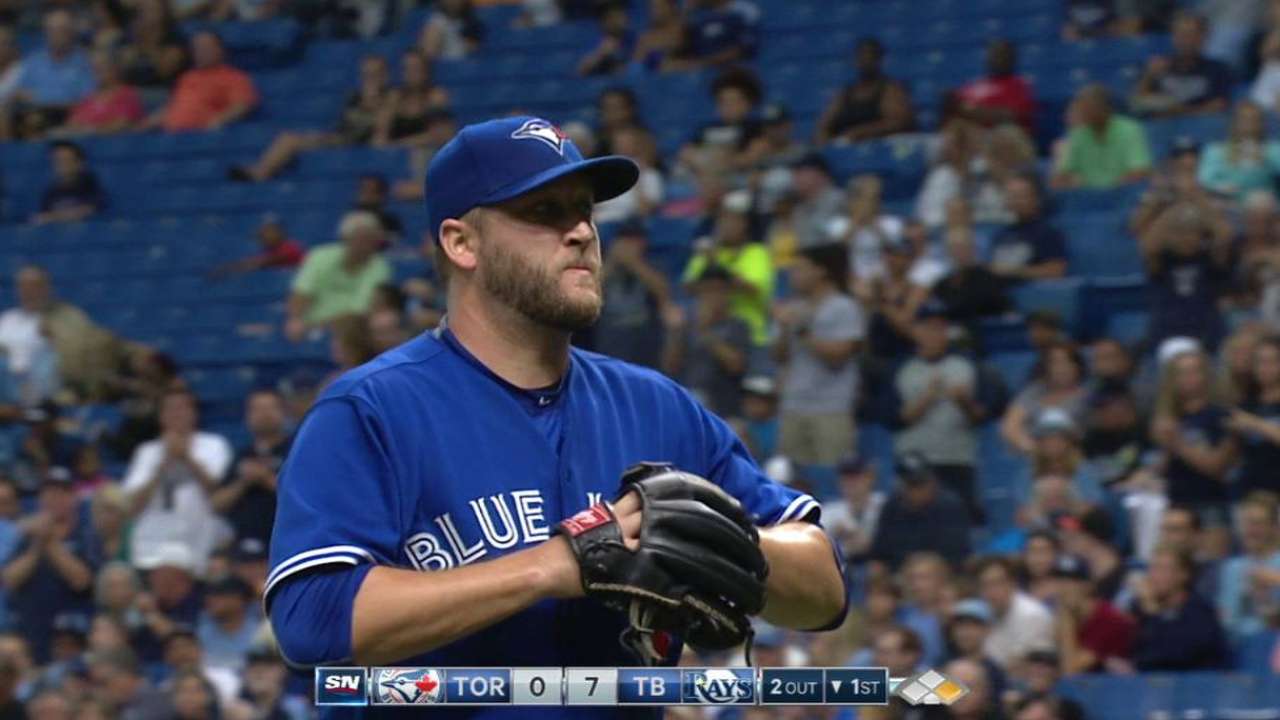 ST. PETERSBURG -- Mark Buehrle fell short in his quest to become the fifth pitcher in Major League history to toss at least 200 innings in 15 consecutive seasons.
Buehrle got the start on Sunday against the Rays and needed two innings to reach the historic milestone. The Blue Jays' 36-year-old left-hander was pitching on one day of rest, and in the end, it didn't work out, as he couldn't get out of the first inning in a 12-3 loss to Tampa Bay.
• Shop for Blue Jays postseason gear | Postseason schedule
The veteran southpaw allowed five hits and walked a batter, but didn't receive much help from his defense, as Edwin Encarnacion and Ryan Goins committed errors. All eight runs Buehrle allowed were unearned, and eventually he had to be pulled with two outs in the first after having thrown 45 pitches.
"I put myself in position to be in that spot. It meant everything to me for [manager John Gibbons] to call me in on Friday and tell me, 'If you're feeling OK, go out there," said Buehrle, who was informed that he didn't make the postseason roster.
"Sad thing, I felt better today than I did on Friday, better than I've felt in the last month, month and a half. This game is crazy. I didn't feel great on Friday and went 6 2/3, and today I felt great and they had to take me out in the first inning."
Gaylord Perry, Don Sutton, Warren Spahn and Cy Young are the only pitchers in Major League history who have tossed at least 200 innings in 15 consecutive years. Buehrle fell 1 1/3 innings shy of joining that exclusive list, but he already finds himself among some elite company.
Since 1901, Buehrle is one of seven pitchers who have pitched at least 200 innings in 14 straight seasons. In addition to Perry, Sutton and Spahn, it was also done by Phil Niekro, Christy Mathewson and Greg Maddux. Young accomplished his feat in 19 straight years from 1891-1901.
Even though Buehrle was struggling on the mound, Gibbons admitted it was incredibly difficult to walk out and remove him from the game, considering their history together and the personal accomplishment that Buehrle had been so close to achieving.
"If we make a couple plays, he might pull it off," Gibbons said. "But he's [on] one day's rest and he's around 40 pitches. No way I could leave him out there to rot. It's unfortunate. That's the way baseball is sometimes. He's had a tremendous three years here, another great year this year and we're all proud of him."
Late Saturday night, a couple of media reports suggested that Buehrle was going to announce his retirement. Those rumors have been circulating for most of the year, but Buehrle has insisted all along that a final decision won't be made until the offseason when he sits down and discusses it with his family.
In anticipation of his possible retirement, Buehrle saved the game ball from Sunday's game just like he did after Friday's start. The thought to retire is there but Buehrle didn't seem to be very happy with the constant speculation in the media, and especially the recent reports out of Chicago.
"I was told I was retiring," Buehrle said. "I got about 400 text messages today from friends who are, 'Sad to see you go, to be retiring.' And I'm like, 'What's going on here?' Apparently I'm done, and what a way to go out. Nowadays we don't have a decision. It's what people tell us."
Buehrle wasn't nearly as upset about not making the postseason roster. The decision had been expected for the last several weeks, as David Price, Marcus Stroman, Marco Estrada and R.A. Dickey put themselves ahead on the depth chart with strong second halves.
It was a different story for Buehrle, who posted a 5.56 ERA over his final nine starts and had to receive a cortisone shot at one point to relieve some discomfort in his left shoulder.
"It's tough, it sucks, but I understand the situation," Buehrle said. "I haven't been throwing great the last month, and we've got four guys who have been throwing the [heck] out of the ball. They're going to take it and run with it. I'll be ready if something happens. Hopefully it doesn't. But if it does and they need me in the second round or in the World Series, I'm going to be ready to go out and do everything I can."
Gregor Chisholm is a reporter for MLB.com. Read his blog, North of the Border, follow him on Twitter @gregorMLB and Facebook, and listen to his podcast. This story was not subject to the approval of Major League Baseball or its clubs.