Cubs GM Hoyer: 'I love the vibe of this team'
CHICAGO -- When Jed Hoyer joined Cubs president of baseball operations Theo Epstein in the front office as general manager prior to the 2012 season, he knew they faced a major rebuild, and not just of the team, but the entire organization. This year, some of that young talent acquired either in the MLB Draft or via trades since Hoyer and Epstein took over is paying dividends.
On Wednesday, the Cubs will face the Pirates in Pittsburgh in the National League Wild Card Game presented by Budweiser, live on TBS at 8 p.m. ET/7 p.m. CT, because of rookies such as Kris Bryant, Addison Russell and Kyle Schwarber, and the mastery of Jake Arrieta, who was acquired in a trade.
"I love the vibe of this team, I like the way we're playing," Hoyer said. "I don't pretend to know what the future holds. As far as the way I feel about the group in the clubhouse, I feel great about it."
• Shop for Cubs posteason gear
Hoyer sat down in the Wrigley Field dugout recently to talk about the Cubs.
MLB.com: There were some in-season moves that have been key, such as acquiring pitcher Clayton Richard and outfielder Austin Jackson.
Hoyer: "I think one of our big strengths is that we're very deep. We're deep in the bullpen and mostly deep on the bench. We can run a different lineup out there vs. a left-handed pitcher, a right-handed pitcher. We can change things up in the middle of the game to go with a lot more defense. Some of that is bringing guys up and getting them healthy, like [Javier] Baez, like [Tommy] La Stella. Some of it is a guy like Austin Jackson, who we could add late. Obviously, Clayton has been very important to us since we got him on July 4. A bunch of those moves have paid dividends just trying to get deeper. Trevor Cahill is another guy who has really helped us. That's the goal late in the year, is to create depth. You're going to have injuries, and these guys have helped us get through the last month or so."
MLB.com: A year ago, Schwarber was in instructional league, and that was just a couple months after being picked in the 2014 Draft. Now, he's starting. Did you expect this?
Hoyer: "Honestly, even going back to Spring Training this year, we thought there was an outside chance -- outside chance -- at a September callup. He played so well for us in Double-A. Really, the biggest thing was the opportunity. We had the Interleague games and decided to be a little bit creative and bring him up for those, and [Miguel Montero's] injury, in some ways that injury ended up being a positive. Miggy came back sooner than we expected, and it got Schwarber up here and got him established. I think that move really changed our lineup and made our lineup deeper, made it more left-handed. It's not something we ever would have expected going back to Spring Training."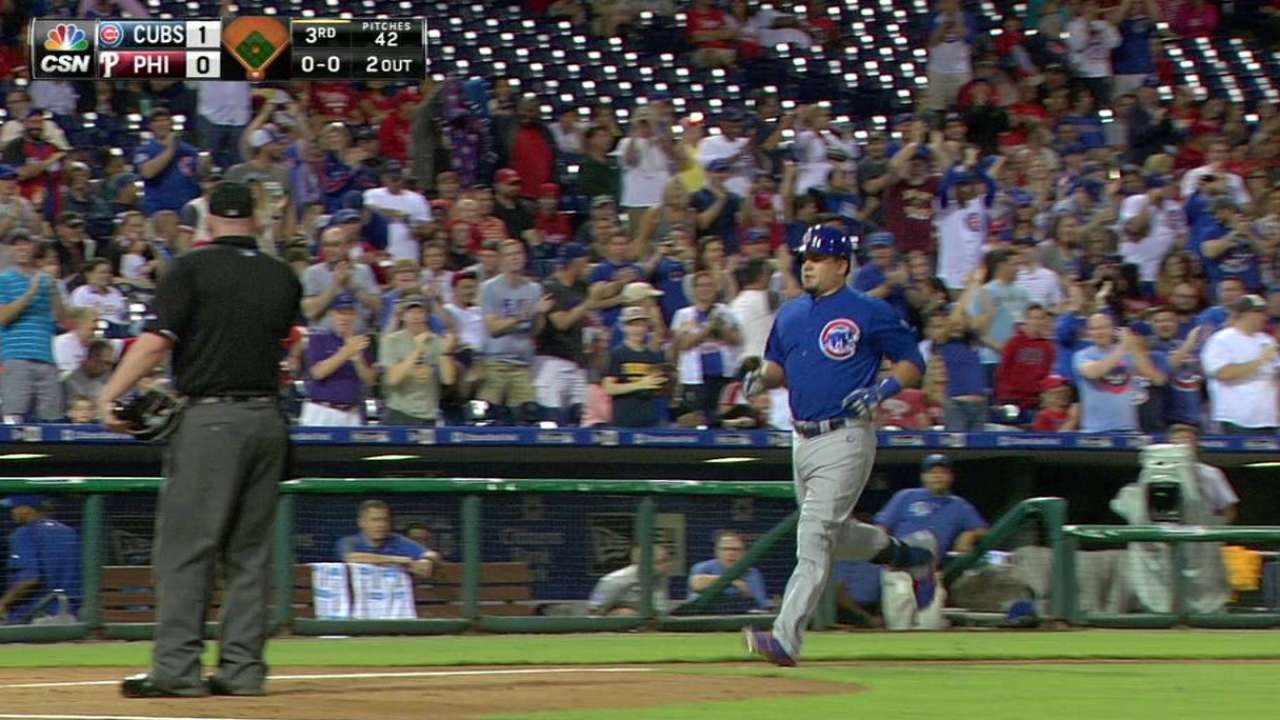 MLB.com: The expectations were different for Bryant?
Hoyer: "The thing with Kris is that he was drafted in 2013 and had all of 2014 in the Minors. What Schwarber accomplished was earlier than that. Kris, this year, his ability to assimilate to a new situation has been really special. He had a rough opening game [when he struck out three times April 17], and after that started hitting well. The homer drought didn't affect him at all. He's had some ups and downs during the course of the year, but he's always seemed to come out of them. He's playing great baseball right now, playing good defense. His versatility and willingness to move around is tremendous. He's having a really special rookie season. Hopefully, we can have these guys together for a long time."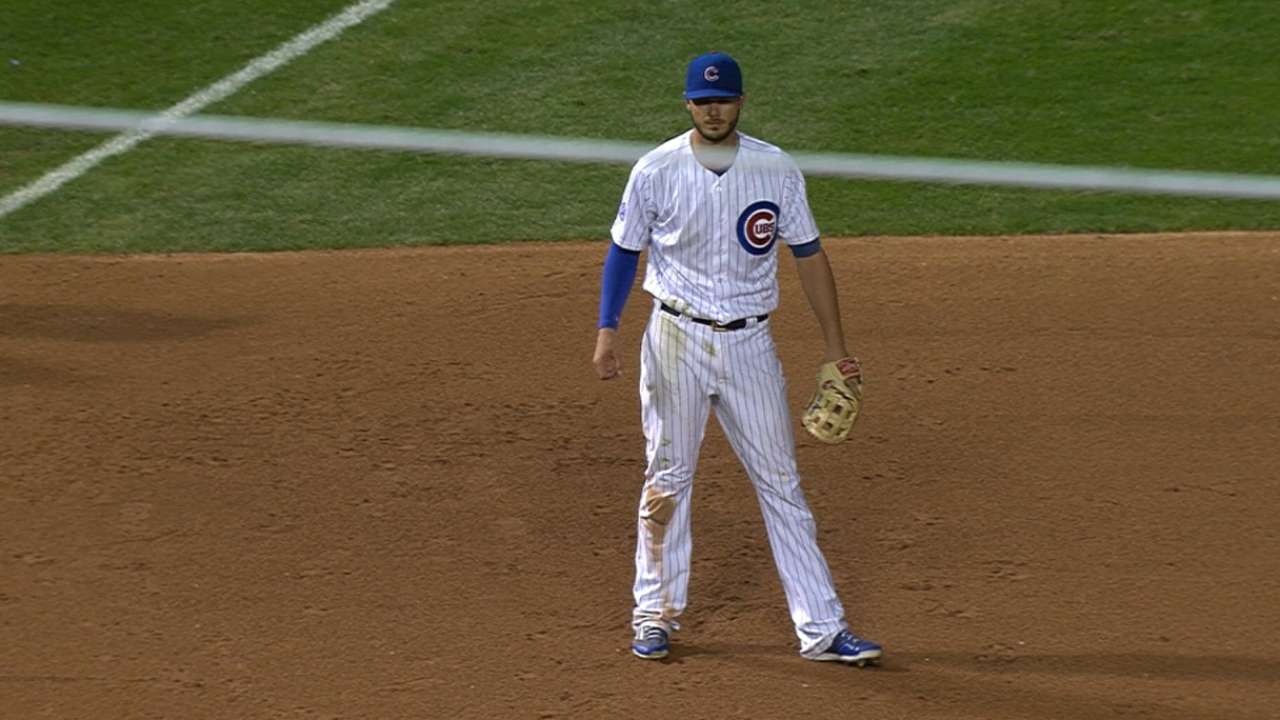 MLB.com: Aug. 7 was a key date for the Cubs. That's when manager Joe Maddon decided to move Russell from second to shortstop and bench Starlin Castro. Did Maddon talk to you and Epstein about this?
Hoyer: "We talk to Joe so much, but his feel for our roster and his feel for our lineup is something we really defer to him about. I do think that was a pivotal moment. Addison has done a brilliant job at shortstop, and he's been so steady. Really, Starlin's resurgence -- you go back to his numbers since the Trade Deadline -- and his resurgence has been a big part of this run that we've had since the Deadline. He's been driving balls. He looks like I thought he did last August and September before he got hurt. The move to putting Addison at shortstop made a big difference for this team, but also Starlin's resurgence afterward has meant a ton, which is something that's ironic."
MLB.com: It's unusual for a team to tell a three-time All-Star that he's going to sit.
Hoyer: "We've had a couple examples of that of the team. Travis [Wood] was taken out of the rotation and put in the bullpen. He's done an incredible job for us and has been a huge part of our success and has been a consummate teammate throughout the whole thing. Starlin, the same thing. I think it says a lot about those two people, but it also says a lot about Joe that a player can be taken out of the rotation or taken off shortstop -- both were All-Star players, and both guys responded by playing huge roles in this team."
MLB.com: You've spent a lot of time in player development, but I'm guessing you never could have predicted the success these kids have had this season.
Hoyer: "When you play this many kids, you can't reasonably expect them to come up and produce the way they have. When people say, 'Are you surprised?' -- I'm not surprised. Each one individually is an exceptional talent. But I think it would've been totally unfair for us to expect these guys to come and have these kind of transitions. I think each guy has had a dip as well. Kris had his slumps, Kyle's had his slumps, Addison, too. But all these guys have found a way to get out of it within this season. The winning does help that. They're so focused on winning that the anxiety surrounding a batting slump or something isn't quite as pronounced. All these guys can help with their glove. The winning and the versatility these guys offer does make a big difference and has added to their comfort."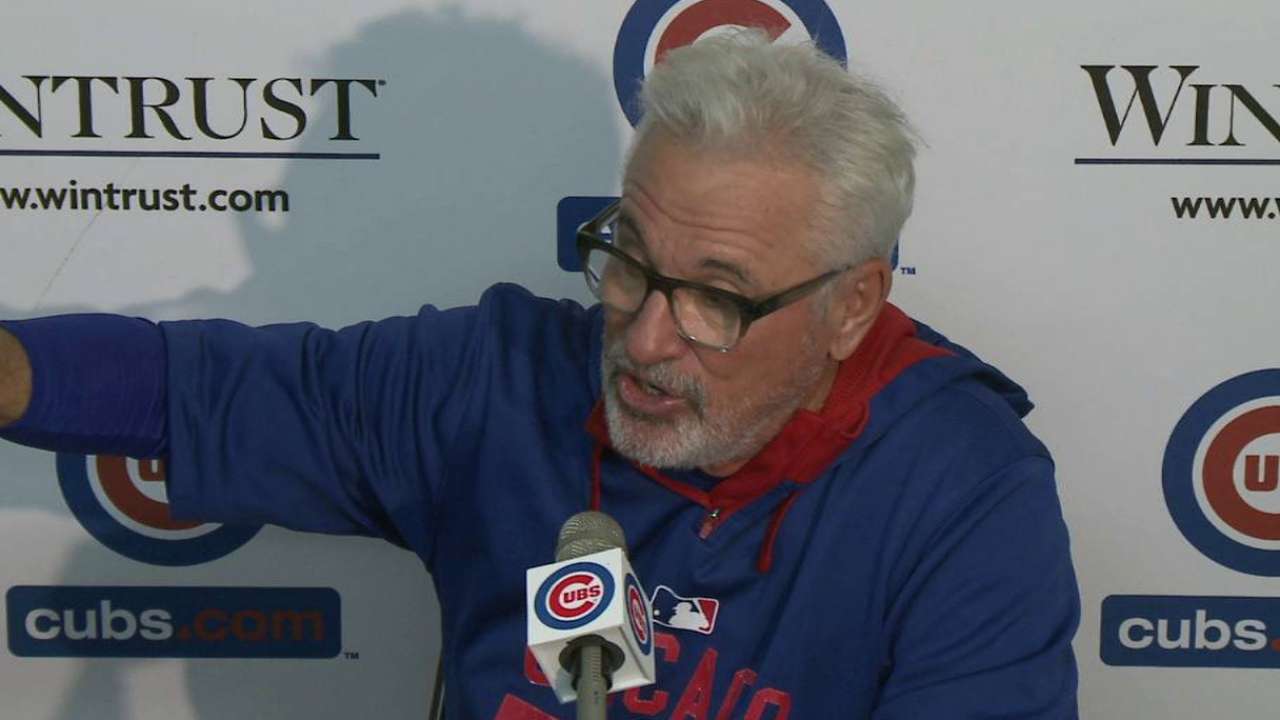 MLB.com: Did you expect Arrieta to have this kind of season?
Hoyer: "I don't think anyone can ever expect a guy to go out and have this kind of season. We knew the kind of talent he was and the fact that he had those three games last year when he took no-hitters into the seventh. We knew he had no-hit stuff. He had a great second half last year. He's taken that to a whole different level. It's been fun to watch. Every fifth day, it's a pleasure, and hopefully he keeps that rolling."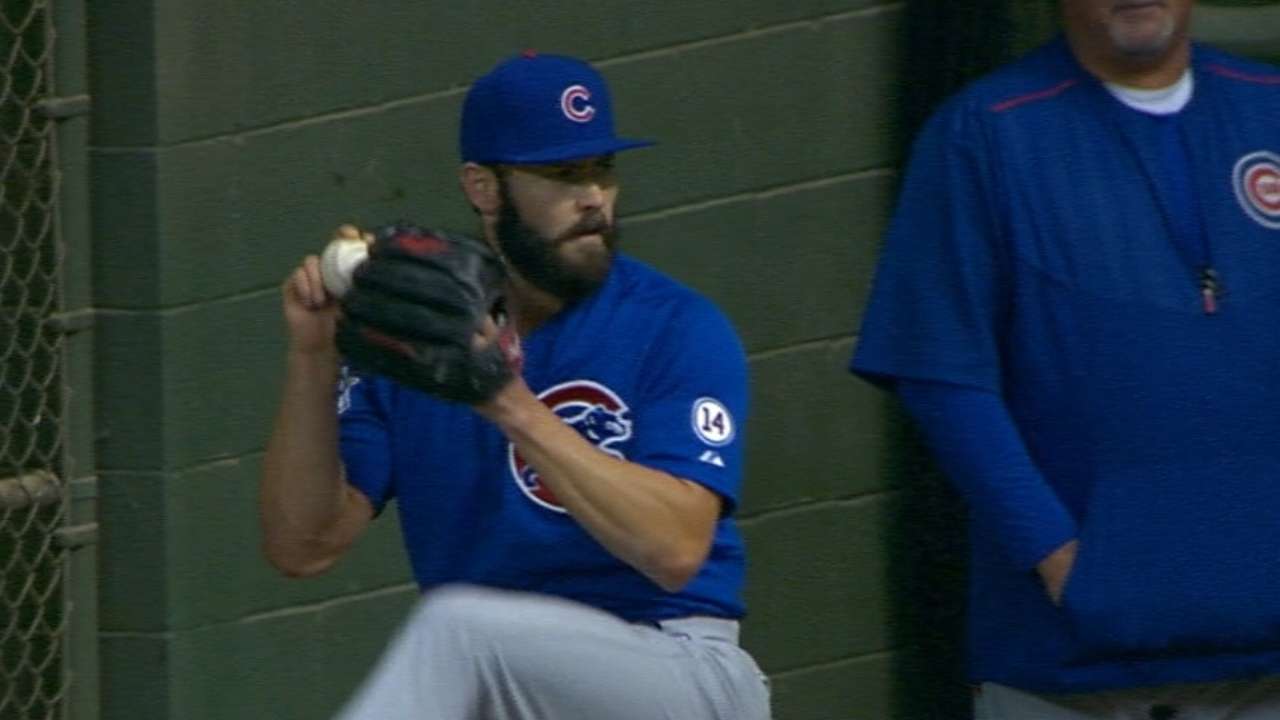 MLB.com: It seemed as if the Cubs' front office was targeting 2016 as the year when things would come together, and this season would still be another phase in player development. Are the Cubs ahead of schedule?
Hoyer: "We never so much targeted a year, but we felt 2015 was the year we had to dedicate a lot of at-bats to rookie players. Whenever you dedicate that many at-bats to young players, it's probably impossible to project exactly how you're going to be. We felt this year would not be a question mark, but it was hard to pinpoint what our record would be, how good we would be, because of the uncertainty of young players. As a collective, they've certainly exceeded expectations and put us in the position we are now. We knew this would be a transitional year with those young guys. What happened in that year was going to be hard to predict."
Carrie Muskat is a reporter for MLB.com. She writes a blog, Muskat Ramblings. You can follow her on Twitter @CarrieMuskat and listen to her podcast. This story was not subject to the approval of Major League Baseball or its clubs.