5 reasons the Yankees could win it all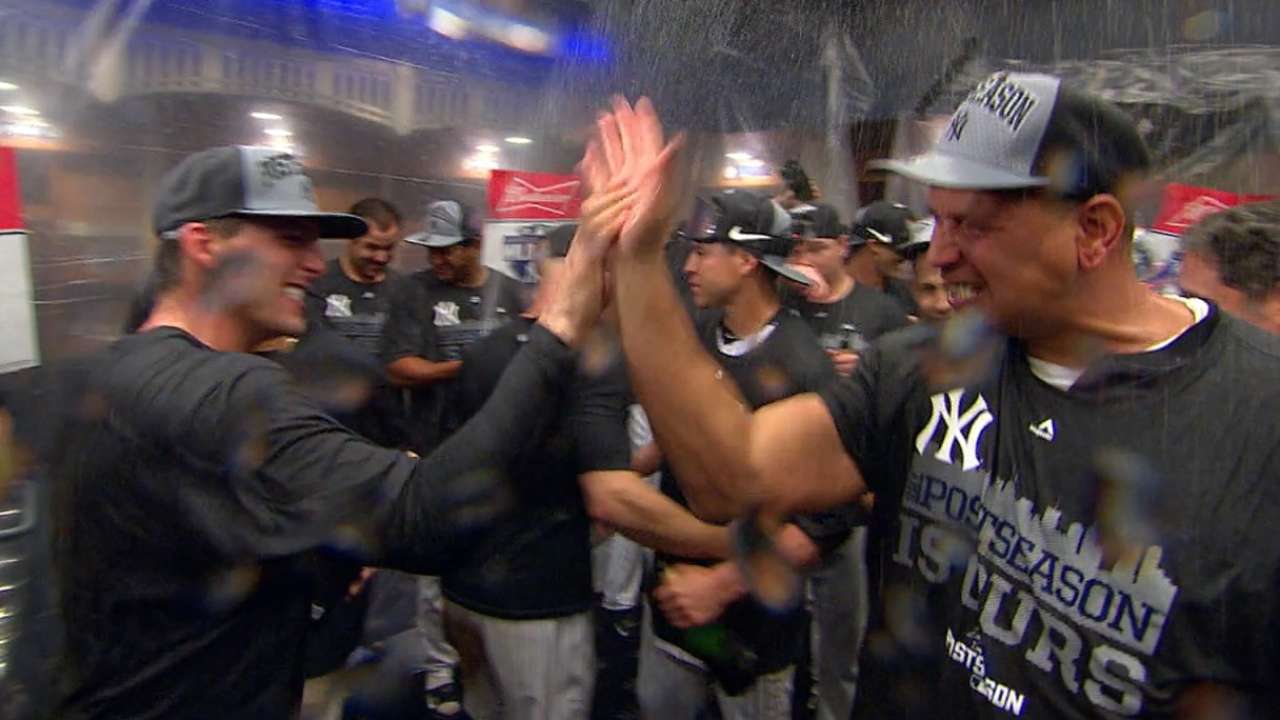 The Yankees boasted a seven-game lead in the American League East as late as July 28, then settled for the top AL Wild Card spot, but manager Joe Girardi has offered an alternative way to think about the course of the club's season.
The Yankees reached the All-Star break eight games over .500 at 48-40, then played seven games over the break-even mark leading into the final weekend of the year at Baltimore (39-32). In a sense, it wasn't that the Yankees played all that differently, but that the re-tooled Blue Jays caught fire after beginning the year 50-51.
"With what we went through this year, where people figured that we would be at the end of the year, what these guys did, these guys to me did a lot on heart and hard work," Girardi said. "We have a lot of injuries, we have age on this team, we dealt with a lot of stuff, but they always kept fighting and they always seemed to bounce back."
It has been six years since the Yankees were the last team standing, with Girardi donning uniform No. 28 as a constant reminder of the team's goal, bringing a 28th World Series championship to the Bronx. Here are five reasons that the Yankees could shock the prognosticators and pull it off this autumn, starting with tonight's 8 ET AL Wild Card Game presented by Budweiser against Houston, which will be played in the Bronx and air on ESPN.
Get ready for the postseason with Yankees' gear
Embracing underdog status
Many of the preseason forecasts pegged the Yankees to win about 84 games, predicting that the lights would once again remain off at Yankee Stadium in October. Those quotes were absorbed and used as fuel by the players, which was part of the reason why they celebrated so wildly after securing a Wild Card berth. The Yanks know that they will be looked at in much the same fashion as they head into the playoff picture, and they kind of like it.
"Look, you're in the dance. Anything can happen," Alex Rodriguez said. "I think any team that gets in is capable of winning a championship. The one thing about baseball is you play for eight months and there's no lucky breaks, you've got to prove that you're going to be a postseason team. I think the fact that we have a good brotherhood and the fact we play together as a team, I like our chances."
Replicating the KC formula
Dellin Betances was taking notes from his couch last October when the Royals rode the strength of a lockdown bullpen all the way to the World Series. With Betances, closer Andrew Miller and left-hander Justin Wilson, the Yankees feel that they have a dominant trio who can shorten games and turn a sixth-inning lead into victories.
"They did a tremendous job with those three horses at the back end. It was fun to watch, obviously," Betances said. "We like our chances no matter what. We have great pitching and we have a veteran class of hitters. We're going to try to get it done."
Fighting to the finish
Perhaps it will work in the Yankees' favor that there was no time to take the foot off the gas pedal in late September. Girardi obviously would have preferred more time to rest players in games that were not considered must-win contests, but the flip side of keeping things interesting is that the Yanks will arrive for the AL Wild Card Game having played nothing but important innings down the stretch.
"I think it's something we're going to be able to build on," A-Rod said. "I've been on teams where we've clinched in mid-September and it's been a little anticlimactic going into the playoffs. I think it's a great thing that's happening to us."
No place like road?
The Yankees talk a lot about how they are built around their ballpark, and that is true, particularly when they trot out a lineup loaded up with left-handed hitters. While teams ideally try to win series at home and play even on the road, the Yankees have actually been better on the road since the All-Star break, winning 19 of 34 games while playing below .500 at Yankee Stadium (19-22). Because of that, they shouldn't be intimidated by the idea of playing out of their suitcases this month.
Act like you've been there
There are only a handful of active Yankees left from the 2012 club that made it to the American League Championship Series -- it's a short list of Brett Gardner and Rodriguez, in addition to the injured Mark Teixeira and CC Sabathia, who has left the team for alcohol rehabilitation -- but newer additions Brian McCann, Jacoby Ellsbury and Carlos Beltran have tasted the postseason stage and should be thrilled to experience it in pinstripes. Masahiro Tanaka, in particular, is eager to step up and show why the Yanks spent $155 million on him. What's more, the team has spoken all year about how rookies Luis Severino and Greg Bird seem to be unintimidated by any stage; this will present a higher level test for that, but there is little reason to believe that their demeanors will crack under the spotlight.
Bryan Hoch is a reporter for MLB.com. Follow him on Twitter @bryanhoch, on Facebook and read his MLBlog, Bombers Beat. This story was not subject to the approval of Major League Baseball or its clubs.