MLB.com Columnist
Jim Callis
Constructing a winner: Astros
How Houston used the Draft, trades, free agency and international signings to build its playoff team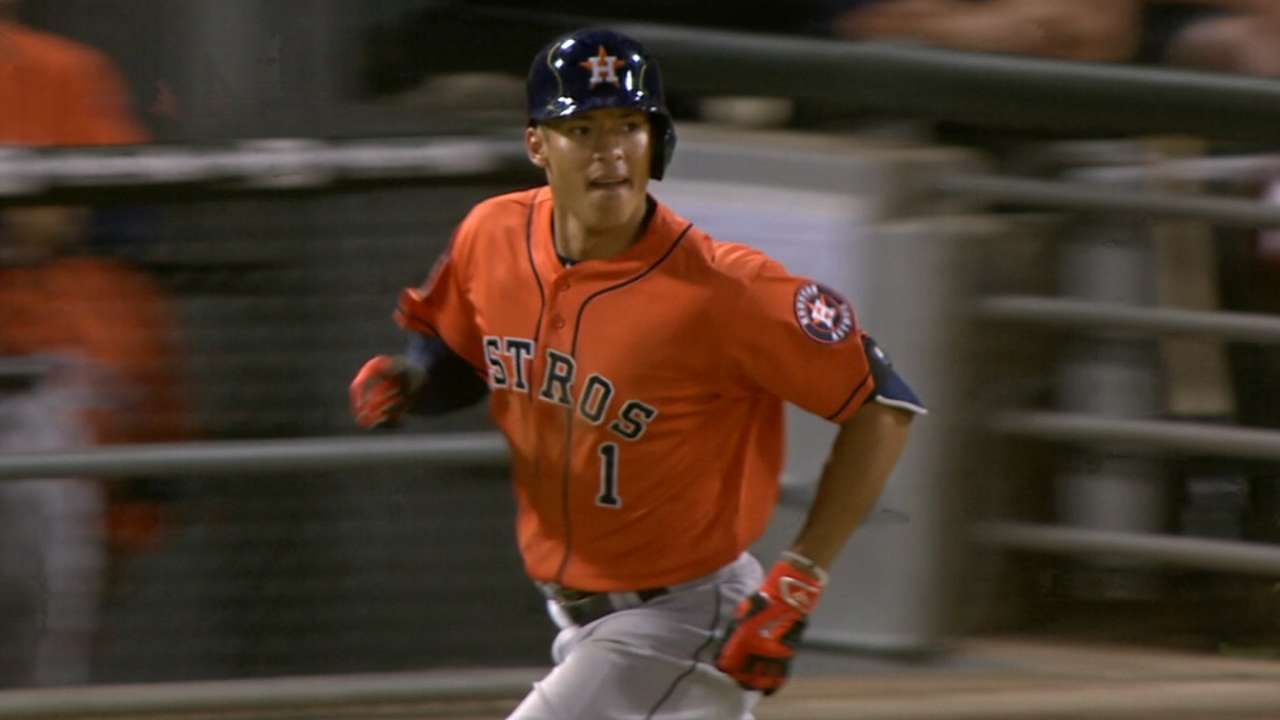 MLBPipeline.com is breaking down how each of the playoff teams was built, looking at the composition of projected Division Series rosters.
Jeff Luhnow went from the best situation in baseball to the worst in December 2011. He left his job as vice president of amateur scouting and player development for the Cardinals, who had just won the World Series, to become GM of the Astros, who were coming off a 106-loss season.
Luhnow said his initial belief was that Houston could consistently compete again by 2017. That notion was sorely tested when the Astros dropped 107 and 111 games in his first two seasons at the helm, but they leaped from 51 wins in 2013 to 70 in 2014. After a productive offseason, the GM stated in January that Houston would have a winning record in 2015.
Owner Jim Crane upped the ante a month later when he declared making the playoffs was a realistic goal. The Astros made good on both predictions, winning 86 games to reach the postseason for the first time since losing the 2005 World Series.
"He's always one step ahead of me," Luhnow said of Crane. "Last year, I said we would have a major improvement and he said we'd be .500 -- we improved by 19 games but fell short of .500. I recognize that if you have a team that should be a winning team, that could mean a playoff-contending team with a few breaks. So yes, it was a possibility in my mind."
HOMEGROWN
Player, how acquired, year
Jose Altuve, Int'l sign, 2006
Jason Castro, Draft, 2008 (1st round)
Dallas Keuchel, Draft, 2008 (7th round)
George Springer, Draft, 2011 (1st round)
Carlos Correa, Draft, 2012 (1st round)
Lance McCullers Jr., Draft, 2012 (1st round supplemental)
Preston Tucker, Draft, 2012 (7th round)
With a bad big league club and a mediocre farm system, the new regime needed to fare well in its first Draft in 2012. The Draft rules changed that year, with teams restricted by bonus pools rather than being able to spend freely, increasing the degree of difficulty.
The Astros got exactly what they needed. They spent the No. 1 overall pick on Carlos Correa and were able to sign him for $4.8 million (compared to the allocated pick value of $7.2 million) because he wasn't the consensus top talent. They then used that savings to pay Lance McCullers Jr. $2.5 million in the supplemental first round and Rio Ruiz $1.85 million in the fourth.
Complete breakdown of how this year's 10 @MLB #postseason teams built their rosters: http://t.co/6739SMacE6 pic.twitter.com/MRTg8nAnrw

— MLB Pipeline (@MLBPipeline) October 5, 2015
Three years later, Correa reached Houston ahead of schedule and became arguably the Majors' best shortstop at age 20. McCullers showed flashes of dominance as a 21-year-old rookie, giving the Astros two of the three most productive high school players from the 2012 Draft thus far (along with Addison Russell). Ruiz was a key part of a January trade with the Braves for Evan Gattis, who led Houston with 27 homers.
The Astros also scored with Brett Phillips in sixth round and Preston Tucker in the seventh. Phillips has blossomed into one of the game's best outfield prospects and was the centerpiece of a July deal with the Brewers for Carlos Gomez and Mike Fiers, while Tucker slammed 13 homers in part-time duty as a rookie this year.
Luhnow acknowledges that the 2012 Draft has been crucial to Houston's success.
"I was very optimistic about the Draft after we got Correa, who we had as the top player, and picked up two other players who we had as first-round talents." Luhnow said. "The way the scouts raved about Phillips, I knew we might have a good one there, and I had seen and loved Tucker for years so I was thrilled we landed him. [Then-scouting director] Bobby Heck, [then-special assistant] Mike Elias, the crosscheckers and the area scouts really nailed that Draft."
Besides the 2012 draftees, there's also a significant homegrown influence from players signed before Luhnow arrived. Heck drafted Jason Castro (No. 10 overall, 2010) and George Springer (No. 11 overall, 2011) in the first round. The Astros also found two huge bargains in three-time All-Star Jose Altuve, signed for $15,000 out of Venezuela in 2007, and leading Cy Young Award candidate Dallas Kuechel, a $150,000 seventh-round pick in 2008.
TRADES
Player, year, acquired from
Marwin Gonzalez, 2011, Red Sox
Josh Fields, 2012, Red Sox**
Chris Carter, 2013, Athletics
Collin McHugh, 2013, Rockies*
Jake Marisnick, 2014, Marlins
Will Harris, 2014, D-backs*
Hank Conger, 2014, Angels
Evan Gattis, 2015, Braves
Luis Valbuena, 2015, Cubs
Scott Kazmir, 2015, Athletics
Mike Fiers, 2015, Brewers
Carlos Gomez, 2015, Brewers
Oliver Perez, 2015, D-backs
*Acquired via Waivers
**Acquired via Rule 5 Draft
In Luhnow's first three years as GM, the Astros focused on swapping veterans for youngsters and landed lineup pieces such as Chris Carter (in a 2013 deal that sent Jed Lowrie to the Athletics) and Jake Marisnick (in a 2014 trade that shipped Jarred Cosart to the Marlins). They also made an astute waiver claim of Collin McHugh from the Rockies in 2013.
With the team looking to become more competitive in 2015, its philosophy changed. Houston gave up former first-rounder Mike Foltynewicz and Ruiz in a three-prospect package for Gattis in January. Six months later, it gave up two more youngsters (including rising catching prospect Jacob Nottingham) to land Scott Kazmir from Oakland and four more (headlined by Phillips and fellow Top 100 Prospect Domingo Santana) for Gomez and Fiers.
Luhnow admits that while it's painful to part with prospects, it's also a positive to be in a position where doing so makes sense.
"It's in my DNA to draft and develop, so for me that's much harder than trading veterans for prospects," Luhnow said. "Having said that, there is no better feeling than being able to add impact pieces to a team that is making a playoff run. It doesn't always work out and hindsight is 20/20, but you have to maximize the team's chances when you can because it's so hard to win in this league and if you walk away from an opportunity, that regret is worse than having tried and fallen short."
FREE AGENTS
Player, year
Tony Sipp, 2014
Luke Gregerson, 2014
Pat Neshek, 2014
Jed Lowrie, 2014
Colby Rasmus, 2015
As with trades, the Astros shifted gears with free agency as they became more competitive. During Luhnow's first three seasons as GM, they committed more than $6 million to only one free agent: Scott Feldman, who got a three-year, $30 million contract in December 2013.
During a five-week period last offseason, Houston signed Luke Gregerson (three years, $18.5 million), Pat Neshek (two years, $12.5 million), Lowrie (three years, $23 million) and Colby Rasmus (one year, $8 million). That foursome will make $25.5 million in 2015 -- nearly the same as the club's $26.1 million Opening Day payroll just two years earlier.
The Astros have imported virtually all of their key relievers this year. Gregerson, Neshek, Chad Qualls, Tony Sipp and Joe Thatcher all were free agents, Will Harris was claimed on waivers from the D-backs and Josh Fields was a Rule 5 Draft pick from the Red Sox. Luhnow said the club set its sights on some big-name relievers it wasn't able to land, so it changed its tactics.
"We decided the best outcome would be to get multiple good relievers and give our manager options in high-leverage situations," Luhnow said. "That strategy worked very well for five months. It's been tougher in September but without those guys giving us those quality innings the first five months, we wouldn't have even been in this position."
Jim Callis is a reporter for MLB.com and writes a blog, Callis' Corner. Follow @jimcallisMLB on Twitter. This story was not subject to the approval of Major League Baseball or its clubs.