Braun's milestone HR the highlight of 2015
Davis, Lind lead offensive production; Nelson tops staff in innings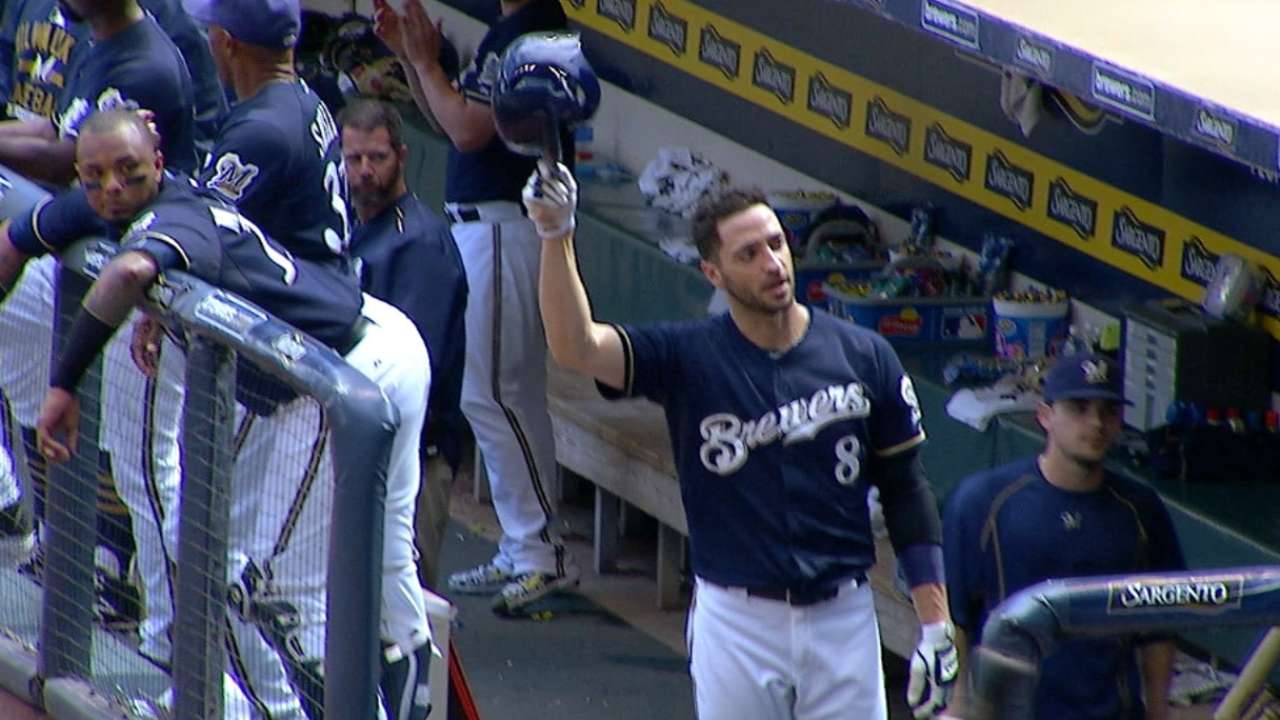 MILWAUKEE -- Khris Davis led the 2015 Brewers with 27 home runs, Adam Lind led the team with 87 RBIs and Ryan Braun was the club's batting champion with a .285 average and the signature moment of a disappointing season.
Braun became the Brewers' franchise leader in home runs when he hit No. 252 on Aug. 19, passing Robin Yount. It was a rare highlight for a team that finished fourth in the National League Central at 68-94.
"I haven't had a lot of time to reflect yet," Braun said of his season, which included 25 home runs and 84 RBIs but ended early because of a back injury. "In the moment, it was tough. It was a really challenging year and a disappointing year. The further we get away from it, hopefully we'll look at it and recognize it as a turning point for the franchise, for the organization.
• 2015 Statistics: Offense| Pitching
"Our manager should be here for the foreseeable future. Our general manager should be here for the foreseeable future. We made some good trades, brought in some top-notch prospects. We have some really good prospects at the Double-A level, and some of those guys got their first exposure to the Major Leagues. As we look back over time, I hope we can look at it and say this was the start of something really good. But looking back on it right now, it just feels like it was a very long and challenging season."
Braun was limited to five plate appearances in the Brewers' final 15 games because of a herniated disk in his back. He will have an MRI on Wednesday in Los Angeles, and expects to undergo surgery as soon as Thursday.
The original estimate put Braun's rehabilitation at one month, giving him plenty of time to have a "normal" offseason before the start of 2016. He is beginning a five-year, $105 million contract extension.
"I think Ryan performed offensively at an All-Star level, and he did it all season, really," Brewers manager Craig Counsell said. "The injury issue that we were concerned about going into the season [Braun's right thumb] was really a non-factor. I think the back tripped him up the last three week, but I don't see it being a factor at all next season. To me, the fact that he had this type of offensive season is something that you count on, really."
Other statistical notes in the wake of Sunday's season finale:
• Right-hander Jimmy Nelson was the only Brewers pitcher to log enough innings to quality for the ERA title, going 11-13 with a 4.11 ERA in a team-high 30 starts and 177 1/3 innings. It marked the first full season since 1990 in which no Brewers pitcher reached 180 innings.
• Francisco Rodriguez finished 38-for-40 in save opportunities and pushed his career saves total to 386, seventh in Major League history. He will enter next season four saves shy of Hall of Famer Dennis Eckersley, who is sixth all-time with 390 saves.
• Lind, who has a history of back problems, led the Brewers with 149 games played, and reliever Will Smith led the team for the second straight season in appearances, with 76.
• The Brewers' rookie of the year was right-hander Taylor Jungmann, whose 1.6 wins above replacement led a larger-than-usual crop of rookies. Jungmann (9-8, 3.77 ERA in 21 starts) was one of 12 players to make his Major League debut this season for Milwaukee, a franchise record.
• With only nine hits on the way to being swept by the Cubs in the final series of the season, the Brewers' team OPS slipped to .700, 10th-lowest in franchise history and the lowest since 1988.
"The season kind of ended the way it began," Braun said, referring to the Brewers' 4-17 start. "For all of us, obviously, not the way we had hoped or anticipated the season going. It's kind of nice now that it's over [because] I think it's easier to be optimistic and to be able to look ahead, look forward, and try to find some positives to take from the season."
Adam McCalvy is a reporter for MLB.com. Follow him on Twitter @AdamMcCalvy, like him on Facebook and listen to his podcast. This story was not subject to the approval of Major League Baseball or its clubs.