Morneau caps season with clutch hit in victory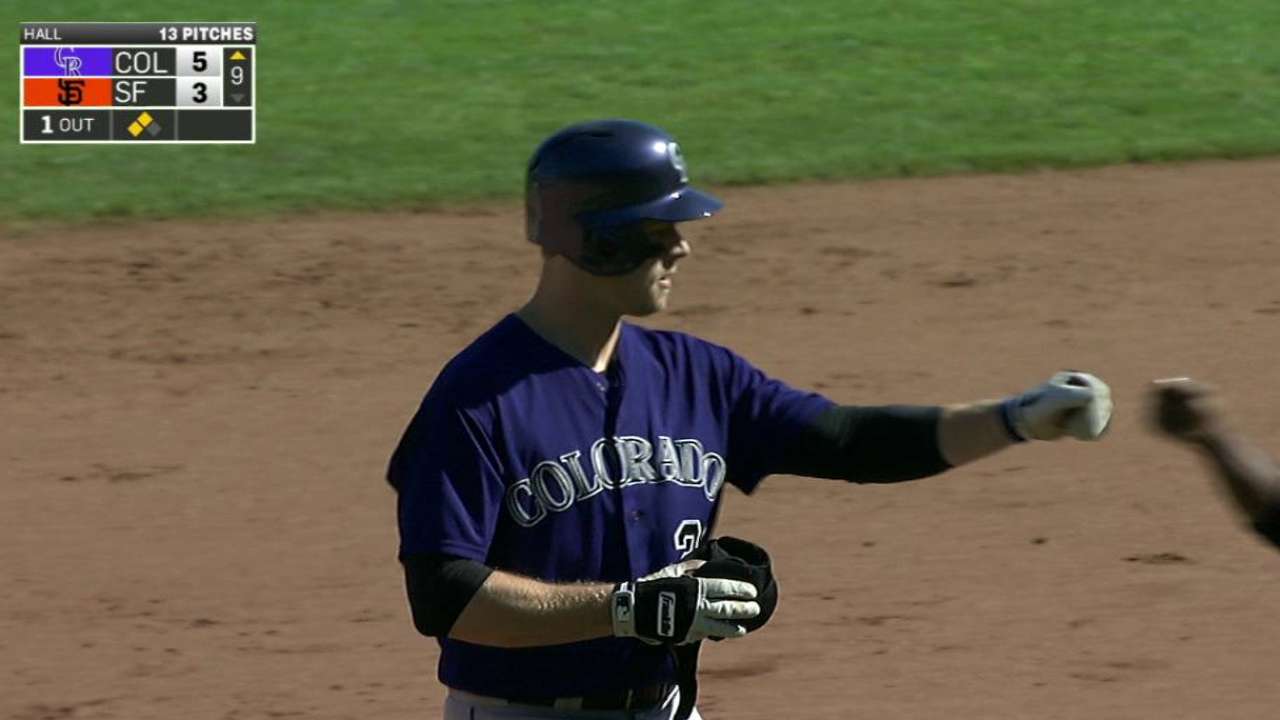 SAN FRANCISCO -- If it was goodbye, at least the Rockies' Justin Morneau said it in style Sunday afternoon.
Morneau's two-run, pinch-hit single provided the go-ahead runs during a seven-run ninth inning in the Rockies' season-ending 7-3 victory over the Giants on Sunday at AT&T Park.
Morneau, 34, and the Rockies have a $9 million option for next season, but the likely scenario is the club will pay his $750,000 buyout and allow him to become a free agent. The Rockies have a younger lefty hitter, Ben Paulsen, who batted .277 with 11 home runs and 49 RBIs, with most of his playing time coming while Morneau was sidelined with a cervical neck strain and concussion symptoms.
"I don't know what the future holds or what the plan is, but I'm happy for today and happy to finish a season healthy," Morneau said. "To be able to become a part of the team was nice. What happens coming up, we'll see."
It appeared Morneau would fade away quietly. The Rockies were down, 3-0, in the ninth, but Corey Dickerson's three-run homer off George Kontos changed the game. Morneau's single came off Cody Hall.
"But I told him, 'If the game's on the line, I may use you to pinch-hit," Rockies manager Walt Weiss said. "Sure enough, he kind of got ambushed because it happened quickly. He didn't have time to get ready. But, being the pro that he is, he went down [to the batting cage], took 10, 15 swings off the tee and got ready and got a game-winning hit."
Morneau returned to the lineup in September and was granted much of the playing time -- mainly because Weiss wanted to give him a chance to prove he was healthy and could continue his career. Morneau also expressed his respect for Weiss' work as manager. Morneau said Sunday is an example of how much is going right although the record under Weiss (208-278 in three seasons) hasn't shown it.
"It's a testament to Walt and the coaching staff as much as anything," Morneau said. "We were talking about how much fun it is to be in Houston's clubhouse, or L.A.'s or the Rangers', to be trying not to look at the scoreboard, but you're paying attention to everything that's going on. It's easy to play. But it's hard when you're eliminated in early September to keep the same focus, the same work ethic, the same preparation. That reflects on the coaching staff, and moving forward there are a lot of good pieces here."
Thomas Harding is a reporter for MLB.com. Follow him on Twitter @harding_at_mlb, and like his Facebook page. This story was not subject to the approval of Major League Baseball or its clubs.