Mets salute fans after 90th win, ready for NLDS
NEW YORK -- Before the shadows quite faded, plunging Citi Field into darkness, the Mets took a moment to salute their fans. Manager Terry Collins enjoyed a lap around the warning track. David Wright grabbed a microphone and gave a 13-word speech, its brevity belying its impact.
"You guys are the best in the game!" a beaming Wright told the crowd, who had just witnessed the Mets' 90th win of the season, a 1-0 victory over the Nationals. "Now let's go beat LA!"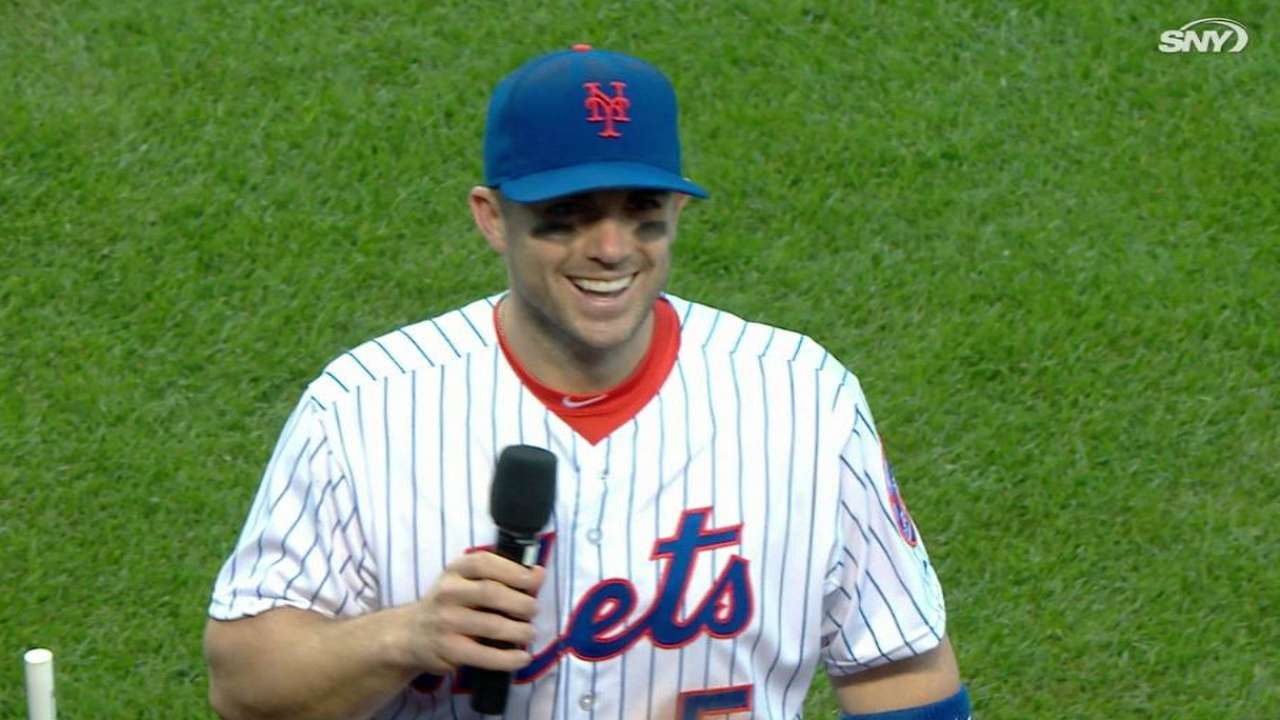 This was the final Sunday of the season at Citi, a day that typically involves players packing boxes, making final shipping arrangements, swinging at first pitches and catching late-night flights back to California, Venezuela, the Dominican Republic -- wherever.
• Shop for Mets postseason gear
Not this Sunday. Not this year. Though a few departed -- five Mets flew down to Florida to stay sharp in advance of the playoffs, while others, mostly rookies, scattered to their homes -- the rest of the team hunkered down for a week of workouts leading up to the National League Division Series. The Mets will fly to Los Angeles on Wednesday afternoon, before opening their first postseason series in nine years on Friday at Dodger Stadium on TBS. Jacob deGrom will start that game, likely opposite Clayton Kershaw. The Mets are eager for the time between then and now to pass.
"Not a lot can be said," said outfielder Michael Cuddyer, one of a handful of Mets with postseason experience. "You basically just go out and play the game. Once the national anthem's sung and the first pitch gets thrown, it's baseball. We've faced these guys before. They've faced us before. We've played at Dodger Stadium before and they've played at Citi Field. Not all that much is different."
Lest they end the regular season on a sour note, the Mets took a combined no-hitter into the seventh inning Sunday to snap their five-game losing streak. When Curtis Granderson homered in the eighth, the Mets had the only run they needed in their pockets, cruising to their 90th victory from there.
They lingered on the field after that, greeting fans and beaming. Collins brought a cup of iced wine into his news conference to salute the media.
"It's nice to smile," Wright said. "I'm glad we won today. It's nice to salute the fans, appreciate the effort that they put into this year, too, and enjoy a win. It was nice to end on a positive note."
These Mets may have far bigger, far better, far grander goals on their mind, but for now, they wanted to celebrate.
"The fun is just starting," Yoenis Cespedes, the human turning point of this Mets season, said to Collins after the game.
"And he's right," Collins said. "We worked hard to get there and we're going to enjoy it."
Anthony DiComo is a reporter for MLB.com. Follow him on Twitter @AnthonyDiComo and Facebook, and listen to his podcast. This story was not subject to the approval of Major League Baseball or its clubs.