Votto battles for MLB-best 143rd walk
Reds star wins 13-pitch effort; reaches base club-record 319 times in 2015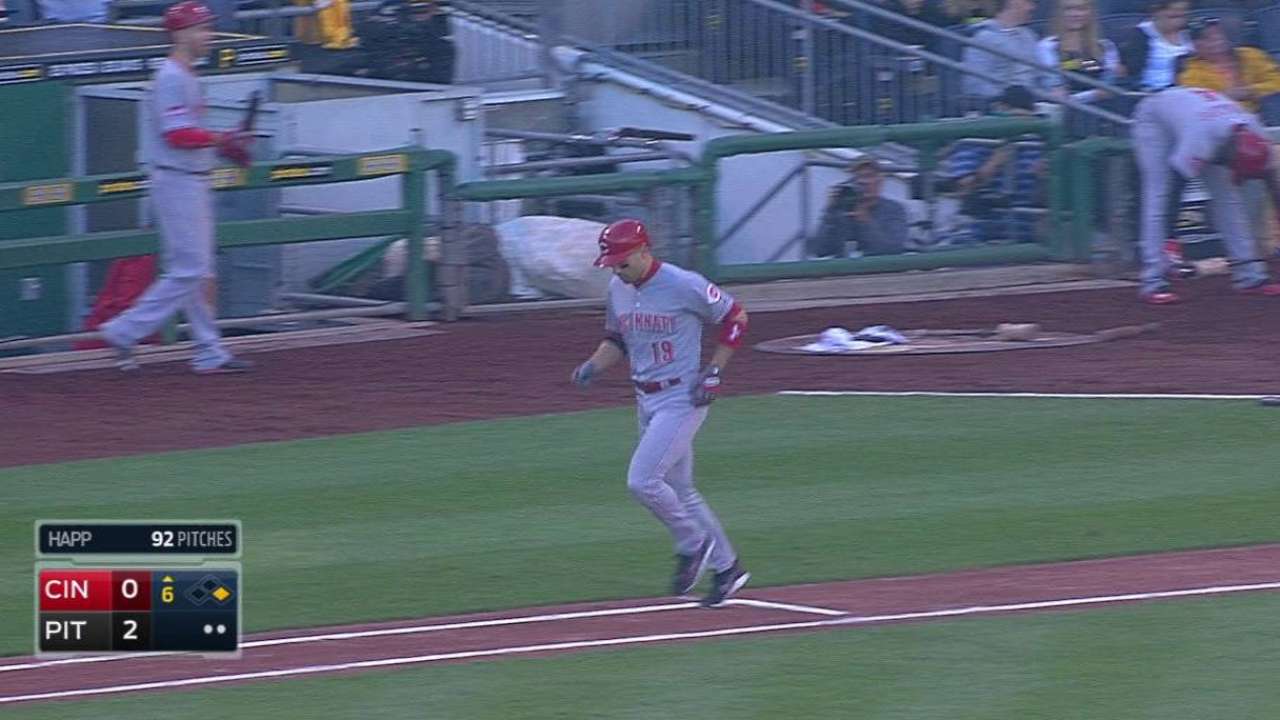 PITTSBURGH -- Joey Votto's 143rd and final walk of the 2015 season extended his Major League lead. The Reds first baseman had to really grind out the plate appearance Sunday to get it, but he ultimately fell a percentage point short of overtaking the Nationals' Bryce Harper for the MLB lead in on-base percentage.
Facing left-hander J.A. Happ in the top of the sixth inning with two outs during the Reds' 4-0 loss to the Pirates, Votto walked on the 13th pitch. After a 2-1 count, Votto fouled off five-straight fastballs before he looked at ball 3 -- a 78-mph curveball. Another three-straight fastballs were fouled off in the full count. Happ's 13th pitch was a fastball that missed high and inside.
In the eighth inning against lefty Tony Watson, Votto hit a single into center field to finish the day 1-for-3. Meanwhile, Harper went 1-for-4 to finish with a .460 OBP that was just ahead of Votto's .459.
Votto did own the Majors' longest streak of reaching safely this season -- 48 games -- which was snapped on Saturday night. That left him tied with Pete Rose (1978) for the franchise record.
• Is Votto #AwardWorthy? Vote now for Best Major Leaguer and Best Everyday Player
By reaching a club-record 319 times this season, Votto led the Majors over Harper, who reached 301 times. Although the 64-98 Reds did not contend for the postseason, and finished last in the National League Central, a few other players also led in statistical categories.
• Starting pitcher Anthony DeSclafani led all Major League rookies with 184 2/3 innings and was tied for the lead with 31 starts.
• Todd Frazier led the NL with 619 at-bats this season, but his 43 doubles left him tied for second in the league and one behind Matt Carpenter of the Cardinals. Frazier was 2-for-3 with two singles on Sunday. With 35 home runs this season, he was only the third player in Reds history to hit 30 homers while primarily playing third base.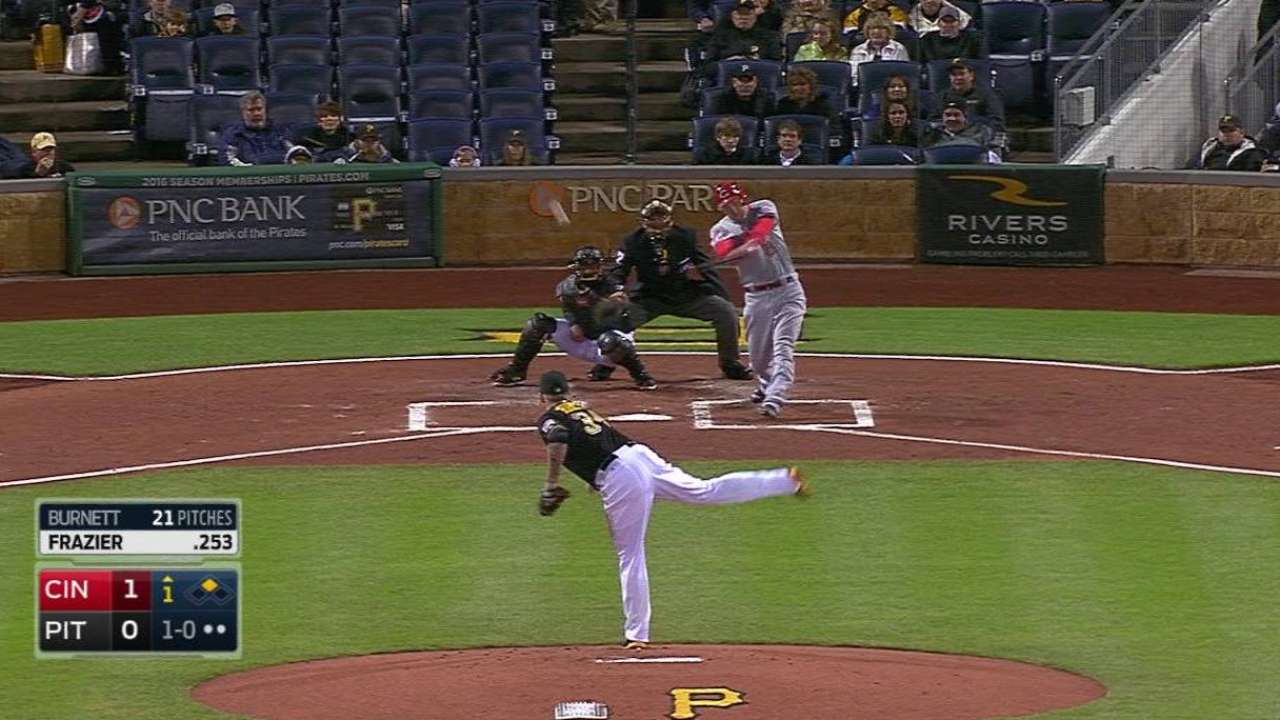 "Looking at the team goals, we didn't make those. It's right there written in stone. It didn't start off well and didn't end well," Frazier said. "When you look back at individual goals, I made a bunch of them. All in all, you want to be in the playoffs. You want to win your division."
• Billy Hamilton's late-season right shoulder injury left him at 57 stolen bases, and he lost his Major League lead to the Marlins' Dee Gordon. But the Reds came away with the team lead in steals -- 134, two ahead of Arizona.
• Skip Schumaker led the Majors with 19 hits as a pinch-hitter, the most in the league since 2010. Schumaker batted in the ninth inning and hit a laser of a low-liner to right field that was caught nicely by Gregory Polanco, leaving him Schumaker one hit shy of tying Jacob Cruz's 2005 club record.
• And in what has been well-chronicled all season, the Reds led the Majors in starts by a rookie pitcher with 110, a modern franchise record, including an MLB-record 64 to end the season.
"All the individual stuff, being able to watch Joey have an unbelievably great year. Brandon [Phillips] was exceptional as well," Reds manager Bryan Price said. "To see DeSclafani come in and emerge as a Major League starting pitcher and the introduction of Raisel Iglesias, those are individual things that are terrific.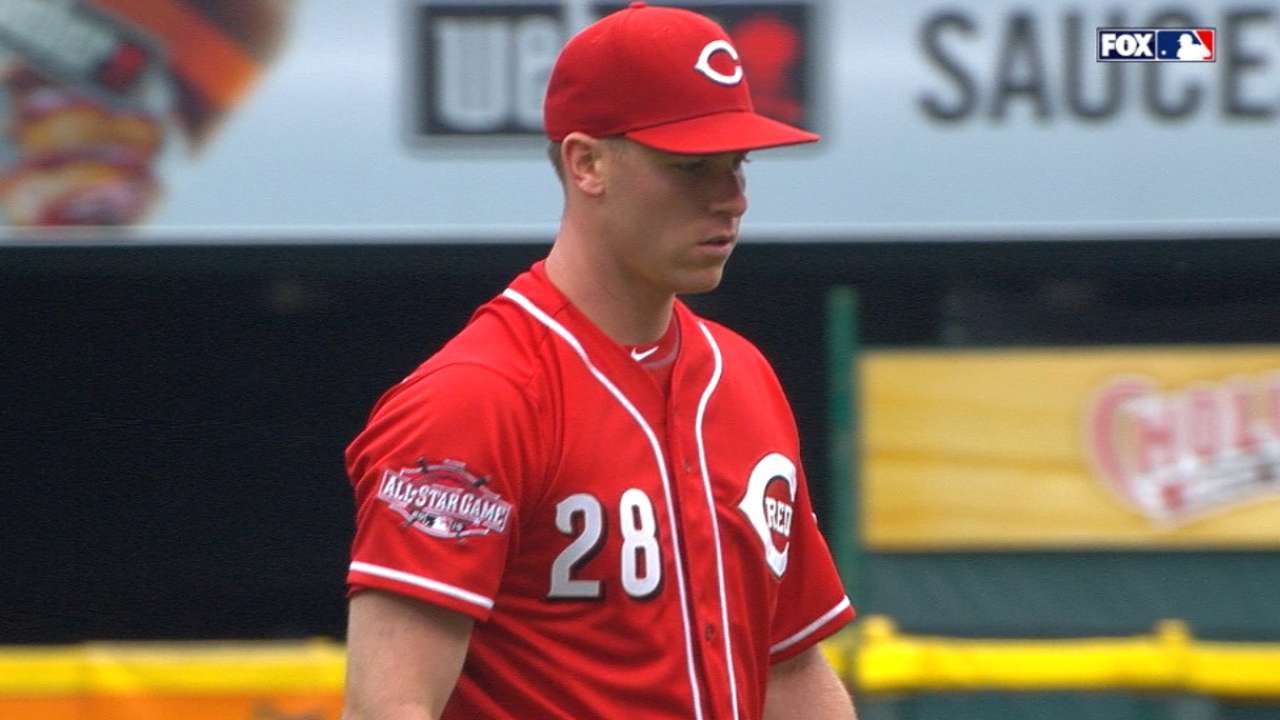 "Once we decided to go all in with this youth movement, we have to go through this stage in order to get better. That doesn't mean we had to struggle like we did. The pitching wasn't good. And the young starters we're putting a lot of expectation on have to get a lot better between now and next season. But this is that beginning of seeing what we have and what we can do with this group."
Mark Sheldon is a reporter for MLB.com. Read his blog, Mark My Word, follow him on Twitter @m_sheldon and Facebook and listen to his podcast. This story was not subject to the approval of Major League Baseball or its clubs.