Norris makes strong final impression
Rookie southpaw tosses five scoreless innings to lead Tigers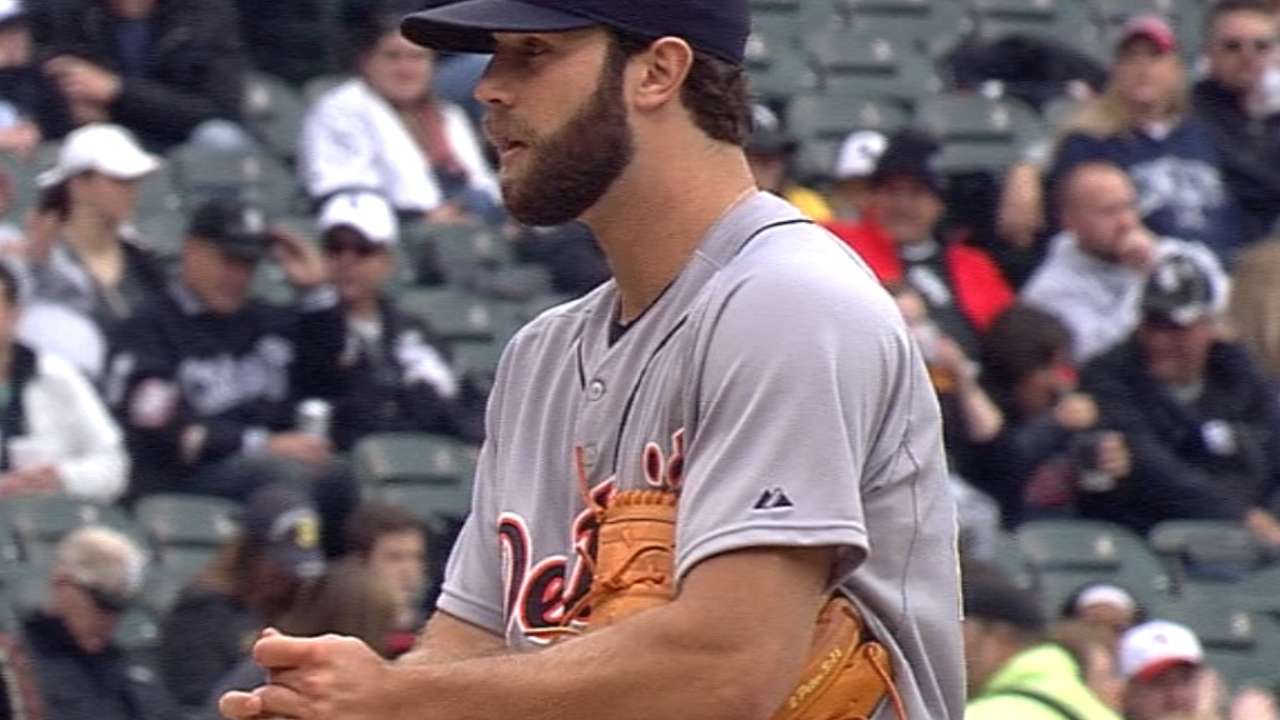 CHICAGO -- Daniel Norris battled through the 54-pitch opening inning Tuesday in Texas so that he could get to this point, finishing the season as a full-fledged member of the Tigers rotation and giving him something to build on. As he walked off the mound at U.S. Cellular Field, having blanked the White Sox for five innings for the second time in three starts, he looked like somebody who belonged in the rotation.
His only damage in Sunday's 6-0 win over the White Sox was Trayce Thompson's fourth-inning triple and a split fingernail on his left index finger.
"You go out there and you expect to do well and you want to show them what you've got," Norris said. "As far as that goes, I went out and had a good couple months."
The Tigers ended their season way too early by their standards, but Sunday had a lot to do with the future. Norris, the top young talent acquired in their flurry of deals around the Trade Deadline, was the most important part. In his fourth outing since missing a month with an oblique strain, it was important to him to make an impression, and important for the Tigers to get him more experience.
The 22-year-old southpaw essentially picked up where he left off against the White Sox two starts ago at Comerica Park. With a good fastball, sharp curve and an aggressive young Chicago lineup, he retired 10 of his first 11 batters, a Nick Castellanos error in the second inning breaking up the string, before Thompson's triple past a tumbling Tyler Collins in left. He showed no ill effects from the long inning in Texas, retiring the side in order in 15 pitches in his first inning on Sunday.
Combine the two outings, and he had 8 2/3 no-hit innings going before Thompson's hit.
"He has stuff, there's no question," manager Brad Ausmus said. "He's very athletic."
It was a completion for Norris, who wanted to end the season healthy and pitch that way.
"Just to come back and all and pitch was a goal of mine," Norris said. "I didn't want my season to be over. I wasn't ready for it. I wanted to come out and continue to show them what I was made of. Just the opportunity that they gave me to go out there and pitch, not only after I got traded here but after I got hurt, speaks volumes."
His work isn't quite over yet. Ausmus said Norris will meet up with pitching coach Jeff Jones on Monday at Comerica Park to go over some mechanical pointers for him to work on this offseason. He won't throw, not the day after a start, but he'll get on a mound and work on some tweaks.
"They're going to try to clean some things up mechanically that hopefully make his release point more consistent," Ausmus said. "But it's not strange for a young pitcher to have trouble repeating a release point."
From there, Norris will embark on his offseason, getting into his well-chronicled van at some point and heading out west. He hopes to do some travel out of the van and off the beaten path, maybe out of the country, maybe Hawaii, but he hopes he can return for next season in the rotation spot he left when the season ended.
The Tigers aren't guaranteeing anything. If they sign two veterans this winter, it'll leave Norris battling Matt Boyd and other youngsters for a back-end rotation spot. But they also believe Norris has a major spot in their future.
Jason Beck is a reporter for MLB.com. Read Beck's Blog, follow him on Twitter @beckjason and listen to his podcast. This story was not subject to the approval of Major League Baseball or its clubs.