Butler's 6 RBIs 'good icing on the season'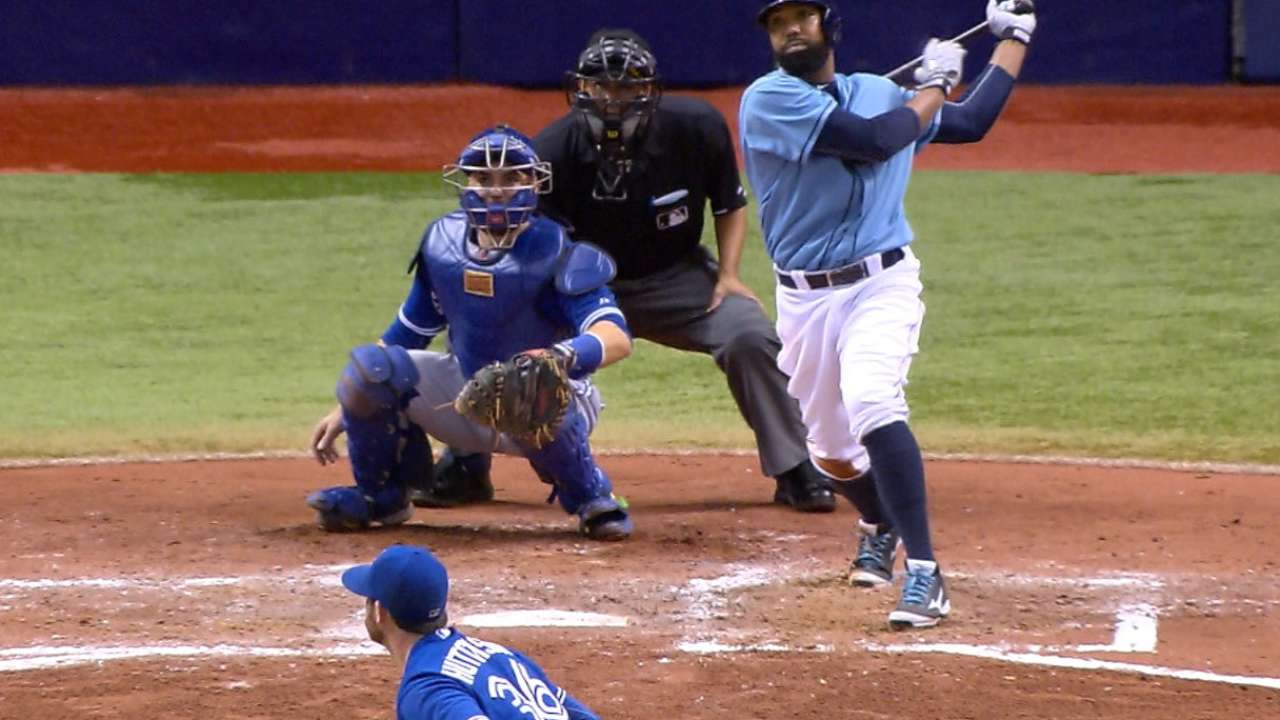 ST. PETERSBURG -- Joey Butler will be remembered as one of the nice Rays stories from 2015. On Sunday, he made sure everyone would remember his story by clubbing two home runs in the Rays' 12-3 win over the Blue Jays.
Butler found the bases loaded in the first when he stepped to the plate to face veteran Mark Buehrle. Facing a 3-2 count, he came through with a grand slam to center field.
The grand slam was the first hit by a Rays player this season. Kevin Kiermaier hit the last Tampa Bay grand slam on July 9, 2014, at Tropicana Field against the Royals. Thus, Butler's slam snapped a 229-game drought.
Once Butler got back to the dugout, the crowd of 15,815 called for a curtain call, and his teammates pushed him out of the dugout to receive the honor.
"I don't think I have [ever had a curtain call]," Butler said. "But it was pretty cool. I normally wouldn't have; I don't normally want the spotlight like that. But the guys were pushing me out, so I did it."
After Butler singled in the third, he hit a two-run homer to right off Drew Hutchison in the fifth.
"Oh man, today was awesome," Rays manager Kevin Cash said. "It was awesome for the entire dugout. Knowing that his mom was here. And he hasn't got the most consistent playing time. That was a special day. Like we've said, and we've said multiple times, when we were at our best this year, Joey Butler was right in the thick of it. That was a good icing on the season for Joey and us."
The six-RBI performance tied Evan Longoria's Rays rookie record set on May 24, 2008, against the Orioles.
Butler has been a hit in the Rays' clubhouse since his arrival in Spring Training. The journeyman Minor Leaguer -- who had been a teammate of Cash's at Triple-A Round Rock -- finally got a chance this year, and he made the most of it in the early part of the season.
He hit .338 in his first 44 games this season, but hit just .162 in his last 43 games, spanning two stints with the Rays since June 24.
With the influx of young faces into the clubhouse, Butler's playing time was limited toward the end of the season. On Friday night, he saw his first action since Sept. 20. He hit just .192 since his Aug. 27 recall from Triple-A Durham.
"I think [the season] was a growing and learning process," Butler said. "I met some great people, some great friends, built some strong relationships. And I'm going to go into the offseason with a plan to have something to work on and something to look forward to coming back to hopefully.
"I think I proved to myself that I actually can [play in the Major Leagues]."
Bill Chastain is a reporter for MLB.com. This story was not subject to the approval of Major League Baseball or its clubs.