Twins' youngsters showcase skills in season finale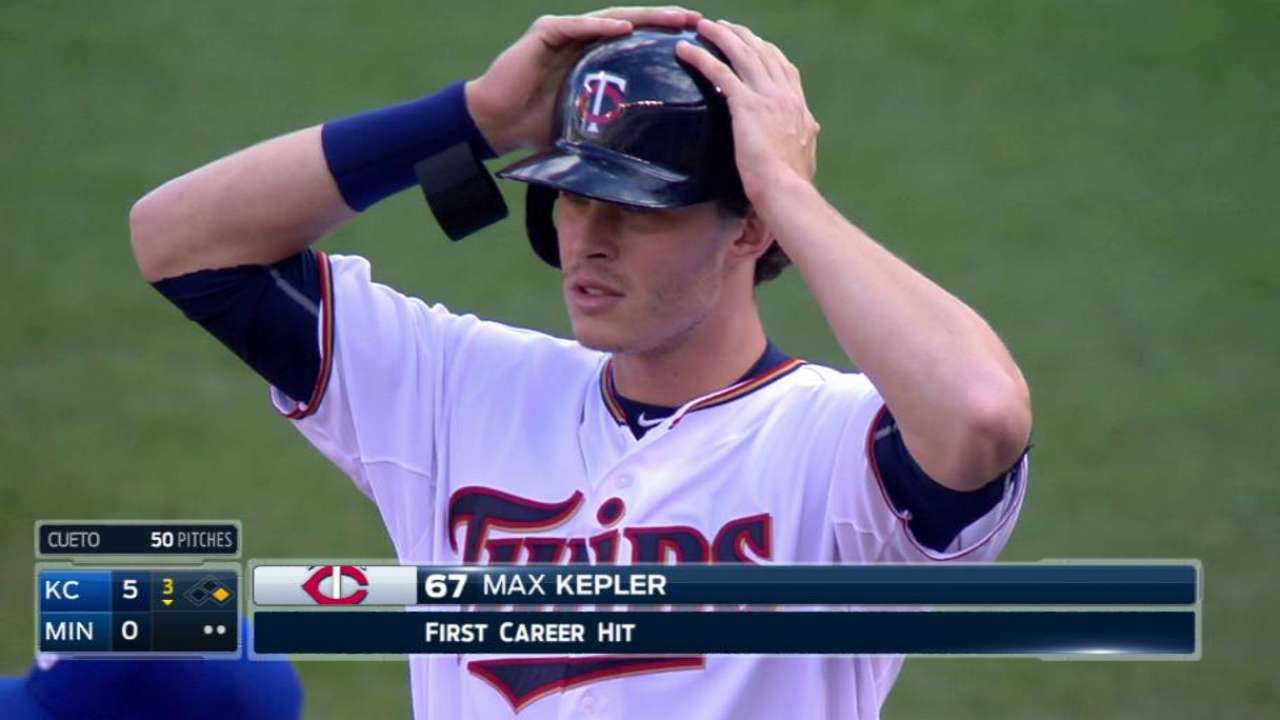 MINNEAPOLIS -- Standing amid boxes in a half-packed up clubhouse after a 6-1 season-ending loss to the Royals, Twins manager Paul Molitor called for his team's attention.
In his hand, Molitor held a slightly worn baseball with a shiny silver sticker on it. After a quick speech, the manager handed the ball to rookie outfielder Max Kepler -- who, after picking up his first Major-League hit on Sunday, now trails his manager by just 3,318 hits.
With his team eliminated from postseason contention on the second-to-last day of the season, Molitor didn't have much of a chance to see his September callups or consistently play some of the younger guys on the team. He finally did on Sunday.
The Twins' starting lineup had an average age just a shade over 25, and was comprised of four September callups and prized rookies Miguel Sano and Byron Buxton.
"There was no need to put people out there that were part of the day-to-day grind of the last month," Molitor said. "We got a chance to put a lot of youngsters out there and give them some at-bats. I'm sure it was fun for some guys to go out there and play a position, when they hadn't been out there most of the month of September."
In an otherwise unmemorable game, Kepler's first hit gave his teammates something to cheer about. The rookie from Germany started his first game on Sunday and hit a slider into right field on the seventh pitch of his second at-bat.
"He's got an average," Molitor joked. "He only had a couple at-bats heading into today. He showed, even in his at-bats that didn't end up with a hit like his second one did, he grinded pretty good. He fouled off some tough pitches off some really good pitchers. He looks like he belongs. He's just got that presence. He wasn't overwhelmed by the opportunity to play today. It was just good to gain him a little bit of experience."
After a breakout season at Double-A Chattanooga, Kepler spent just a fraction of the final month with the Twins. Though he didn't have many big league at-bats, he said he learned a lot just from watching his new teammates from the bench.
It was a season that saw Sano provide a power presence in the middle of the lineup, left fielder Eddie Rosario establish himself as an everyday player, Trevor May emerge as someone who could start or be called upon in the later innings, while Buxton showed flashes of his speed and defensive prowess. And, for a team that jumped from fifth to second place in the American League Central, those performances were valuable takeaways.
"A lot of young guys got experience this year, which is really good for us," third baseman Trevor Plouffe said. "Guys like myself or [second baseman Brian Dozier], we got to experience playoff-atmosphere baseball -- and it's only going to drive us to be better players and make us want it even more. We're headed in the right direction. We're trending the right way, and I think that's something that we can be happy with."
Betsy Helfand is an associate reporter for MLB.com. This story was not subject to the approval of Major League Baseball or its clubs.