MLB.com Columnist
Richard Justice
Astros' success begins at the top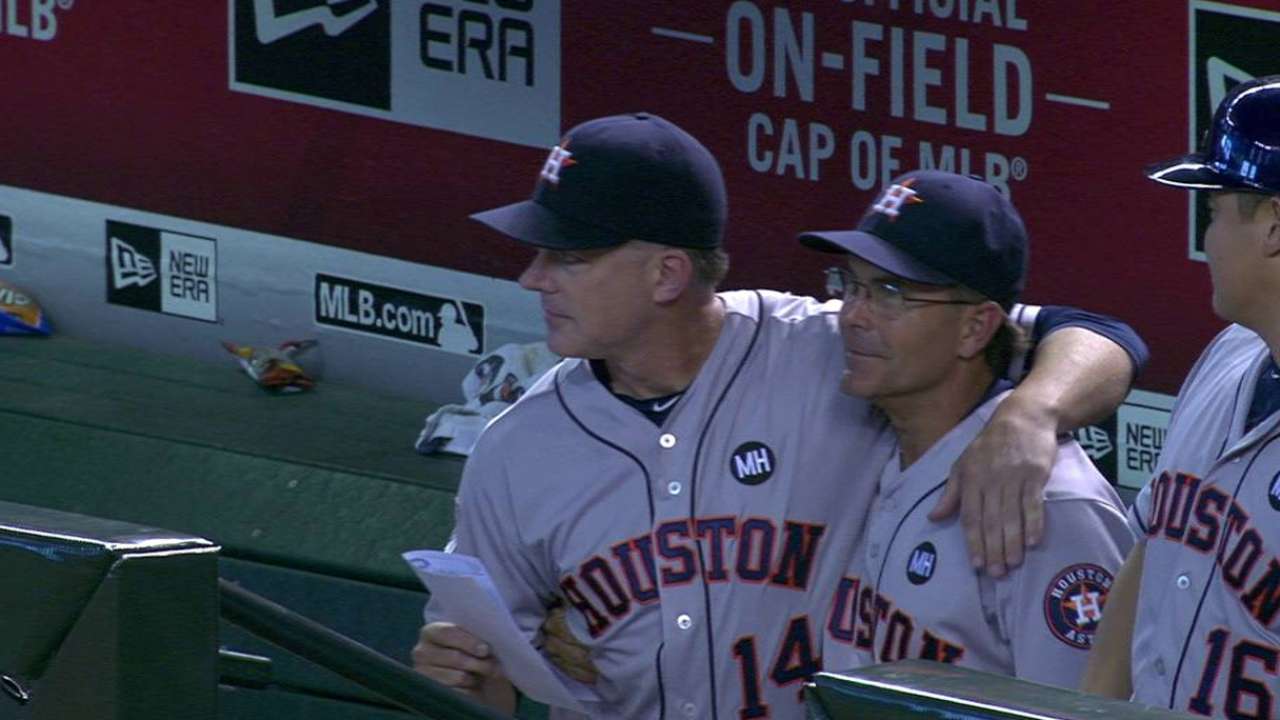 Jim Crane had a vision of what the Houston Astros could be from the moment he purchased the franchise almost four years ago. He entrusted that vision to general manager Jeff Luhnow. So this celebration of the franchise's first postseason appearance in 10 years begins with them.
They never wavered from their vision. They suffered 310 losses in their first three seasons together. They relentlessly stayed the course, adding young talent and affordable free agents. They said they wanted to build something permanent, something that will sustain itself.
• Gear up for Astros' postseason at MLB.com Shop
The Astros lost to the Diamondbacks, 5-3, in the final game of the regular season, but with the Angels losing to the Rangers, Houston clinched a berth in Tuesday's American League Wild Card Game presented by Budweiser against the Yankees at Yankee Stadium, which will be broadcast on ESPN at 7 p.m. CT.
Here's hoping they soak in every second of Sunday afternoon's celebration; that they burn it in their memory and take a moment to admire their amazing work.
Seldom is anything in sports as gratifying as this first postseason run. This may be only a first step for the Astros, but what an incredible one it has been. Almost no one thought this baseball team could come so far so fast.
Fluke?
Oh please.
There are no such things in baseball. Every weakness is exposed in a 162-game schedule. That's the beauty of it.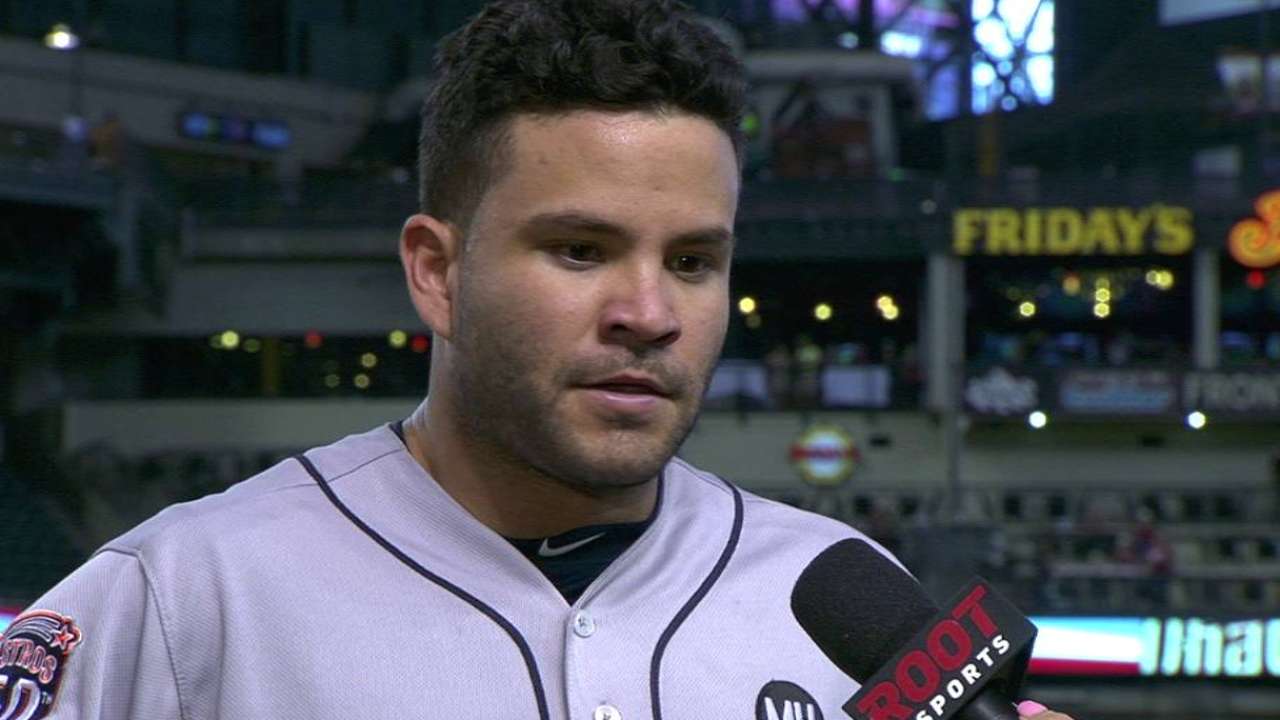 The Astros are in the postseason because they're really good. They hit home runs and play great defense. They've had a vastly improved bullpen for most of this season.
They've got a great No. 1 starter in Dallas Keuchel and two of the best young players in the game in rookie shortstop Carlos Correa and right fielder George Springer.
• Keuchel to start in Wild Card Game
The Astros feed off their enthusiasm and energy. They produced, too, both of them -- in the field, on the bases and at home plate.
Just goes to show you what can happen with a reasonable blueprint and a string of great hires.
Crane's first important decision might have been the best one he ever makes. That would be the hiring of Luhnow as general manager.
He'd done great work while in charge of the Cardinals' drafts, and in four years since, he has established himself as one of the brightest and most competent executives in the game.
That he needed three seasons to tear the Astros down and completely rebuild them is a tribute to his smarts and tenacity. That he could put a playoff team on the field with the second-lowest payroll in baseball speaks volumes about his ability to see things in players others couldn't.
He has overseen a series of productive drafts, but that's just the beginning. His hiring of A.J. Hinch as manager was the right guy at precisely the right time. Hinch's ability to communicate with players, run games and assimilate information have been critical to the Astros' success.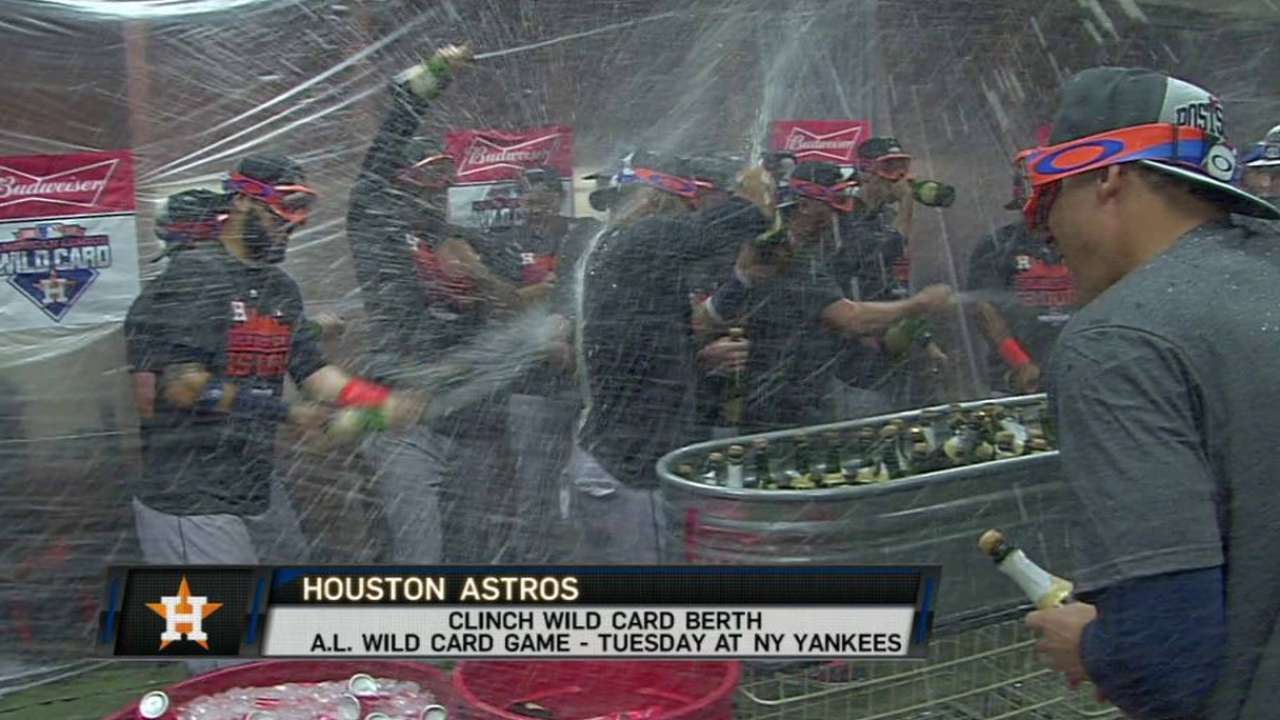 Hinch had a tough experience during his first managerial gig -- 212 games in charge of the Diamondbacks in 2009-10. But Luhnow believed in him. He saw Hinch as a guy who could help the Astros take the next step. Luhnow also hired pitching coach Brent Strom, who is one of the brightest and most innovative instructors on the planet.
Every Astros pitcher would tell you that Strom's suggestions on mechanics and game plans are part of the reason the Astros are where they are today. Luhnow stayed the course for three seasons, and then last offseason as he saw that the farm system was about to deliver on all its promise, he went on a shopping spree.
He added Luke Gregerson and Pat Neshek to the back of the bullpen, and Jed Lowrie, Evan Gattis, Luis Valbuena and Colby Rasmus to the lineup. To add veteran talent like that meant Luhnow believed the Astros had a chance to contend in 2015. If others didn't, that was on them.
When the Astros climbed 12 games above .500 in early June, Luhnow saw a window of opportunity and became even more aggressive. He made more additions at the non-waiver Trade Deadline, getting center fielder Carlos Gomez, reliever Oliver Perez and starting pitchers Mike Fiers and Scott Kazmir.
During those three seasons of reconstruction, Luhnow used a revolving-door roster to identify talent. He got Collin McHugh on waivers from the Rockies and watched him develop into an 19-game winner. Reliever Will Harris (68 appearances, 1.90 ERA) was claimed off waivers from the D-backs.
Another reliever, Tony Sipp, had been released from the Padres when the Astros signed him. Another, Josh Fields, was grabbed by the Astros when the Red Sox left him unprotected in the Rule 5 Draft. They all contributed.
The Astros haven't just won. They've won a certain way. That is, aggressively. They run the bases too aggressively at times, but that's the message they wanted to send.
Their young players -- Correa, Springer, Jose Altuve -- are a joy to watch. Even when the Astros had a tough few weeks in September, they showed up each day thinking this was where the turnaround would begin.
For the veterans -- Gattis, Jason Castro, Scott Feldman and others -- this season has been the kind of fun every big leaguer dreams of having.
Correa appears to be on his way to being one of the special talents in the game. Springer is right there too in terms of talent and passion. Keuchel (20-8) is among the very best starting pitchers in the AL. And the Astros have enough talent on the way that they believe they have a chance to contend for years.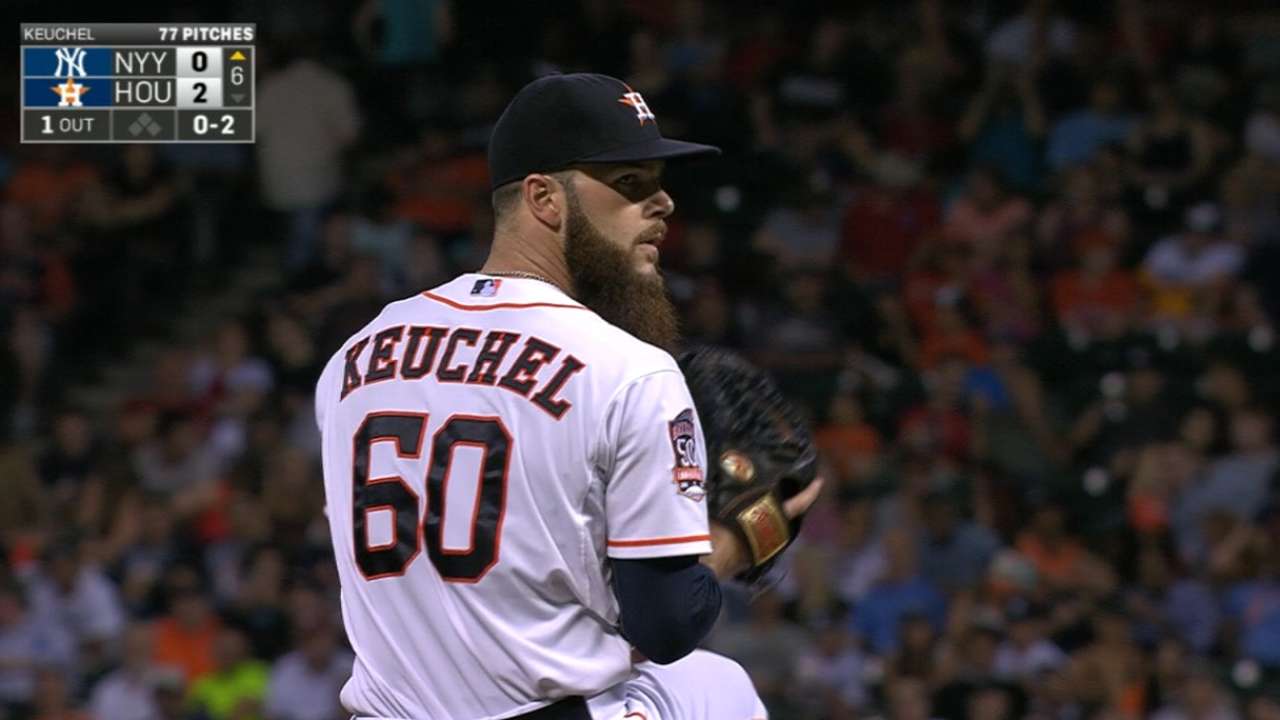 This first postseason run may have come a year or two ahead of schedule, but Luhnow predicted as far back as Spring Training that he thought the postseason was a reasonable goal.
Hinch pounded on that theme, telling his players again and again that they could make whatever they wanted to make out of this season. His ability to sell that message is a significant part of this team's success.
For players like Castro and Altuve and Keuchel, the guys who were around for the 111 losses in 2013, this season has been more fun than they could have imagined.
"This is why we do what we do," Castro said. "You want to get to this point."
Others are just as inspired.
"I have trouble talking about it," Gattis said. "You'll see me cry."
Richard Justice is a columnist for MLB.com. Read his blog, Justice4U This story was not subject to the approval of Major League Baseball or its clubs.