Yankees to host WC Game against Astros
Tanaka will take the mound for New York, with Keuchel going for Houston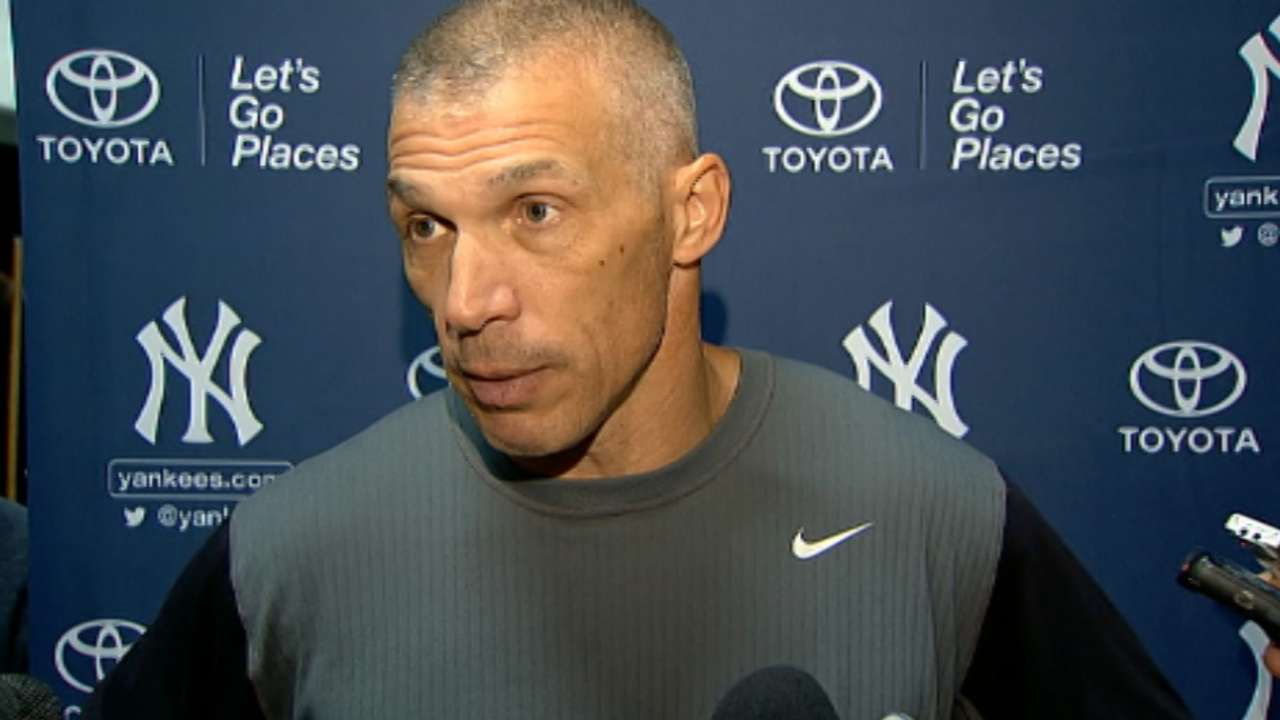 BALTIMORE -- It doesn't matter how you get into the postseason as long as you're there, Yankees manager Joe Girardi and a number of his players said on Sunday. And so it is written and so it will be done.
The Yankees have home-field advantage in the American League Wild Card Game presented by Budweiser against the Astros on Tuesday at 8 p.m. ET (ESPN). This despite losing six of their last seven, including Sunday's 9-4 defeat at the hands of the Orioles at Camden Yards.
But on the other side of the country, the Astros lost to the D-backs, 5-3, in Arizona, giving the Yankees host status of the big game.
"It's nice that we're going home," Girardi said. "The thing is we're playing and we have a shot just like the other nine teams do. It's going to come down to whoever plays better on Tuesday."
Shop for postseason gear | schedule
The Yankees finished the regular season 87-75, but none of that matters when Masahiro Tanaka takes the mound against Astros ace Dallas Keuchel, the AL leader this season with 20 wins, 15 of them at home.
The fact that the Yankees are going to face the tough left-hander for the third time this season, and second time in their place, may make a big difference in the outcome. Keuchel went 2-0 against New York, throwing a shutout in Houston on June 25, and going seven scoreless innings in the Bronx on Aug. 25.
The Wild Card Game winners will face the defending AL champion Royals in a best-of-five AL Division Series, beginning in Kansas City on Thursday.
"He's one of the best," Alex Rodriguez said about Keuchel. "But this time of year whether it's Keuchel, [Zack] Greinke, [Clayton] Kershaw or [David] Price, they're all brand names. You have to beat them all one by one."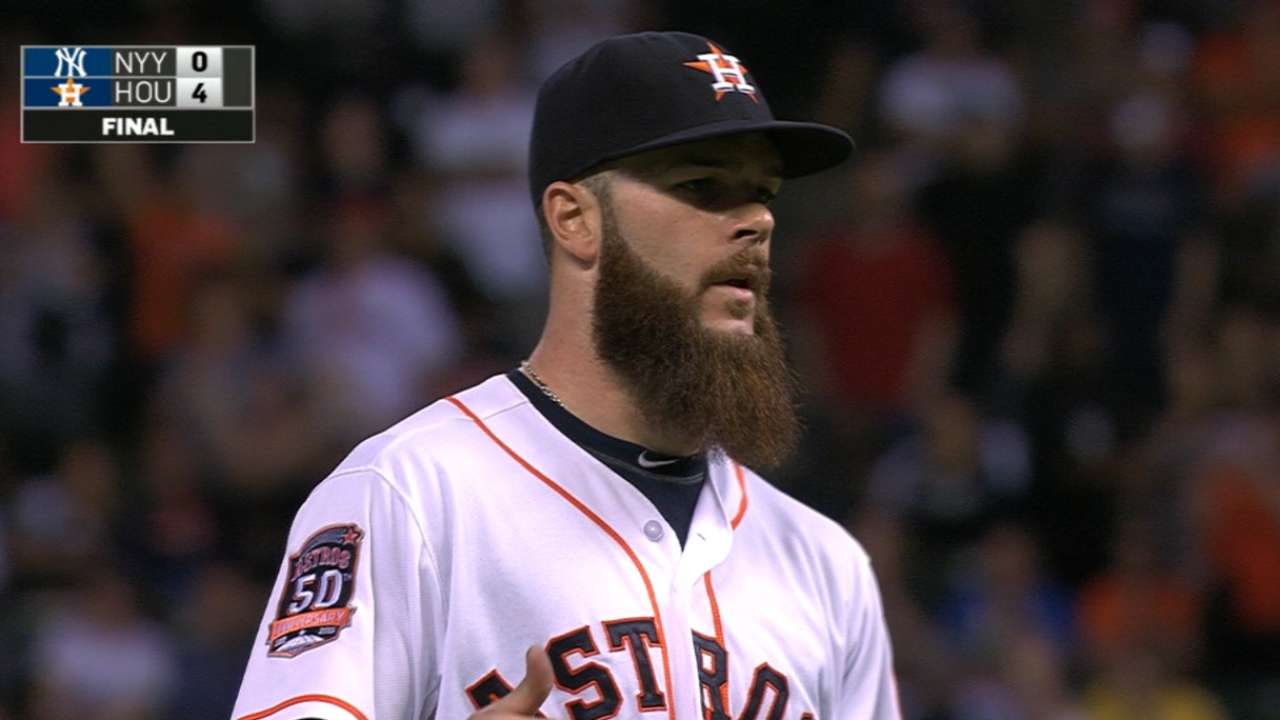 The Yankees will have to start with the 27-year-old left-hander, who was 20-8 with a 2.48 ERA in 33 starts this season, but he will be pitching on three days' rest for the first time in his four-year career.
Keuchel was 15-0 with a 1.46 ERA at Minute Maid Park and 5-8 with a 3.77 ERA on the road in 2015, which gives the Yankees a chance to take a deep breath and thank the baseball gods for the Paul Goldschmidt two-run homer at Chase Field on Sunday that gift-wrapped Tuesday night's game for Yankee Stadium.
Keuchel, though, was good against the Yankees at either park, winning his two starts by pitching 16 innings without giving up a run. He allowed nine hits, struck out 21 and walked only one. The Astros won the season series, 4-3, over the Yankees, and they took two out of three at Yankee Stadium in late August.
"If you're asking me if I feel better about facing him in our place rather than theirs, definitely," Yankees third baseman Chase Headley said. "But if we had to go there we would have done it. Nobody is going to concede that game because he's been so good there. But saying that, I'd rather have him at home than at their place."
Tanaka faced the Astros once this season, on June 27 in Houston, and he allowed six runs on seven hits in five innings but wasn't part of the decision in what turned out to be a 9-6 Yankees win.
The right-hander, who has dealt with injuries during his big league career, was 12-7 with a 3.51 ERA in 24 starts, and he has only made one start since sustaining a Grade 1 right hamstring strain running out a bunt in a loss to the Mets at Citi Field on Sept. 18.
That was last Wednesday, when Tanaka lasted five innings, giving up four runs on five hits in a 9-5 Yankees loss to the Red Sox.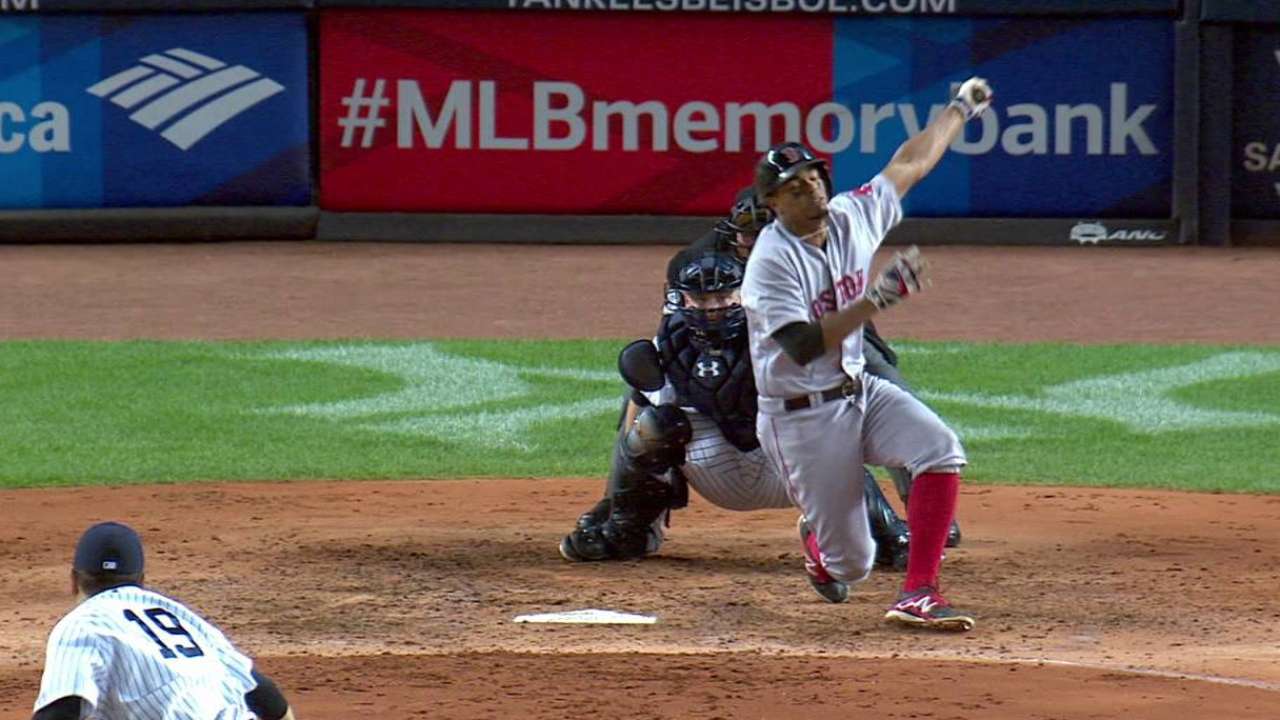 The Yankees gave Tanaka $155 million over seven years prior to the 2014 season and paid his Japanese club, the Rakuten Golden Eagles, $20 million in a posting fee to have him for these big games.
Girardi said there will be no restrictions on Tanaka in the Wild Card Game.
"There are no limitations," Girardi said. "He's had a pretty good year. He threw a stinker the last time out, but I still feel good about it."
The Yankees will have a meeting and workout Monday afternoon at Yankee Stadium, and the coaching staff and baseball-operations brass will gather beforehand to formulate a 25-man roster for the one game. They will be able to reset on Wednesday before the ALDS if they defeat the Astros.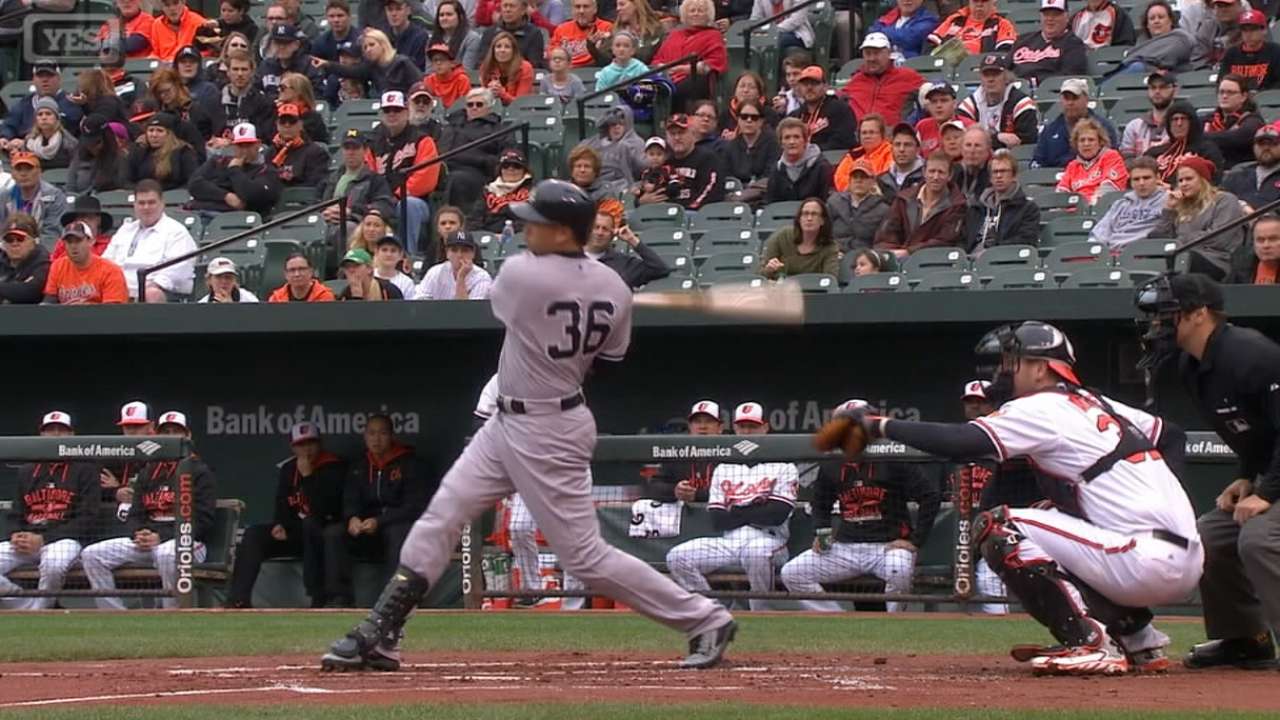 To do that, Girardi said the Yanks will have to be on top of their game.
"They're young. They're fast. The big thing is we have to shut them down," he said. "They do have power. They hit the ball out of the ballpark just like we do. For us, the big thing is just keeping them off bases."
For the Yankees, the big thing is also shaking off this weekend's three-game sweep at the hands of the Orioles after clinching the Wild Card berth with the 10,000th win in franchise history in the home regular-season finale at Yankee Stadium on Thursday night.
What's past is past.
"Whether we won six out of seven or lost six out of seven, it doesn't matter," Rodriguez said. "We still have to go out there and perform. We have to beat a really good pitcher and we know what we have to do to win."
Barry M. Bloom is a national reporter for MLB.com and writes an MLBlog, Boomskie on Baseball. Follow @boomskie on Twitter. This story was not subject to the approval of Major League Baseball or its clubs.