AL road to the World Series runs through KC
Royals like the advantages Kauffman Stadium provides during the postseason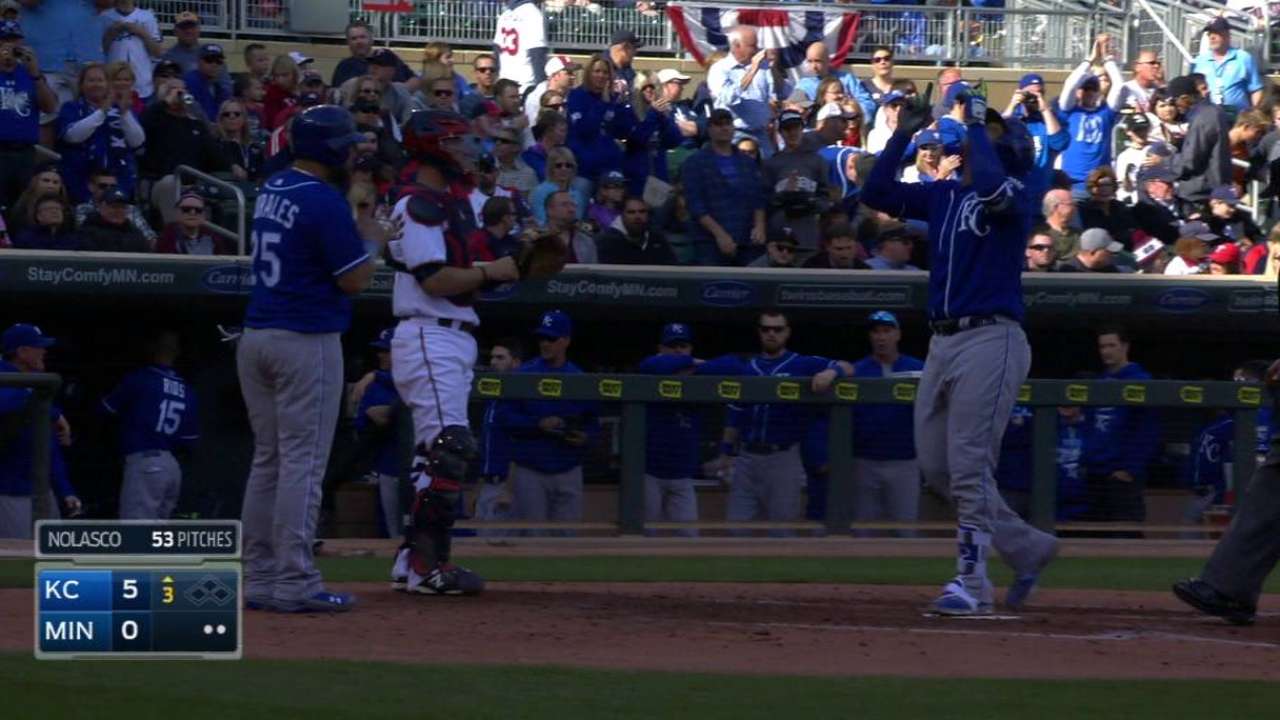 MINNEAPOLIS -- With a 6-1 win over the Twins on Sunday, the Royals clinched home-field advantage throughout the postseason in the American League. They will now open the AL Division Series on Thursday at Kauffman Stadium (time TBD) against the winner of Tuesday's AL Wild Card Game presented by Budweiser between the Yankees and Astros on ESPN at 7 p.m. CT in New York. The Royals' game on Thursday will be broadcast on FOX or FS1 or MLBN.
The Royals thus achieved the two goals they set their sights on during the regular season: Winning the AL Central crown and securing home-field advantage throughout the playoffs.
• Royals postseason gear | Schedule
"It means a lot, because we're built for our park," first baseman Eric Hosmer said. "And our fans make it tough for opposing teams."
Royals manager Ned Yost agreed.
"In our park, it's a big advantage," Yost said. "[General manager] Dayton [Moore] has done a great job of tailoring our team to our park -- that gives us an advantage."
That home-field edge will be key if the Royals are fortunate enough to advance to the AL Championship Series. But it could also provide a huge edge this week against the AL Wild Card winner, who will have to burn its ace.
"Yes, the real advantage is that they've got to throw their best guy in the Wild Card Game," Yost said. "So we'll only see the ace once in a five-game series."
That means the Royals would likely go up against Yankees right-hander Luis Severino if the Yankees win. That would be interesting because the Royals have never faced the rookie, who went 5-3 with a 2.89 ERA this season. He finished his regular season on Saturday by throwing seven innings and giving up three runs, while striking out six, in a 4-3 loss to the Orioles.
If the Astros win the Wild Card Game, the Royals would likely face right-hander Collin McHugh, who went 19-7 this season with a 3.89 ERA. The Royals did not face McHugh this season, but he beat them decisively in 2014 -- a 3-0 win in which he threw seven scoreless innings, while giving up five hits and striking out nine.
Again, the home-field advantage could be crucial no matter if Kansas City meets the Astros or Yankees. The Royals beat both teams at home, 2 games to 1. But the Royals were swept on the road in three games by both New York and Houston.
"I had a lot of confidence that we would get home field throughout," Yost said. "These guys just have a way of accomplishing something they set out to do. We had a little rough stretch, but we got it straightened out and won our last five games."
Outfielder Alex Gordon has no preference on which team the Royals will play on Thursday.
"No, not really," Gordon said. "Both are good teams. Both played us well throughout the year. The big thing is just having home field. It'll be fun to watch that game on Tuesday and not having to be involved in that."
The Royals haven't announced their Game 1 starter for Thursday. Yost said he may announce his starter on Tuesday or Wednesday.
But all signs point to right-hander Yordano Ventura, who has been the Royals' hottest pitcher in the second half. Over his last 14 starts, Ventura has gone 11-3 with a 3.10 ERA. He has struck out 91 hitters over his last 87 innings, including tying a career-high with 11 against the Twins on Saturday.
"He's right where we want him to be," Yost said.
Ventura's impressive streak actually started against Houston on July 26, when he threw seven innings of one-run ball, giving up six hits and striking out five.
"I feel great about where we're at," Yost said. "Our starting pitching has been excellent. Our defense has been great. We're swinging the bats well. We're a little dinged up, but [we've] got three days to heal now.
"We're all ready. We were ready to get the regular season over with and get on to the next season, the playoffs."
Jeffrey Flanagan is a reporter for MLB.com. Follow him on Twitter at @FlannyMLB. This story was not subject to the approval of Major League Baseball or its clubs.