MLB.com Columnist
Jim Callis
Constructing a winner: Rangers
How Texas used the Draft, trades, free agency and international signings to build its playoff team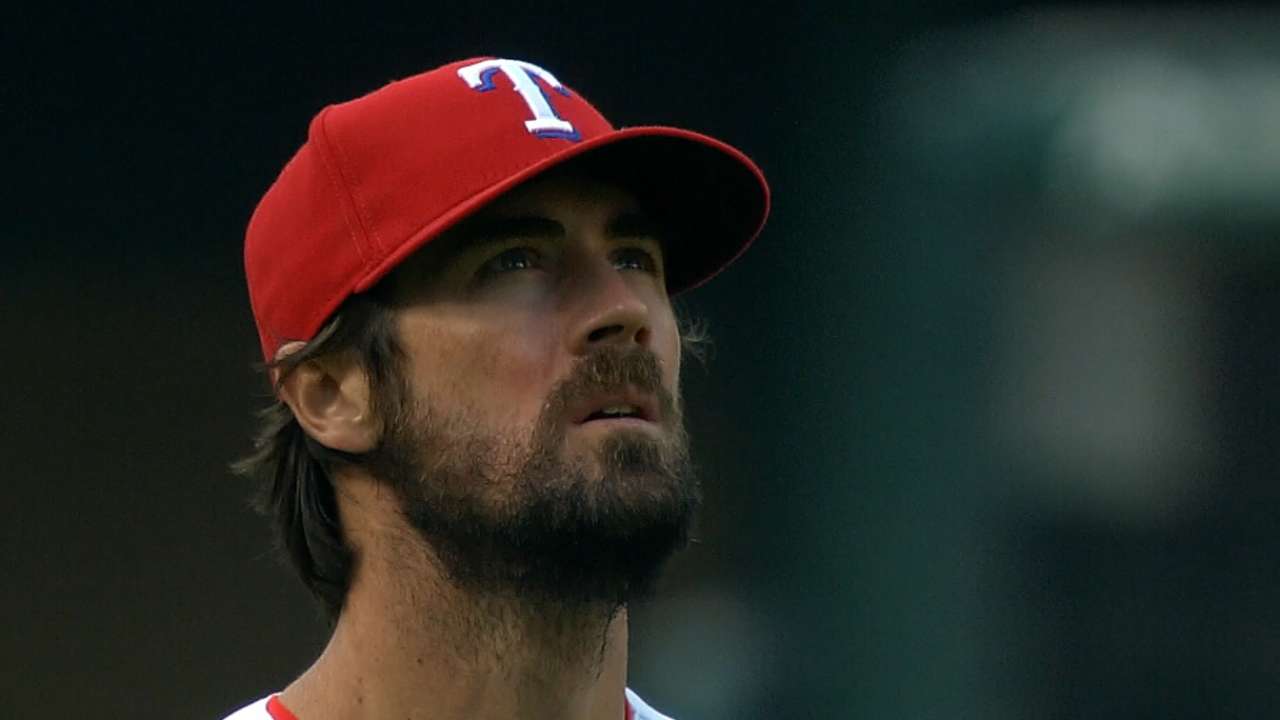 MLBPipeline.com is breaking down how each of the playoff teams was built, looking at the composition of projected Division Series rosters.
After the Rangers enjoyed four straight 90-win seasons from 2010-13, including a pair of American League pennants, injuries destroyed them in 2014. Their players spent 2,116 days on the disabled list, the highest total ever recorded, and set big league records by using 64 players and 40 pitchers. Texas lost 95 games, its most in 29 years.
It looked like more of the same for the Rangers when they went 7-14 this April. Yu Darvish, Martin Perez and Jurickson Profar began the season on the DL -- Darvish and Profar remained there all year -- and Derek Holland and Mitch Moreland joined them in the first month. Texas played better in May and June but slumped in July, leaving them at 50-52 with two months to play.
But thanks to better health and some helpful trades, the Rangers were one of baseball's hottest teams down the stretch. They finished with 88 victories overall, good for their first AL West title since 2011, when they came within one strike of winning the World Series.
"Heading into the offseason, we felt we were going to be competitive," Texas assistant GM Thad Levine said. "We had some elements of a win-now team with veterans balanced by young players we were excited about and a new manager. We viewed 2015 as a turnaround season, not a rebuilding but a recalibrating season.
"Even after a slow start, our mindset was if the AL West lets us stay in the race all season, they may regret it. We had guys coming back from injury and young players matriculating to the big leagues. We felt confident unless we were buried."
HOMEGROWN
Player, how acquired, year
Derek Holland, Draft, 2006 (25th round)
Mitch Moreland, Draft, 2007 (17th round)
Martin Perez, Int'l sign, 2007
Hanser Alberto, Int'l sign, 2009
Rougned Odor, Int'l sign, 2011
Keone Kela, Draft, 2012 (12th round)
Chi Chi Gonzalez, Draft, 2013 (1st round)
Though their farm system consistently has ranked among the best in baseball for most of the last decade, the Rangers actually are tied for the second-fewest homegrown players on their playoff roster with seven. That's mostly because Texas has traded several prospects to acquire veterans.
Interestingly, none of the four Rangers draftees on the roster were selected in the top 10 rounds. Derek Holland was a 25th-round draft-and-follow from 2006, Mitch Moreland a 17th-rounder in 2007 (some scouts liked him more as a left-hander pitcher than a slugger), Andrew Faulkner a 14th-rounder in 2011 and Keone Kela a 12th-rounder in 2012. They signed for a combined $485,000, topped by Holland's $200,000.
Complete breakdown of how this year's 10 @MLB #postseason teams built their rosters: http://t.co/6739SMacE6 pic.twitter.com/MRTg8nAnrw

— MLB Pipeline (@MLBPipeline) October 5, 2015
Texas is tied for third among postseason clubs with three international signees, and it would tie the Mets for first with five if Darvish and Profar weren't injured. The Rangers found Martin Perez ($580,000 in 2007) and Rougned Odor ($425,000 in 2011) in Venezuela, and Hanser Alberto ($7,000 in 2009) in the Dominican Republic. If you're scoring at home, that's seven members of the playoff roster signed for a combined $1,497,000.
"We're cognizant of the fact that we haven't drafted and developed and seen the fruits of that many players in the Major Leagues," Levine said. "But we've been in a win-now situation since 2009 and traded a lot of young players. As much as we drafted and signed guys that we hoped would become Texas Rangers, a lot of those guys wound up getting traded and becoming big leaguers with other clubs. You can only make trades for Cole Hamels if you have the talent to pull it off."
TRADES
Player, year, acquired from
Elvis Andrus, 2007, Braves
Robinson Chirinos, 2013, Rays
Prince Fielder, 2013, Tigers
Shawn Tolleson, 2013, Dodgers*
Delino DeShields Jr., 2014, Astros**
Yovani Gallardo, 2015, Brewers
Josh Hamilton, 2015, Angels
Jake Diekman, 2015, Phillies
Cole Hamels, 2015, Phillies
Sam Dyson, 2015, Marlins
Mike Napoli, 2015, Red Sox
Will Venable, 2015, Padres
*Acquired via Waivers
**Acquired via Rule 5 Draft
The Rangers were under .500 when they sent three Top 100 Prospects (Jake Thompson, Jorge Alfaro, Nick Williams), two pitching prospects (Jerad Eickhoff, Alec Asher) and veteran Matt Harrison to the Phillies for Hamels and Jake Diekman at the non-waiver Trade Deadline. Part of the reason Texas was willing to pay such a steep price was that Hamels is signed through 2018 with a club option for 2019.
"The primary objective at the trade deadline was to put the franchise in the best position to play postseason baseball," Levine said. "We weren't really specific as to the year, but we weren't going to spend handsomely to acquire short-term assets. We were excited about pairing Hamels with Holland and Perez coming back. And if Hamels doesn't give us a shot in the arm this year, we were very excited about future years."
Not only did Hamels give the Rangers a shot in the arm, but Diekman did as well. Texas also acquired Sam Dyson from the Marlins in exchange for two more prospects (Tomas Telis, Cody Ege) on July 31, and he and Diekman were the club's most effective relievers after they arrived.
"They've transformed our whole club," Levine said. "These guys have seemingly contributed to a win every day. They've galvanized the whole staff."
Elvis Andrus is the last player remaining with the Rangers from a one-sided 2007 trade that sent Mark Teixeira and Ron Mahay to the Braves for Andrus, Harrison, Neftali Feliz, Jarrod Saltalamacchia and Beau Jones. The 2013 Prince Fielder-for-Ian Kinsler swap with the Tigers looks better from Texas' perspective now that Fielder has returned to health this year. Yovani Gallardo became the first of eight players on the playoff roster to arrive in 2015 deals when he came over from the Brewers for three youngsters in January.
The Rangers also made a pair of stealth moves that have paid off big. Closer Shawn Tolleson arrived on a waiver claim from the Dodgers in 2013, while Delino DeShields unexpectedly won the center-field job after coming from the Astros via the Rule 5 Draft last December.
FREE AGENTS
Player, year
Colby Lewis, 2010
Adrian Beltre, 2011
Shin-Soo Choo, 2013
Chris Gimenez, 2014
Ross Ohlendorf, 2015
Drew Stubbs, 2015
Texas' two best position players this year were headline-making free-agent signings. Adrian Beltre has delivered for five straight seasons since signing a five-year, $80 million contract in January 2011. After signing a seven-year, $130 million deal, Shin-Soo Choo struggled in 2014 and was even worse in the first half this year before rediscovering his mojo after the All-Star break.
The Rangers aren't shy about spending to win, as Beltre's conrtact ranks as just the sixth-most expensive on the club. He trails Fielder (nine years, $214 million; Detroit is contributing $30 million over the next five years), Hamels (six years, $144 million), Choo, Josh Hamilton (five years, $125 million; the Angels will eat almost all of it) and Andrus (eight years, $120 million).
"The ability to build from the ground up and the top down is a lethal combination if you're making the right decisions," Levine said. "Ownership has supported us by allowing us to sign big-ticket free agents. But I think the way we've done it ever since [GM] Jon Daniels has been in charge is that we're a scouting and player development organization first. That's the best place to spend money for bang for your buck."
Jim Callis is a reporter for MLB.com and writes a blog, Callis' Corner. Follow @jimcallisMLB on Twitter. This story was not subject to the approval of Major League Baseball or its clubs.